Sprawling, net-zero spaces leverage creative new technologies and methodologies—proof, once and for all, that sustainability comes in all sizes.
In recent years, sustainable living has been practically synonymous with small spaces—micro-apartments are lauded and Marie Kondo has made it trendy to live with less. It's a correlation that's simple and easy to understand: A smaller building footprint means a smaller carbon footprint. So it follows that large homes, especially newly constructed ones, can be frowned upon by green enthusiasts as wasteful energy hogs that are bad for the environment. But it doesn't have to be that way.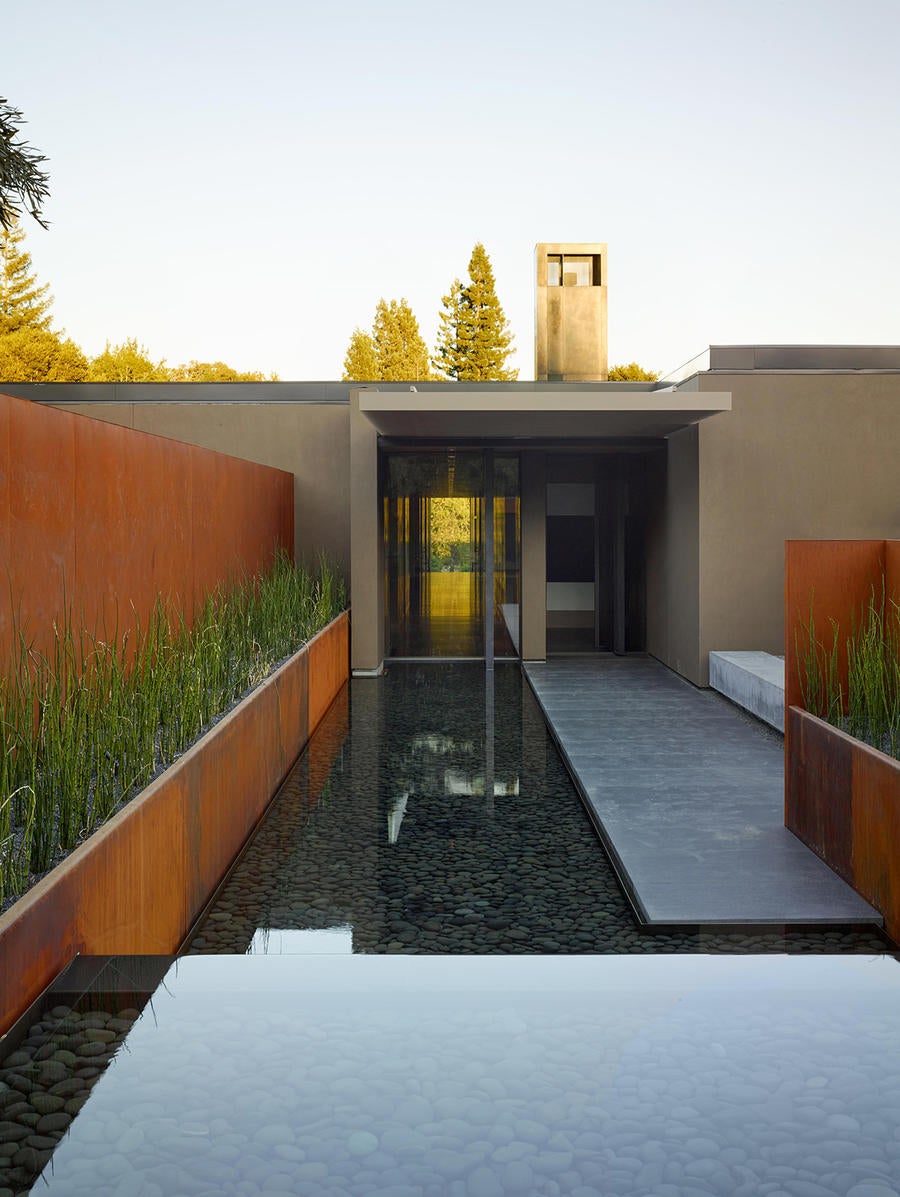 With today's technology and building techniques, it's possible to build a sprawling mansion that generates all the energy it needs. Case in point: the California Meadow House, a 17,000-square-foot single-family home designed by the Seattle-based architecture firm Olson Kundig. Incorporating a solar array and a geothermal system, among other sustainable features, the home is net zero, which means it's been painstakingly designed to produce as much energy as it consumes. And lest you think this is a gaudy mega-mansion, the single-story structure gently spreads out across the flat landscape, built in an earthy palette of black granite and dark wood inspired by Frank Lloyd Wright's iconic Prairie homes, its low-slung profile belying its substantial square footage.
"It used to be that a house this size would use 10 times the energy of a normal house, gobbling up commodities and resources," says Jim Olson, founding principal of Olson Kundig. "But the fact is, if the house is net zero, that whole line of thinking is a little bit outdated."
While energy use is perhaps the biggest determining factor in whether or not a home is considered "green," there's a lot more to sustainable building than just the electricity bill. You can't just throw some solar panels on the roof and call it a day—a truly environmentally friendly home needs to respond to and respect the environment in which it lives, from the very beginning. This rings especially true for new, large, site-built houses, which are often roundly criticized for destroying ecosystems, creating landfill waste by razing anything that occupied the site.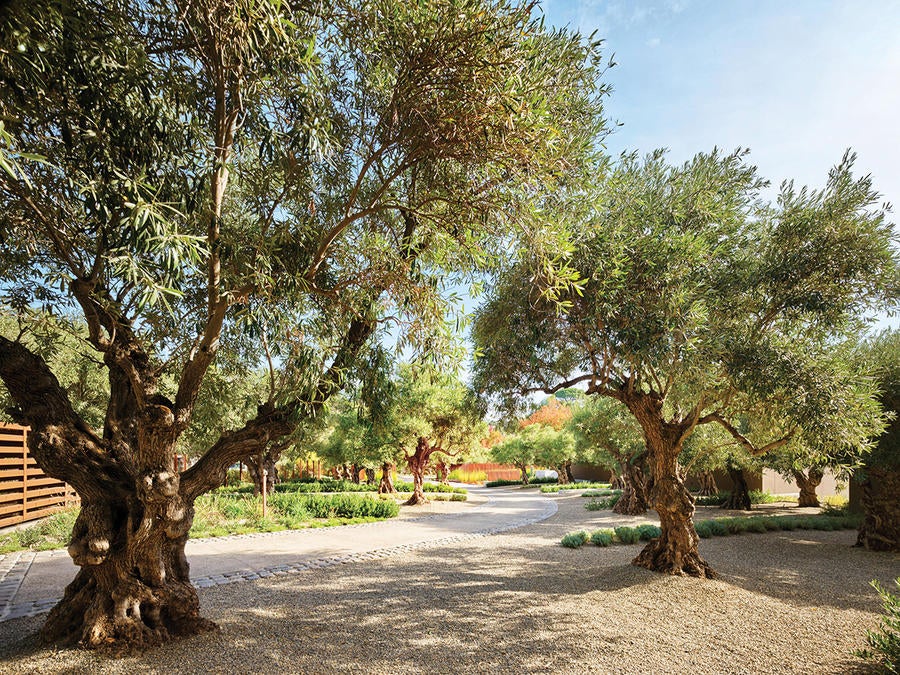 To mitigate these issues, sustainability-minded studios like Olson Kundig and Los Angeles–based KAA Design Group opt for a deconstruction process over the more typical demolition when starting a new site build. Deconstruction is exactly what it sounds like: a sometimes months long process, carefully taking apart any existing structures so the materials can be reused.
KAA used this process for Tower Grove, an 8,000-square-foot new build on a site in the Santa Monica Mountains overlooking Los Angeles that previously held a 1950s ranch-style home.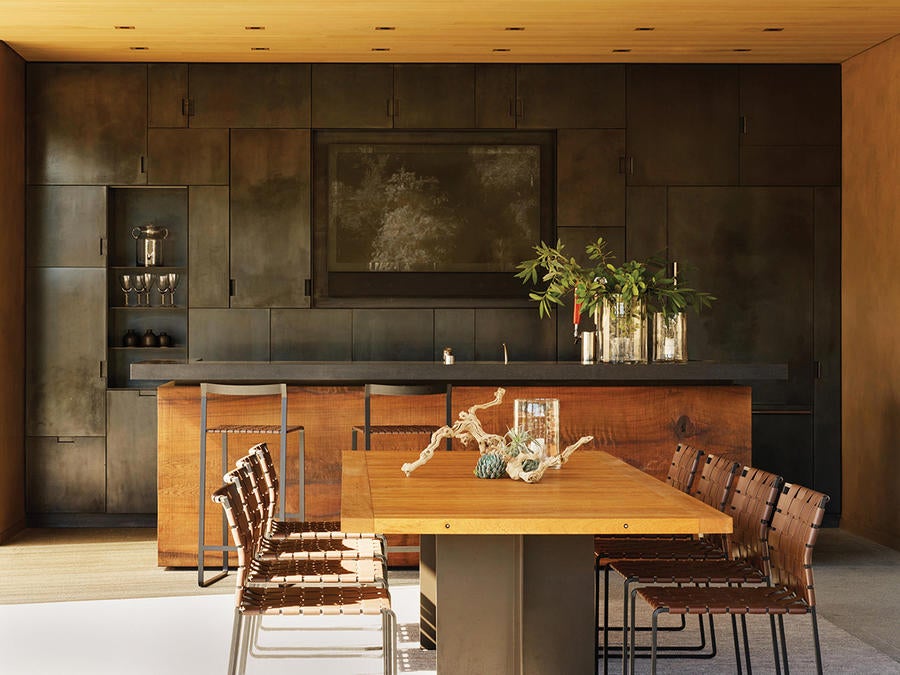 "Although it's tedious and time-consuming, it's worthwhile for the client to know that even though they're tearing down what generally might be an appropriate home, a lot of the materiality can be used later on—versus everything going into a dumpster," says architect Duan Tran, a partner at the firm. Plumbing fixtures and kitchen cabinets can be donated or resold. Framing, windows and doors often go to charitable organizations like Habitat for Humanity to be reused. Stone and brick are reclaimed for future projects.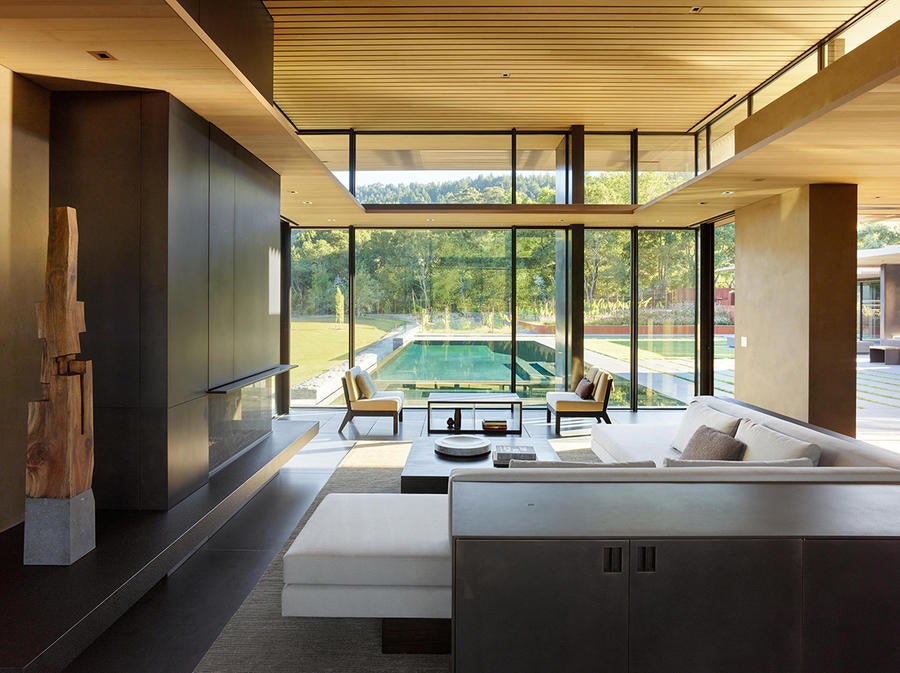 Beyond the materiality, some of the most important aspects of a sustainable new-build have nothing to do with green technology or high-performing systems. They're about how the structure will interact with the Earth: What is the angle of the sun? Which way does the wind blow? What would grow on this land if humans had never touched it?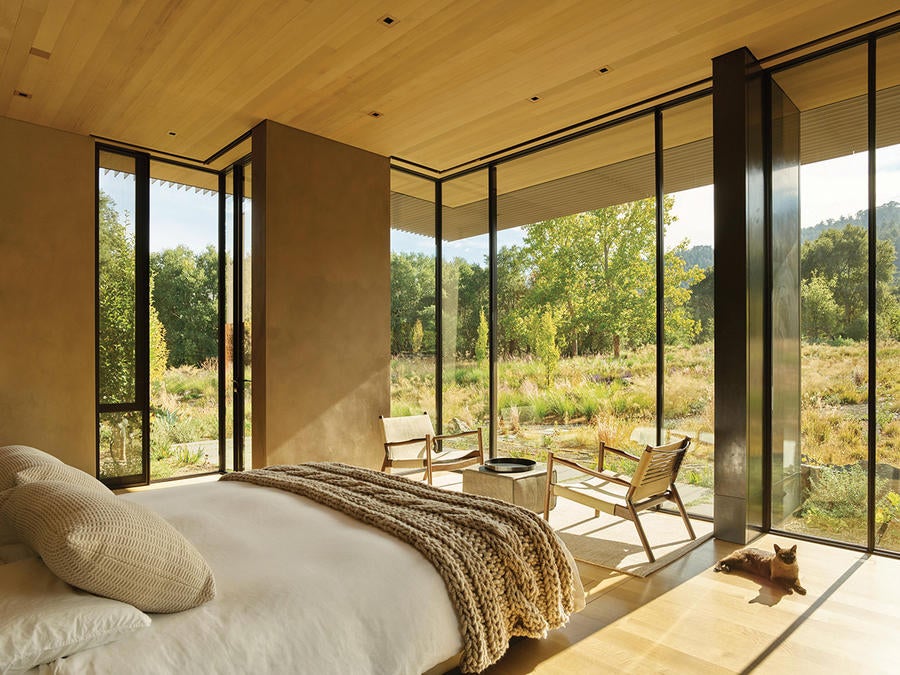 "The most important thing that we do is how we orient the house in relation to the sun in order to take advantage of gathering sunlight in the winter and having shade in the summer," says Olson. From there, his firm determines how best to naturally ventilate a house. Based on how the air moves on the site, they create rooms with windows on both sides to allow the breeze to cut through, significantly reducing the need for air conditioning. Neither of these tactics have any extra cost, yet they greatly reduce the amount of energy a home needs.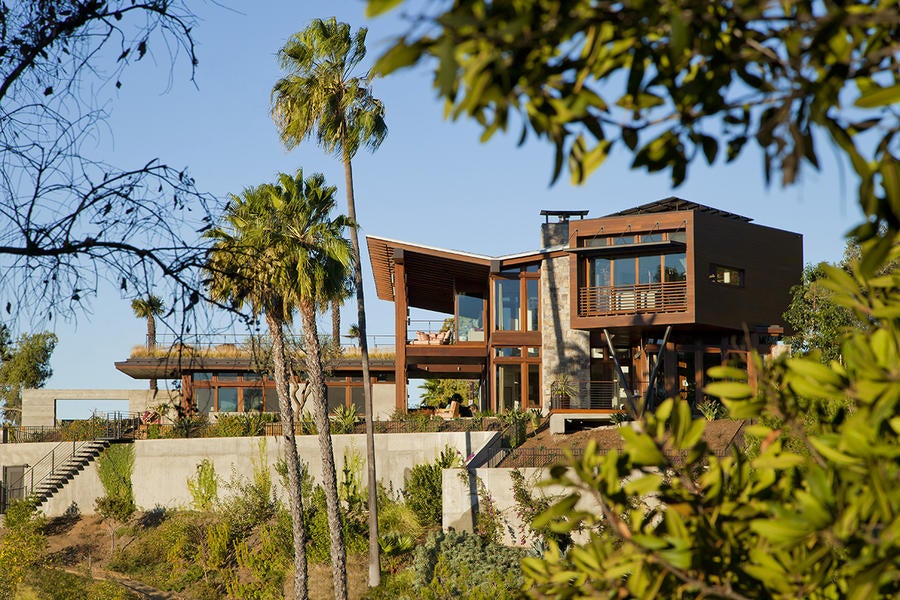 Of course, all homes need power; for sustainably built homes, it comes through alternative sources. Solar power, especially in sunny climates like Southern California, is a no-brainer. "I can't remember the last project we did without the ability to integrate a solar array," says Grant Kirkpatrick, founding principal of KAA. The firm designed Tower Grove with a V-shaped butterfly roof canted at 10 degrees, the ideal solar angle for Los Angeles's latitude, so the home is positioned for maximum efficiency.
More than 80 percent of its power is derived from a 92-panel, 22.55 kilowatt hour (kWh) solar array. (For comparison, a microwave running for an hour would eat up a single kilowatt.) During peak summer months, the solar array pays for 100 percent of the electric bill; off-peak, it pays for 33 to 67 percent. There are also 13 panels dedicated to heating the pool and two dedicated to the hot water system. The house is heated and cooled using geothermal and hydronic systems. (The former consists of refrigerant-filled pipes that go 200 to 300 feet into the ground to use the Earth's temperature to heat or cool, while the latter features water pipes in the floor slabs.)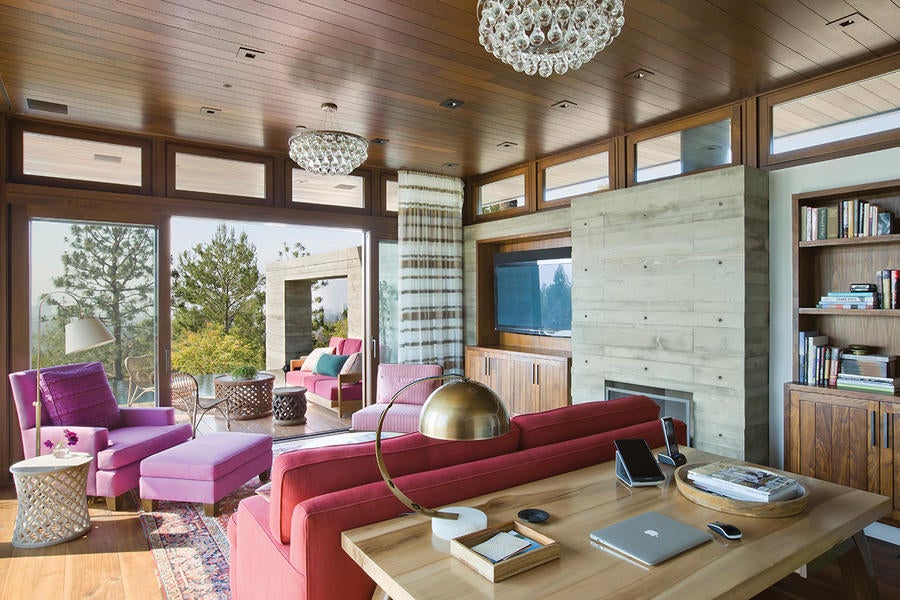 For KAA, every project begins with both the design and landscape architects at the table. "Rather than having a landscape architect come in months later to essentially just plant around the house, this allows us to start the process off with a holistic view of what the property wants to be versus what the house is," says Tran. The result at Tower Grove, completed in 2013, is a building that's very much integrated into its setting, with multiple vegetated roofs featuring the same native plants found throughout the property. "We're not building a home on top of a hill," says Tran. "We really try to build a home of the hill. When you're looking down on it from a landscape view, it actually looks less like a house, which is kind of amazing considering its size."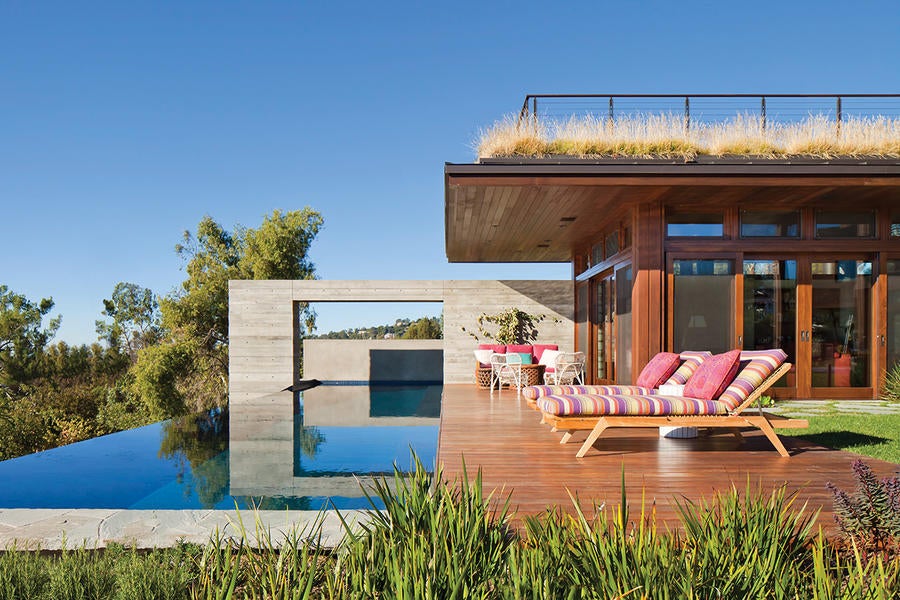 In addition to all of the plantings being drought-tolerant and native to California, the property uses a gray-water system for irrigation, reusing the relatively clean runoff from sinks, showers, tubs and washing machines. An on-site basin collects all of the rainwater and runoff, which is also redistributed throughout the landscape.
"There's a financial gain, but also a do-the-right-thing gain," says Tran.
That's something that was important to the clients of both firms. "They see their home as a civic asset," says Olson, referring to the owners of Meadow House, who often host fundraisers at the property. "The whole attitude of these people, from the beginning to the end, was about how they treat their community. They're just trying to do the right thing, trying to help humanity, trying to be generous to others."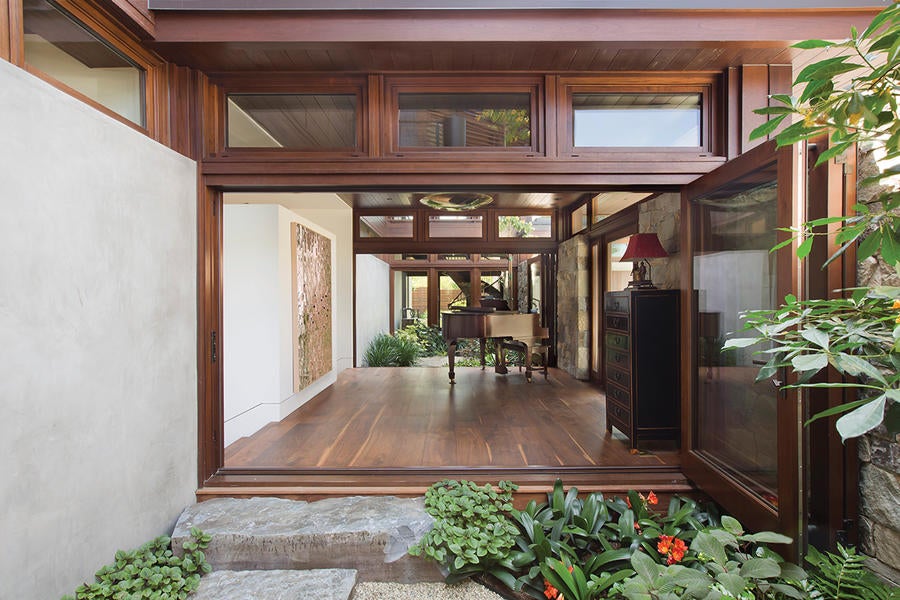 It was only natural that they wanted the whole process to be as sustainable as possible, but that's not an uncommon request. About 75 percent of Olson Kundig's clients ask the same, but it's something the firm brings up with all of its clients. For those who may be hesitant, they stress the financial benefits. "We talk to them about the long-term gains of doing something that will last for many years without a huge amount of upkeep and that will save them a lot of money in their heating and maintenance bills," says Olson. "If you have the money to step up to the plate in the first place, it does pay off over time."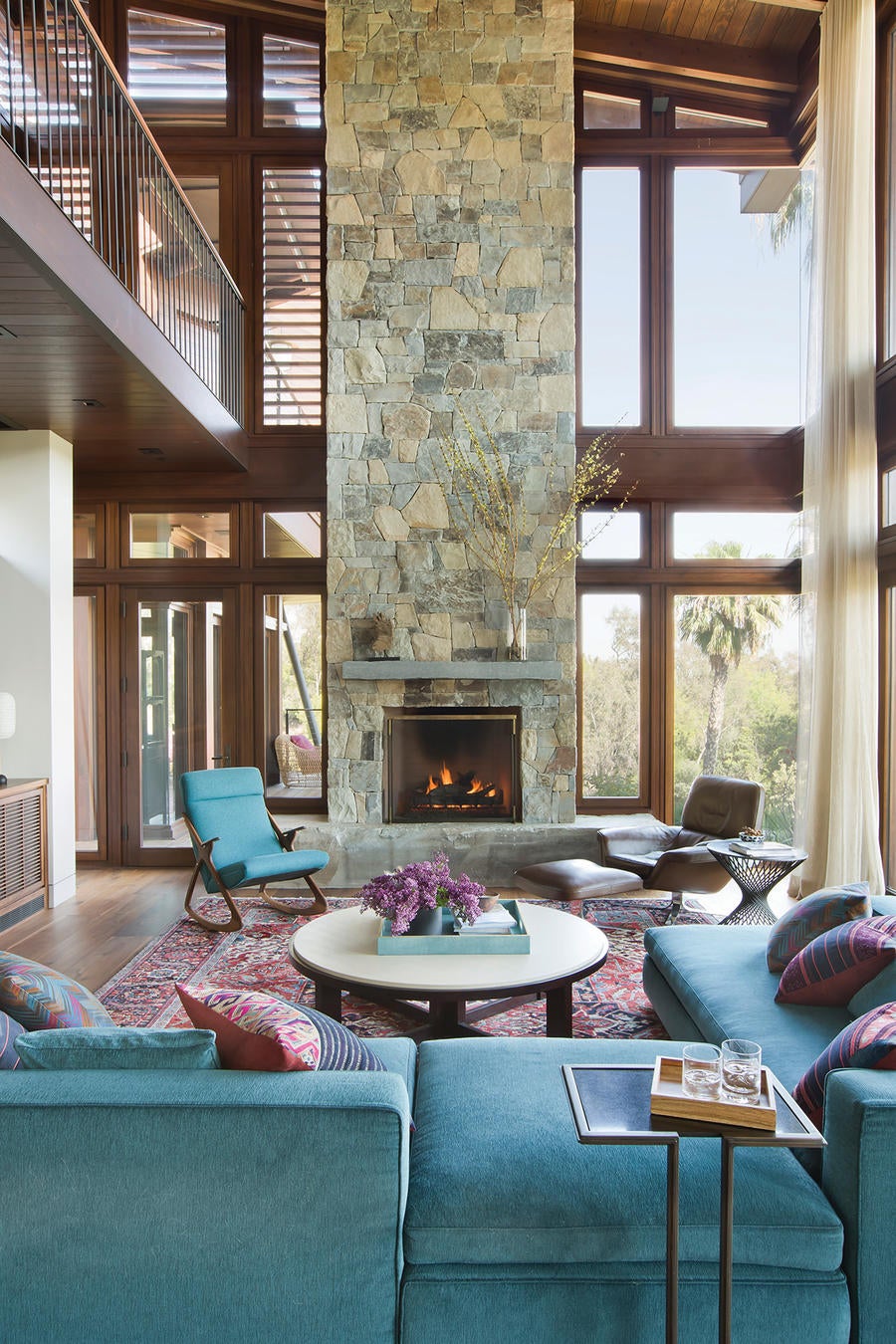 KAA and Olson Kundig estimate that the upfront costs for building a sustainable home are about 5 to 15 percent higher than traditional construction. But as technology advances, that number is getting smaller—and return on investment is improving. "From an economic standpoint, it's a lot more viable than it used to be," says Olivier Landa, the project manager of Meadow House. "We do a life cycle cost analysis for systems to see how long it will take to earn your money back. For some things, like stormwater management, the answer is never. You do it because it's the right thing to do. For things like the solar array on this house, we were able to tell them that in five years, they'd get their money back. After that, they're saving."
Beyond being good for the environment, the common thread among all of these features—from solar arrays and geothermal systems to native plants and nontoxic building materials—is that they are built to last. And that is the real key to a sustainable home: longevity.
"I always think of houses as something that should last for 500 years," says Olson. "If they have a long life, and they're flexible enough to be used in a variety of ways, then future generations can take advantage of them for whatever their needs are. At Meadow House, we've done something that doesn't have to be torn down or replaced. It can keep serving people for many years to come."
Architects understand that people will always want to build big houses. "It's an insatiable human activity," says Kirkpatrick. "So we've just got to do the right thing and build homes for the long run and employ great technology where and whenever we can. I think when you do that, when you build something that is for life, for legacy, and you incorporate technology and systems today that allow us to live lighter, then that's truly being green."
Homepage photo of California Meadow House, Matthew Millman