After leaving the corporate world behind, Marc Cléjan dedicated himself to environmental entrepreneurship, starting a solar power company in Long Island. He did well, but he kept running into the same problem: Due to the wasteful way most structures are built, adding a source of renewable energy after the fact only makes so much difference. He decided that something bigger needed to be done. That something turned into Modern NetZero, an East Hampton-based company that designs and builds net zero homes—residences that create as much energy as they consume.
"The idea is to produce the ultimate product from the ground up," Cléjan tells Business of Home. "Taking everything that we've learned about green technology and the built environment, and bringing that to bear on creating ultracool, ultramodern, no-compromise homes, that were also as green as you could get in today's world, using all the best technologies."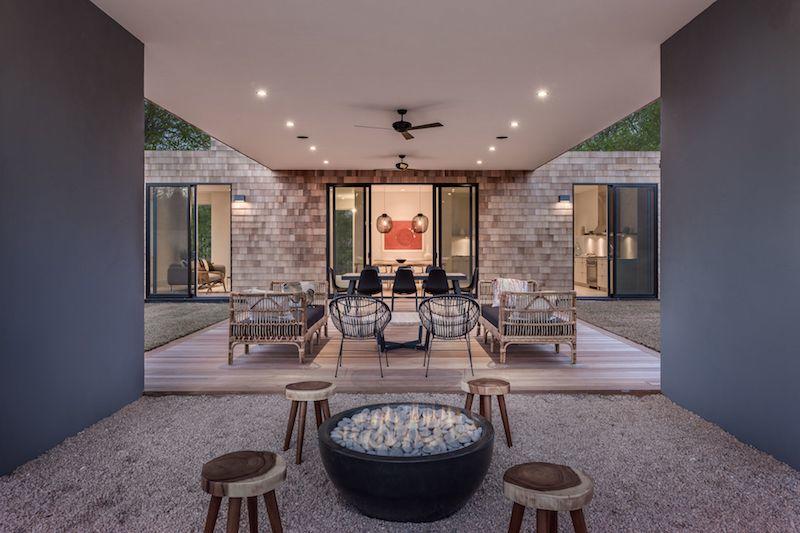 Courtesy of Modern NetZero
Net-zero construction is already popular in sunny locations like California, but the concept is something of an untapped market on the East Coast. For the past six years, Modern NetZero has been creating houses on spec, which are then sold. While this model has served them well (they've completed nine in total), it was limiting for prospective homeowners, who were unable to choose the location or tailor any specifics in the house.
To solve this problem, Modern NetZero recently teamed up with real-estate platform Compass to launch a custom home offering. Clients can choose between six home styles—Cléjan plans to create a new design every three spec houses—and have them built in the location of their choice. "We're saying to them, Here is a series of models that we've executed already, that have been very successful, that are proven, and if you like one of them, pick out the piece of land you like, or we'll help you find one, and we'll build one for you at a fixed price," he says.
Ranging in price from around $1.5 million to $3.3 million, the homes take approximately a year to build. The price includes all building costs, landscaping, permits and design. If an unexpected cost occurs, Modern NetZero takes it on. While the homes are based on existing designs, small alterations can be made.
Seth Kaplan, co-founder of the travel lifestyle company In The Know Experiences, was the first client to have a custom home created (there have been two at this point). Having already owned eco-friendly property in Miami, he was attracted to the net-zero concept, as well as the peace of mind (and savings) it provides: "The air feels cleaner," he tells BOH.
Kaplan was also drawn to the look of Cléjan's homes. While many elements of net-zero construction—large windows, flat roofs, innovative materials—are chosen for maximum efficiency, they also convey a modern, streamlined aesthetic. "Because of the systems we have developed and our proprietary methodologies, we are able to deliver the net-zero design at the same price as an equivalent non-net-zero house," he says. Building a net-zero home is, in many regards, not too different from building a "regular" one—plus a few challenges. Placement is one: The plot must lie in a clearing to allow for ample sunlight to power its solar panels. However, landscapers offset any clearing of shrubs or trees by replanting native species around the home that don't interfere with light access.
Throughout the building process, close attention is also paid to the amount of trash produced during construction. "The beauty of a design that has been executed several times and has been perfected is that we have tweaked things to minimize the waste stream," says Cléjan.
As for the interiors, items and materials are chosen that are great for the environment, without costing an absurd amount. "You could spend 10 times more and find something a little greener, but you have to do the weighted analysis of what's the appropriate, affordable level of green," says Cléjan. Clients are happy with products that are eco-friendly enough without taking too much of a toll on their wallet.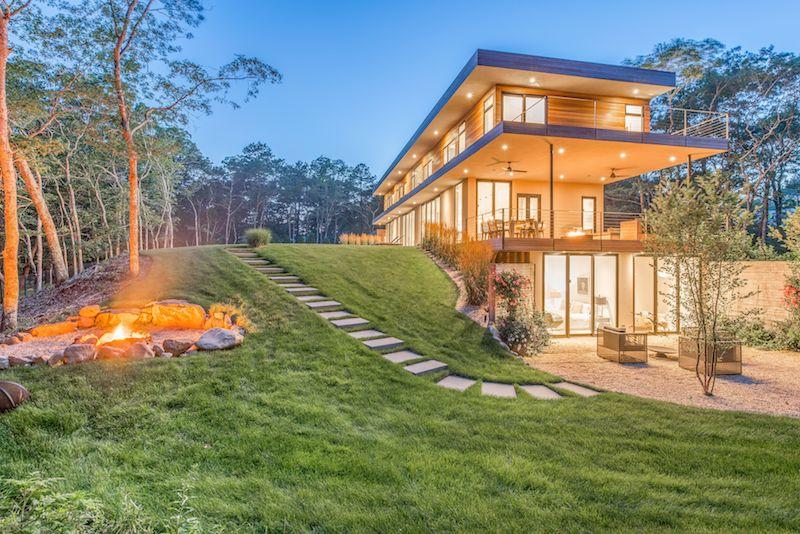 Courtesy of Modern NetZero
Whether spec or custom, each home is designed to save owners between $15,000 and $30,000 per year on energy bills and maintenance through LED technology, solar, geothermal and passive design. "We believe that it is less to maintain than a traditional or non-net-zero home," says Cléjan. "The systems that we're using are actually more reliable and require less maintenance and service than a traditional design."
Cléjan is waiting to see how the market responds to custom homes to decide what scale makes sense for his company. In the meantime, he will be increasing production of spec homes from two a year to three. Regulations continue to move in their direction as more townships set long-term goals for all new construction to be net zero, though he doesn't predict costs will go down, as the price of building seems to be on the upswing.
While they have no specific growth goals, Cléjan is happy with how things are progressing organically. "The original intent here was to make the world a better place," he says. "I think we're on to something."
Homepage photo: Courtesy of Modern NetZero