Showhouses are perhaps the closest that interior design gets to performance. It's an opportunity for designers to indulge in their most extravagant ideas and flex their artistry in a way that working with clients doesn't often allow. And, much like a buzzy gallery exhibit, there's a short window to experience it in person before it's over. By nature, a showhouse is a temporary spectacle. That's one of the reasons why The Kaleidoscope Project, a new showhouse in Lenox, Massachusetts, is a unique concept: It's built to last.
The Kaleidoscope Project doesn't take place in a pristine new-build mansion, ready to hit the real estate market as soon as the showhouse ends. Instead, it inhabits the historic Cornell Inn, and once the showhouse is over, the newly designed rooms will welcome the Berkshires bed-and-breakfast's guests for years to come.
Amy Lynn Schwartzbard, co-founder of The Kaleidoscope Project and a Lenox local, had been interested in starting a showhouse in the community in 2020 but was stymied by the pandemic. The delay worked out in the long run, as the timing aligned with the centuries-old Cornell Inn passing to new owners who were planning to renovate the property. "I don't think the owner knew quite what he was agreeing to when he said yes to our idea," jokes Schwartzbard, who is also the principal of the hospitality-focused multiline Life Designs Group. "He had never even heard of a showhouse, but he understood that it was a chance to do something unique."
The enduring nature of the project is all the more significant given that only designers of color were tapped to work on it. Schwartzbard was deeply moved by the Black Lives Matter protests last summer and wanted to go into what she calls "reaction mode."
"I got very upset about the inequality in our industry," she says. "I wanted to do something that could help expose and promote BIPOC [Black, Indigenous, and people of color] designers in this industry, and I wanted to do it in my own community." Schwartzbard reached out to two industry friends in New York—designer Patti Carpenter and Liz Nightingale, former vice president, director of marketing at the Decoration & Design Building—and brought them on board as co-founders to help bring The Kaleidoscope Project to life.
Ultimately, 23 designers were invited to collaborate on the 34-room inn and carriage house. The owners agreed to give the designers complete creative control, but in order to make the property a bit more cohesive than a traditional showhouse, Carpenter, who is also an expert in trend and color forecasting, devised three color palettes that participating designers could use to guide their designs, ranging from a mix of cool blues to neutrals and earth-toned hues.
"At first, when I heard about the color palettes, the Type A designer in me was like, 'Ugh, you're going to tell me what to do?!'" says Nile Johnson, who designed one of the rooms. "But then I got it. They wanted to make sure there was a flow." Johnson went with the more neutral of the options. "It worked wonderfully and it kept everyone in unison," he says. "I don't typically start with a color story and work from there, but with a showhouse where there really aren't parameters and you have access to basically anything you want, it was nice to have that as a launchpad."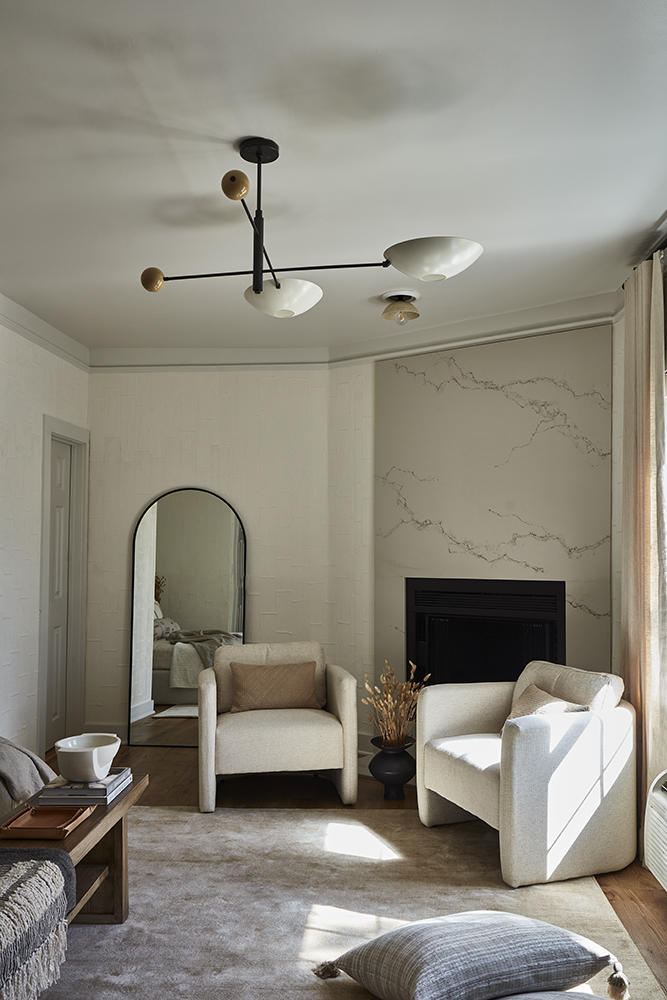 Though the Cornell Inn has been well-maintained, it's still nearly 250 years old and came with myriad challenges. "We couldn't take down any walls or change any electrical wiring—meaning no light fixtures could be moved," says Schwartzbard. "We had instances of the plaster on the walls just crumbling in our hands, and there were layers on layers of wallpaper that had to come off. If this had been a complete renovation, everything could have gone down to the bones, but we didn't have the funds or the time. We only started construction in mid-January, so the entire project was completed in four months."
The short timeline was compounded by COVID, which meant that all of the designers worked virtually. Many, like designer Purvi Padia, saw their room for the first time on install day a few weeks ago. "It's the only project I've ever designed without having physically seen the space," says Padia. "I worked off of photography, which was challenging enough, but then you realize that these aren't modern floor plans—they were conceived in the late 1700s. Between the pandemic constraints, the historical constraints and the budget constraints, I've never been so nervous about a design in my life."
The majority of the decorators who worked on the project are residential designers who waded into hospitality design for the first time. While they were allowed to accessorize however they pleased for the duration of the showhouse, much of those decorative items will be cleared away before the inn starts accepting guests. Similarly, any bedding the designers picked out will be switched out with a more uniform option at the end of the showhouse run.

Padia says the fact that the rooms will theoretically host hundreds of guests did have an impact on her aesthetic choices. "There's a balance between making a hotel room feel homey and welcoming but not making it feel like you're walking into someone else's space or their vision of a relaxing room," she explains. "I stuck to neutral tones with black and wood accents, wanting it to feel warm and easy."
Designer Shawna Underwood focused on small moments that would add dimension to the room without reducing functionality. "The details of the design were important, and I think guests will appreciate the special moments I tried to incorporate into the space, like the playful ombre ball trim detail and warmth of the wool drapes that perfectly frame the view to the outdoors," she says.
One additional creative liberty given to the designers was the opportunity to name their room. Underwood dubbed hers The Hudson, after her maiden name. Padia called her room The Lioness, a nod to Project Lion, a charity that she co-created for UNICEF. Johnson chose to name his room after himself. "I have an unusual first name, and I haven't always embraced that," he says. "But then I have a very common last name. I felt like that was an encapsulation of what The Kaleidoscope Project was as well: a conventional concept done in an unconventional way."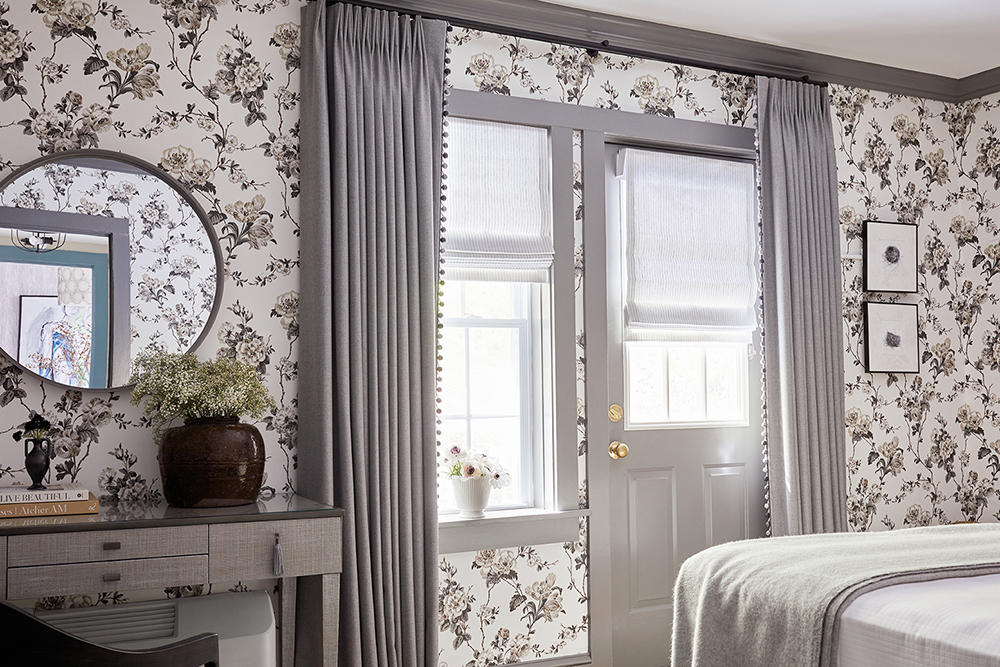 William Waldron for The Shade Store
Ticket sales from showhouse tours, which run through June 6, go toward creating scholarships for students of color who are interested in pursuing a career in art or design. The Kaleidoscope Project partnered with the Black Artists + Designers Guild, The New School's Parsons School of Design, and the New York School of Interior Design to fund existing diversity scholarships. "I graduated from a master's program in interior design, and was one of the few BIPOC designers in the university's design department," says Underwood. "It was important for me to have the opportunity to give back to a community of students that aspire to be designers and open up opportunities that welcome their diverse perspective on design."
While there have been multiple virtual showhouse concepts solely featuring the works of BIPOC artists and designers in the past year, The Kaleidoscope Project marks the first physical endeavor of its kind since the Black Lives Matter movement erupted with renewed fervor last summer in the wake of the killing of George Floyd. The momentousness of the project was not lost on Gail Davis, another participating designer, on opening night last weekend, when the Cornell Inn was brimming with designers of color. "At one point I turned around and looked across the room and just took in the wave of BIPOC designers," she says. "There wasn't just one or two of us, as there so often are at events like that. There were more than 20 of us. We've been discounted for so long, but we were all there, having brought our A game and shown what we could do. Just looking around at the inn and knowing we did this—it was a beautiful moment."
Homepage photo: Kaleidoscope Project designer Nile Johnson's eponymous room at the Cornell Inn | Photo by Frank Frances