The second-annual Window by Design event, a collaboration between Farrow & Ball and Design Industries Foundation Fights AIDS (DIFFA), was unveiled earlier this month at the British paint and wallcovering brand's 16 showroom markets nationwide. Peti Lau, Toledo Geller and Jenny Wolf were among the 16 designers to partner with a Farrow & Ball storefront to create a festive vignette using the brand's product.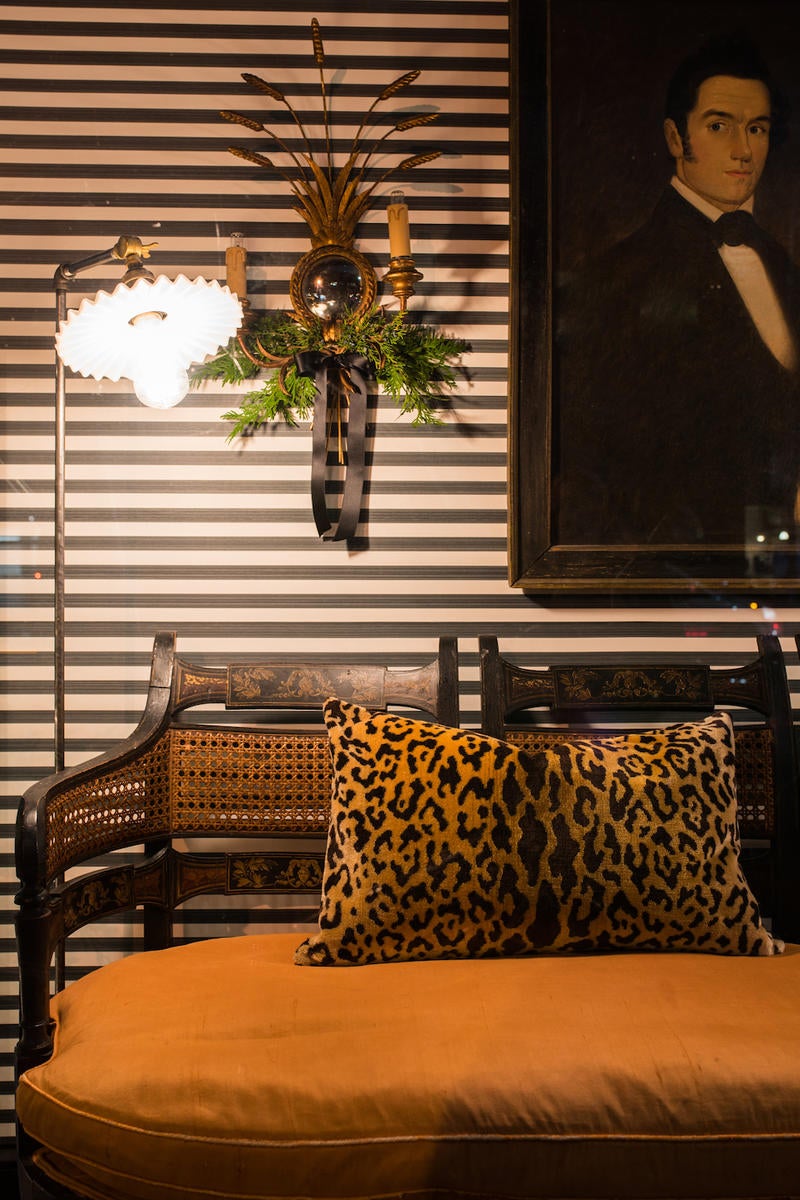 "Farrow & Ball is honored to support DIFFA and their efforts to raise awareness for such an important cause," says Molly McDermott Walsh, vice president of marketing at Farrow & Ball in North America. "We hope that through the creativity of these designers and the visibility of our showrooms, we can encourage more people to support important causes this holiday season."
Debuting just in time for World AIDS Day on December 1, the window displays hope to raise awareness for HIV/AIDS and benefit DIFFA's direct care services, preventative education programs and advocacy for individuals affected. "Each designer uniquely interprets our mission, translating our values into inspiring vignettes," says Barbara Prete, DIFFA interim executive director.
For every photo a shopper shares on Instagram using the #FaBforDIFFA hashtag, Farrow & Ball will donate $1 to the nonprofit. The Window by Design collaborations will be on display through January 2018. EAL caught up with a few of the participating designers to learn about the inspiration behind their festive window displays.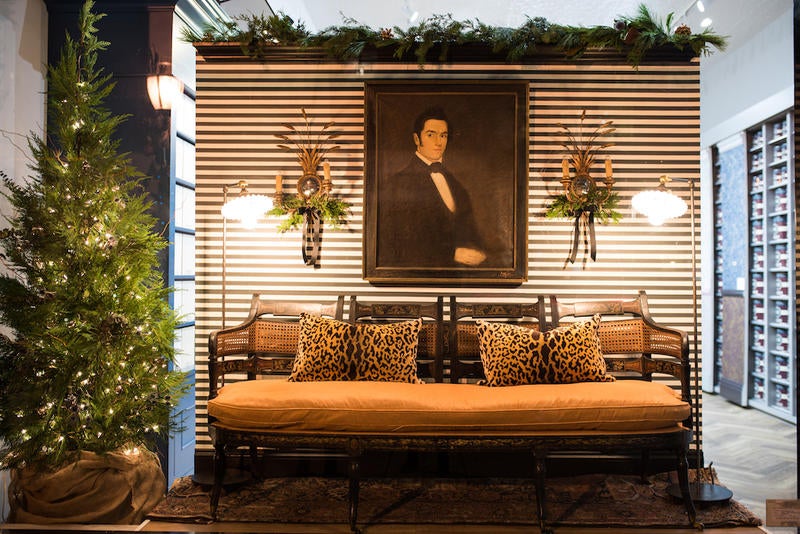 "I fell in love with the graphic nature of the Farrow & Ball closet stripe wallpaper in the black and white colorways. I thought it would be a great idea to install it horizontally instead of the typical vertical installation. While I was shopping in North Carolina, I found this beautiful antique French cane bench. I knew this would be the perfect fit for the window display. The wallpaper serves as a perfect backdrop to give these beautiful antiques a fresh new look. This bold paper paired with the traditional antique rug, bench, and eighteenth-century portraiture, breathed new life into these period pieces," says designer Jenny Wolf.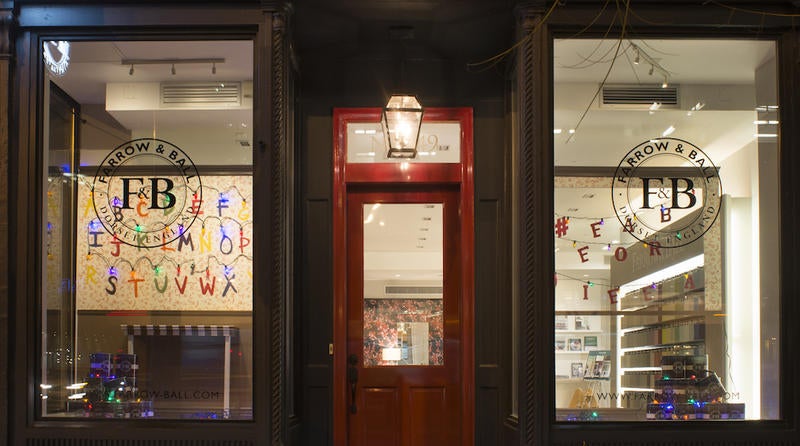 "When designing our vignette, we immediately recalled the iconic New York window displays of Bergdorf Goodman and Barneys New York. These powerhouse creative leverages populate culture with holiday sentiment in order to captivate the attention of all urban dwellers. Our 'Stranger Things' inspired windows have multi-generational appeal, thus maximizing the opportunity to ignite a social media buzz and ultimately raising awareness for our charitable cause, #FaBforDIFFA," says Jeannie Balsam.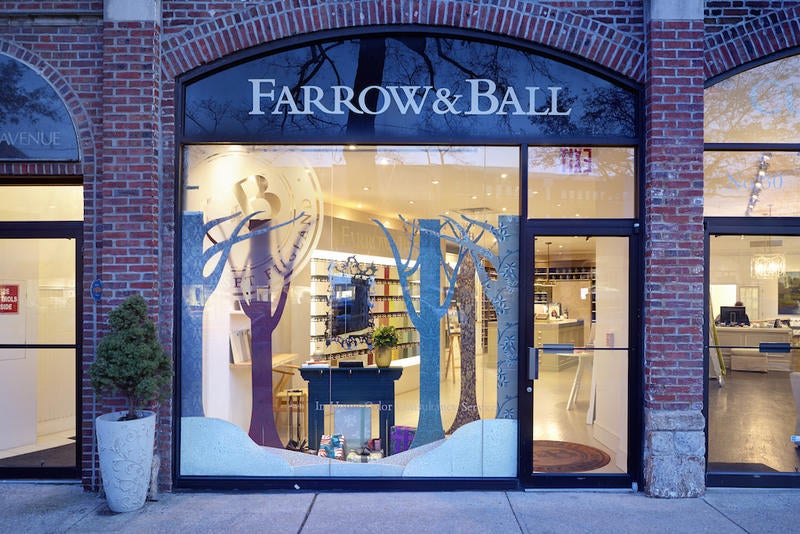 "Harsh winter days lend themselves to truly embracing the comforts of home. The holiday tones we chose for the Greenwich window are based on the holiday tones used by the royal family. The window is an homage to home," says Robert Passal.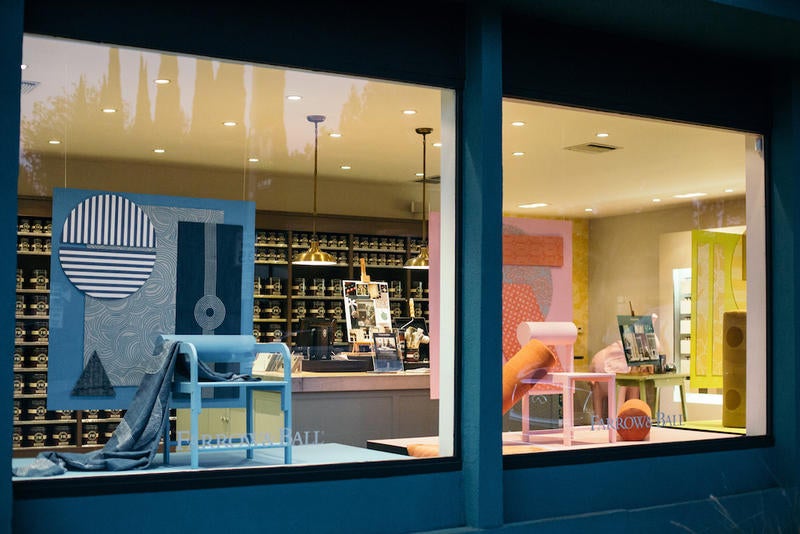 "The Block Shop window display for Farrow & Ball is our updated take on the otherworldly Triadisches Ballet from 1922. It's a striking interplay of our hand block printed textiles, custom Waka-Waka chairs in F&B colors, and F&B's wallpaper collection. These textures are composed as floating Bauhaus shapes in a vibrant dance, full of festive spirit in Angeleno colorways of stucco pink, sunshine yellow and cobalt blue," Hopie Stockman and Lily Stockman.
"The charming scenery of the Farrow & Ball Gable wallpaper in the white-and-cream color way had an almost Scandinavian feel to it, which became the inspiration for a Nordic winter wonderland," says Joshua Greene.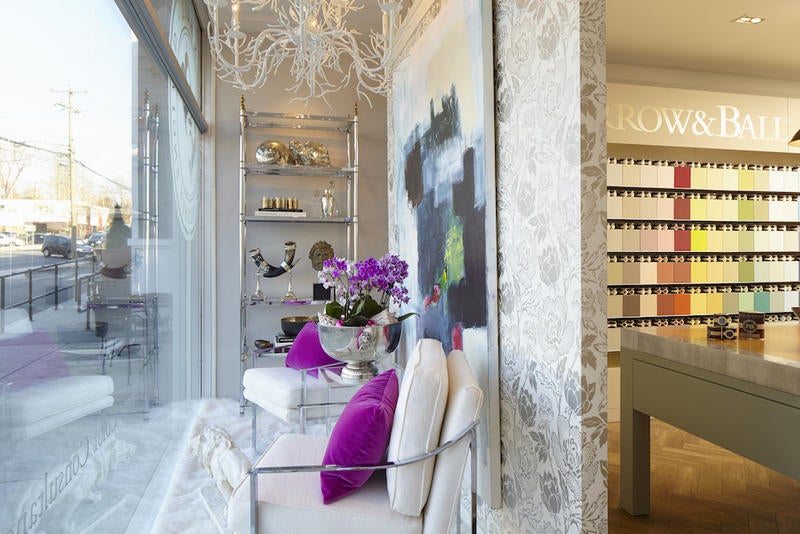 "My vignette was inspired by the idea of winter whites and silver for the holidays, accented with pops of bright color to showcase a warm and intimate seating area. The colors tie in with the large original abstract painting titled 'If and When' by Victoria Wyndham. I felt it was very apt for a window designed to raise awareness of DIFFA and the work they do. 'If' we are able to overcome prejudices and become better informed about AIDS and 'when' research and healthcare are better funded it may lead to a much brighter future. Farrow & Ball wallpaper used at the front facing window id 'Peony' in soft white with metallic silver. The wallpaper on the back side that faces into the store is Enigma in blue. I painted the trim work in Wimborne white full gloss," says Sue Appleton-Webster.
"Our winter vignette mixes classic and contemporary elements to evoke a warm, comfortable home. The setting features Farrow & Ball's 'Ringwald' and 'Broad Stripes' wallpapers, vintage table, crystal lamp by Kelly Wearstler, and a number of gilded picture frames.
Within this cozy scene, however, we're reminded how far-reaching AIDS is. The picture frames are empty, alluding to the 35 million people we've lost to this insidious disease—artists, athletes, writers, doctors and activists among them. AIDS does not discriminate," says Annie Elliott.