The world is beginning to open up, with retail spaces and showrooms swiftly following suit. In our May roundup, BOH has gathered all the expansions and openings to have on your radar.
California
Danish design brand Hay, a subsidiary of Herman Miller Group, has opened its fifth North American retail location, in Berkeley, California. The 3,000-square-foot store showcases the brand's furniture, textiles, kitchenware and tabletops in the city's historic shopping district for home and design.
Textile manufacturer Maharam has expanded its North American presence with new showrooms in Los Angeles and Chicago. Both spaces were designed in collaboration with architect Neil Logan (who also designed the company's New York headquarters). The L.A. showroom is in an industrial space within the Helms Design Center.
Massachusetts
Artaic has announced the unveiling of a new headquarters at the Schrafft City Center in Charlestown, Massachusetts. The Boston-based company—which manufactures mosaics with the help of robotic technology—will make its new home in a building that once housed a candy factory and was redesigned for the brand by Silverman Trykowski Associates Inc. to accommodate its expanding team and an on-site warehouse for tile inventory.
Surface materials provider Nemo Tile + Stone has opened a new contractor warehouse and showroom in Woburn, Massachusetts. The 5,300-square-foot warehouse and 1,500-square-foot contract-specific showroom will house the brand's portfolio of materials and corresponding visual assets, serving the 100-year-old company's client base in the greater Boston area.
New York
Sotheby's has opened a retail location called The Emporium, located within its flagship galleries on New York's Upper East Side. The space functions as an extension of the auction house's Buy Now online marketplace, offering more than 5,000 curated luxury items—including fine art, jewels, decorative objects and furniture—at a variety of price points.
The newly rebranded M. Alexander (formerly Marvin Alexander) has opened a showroom in New York's Decoration & Design Building. (In 2017, the company was acquired by the D&D Building's owner, Charles S. Cohen.) The new space is just blocks away from the brand's in-house wiring and restoration studio.
Bespoke kitchen, furniture and lifestyle product manufacturer Lanserring has opened its first U.S. showroom in New York. The Austrian brand will make its new home on Crosby Street in SoHo, offering its concept-to-completion service to homeowners and industry professionals.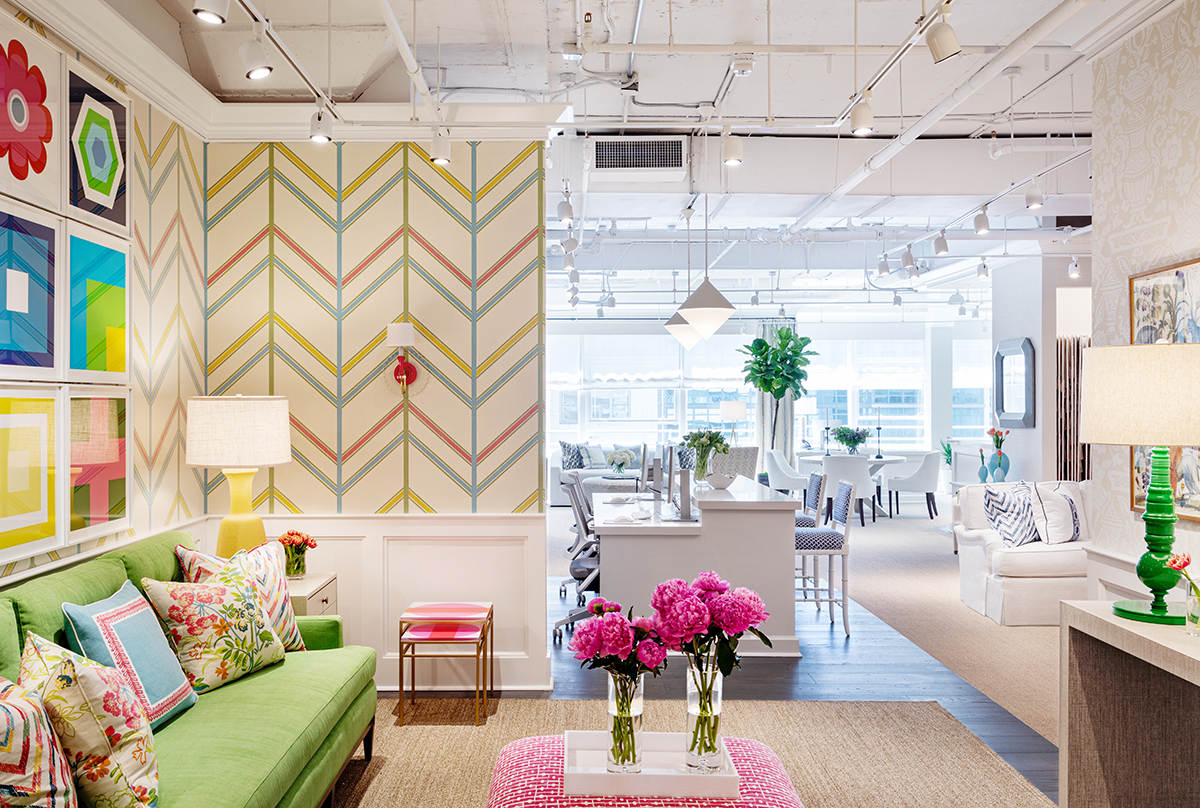 Thibaut has moved its flagship on the 6th floor of New York's D&D Building to a larger 3,300-square-foot space on the 9th floor. Located in suite 909, the new showroom contains the brand's entire line of fabrics and wallcoverings, along with a display of Thibaut Fine Furniture, and it also features two self-serve sample walls with grasscloth and vinyl wallcoverings as well as the brand's tapes and trims.
American heritage home decor brand MacKenzie-Childs has announced that it's transitioning its Aurora, New York, location into a full-time outlet store. The outlet's special pricing model will feature some items up to 70 percent off the original price, with an inventory that includes historic retired patterns and prints, handcrafted products, and second-quality items with minor imperfections.
Midwest
The LuxeHome collection of boutiques for home building and renovation has announced a 2,000-square-foot expansion of the BSH Experience and Design Center at The Mart. The space will be home to interactive cooking sessions and product training hosted in its new cooking lab, designed to highlight various product categories, including Thermador and Bosch appliances, dishwashers and refrigerators.
Textile manufacturer Maharam has expanded its North American presence with new showrooms in Chicago and Los Angeles. Both spaces were designed in collaboration with architect Neil Logan (who also designed the company's New York headquarters). The Chicago outpost is located within Herman Miller Group's flagship building in the Fulton Market district.
Indianapolis-area luxury home builder Christopher Scott Homes has announced the opening of a 4,800-square-foot retail design center showroom in the Indiana Design Center. The space will represent the group's AR Homes division, which offers more than 100 pre-priced home plans for a streamlined, customizable build process.
New to the Michigan Design Center, The Gallery of Luxury is offering an extensive selection of furniture from contemporary European manufacturers, along with several pieces created by local artists.
Seattle
The Seattle-based Plasteel Frames & Gallery has announced the opening of a new showroom in the Seattle Design Center. Founded in 1973 by Spike Hendricksen and Tom Blue, the gallery provides fine-art conservation, frame restoration, handcrafted frames and archival mounting services, along with representing a variety of contemporary artists and offering 19th- and 20th-century artwork.
Resource Furniture has announced it will open a new 3,000-square-foot showroom in the Seattle Design Center. The space will house the brand's luxury wall bed systems, home office solutions and customizable storage, and will introduce the new fully customizable Wardrobe Collection.
Texas
On the second floor of the World Trade Center at the Dallas Market Center, Todd Smith and Charlie Groppetti have debuted a new showroom called Porch View Home. The space will display the brand's home furnishings and accessories in a laid-back aesthetic.
Also in the World Trade Center, ProSource has opened a smart lighting demo center. Featuring multiple residential rooms, the space is outfitted with smart home systems and devices, such as lighting products and applications.
In the same building, Synergistic Furniture Design has opened a space that displays a range of custom industrial furnishings and decor in materials such as metals, wood and epoxy, for both residential and commercial uses.
The Hinges brand has newly arrived at the World Trade Center, offering premium furniture crafted with wood that's plantation-grown, reclaimed and recycled.
Elsewhere at Dallas Market Center, a series of new additions have arrived in The Gallery of the Interior Home + Design Center. They include artisan-crafted lamp and accessories brand Couture Lamps; Shona African Sculptures, featuring organic forms by Zimbabwe-based artists; abstract works from Susan Sales Fine Art; a selection of antiques curated by Kelly Butler Home; and a Benjamin Moore color wall of paint samples.
Several brands are also expanding their showrooms within Dallas Market Center, including Savoy House in the Trade Mart; Pasha and Unique Loom in the Interior Home + Design Center; and Park Hill and C. Maddox in the World Trade Center. Of those, Unique Loom has nearly doubled its square footage, while Savoy House has completed a major expansion to make room for new collections across categories of chandeliers, ceiling and wall lights, pendants, outdoor lighting, and ceiling fans.
Luxury furniture, lighting and decor purveyor Arteriors has moved into a new 35,000-square-foot headquarters paired with an adjacent 300,000-square-foot warehouse in Dallas. The workspace will be home to more than 150 of the company's Dallas-based employees, with 234 Arteriors products built into the environment.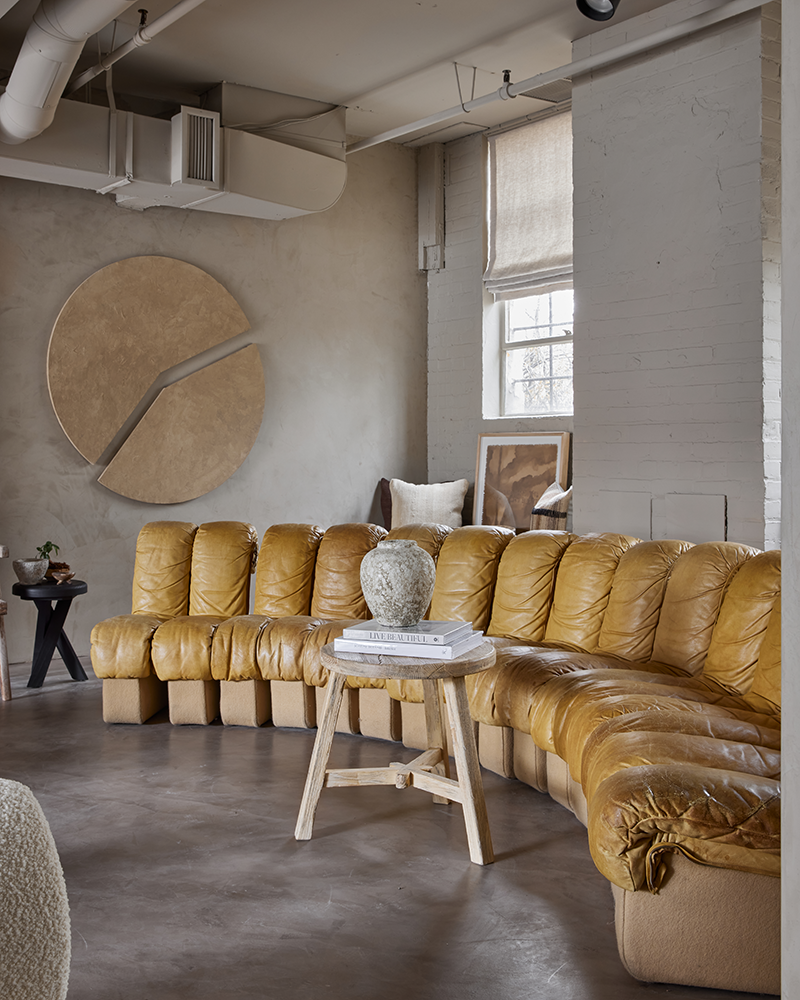 Courtesy of Montana Labelle Design
RH has announced the opening of RH Dallas: The Gallery on Knox Street. The Gallery comprises nearly 70,000 square feet of indoor and outdoor space, displaying artistic installations of luxury home furnishings and providing professional design services within the Interior Design Atelier.
Canada
Online store Montana Labelle Lifestyle has announced the opening of its first brick-and-mortar location. The Toronto space will house the Montana Labelle Design team's office and studio, as well as a shop featuring an array of internationally sourced products, including custom furnishings, curated art, hardware, ceramics, lighting and vintage pieces.
Homepage image: The Emporium retail space has opened inside the Sotheby's galleries in New York. | Courtesy of Sotheby's Auction House