Selection for Benjamin Moore's color of the year started months before the pandemic left people around the world reevaluating the importance of home. So, it was prescient that Andrea Magno, director of color marketing and development at Benjamin Moore, was inspired by the comfort that color evokes when her team created the Color Trends 2021 palette and ultimately selected the color of the year, Aegean Teal 2136-40, a captivating blue-green.
"I feel the palette speaks to this current moment, as well as the year ahead, in that we are looking at things from a different perspective as we find joy in simple moments throughout the day, which can be related back to color," says Magno. "This need for uplifting colors relates to the amazing power of color to create a backdrop that sets a particular mood, promotes well-being or is a means of personal expression."
For Magno's team, the color trend research process includes travel, months of observing the ways that color is used across industries, sharing experiences, and collecting images and other artifacts. "This year, we were struck by natural dyes, handmade textiles, the beauty of imperfection, and hues with a sunbaked, organic quality. Through our research, several colors captured our interest, but the balanced and calming quality in Aegean Teal not only resonated from an emotional standpoint, but also has a great presence, being a mid-tone color."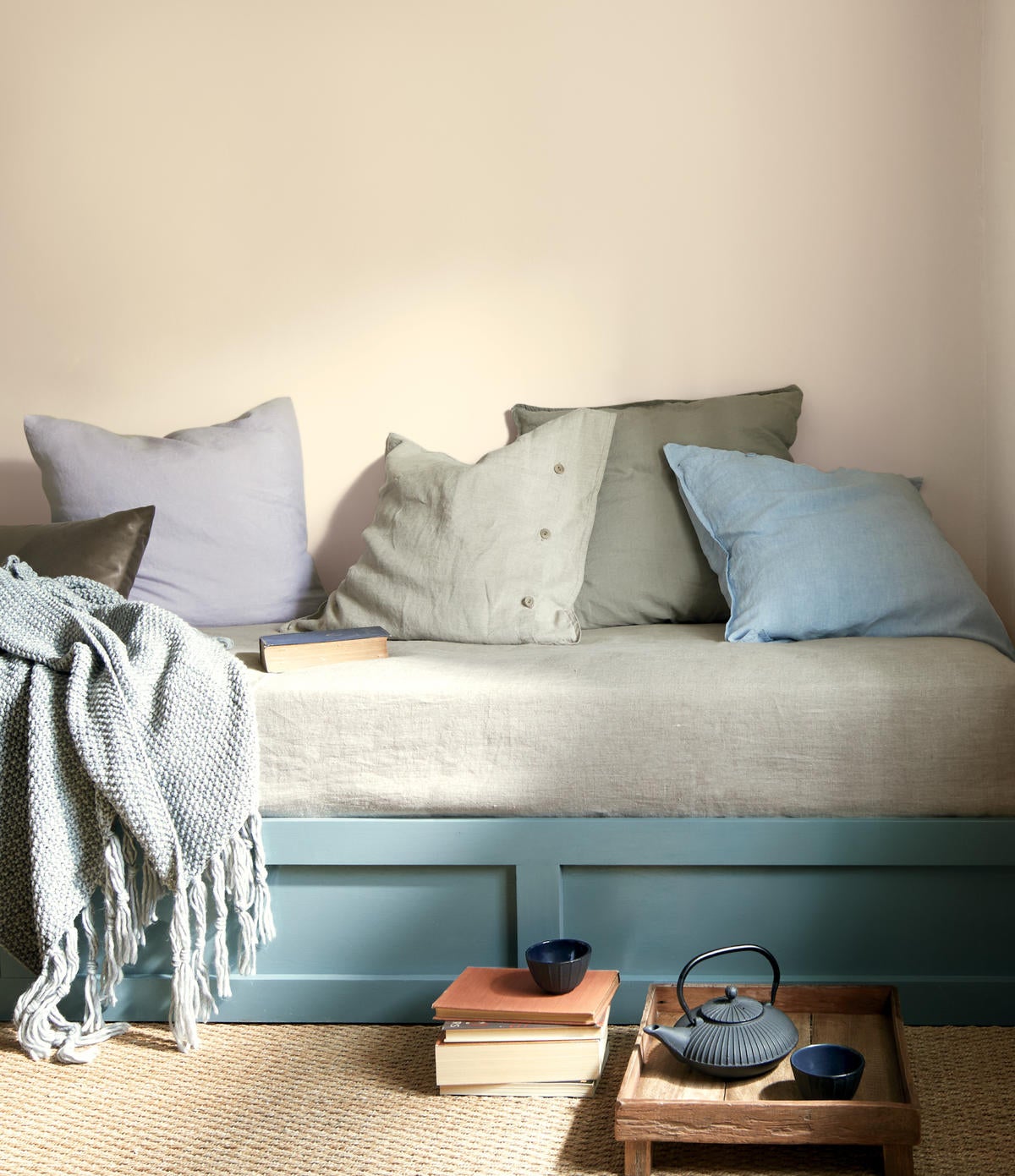 Courtesy of Benjamin Moore
Part of Aegean Teal's appeal is its versatility, which Magno says makes a statement without being loud. "Aegean Teal is a unique front door color and it is a beautiful choice for millwork and cabinetry," she says. "Aegean Teal complements and enhances the other colors in the Color Trends 2021 palette, as it bridges the warm and cool hues with its harmonious nature."
When choosing the 12 hues selected for the 2021 palette—ranging from the soft creamy tones of Foggy Morning 2106-70 to the rich, purple-brown of Amazon Soil 2115-30 and the warmth of Rosy Peach 2089-20—Magno and her team looked for colors with a lived-in quality. "We were drawn to the emotional connections between the home and the colors we surround ourselves with to create a particular mood," she says. "The palette has a soothing yet upbeat quality, with a casual elegance that is enveloping and welcoming, making it very appropriate as the home takes center stage."
This story is a paid promotion and was created in partnership with Benjamin Moore.
Homepage photo: A kitchen in Aegean Teal | Courtesy of Benjamin Moore