BSH, Europe's largest manufacturer of home appliances, recently unveiled its first Midwest-based Experience and Design Center. The latest addition to LuxeHome in Chicago's Merchandise Mart, the BSH Experience and Design Center showcases Gaggenau, Thermador and Bosch products in 7,400 square feet of immersive kitchen vignettes.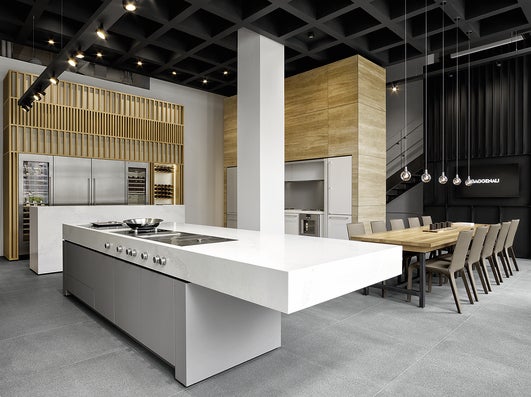 Twenty-foot ceilings and an abundance of natural light provided the foundation for BSH's collaborative showroom. The Gaggenau section, which was designed by Hendrik Müller of Munich-based firm einszu33, pays homage to the Midwest setting with designs that Gaggenau says "reflect the architectural heritage of the 'Heart of America.'" Surfaces like smooth marble and oiled oak were selected to embody the truly tactile experience center.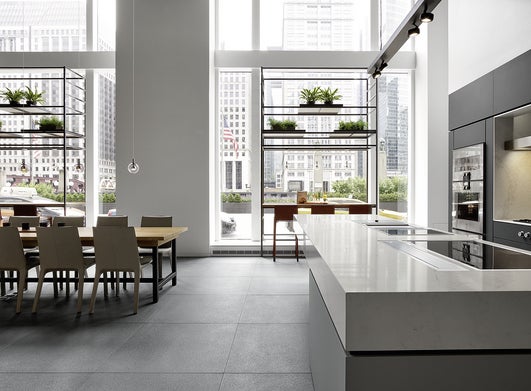 "The opening of our Chicago location is the culmination of the strategic steps we have taken to continue the successes and growth of our BSH portfolio of brands," said Christofer von Nagel, president and CEO at BSH Home Appliances. "With our presence in this iconic city, and at LuxeHome in the landmark Merchandise Mart, BSH will have the opportunity to collaborate not only directly with consumers but also some of the most influential architecture, development and design firms in the world."
Chicago is the fifth city to host a BSH Experience and Design Center, following locations in Irvine, California, New York City, Toronto and Montreal. The center joins LuxeHome's growing collection of premier boutiques for home building and renovation.
Located on the first floor of the Merchandise Mart, LuxeHome features its own resident concierge, Design Resource Center and more than 125,000 square feet of luxury showrooms. Having added seven new showrooms in the last year, including True Residential, Devon&Devon and GRAFF, LuxeHome will fill its first-floor capacity when Viking and La Cornue open in late 2017.