When Rick Kilmer became CEO of Thibaut in June, he inherited a set of formidable challenges—including the decline, bankruptcy and ultimate sale this spring of Robert Allen Duralee Group, which was one of the company's primary showroom distribution partners. At the same time, Thibaut debuted a new ERP (enterprise resource planning) computer system in March 2019 after two years of development, a transition that plagued the company's operations for months.
But Kilmer was up to the task, starting with six weeks on the road—a listening tour, if you will—to take the company's temperature, meet the team and map out a plan for the future. And for all of the setbacks, 2019 is on track to be a banner year for the brand, with record revenue levels and double-digit percentage growth in almost all markets.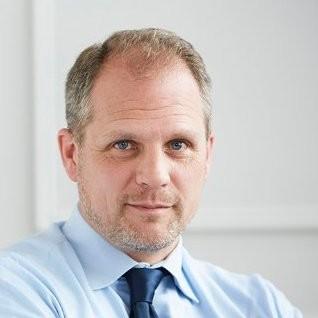 Kilmer joined Thibaut after two years as president at Knoll-owned Holly Hunt, where he focused on scaling the business domestically and internationally. ("Rick brings a great track record of operating stand-alone brands within a larger organization as well as working alongside the founders of a creatively led business," longtime Knoll CEO Andrew Cogan said in a 2017 release heralding Kilmer's appointment.) Before his stint at Holly Hunt, Kilmer held various other executive positions in the home industry, including at Flor, Janus et Cie, and Kohler.

Thibaut, for its part, is the longest-continually-operating wallcover manufacturer in the U.S. Founded in 1886, the company transitioned from purveyors to designers over the course of several decades. In 1960, Thibaut debuted its first printed fabrics; more recently, the company acquired high-end British brand Anna French in 2007 and launched Thibaut Fine Furniture in 2012.
The company also has a track record of successfully navigating private equity ownership: In 2005, Thibaut management and The Riverside Company bought the brand from specialty coatings manufacturer RPM; in 2014, management and Champlain Capital became co-owners. In 2017, Thibaut was finally purchased by its current owner, the St. Louis, Missouri–based private equity firm Harbour Group, whose holdings include everything from diamond-cutting products to kitchen hardware. According to its website, the firm has acquired 208 companies across 45 industries since its founding in 1976, and it purports to focus on long-term growth rather than next quarter's profits, an approach that seems to have resonated with Thibaut.
"While incredibly supportive of our strategic roadmap, [Harbour Group] expects management and all levels of leadership to know our business and our clients, and to execute against the plan," explains Kilmer. "Thibaut has a long history of making private equity partnerships work, and the Harbour Group relationship is no exception to that pattern."
Last month, Business of Home sat down with Kilmer in Thibaut's showroom at High Point Market—his first with the brand—to learn how he's tackling existing challenges, why the company had a record revenue year, and what's in store regarding new showrooms and international expansion.
You've said it's been a tumultuous year for Thibaut—but before we get to that, what are you most excited about for the brand?
Having this very clear design and value proposition around what Thibaut stands for. Sometimes there can be a squishiness of brand message—often the unintentional result of seeing success in a new category, a new direction or a new channel. When you chase hard after that, along the way you can lose your compass. Thibaut's never done that, and it's such a great testament to the team.
Is that about staying narrow, or what's the secret? Because the brand is in a lot of categories.
There is no clutter here. We have three primary categories: wallpaper, fabrics and furniture. But even cross-category, we still have the same point of view. It's still beautiful, refined and special enough for our best clients. [You need] the trade to find you relevant, and to know that they're still protected. I mean, with the way the trade is shopping, the whole industry's evolving. You have to be special [to stand out], and Thibaut does that right.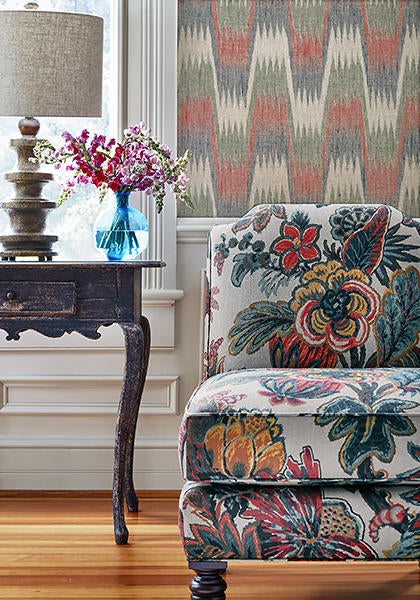 The company implemented a new computer system earlier this year that has caused a lot of headaches. What was the impetus for the change?
Being foundational for the future. That means more efficient on the distribution side and more efficient on the customer-centric side too. We needed a more current evolution of an operating plan [as] our channels grow, as [we have] more international business, and as we look at digital opportunities. It's really that simple—the same as everybody does it.
How do you approach that—is it custom-built or a solution you buy?
Both. We found a solution that was off the shelf, not known in our industry, but more of a manufacturing solution. That has required a fair amount of customization on our part. [The software] was about getting the product from place to place, but not about the service—the high-touch, transactional customer service is the custom piece that had to be built on top to better suit Thibaut's client journey and expectations. And even the manufacturing—we're not in the widget industry. You know, there aren't many operating platforms that have a quick solution for CFAs—that was a wrinkle that Thibaut had to figure out. So we're still fighting through all that, but it's been a record year despite that.
Did those struggles just slow you down? What were the hurdles that end users experienced?
The most painful part was the experience for our clients. We're growing with so many new customers, so [knowing that] this was their first experience with Thibaut has been tough. But it's been a point of view at Thibaut that the customer comes first—forget about the financial risks of making a change, forget about the time, forget about the [other] priorities. We just have to figure out what it takes to make sure that this client loves their experience with Thibaut. Although it was certainly a summer of disruption for our internal and external stakeholders, we have seen tremendous progress in our service levels since then.
Eventually, what does this new system allow you to do in terms of e-commerce or online sales?
A big part of it will be what I'll call "digital experience." I don't know that it will necessarily be e-commerce, but [a tool] so that our designers and showrooms can be self-informed about their order tracking. You don't have to wait for a showroom to open if you have a question on Saturday—go online!
The initial focus wasn't as transactional as e-commerce would be, but pre-buy transactions like sampling. In addition to offering high-touch [service], sampling requests are also a great early indicator for us. We can see what's moving, what's not moving.
Historically, Thibaut partnered with Robert Allen Duralee in most major markets for showroom representation—so the evolution of that brand must have been a major change, as well.
That was a seismic change. They're still working on things and figuring out their path; we're figuring out our path. In some markets, there are still ongoing partnerships. In others, Thibaut needed to control our own brand and client experience.
You're opening your own showrooms in Atlanta and Chicago.
We're testing those markets out—Atlanta in November 2019, Chicago in January 2020. I'm from the showroom world with Janus [et Cie] and Holly [Hunt]. It's a great opportunity, particularly to have a brand like Thibaut that has a very focused offering and brand promise. If you have a real point of view, the showroom model feels pretty good.
So you're still optimistic about the future of showrooms?
I am. I mean, I feel optimistic about the future of good showrooms. I think having a showroom isn't necessarily good or bad, but you need a story for the showroom. And then if you have a good story, the channel needs to be what the client needs it to be. And you just need to have the right story.
What made this a compelling brand to come and join?
I've been incredibly fortunate to work with some successful, iconic people—the Kohler family, Janice Feldman at Janus et Cie. And then Holly Hunt. Those folks taught me all about brands and experience, and those are two elements [for which] Thibaut just checked the box. Of all of those, this client base has the most stickiness with the brand. There is a ferocious affinity with our clients.
When I onboarded with Thibaut, I spent the first six weeks on the road. It's always nice to learn about your company from the outside rather than from the inside. I visited five regions and probably about 50 accounts and just heard everything about the brands.
So you were meeting with designers?
Designers, showrooms, any type of client that we have, and even our own reps. It was good learning for me around the computer transition—I got firsthand news on how that was going, which drove several new applications and urgencies throughout our ERP journey. When you join a new organization, it's very easy to get bogged down in the daily details and get stuck behind your email; I was fortunate enough to get out at the very beginning.
What was the big takeaway from all of that time on the road?
The brand allegiance was there and that was important for me to hear. There are a lot of fabric companies or wallpaper companies, a lot of furniture companies, so you need to have a point of view that people respect and respond to. The design community is evolving, and you can't be just a destination of products—you have to be a solution for people. Understanding how Thibaut can be in a place to take care of that and respond to that is important.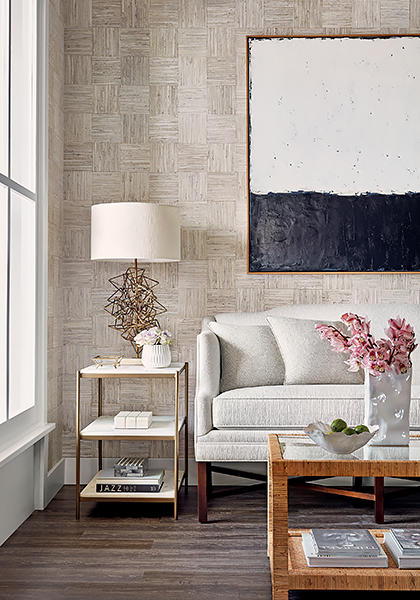 When you look ahead, what do you see? Where are the opportunities?
I think the world is an opportunity. We're very domestically focused now, so having some international growth. I think our design speaks to that. I think there's enough versatility for some new product categories, more soft good categories. There are always upsell opportunities, and when you have a showroom infrastructure or dealers, you want to give them more ammunition as well.
We're moving our offices and warehouse in a few months. The office will stay in New Jersey; our warehouse and distribution center will be moving outside of Charlotte. It's a great area, known for distribution [capabilities], and there are financial advantages as well. It'll be a new building—we're first in this space. And some of the operational efficiencies from the ERP transition [are possible] in this new space.
So it allows you to put into practice a lot of the solutions that you have already?
That's right. We wouldn't have been able to optimize the new system in the building we were in. The density of the new warehouse—we've got 30-foot ceilings instead of eight-foot ceilings, which allows for more automated picking and more wireless frequency control picking. So the workforce will be different, more focused on functionality rather than a broad, versatile team. But really, the infrastructure will be cutting edge and help us move forward. And it's scalable, whereas we are bursting at the seams right now.
You said you've had a record year. Where's the growth happening, and what are people responding to?
Everything.
So there's not one banner category?
There isn't. It's another exciting part for me, because you don't have that one anomaly that's lifting us up across the board. And part of that is, again, a testament to our design team, but also the fact that we're signing and finding so many new accounts. Everything is new to somebody. Not only did we have a record year in terms of revenue, our new account acquisition rate is higher than ever before and our sampling conversion rate remains very strong.
What's fueling that discovery?
Our reps. We have a great team of very effective, longtime Thibaut folks scattered around the country. Coupled with our product portfolio, our clients find an experience that is well suited for their clients.
And the ERP implementation, as bumpy as it's been—someone told me at dinner the other night [that] in a way, it kind of forced the sales folks to get close to their clients. [It] lets them be the hero and solve some of the problems and learn more about their business, and that has made the relationship stronger.
Homepage photo: Courtesy of Thibaut