Product Preview is a weekly series spotlighting the latest and greatest debuts in the marketplace. Check back every Friday for what's new and notable.
It was a whirlwind week for design aficionados. Tens of thousands of home decor enthusiasts (including yours truly) flocked to Milan for Design Week 2021 and witnessed an assortment of major design brands reveal fresh launches that were every bit as energetic as they were inspirational. From rainbow-speckled rugs to streetwear-brand dinner plates, here are some of the most memorable Milano debuts that caught my eye. Ciao!
Photo by Casper Sejersen courtesy of Kvadrat
British graphic designer (and former Factory Records art director) Peter Saville created a collection for Danish textile company Kvadrat that was as swoonworthy as expected. Inspired by the neon spray marks English farmers use to identify sheep, the day-glo assortment, called Technicolour, included ombre pastel curtains, rainbow-speckled rugs and color-flecked upholstery that I will be dreaming of for weeks.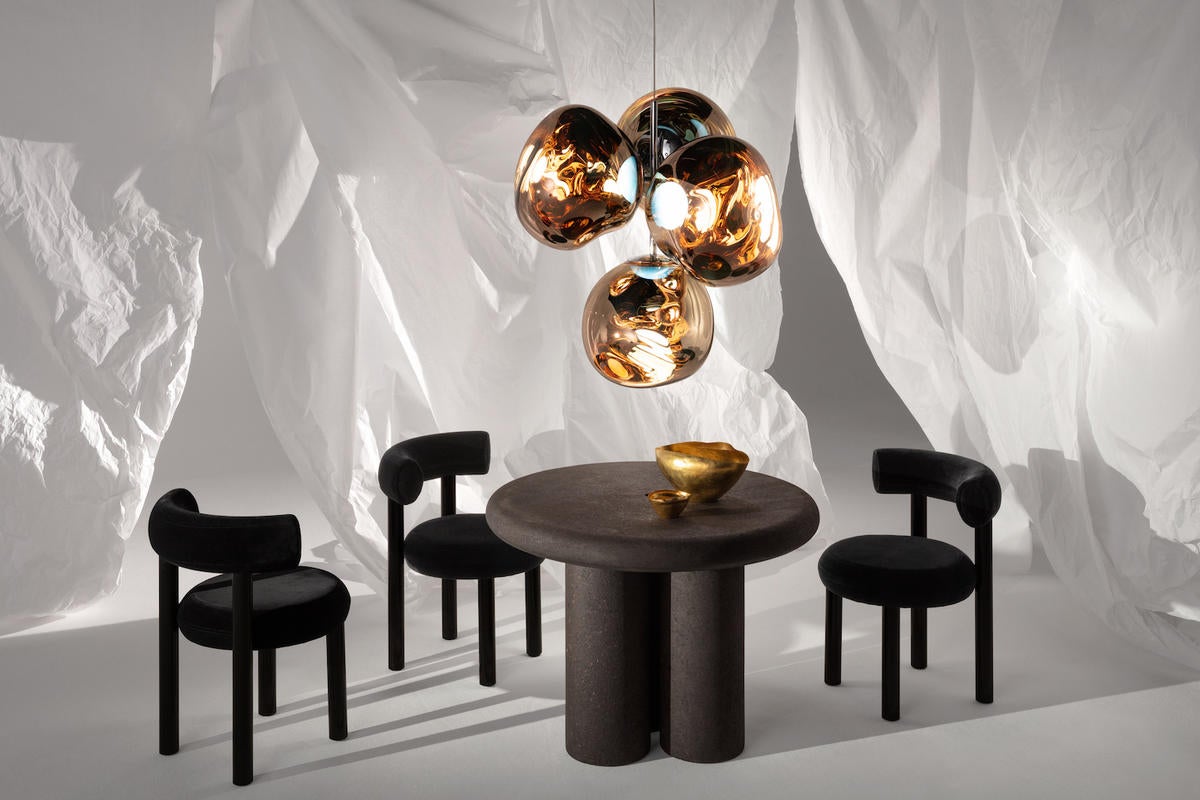 British designer Tom Dixon hosted a stunningly styled breakfast in honor of his brand's new lighting collections, as well as its "Black Light" exhibit in collaboration with Italian leather goods company Valextra. The spread alone was a work of art—filled with artfully presented fruits and fresh juices—but the fixtures stole the show, especially the Melt chandelier, which boasts semi-metallized shades that create a showstopping optic effect.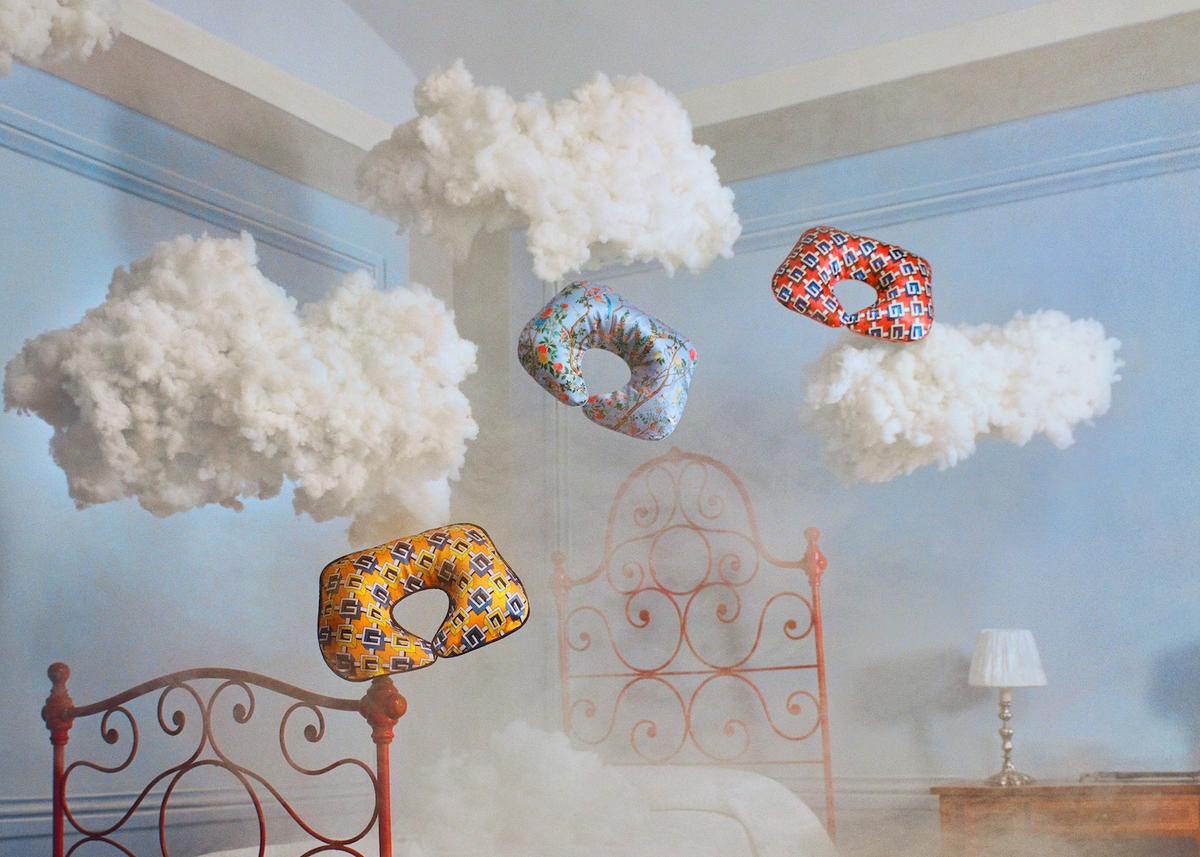 Photo by Max Siedentopf courtesy of Gucci
Gucci blessed attendees with a delightful last-minute lifestyle launch. The whimsical selection—presented in a pop-up shop filled with flying notebooks and furnished micro-apartments for mice—offers everything from logo-clad stationery and desktop goods to silk travel pillows and skateboards, which will all be available on the brand's website starting on September 10.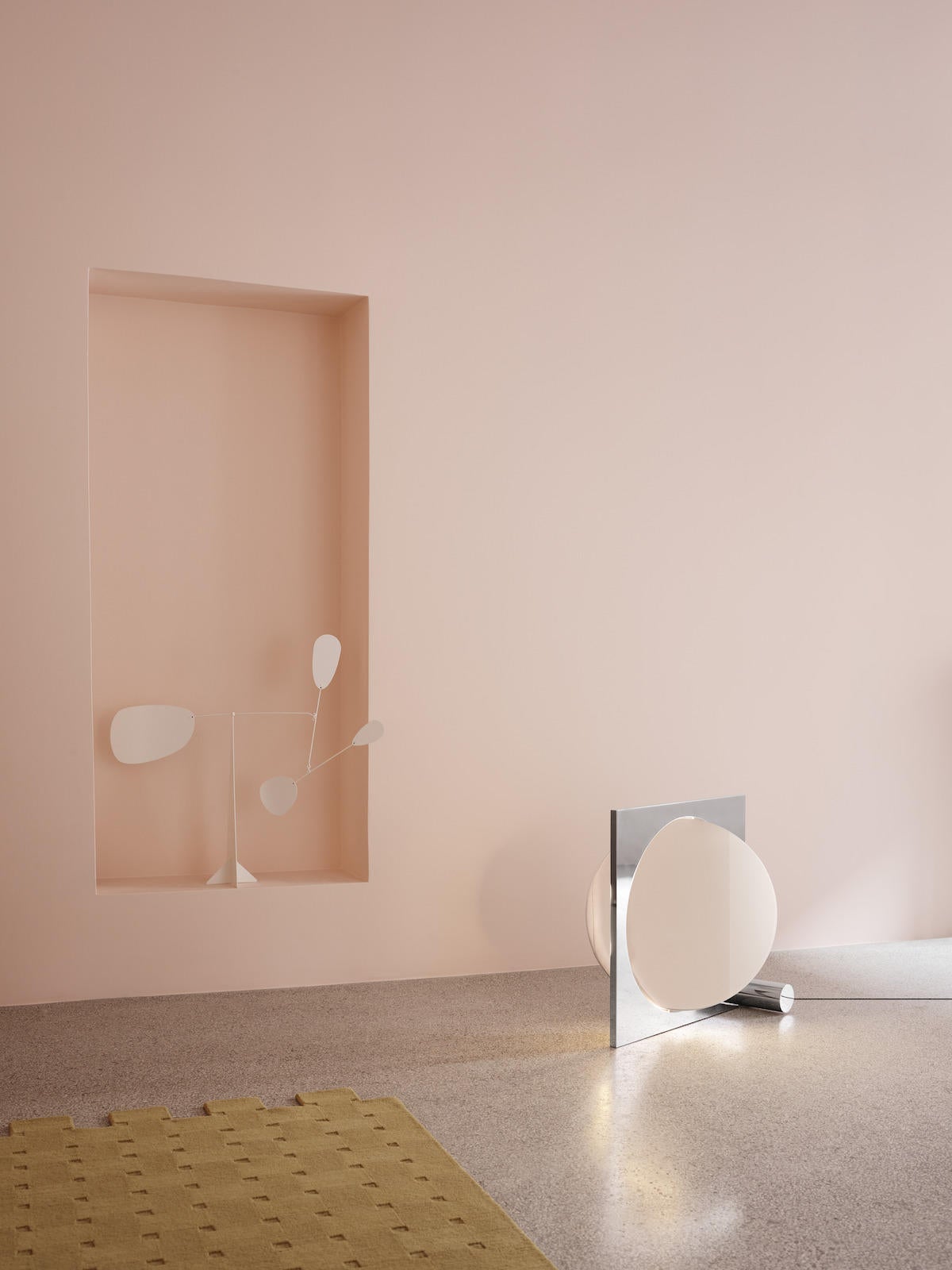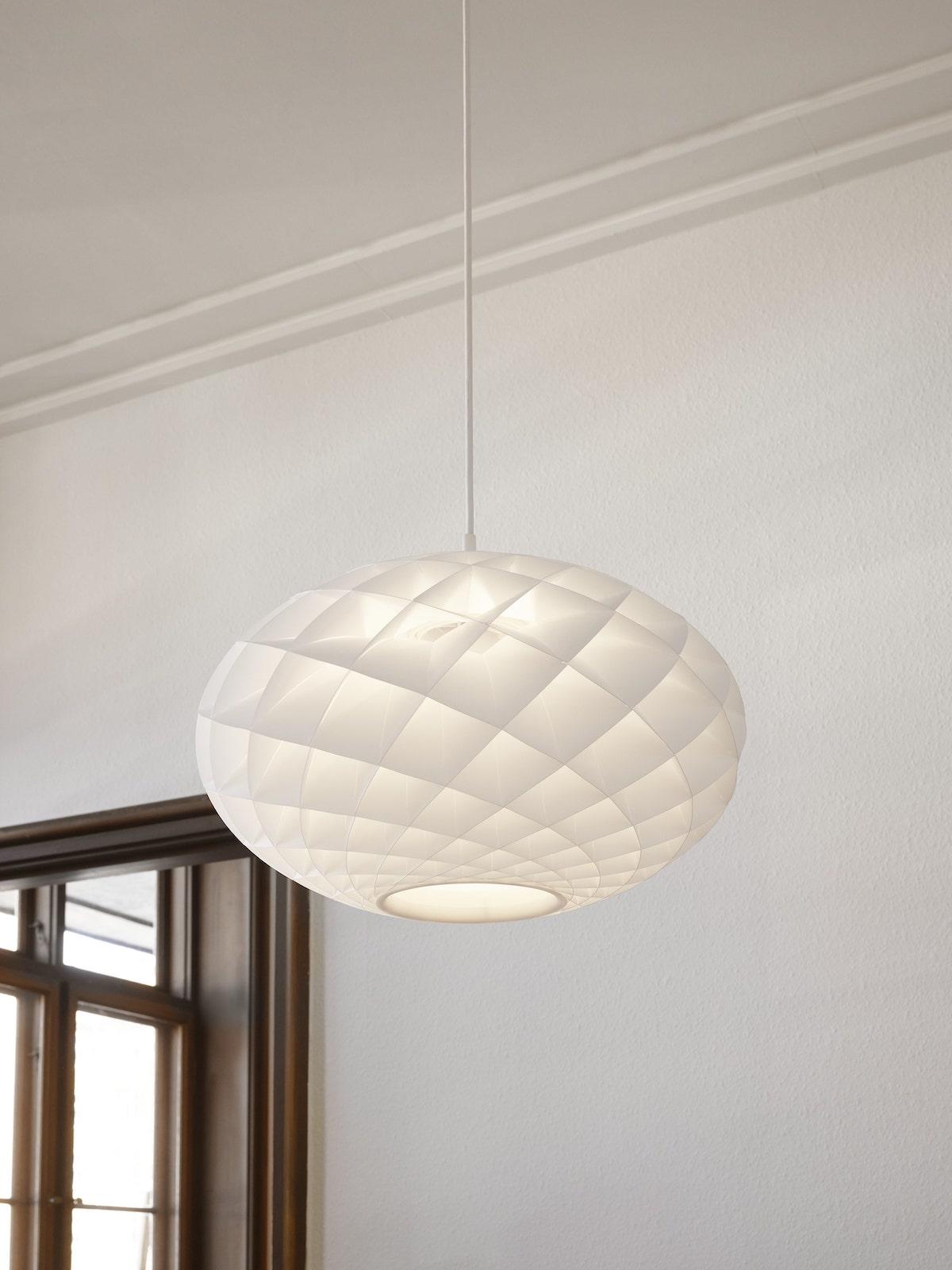 At D Studio Milano, Copenhagen-based brand Louis Poulsen unveiled an innovative selection of lighting designs. Two standouts within the selection included Anne Boysen's Moonsetter, a floor lamp with a circular reflector disc that can rotate 360 degrees around its own axis, and the Patera Oval pendant by Øivind Slaatto, which is composed of carefully designed diamond-shaped cells that cast glare-free light.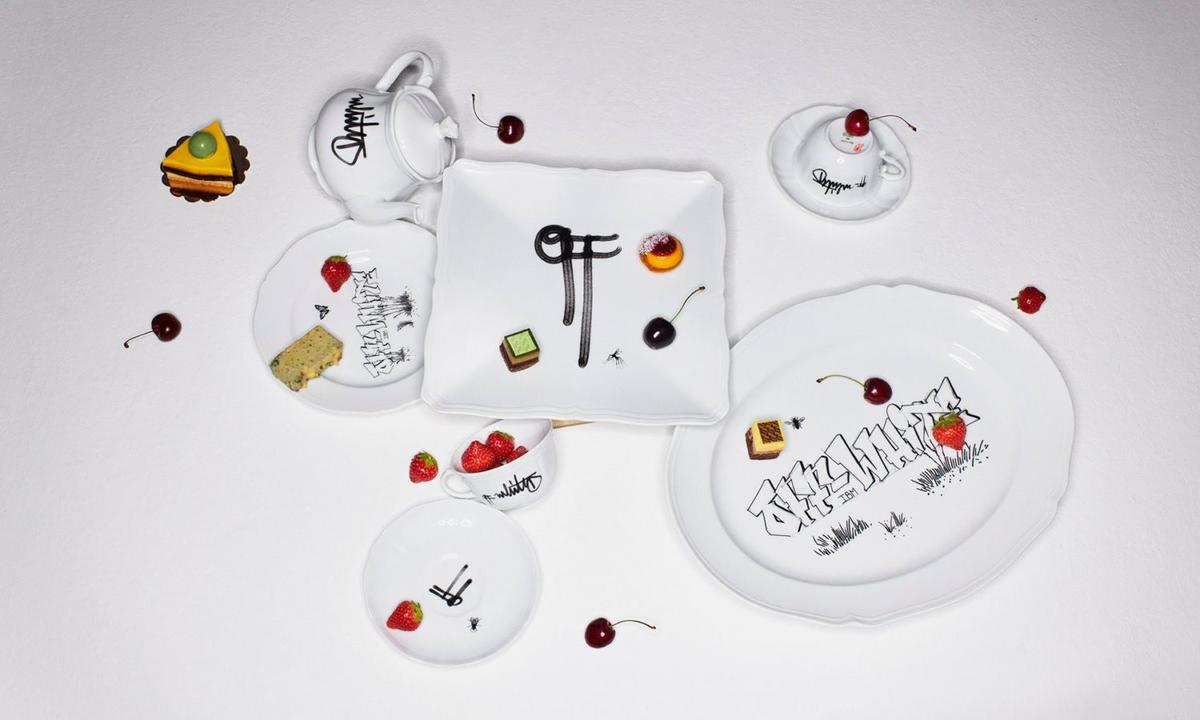 True to hypebeast form, there was a line around the block to catch a glimpse of the limited-edition home collaboration between Off-White and Italian decor company Ginori 1735. Luckily, I got right in and spent a few minutes alone with the coveted tableware collection, which—much like the label's effortlessly cool Virgil Abloh–designed streetwear—is equal parts swaggy and chic, showcasing clean lines, simple black-and-white palettes, and graffiti-inspired text motifs.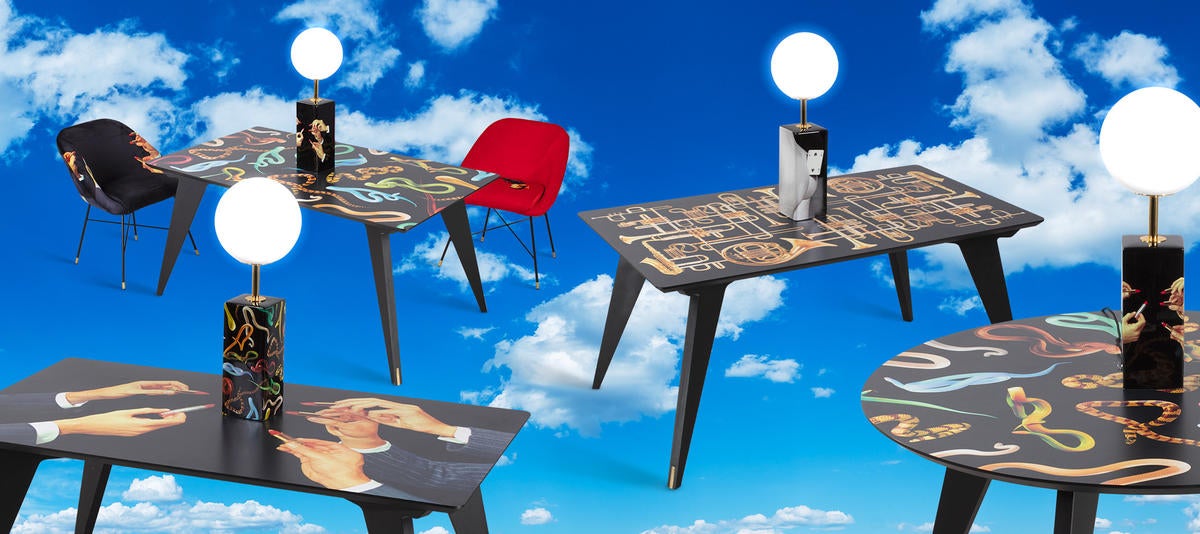 Characterful Italian homewares brand Seletti showcased a wild selection of new home decor pieces at Supersalone that instantly stole my heart. Designed in collaboration with Toiletpaper—a magazine run by irreverent Italian artist Maurizio Cattelan and Pierpaolo Ferrari—the sprightly assortment includes mirrored cabinets, screens and wardrobes punctuated with pop-art motifs, as well as side tables with tongue-in-cheek prints of snakes, lipstick and trumpets.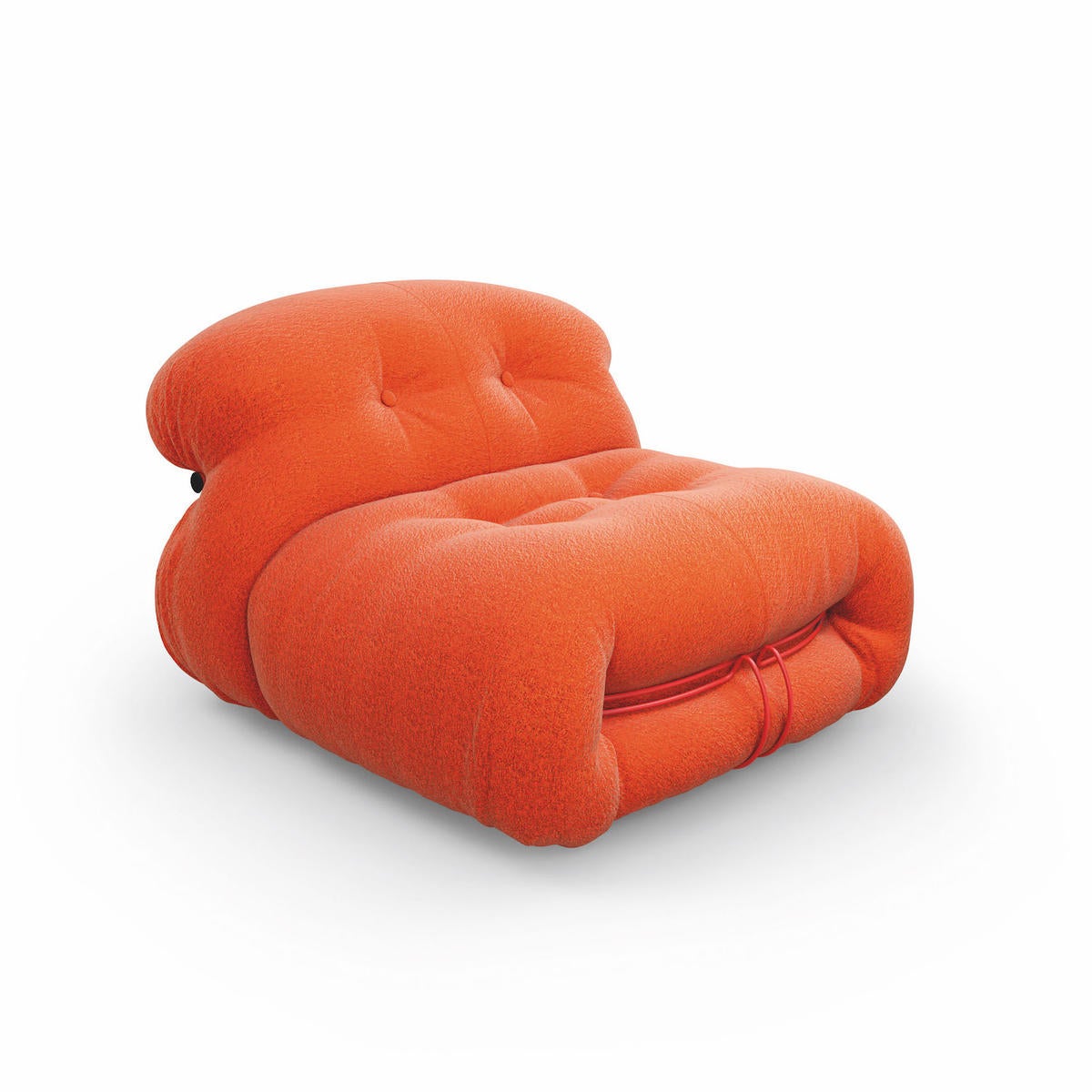 Cassina's showroom was nothing short of exuberant, filled with a slew of fresh collections and debuts with shapely silhouettes, unexpected color combos and loads of lush materials. One fashion-forward trend that grabbed my attention was the brand's courageous use of bright orange hues, including the biomorphic Soriana series dressed in tangerine upholstery and Bramante, a glossy orange-and-maroon ombre lacquered cabinet with built-in glass shelving.

Knoll presented a special installation at Supersalone that quickly drew a crowd. The exhibit, which pays homage to a few of the brand's historic ad campaigns, showcases some of its most famous designs alongside contemporary collections, including Ludwig Mies van der Rohe's iconic Barcelona chair and the new KN seating family designed by Piero Lissoni.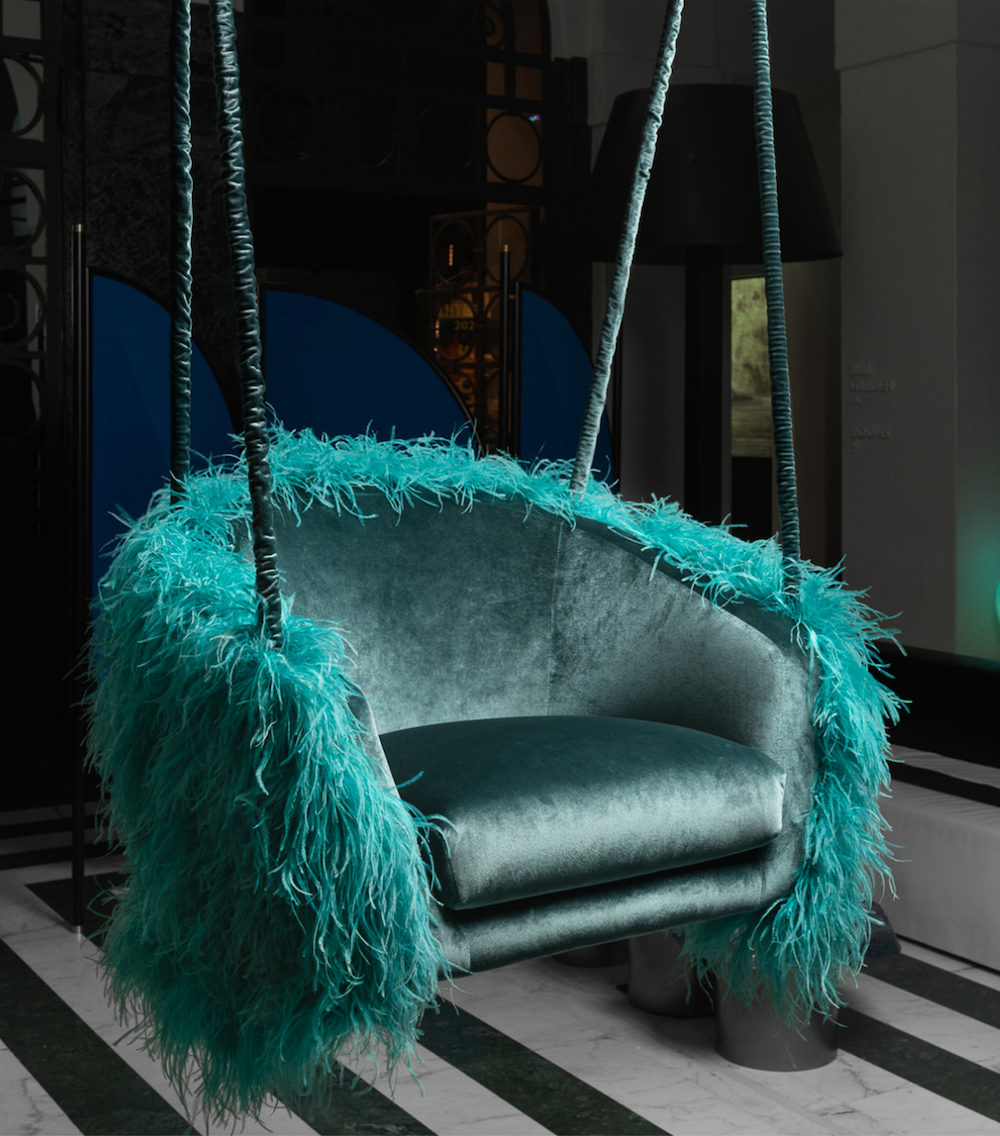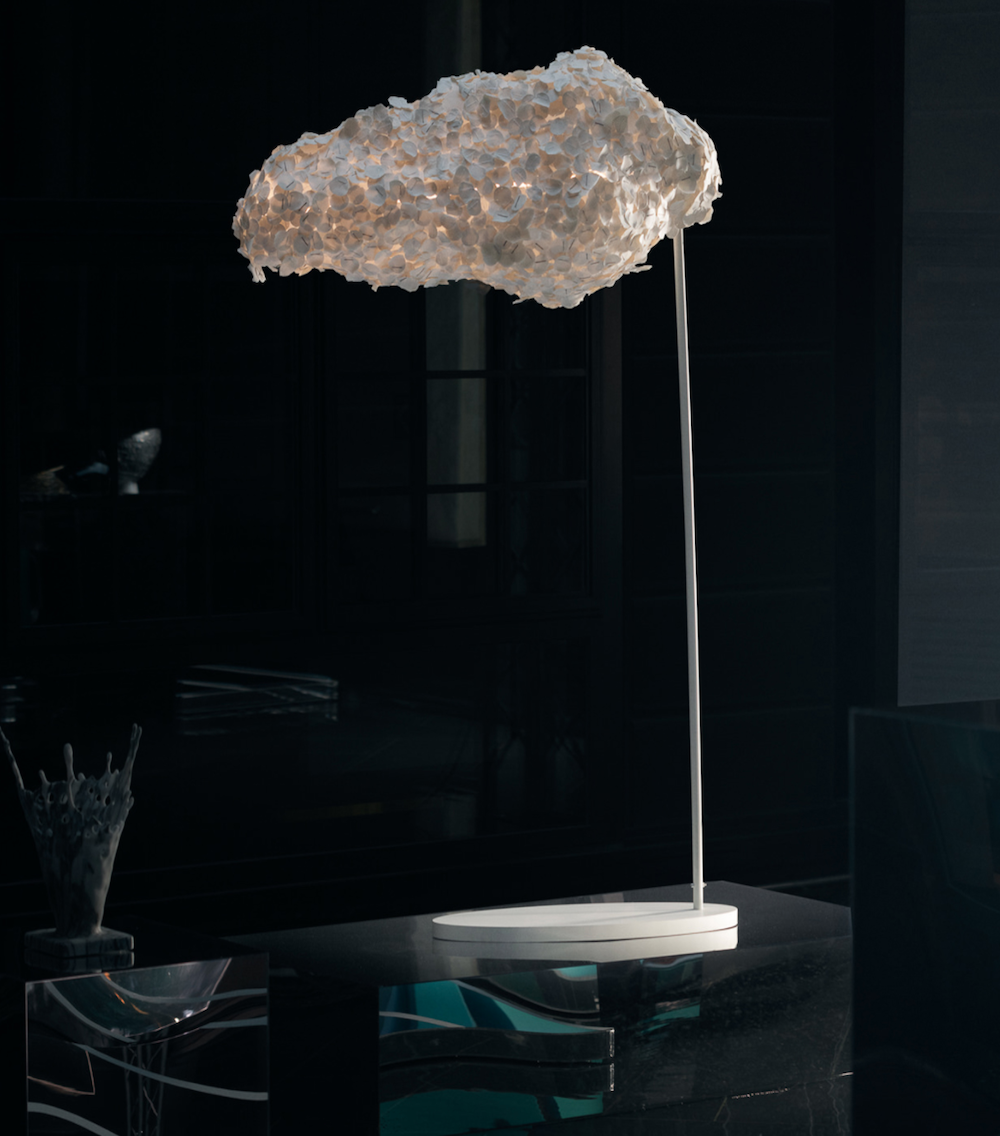 Artemest introduced Aqva, a collection of custom-made artworks and design objects inspired by water. The ethereal assortment was exhibited in a water-filled room at the Senato Hotel Milano, and included a sumptuous Monica Gasperini swing chair clad in rich blue-green velvet upholstery and ostrich feathers, along with my current crush, a cloud-shaped floor lamp by Biancodichina that appears to float in thin air.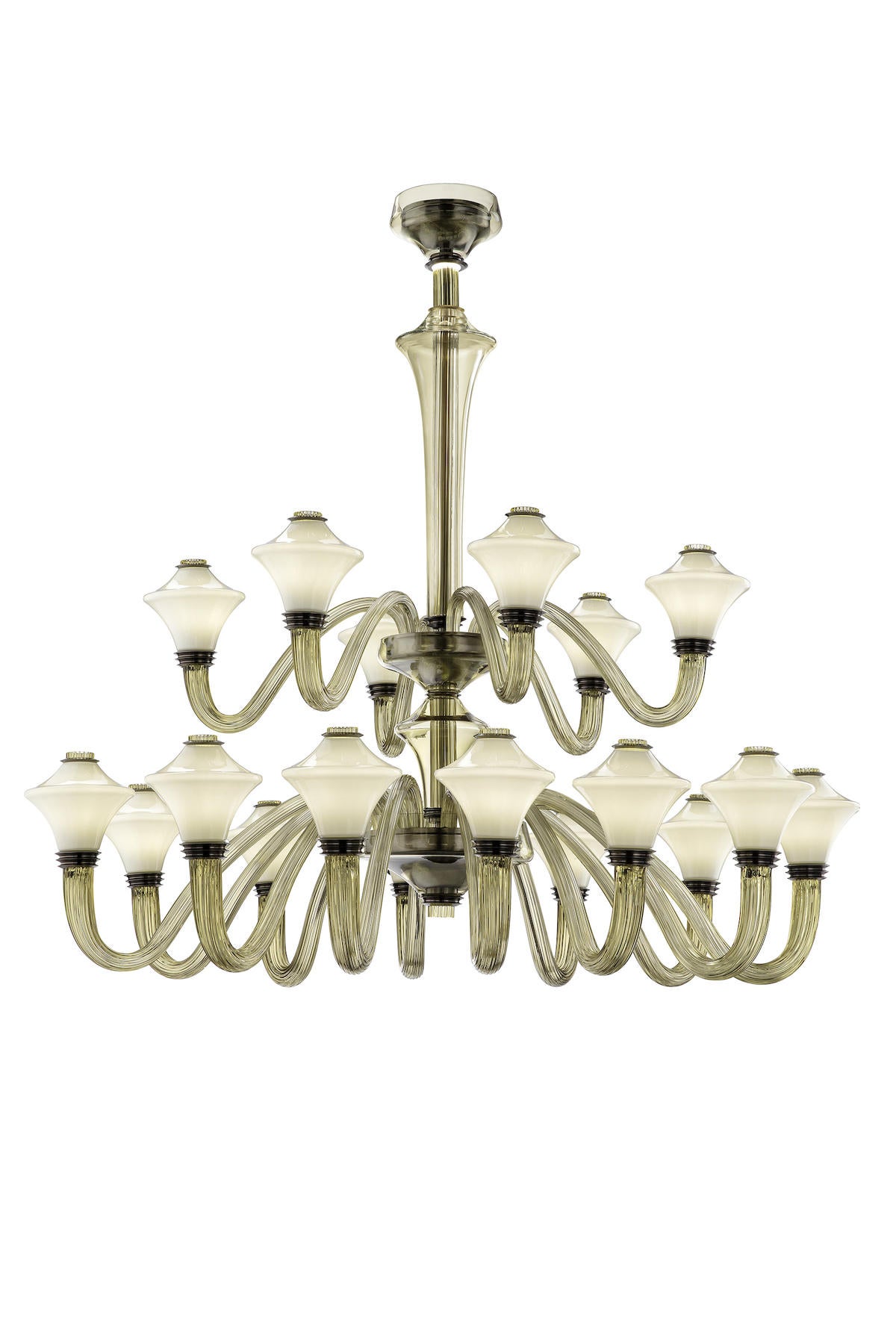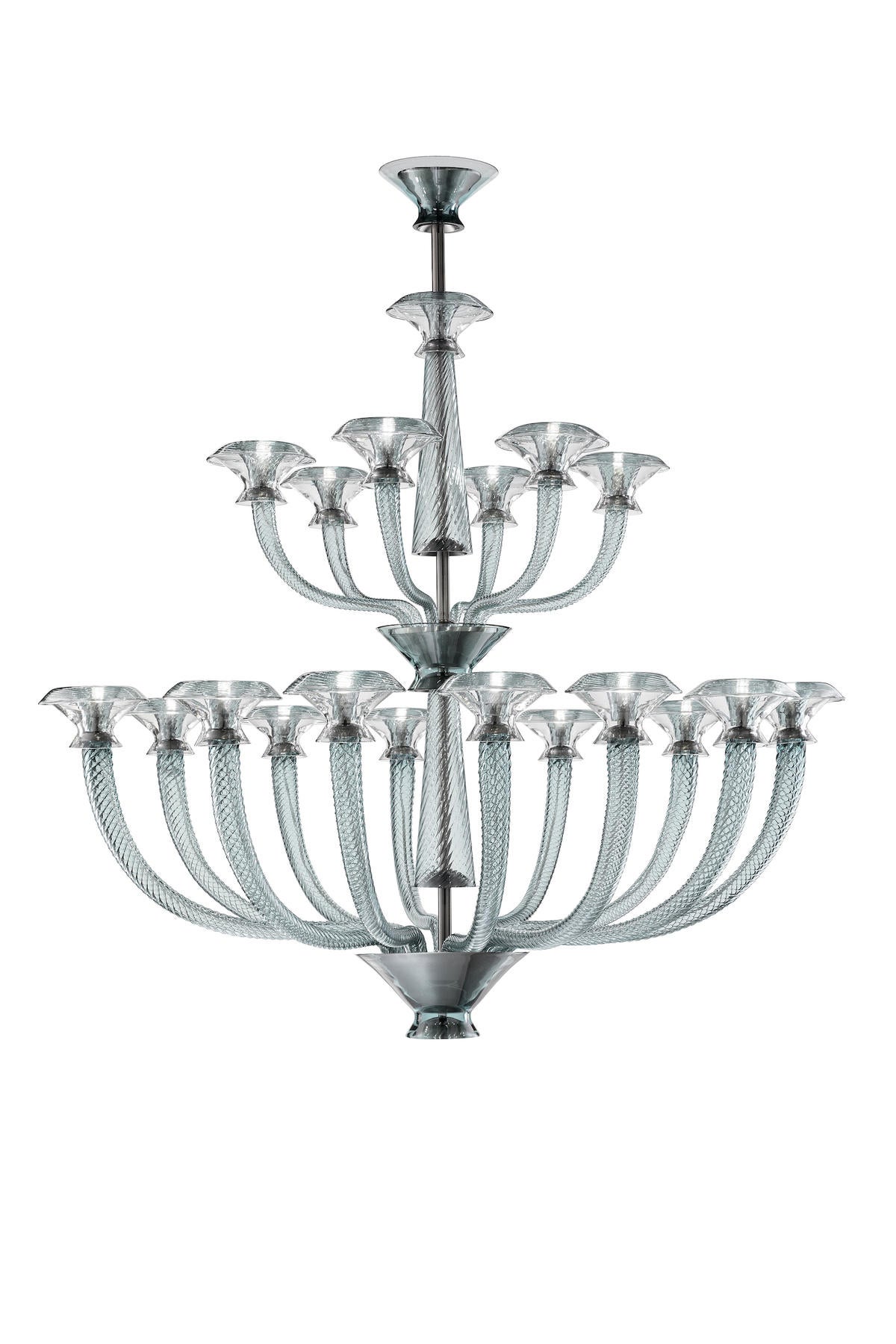 Italian glass lighting company Barovier & Toso showcased two new collections, Metropolis and Vertigo, in the windows of its beautiful showroom on Via Durini. Drawing from the art deco designs of the roaring 1920s, the former includes a chandelier with a chalice-shaped body and handblown Venetian crystal arms and cups, while the latter features light fixtures with glass arms designed to look like flowers.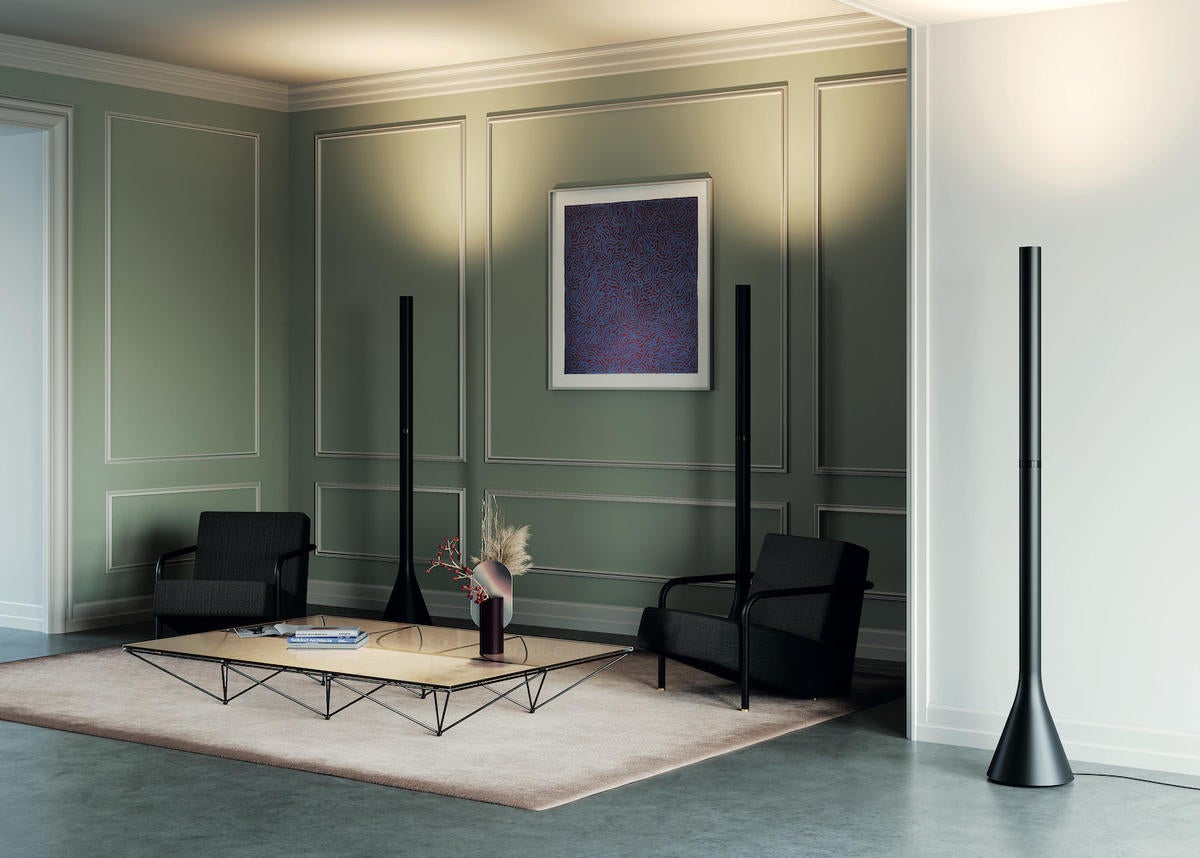 At the Supersalone fair, Italian lighting brand Lodes unveiled Croma, a new floor lamp designed by Luca Nichetto. Taking its name from the Italian word for a "quaver" or "eighth," the slender light fixture is shaped to mimic a musical note, and comes in four distinct finishes, including two metallic ombre effects, as well as solid black or white matte.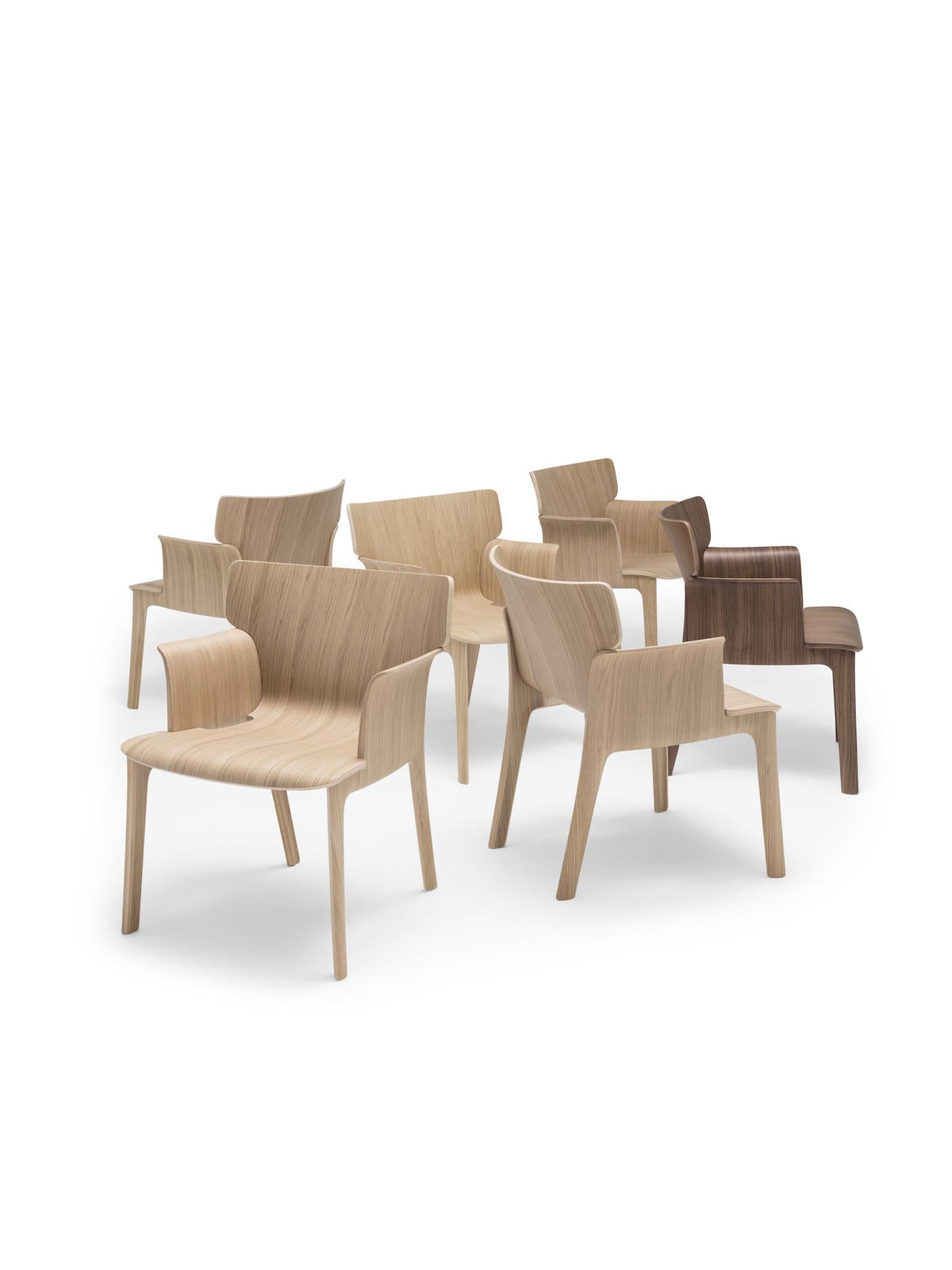 Spanish furnishings brand Andreu World debuted two eco-friendly selections at the fair: the Nuez Lounge Bio chair by Patricia Urquiola and Adela Rex by Philippe Starck. The first is constructed of biodegradable and compostable thermoplastic and breaks down into easy-to-recycle pieces, while the second offers armchairs composed of sustainable oak or walnut plywood designed without fittings or screws.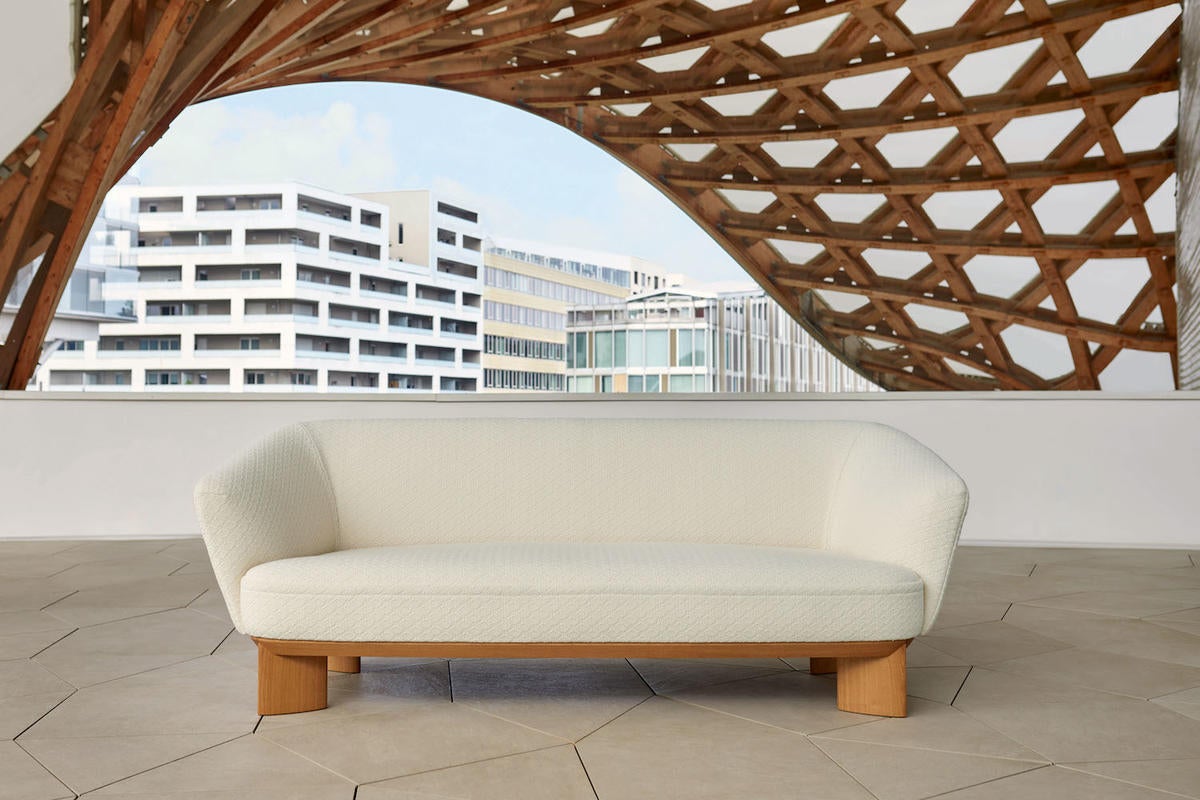 Pierre Frey Jr. walked me through his brand's first-ever Milan showroom, which was brimming with exquisite rugs, textiles and wallcoverings. While I was most excited to see the bold French Riviera–inspired Joie de Vivre collection (a personal favorite of Frey himself), I left equally smitten with the company's latest furniture designs, especially the curvy (and ultra on-trend) Natalie sofa by Zanellato/Bortotto.
New York–based carpet company Fort Street Studio showcased nine new additions to its Thai Silk collection at L'Artigianato. Composed of custom-dyed silk threads crafted in a village in northern Thailand, each of the designs is super soft and shimmery, especially the tone-on-tone Switch rug in lilac, which combines flat-weave and shag textures to forge a unique sculptural effect.
Courtesy of Poltrona Frau
Italian furniture brand Poltrona Frau showcased its first-ever outdoor collection, Boundless Living, inside its fresco-mural filled Via Manzoni showroom. The selection features Mediterranean-esque teal-tiled dining tables, sleek solid teak lounge sofas with two-toned upholstered cushions, and my personal favorite, the cage-style Sparkler lanterns by Kensaku Oshiro that cast ambient light and shapely shadows throughout a space.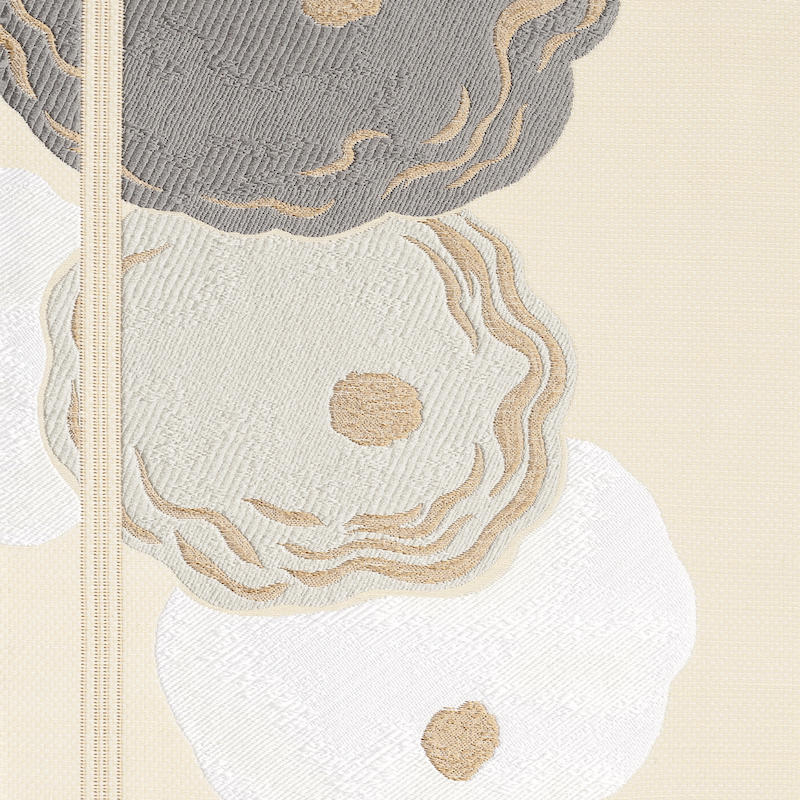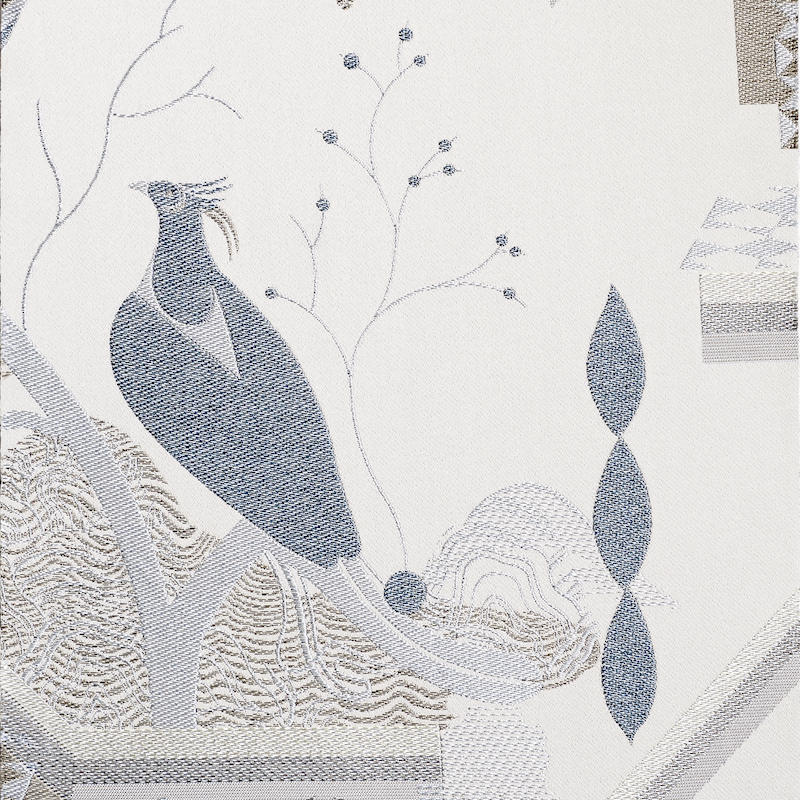 Milan-based textile brand Dedar released a dreamy fall collection spanning an impressive range of fabric designs. Highlights included Kiku, a jacquard with a Japanese-inspired chrysanthemum motif, and the chinoiserie-style This Must Be the Place, designed by French illustrators Mayumi Otero and Raphael Urwiller of Icinori.
Homepage photo: The Fleece rug, Flux curtain and Fleck upholstery from Peter Saville's Technicolour collection at Kvadrat | Photo by Casper Sejersen courtesy of Kvadrat