Controversial is rarely a word one uses to describe a designer—much less one who plays in the home space. But over his relatively short career, Virgil Abloh has been called that (and many other things) as he has skyrocketed to become one of the most high-profile creative bridging both the home and apparel spaces.
Abloh expanded his reach this month with Home, a new collection of home furnishings for the online marketplace 1stdibs, which created a digital storefront to showcase the collaboration in its New & Custom category. Under Abloh's trademark label Off-White, the collection includes 82 pieces, heavy on decorative accessories like doormats, stools and doorstoppers, but also including one-offs like deck chairs, tabletop and even a toothbrush. There are also apparel items like robes, slippers and umbrellas.

Prices start at $55 for a kraft-paper notepad and $95 for a pair of glass straws, and go all the way up to $1,550 for a set of linen bedding, including a duvet. All of the items in the collection, which debuted October 1, are limited-run; some are already sold out.
The Off-White brand is described on the site as "defining the grey area between black and white as a color. Under the brand name, seasonal collections of men's and women's clothing, objects, furniture and publications are articulating a current culture vision."
Of his new 1stdibs program, Abloh said in a statement that it was created "for all, but with an emphasis on the quarantined design lover."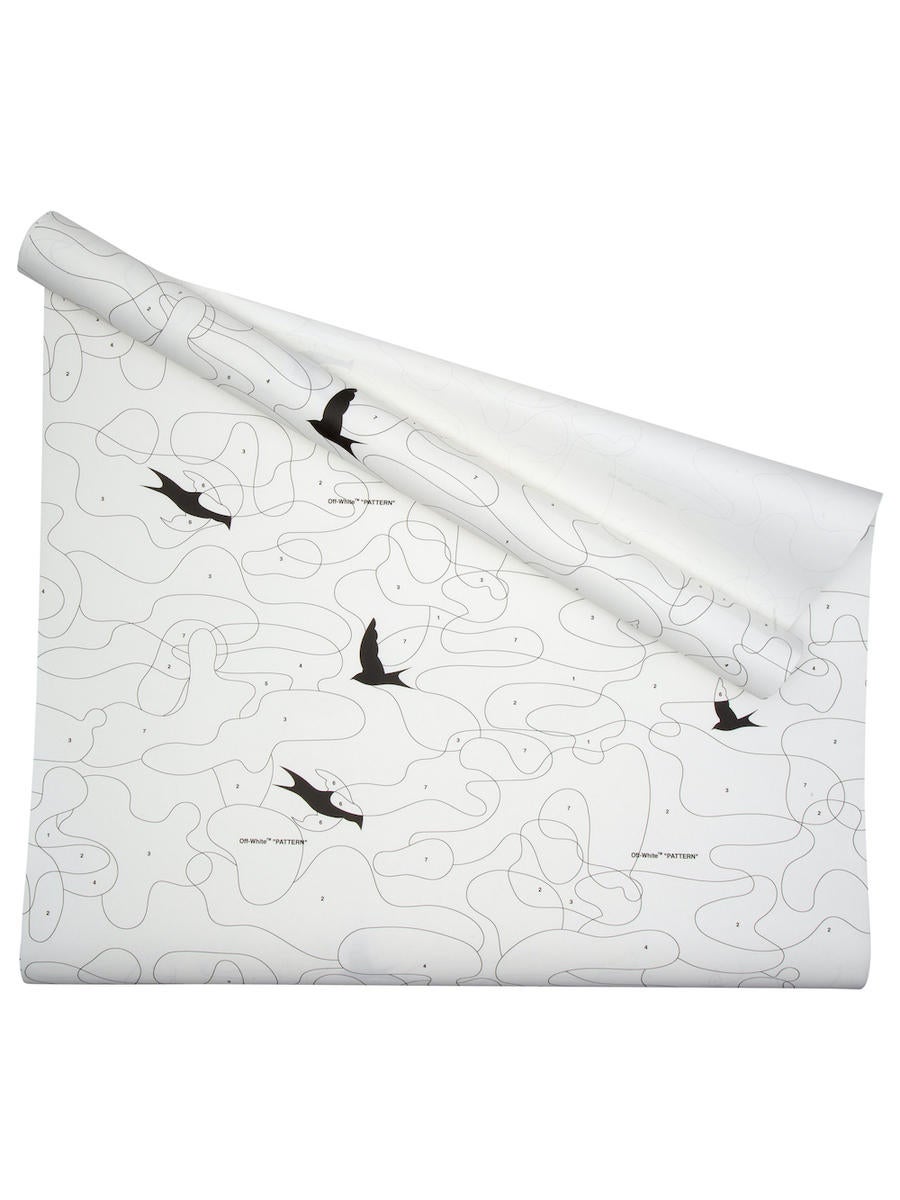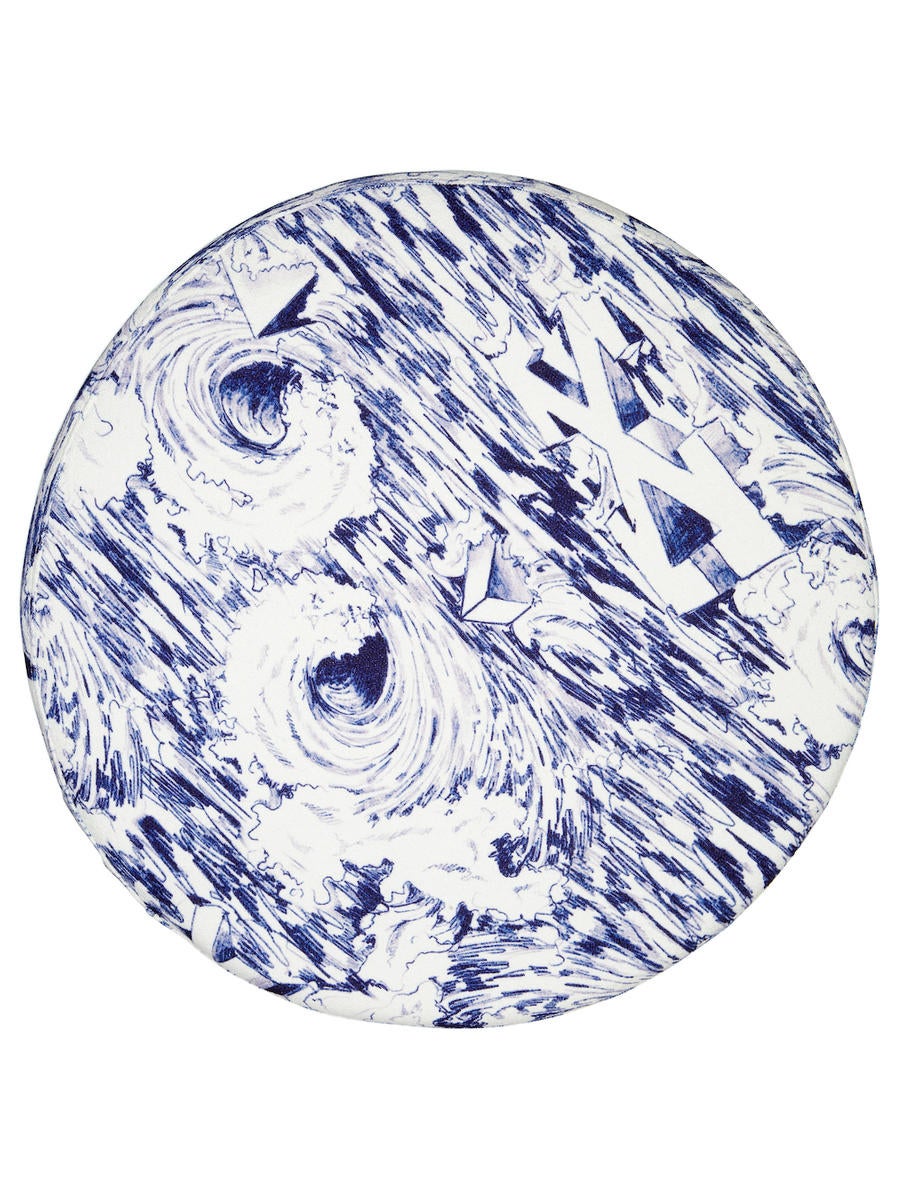 It's the latest twist in a career that has been winding and unconventional. Abloh, a Rockville, Illinois, native whose parents came from Ghana, is only 40, but his resume reads like a cross behind the worlds of couture and pop culture. He is currently the artistic director of Louis Vuitton's menswear division, and has worked with Fendi, Jimmy Choo and Nike on the fashion side, as well as with Kanye West, Evian and Coachella. He founded the Off-White label in 2013 for streetwear and home furnishings; his previous entrée into the home category was via a very limited collection with Ikea.
The controversy surrounding Abloh comes from his liberal use of products and designs from other brands and individuals—the design equivalent of sampling in hip-hop music. (His first clothing line consisted of flannel Ralph Lauren shirts with the word Pyrex printed on them.) He has created similar lines that walk the line between homage and, as 1stdibs put it, "flirt[ing] with the limits of permissible appropriation."
Abloh says when he is inspired by something, he doesn't want to alter it any more than necessary. "I'm only interested in editing an idea or concept by 3 percent."
If anything, however, the controversy has helped draw attention to him—and to his art and commercial work. A major exhibition of his work toured U.S. museums last year, combining his artistic endeavors with the mercantile, complete with a well-stocked gift shop at the exit.
The story on the new 1stdibs program in the website's Introspective magazine quotes fashion editor Amy Fine Collins calling Abloh "foremost an entrepreneur and an extremely clever one. It has been interesting to see how he has managed to grow more and more corporate while remaining controversial and 'cool.'"
Abloh himself takes the high road in describing his work: "My studio has an ambition that the world can be a better place." Even while selling binder clips.
Homepage photo: Off-White Arrow Pattern towel set | Courtesy of 1stdibs
____________
Warren Shoulberg is the former editor in chief for several leading B2B publications. He has been a guest lecturer at the Columbia University Graduate School of Business; received honors from the International Furnishings and Design Association and the Fashion Institute of Technology; and been cited by The Wall Street Journal, The New York Times, The Washington Post, CNN and other media as a leading industry expert. His Retail Watch columns offer deep industry insights on major markets and product categories.