Americans celebrated the Fourth of July over the holiday weekend—and for the first time in a long time, hosting from home has reentered the interior design conversation. Stay in the know with our weekly roundup of headlines, launches and events, recommended reading, and more.
Business News
The U.S. housing market is still booming, but many small contractors aren't reaping the rewards of increased demand, The Wall Street Journal reports. Due to the ongoing shortage of skilled workers, subcontractors such as carpenters and plumbers are asking for two to four times their typical rate, forcing customers to turn to bigger construction companies with the capital to bring on the added costs. Plus, the rush on supplies for both new home construction and remodeling during the pandemic has increased competition and driven up prices—another pressure point for smaller providers, who account for 82 percent of private employment in the U.S. construction industry.
Mosaic Companies LLC has announced the acquisition of Walker Zanger and Opustone, distributors of luxury natural and engineered stone slabs and tiles in the North American market. Opustone president Eric Schigiel will retain his role in addition to serving as a strategic adviser for the slab division at Walker Zanger, where Jeff Lupica will continue as acting general manager supported by the existing team. According to a statement from Mosaic CEO Glen Morrison, the acquisitions fit into the holding company's strategy of achieving growth and diversification across product categories and key channels including retailers, distribution and luxury showrooms.
The Stamford, Connecticut–based startup Tomo, which aims to reinvent the mortgage process, has announced the completion of a $70 million seed funding round led by Ribbit Capital with participation from DST Global, NFX and Zigg Capital, TechCrunch reports. Helmed by two former Zillow executives, the company has launched operations in Seattle, Dallas and Houston, offering services that include issuing underwritten pre-approvals within hours and guaranteeing on-time closing. Tomo's ultimate goal is to use data to get homebuyers to close in as little as three weeks—less than half of the industry average of 47 days.
Etsy has acquired Brazilian online marketplace Elo7 (also known as the "Etsy of Brazil") for $217 million, TechCrunch reports. The platform was one of the 10 biggest e-commerce sites in the region—home to 1.9 million active buyers and 56,000 active sellers—and will remain a stand-alone brand after the acquisition, operated by its current team in São Paulo.
Ashley Furniture has temporarily suspended operations at two of its plants in Vietnam, Furniture Today reports, after a small number of workers tested positive for COVID-19. The shutdown affected two of the Wanek Furniture Company Limited plants, which primarily produce cut-and-sew kits for the Ashley's U.S. upholstery production facilities. With a backup stock of materials available, brand representatives have said the three- to seven-day shutdown is not expected to negatively impact shipments.
As supply chain disruptions continue to drive up container prices, some retailers are drawing the line or limiting the amount of container business they do, Home News Now reports. Many of the orders driving up quotes were placed during the September High Point Premarket—as Miskelly Furniture's Gentry Prestwood tells HNN: "We were in get-everything-you-can mode." Now, fast-changing price increases and surcharges from manufacturers are prompting companies such as American Furniture Warehouse to decline quotes over a certain premium and rely on existing stock, while others, like the Houston-based Exclusive Furniture, are willing to broaden their budget to receive long-awaited goods.
In other logistics-related news, WSJ reports that the next headache along the supply chain has hit domestic receiving businesses, where labor shortages and a lack of warehouse space have led to major home furnishings backlogs. In response, retailers are expanding their network of regional warehouses and boosting hiring—in June, warehousing and storage operators added 13,600 jobs in the sector's biggest one-month increase since November.
Dating app Bumble has taken a step into the real-world realm with a brick-and-mortar restaurant slated to open in Manhattan on July 24, Bloomberg reports. Bumble Brew, designed by Float Studio, will operate as a cafe and wine bar in SoHo and was created as a "safe space for healthy and equitable relationships and connections," according to Julia Smith, the company's head of brand partnerships. Data compiled by the company in June has found that the new space meets demand from users eager to get back out there—nearly 90 percent who selected first-date preferences said they are ready to date in real life again.
Design Miami has announced the first edition of the collectible design event Design Miami/Podium in Shanghai. Scheduled for November 4 to 14 during Shanghai Art Week, the fair will exhibit a range of 20th-century and contemporary works united by the theme of "Wu Gan: The Art of Design."
Launches and Collaborations
Glass artist and designer Deborah Czeresko, the first winner of Netflix's reality competition series Blown Away, joined the Colony designer co-op and subsequently released two new collections of glassware and sculptural objects. The Sneakerhead series includes four designs modeled after high-top and low-top shoes, while the Ameba cohort draws inspiration from the human body for a group of highball glasses and wine decanters, all available for viewing at Colony.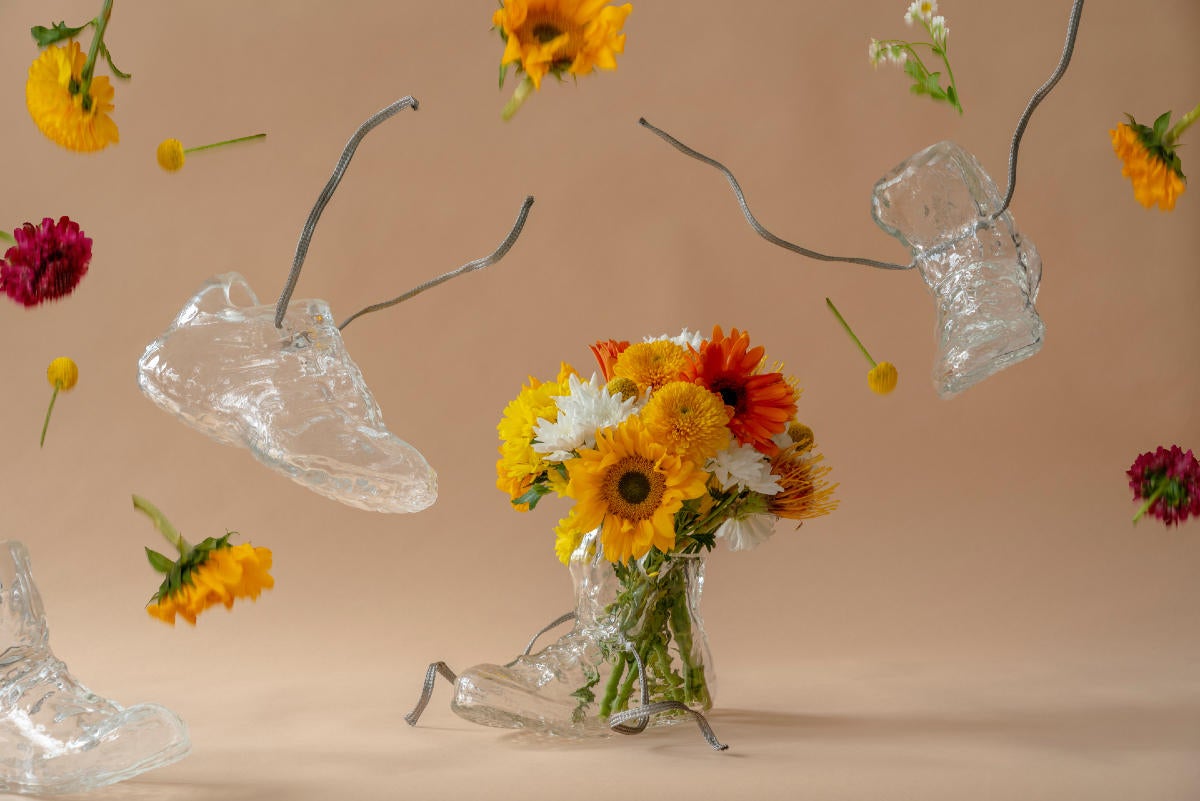 E-commerce furniture and home decor retailer Artemest has tapped Italian designer Pietro Fadda for a one-piece re-edition of the S-Chair, originally designed by Tom Dixon for Cappellini in 1991. In honor of the chair's 30th anniversary, Fadda employed an 18th-century Baroque canvas for his reimagining of the iconic piece, available for purchase on Artemest's online marketplace.
U.K.-based beauty company Floral Street has debuted its first home fragrance lines. The four collections include White Florals, Rose Garden, Urban Bloom and Night Bloom—all made with vegan, cruelty-free practices in refillable glass bottles, available online at the retailer's site and through Nordstrom.
Recommended Reading
Today, the block print is a ubiquitous home decor staple, though its history is long and winding, House Beautiful reports. Originating more than 4,000 years ago in China, the print is built on a practice that predates the Gutenberg Bible, though it flourished as an art form in the early 16th century during India's Mughal dynasty. In the years to follow, the block print would intersect with figures as varied as Mohandas Gandhi and Charles Eames, serving as a central force in the Indian textile tradition that has since spanned the globe.
Each first family that enters the White House makes artistic selections often marked by a personal touch—for Francophile Jacqueline Kennedy, that meant adorning the space with Cézannes, while Barack and Michelle Obama's modern art collection harkened back to their first date at The Art Institute of Chicago. The Biden administration has taken the personal touch a step further, decorating 1600 Pennsylvania Avenue with pieces by Biden's son Hunter and the couple's friend and neighbor Mary Page Evans. For The Washington Post, John Anderson delves into the current first family's art choices and how they reflect the Biden brand.
Cue the Applause
Architect Alison Killing has been named a Pulitzer Prize winner in the International Reporting category, marking the first time an architect has won the award in an area outside of criticism, Archinect reports. Killing was cited alongside BuzzFeed staffers Megha Rajagopalan and Christo Buschek for the group's work in using satellite imagery to track internment camps in China's Xinjiang region, where up to a million Muslim detainees comprised of Uyghur and other minority groups are said to be harbored.
The Trustees of the Fitch Foundation have announced the recipients of the 2021 James Marston Fitch Mid-Career Fellowship and the inaugural Robert Silman Award. The former has been awarded to preservation architect Jobie Hill, founder of the Slave House Database and author of The Silenced Voices in Interpreting Sites of Slavery, while the latter has been awarded to architect Todd Lawson, author of The Lost Clatsop Longhouse.
An international jury panel has chosen the winners of Singapore's biennial President's Design Award, honoring Kelley Cheng of The Press Room as Designer of the Year in the Design category for her work in visual communications, publishing and exhibition design, while Khoo Peng Beng and Belinda Huang, the husband-and-wife founders of architectural firm ARC Studio Architecture + Urbanism, have been honored with the Designer of the Year award in the Architecture category. For the full list of multidisciplinary design award winners, click here.
Homepage Image: Pietro Fadda's reissue of the S-Chair, originally designed by Tom Dixon for Cappellini in 1991 | Courtesy of Artemest