Whoever decried living in the past hasn't met Vince Skelly. The Portland, Oregon–based craftsman's work as an independent wood sculptor draws inspiration from primitive peoples, looking to ancient stone structures as a font for his sturdy, evocative designs.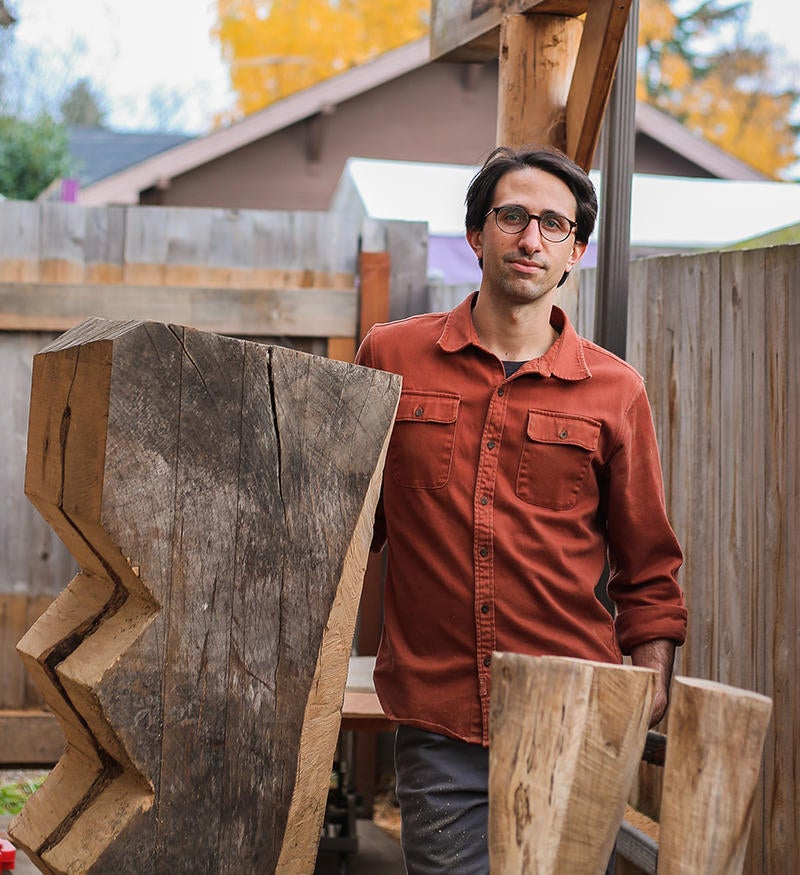 Skelly grew up in a household filled with artists, and from a young age was encouraged by his family to pursue art. He arrived at graphic design from an interest in skateboarding, playing with typography for skate videos. Shortly after starting his design career, he stumbled upon the work of JB Blunk and was enthralled by the American artist's bare, honest approach to woodworking and pieces that highlighted imperfections and whorls. "I caught wind of [Blunk's] work right before he died, and that struck a chord with me," he tells Business of Home. "I became completely obsessed with his process and practice, mainly because I had never seen anyone carving reductively like that."
That attraction to tactility laid dormant for about 10 years, as Skelly quietly continued cultivating his interest in Blunk's work while developing his career as a graphic designer. One day, he picked up a chainsaw to finally start playing with wood—and then there was no going back. Years of pent-up design ideas started flowing, and he began refining his style using found pieces of wood. "My approach is more of a fine art approach," he says. "I self-identify [as a] wood sculptor, but it's funny because so many of the people who come to me to inquire about work are interior designers, and it's because my stuff is very functional and sculptural, [and] interior designers take note of that."
Skelly's works have been commissioned by celebrity clients like Off-White CEO Virgil Abloh, Canadian chef Matty Matheson and designer Kelly Wearstler, but he prefers creating for the sake of it, allowing the sculptures to come from the nature of the wood instead of the reverse. His process begins with found or foraged wood, usually from fallen trees in the neighborhoods around his Portland studio. And when he can't find any, he's got a list of sustainable arborists that he can call for more material. "There's this kind of scavenger aspect to it, which I like," he says. "I get all types of wood because of that—hardwoods, less desirable woods, softwoods, weird pieces of wood—and in that sense, the form dictates what I can do with [it]. And I like those restrictions." Once he has selected the wood, Skelly uses his chainsaw to cut the pieces into their basic shape before sanding and oiling them.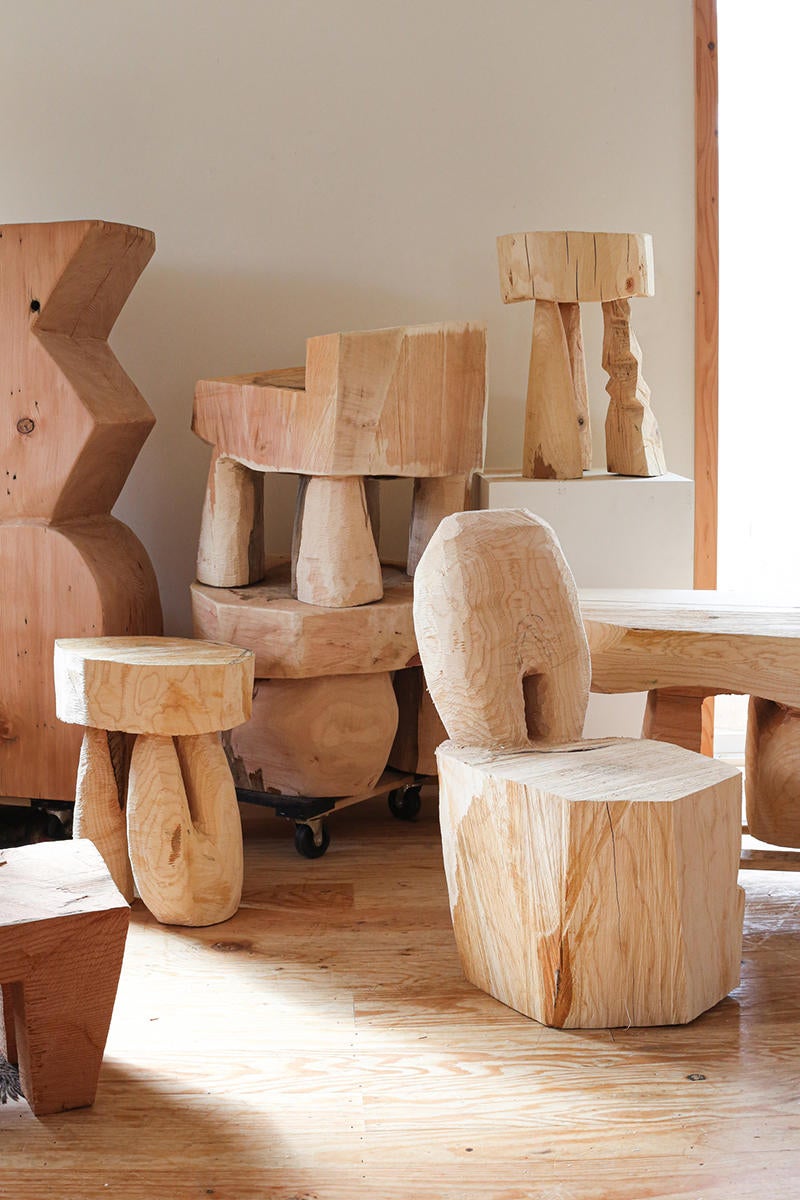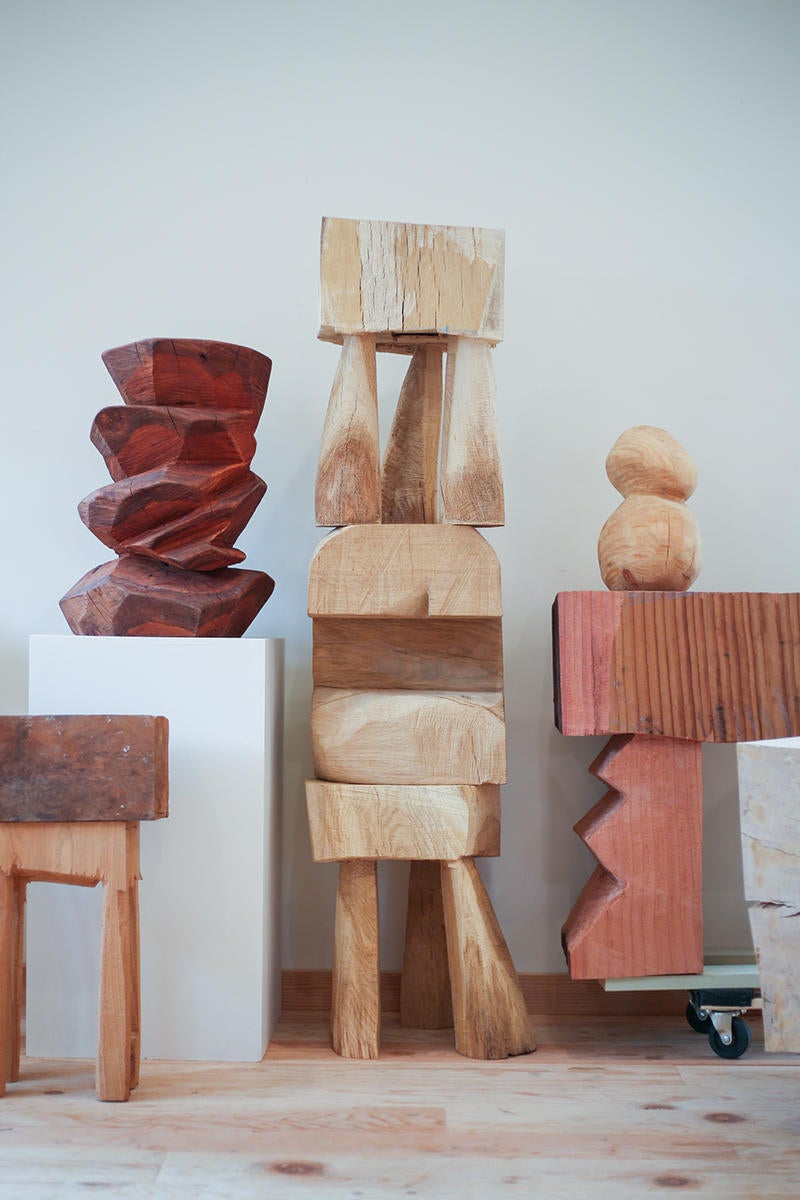 Each piece taps into a tension that underpins Skelly's artistic approach. "Essentially, what I'm doing is making sculptures of ancient megalithic structures," he says. "Because those are naturally flat on top—they were trying to make shelters and tombs—my sculptures have that similar form. They're just smaller, because I only work with single chunks of wood, so the scale is limited to the size of what I can find. Essentially, it's a mini Stone Henge–looking sculpture, and because it's mini, it's more of a side table than a sculpture."
His plinths, side tables, benches and other abstract forms create an effect that is both raw and resolute—and though the pieces can take anywhere from five to 12 weeks to complete, the finished sculptures often feel freshly hewn. The sturdiness of each object, whether a stool or coffee table, invites people to confidently interact with it—there's nothing delicate about Skelly's work. "I really like abstract art and sculptures and things you can interact with, touch and climb on and through," he says.
At the heart of his designs, though, is a deep-seated fascination with ancient cultures and the origins of civilization. "I'm really interested [by] this idea that humans [throughout] history have been creating these really basic structures for shelter," he says. "It's an intuitive human instinct to make these forms that haven't really changed in our minds for thousands of years." Skelly's pieces almost paradoxically convey the basics of shelter through balanced, polished sculptures—which is perhaps why, in addition to their utility, they're infused with a subliminal sense of home and history.
"My work is constantly drawing on this connection between ancient, current and future—it's all of these really simple forms like arches, pyramids, circles and squares that humans have been making over the years," he says. "That's the foundation and approach [that I use] when I go into a new project. It comes naturally, and I can improvise as I'm carving into the wood. It's really primitive and intuitive."
To learn more about Vince Skelly, visit his website or find him on Instagram.
Homepage image: Courtesy of Vince Skelly