'Tis the season for spreading cheer—and what better way to evoke the holiday spirit than gifting a client with the perfect present? "Giving clients gifts is an essential aspect of the relationship you have built," says St. Louis, Missouri–based designer Jenelle Lovings. "In many cases, you have spent many hours with a client. You have gotten to know some of the most intimate details of their lives. You've studied their style, their likes and dislikes, and daily routines. What better way to honor this connection than by giving a gift, showing your client that you've cherished your time together?"
A thoughtful holiday gift is also a great way to maintain a connection with your client. "Depending on when you closed out the project, a lot of time may have passed," says Lovings. "A holiday gift is a great way to let your clients know that their needs are still important and that they are free to reach out to you."
Intrigued, we asked an array of designers to share their favorite gift ideas for clients, and they definitely didn't disappoint. From paper poinsettia plants to monogrammed crystal decanters, here are more than two dozen designer-approved holiday presents for every kind of client.
For the Maximalist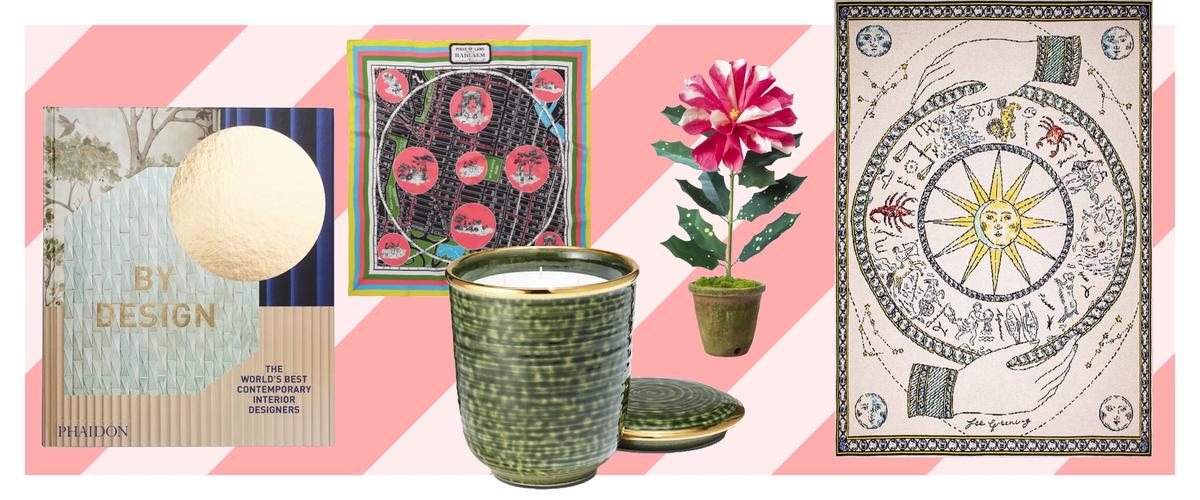 'By Design' by Phaidon
"I love sharing the gift of design, so my clients receive By Design: The World's Best Contemporary Interior Designers. It's an inspiring collection of interior designers worldwide, and the cover is a work of art!" —Courtney McLeod, Right Meets Left Interior Design, New York
Harlem Toile de Jouy Silk Scarf by Sheila Bridges at The Met Store
"[I always gift] my 36-by-36-inch silk scarf, because everyone needs a little Harlem Toile in their life." —Sheila Bridges, New York
Mini Poinsettia Plant by The Green Vase
"A favorite client gift is a paper flower arrangement by the talented Livia Cetti of The Green Vase—the Mini Poinsettia Plant [is perfect] for the holiday season. We love her arrangements because each is handcrafted by talented artisans in the Bronx, and just like the real thing, no two will ever be exactly alike." —Jennifer Hunter, New York
Celestial Throw by Fee Greening for Saved New York
"One of my clients was very into tarot card readings as a hobby. The Fee Greening illustrations on the Celestial throw reminded me of her hobby and happened to be a great accent in the space we were designing. It is simultaneously luxurious and cozy!" —Stefani Stein, Los Angeles
Savoy Candle by Aerin
"I love Aerin's candles for their gorgeous ceramic packaging and festive holiday scents. This one smells like pine and fireplaces and has been a hit year after year!" —Ariel Okin, New York
For the New Traditionalist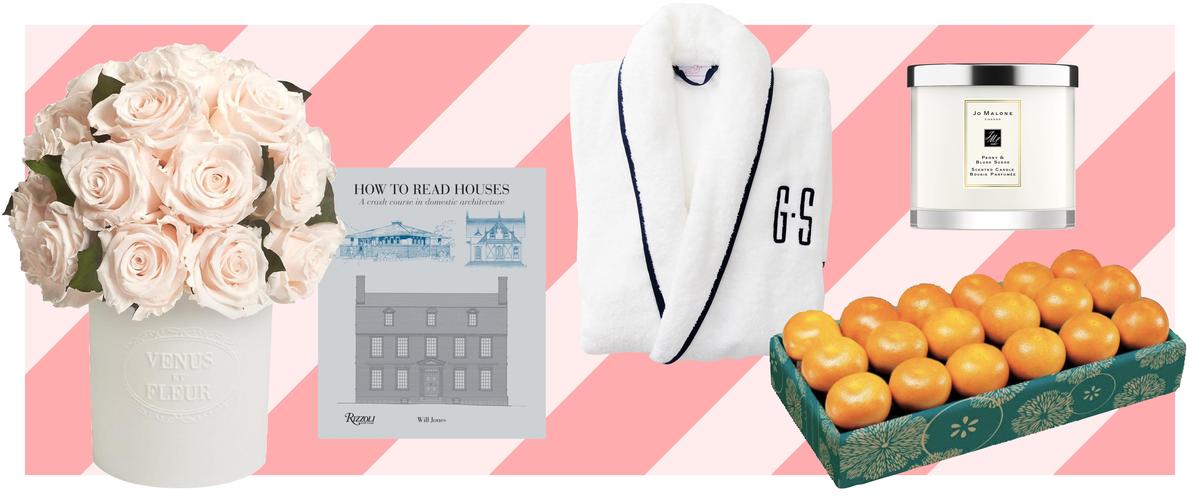 Maison Fleura Vase with Eternity Roses and Hedera Leaves by Venus et Fleur
"Venus et Fleur arrangements last for a year, so it is truly the gift that keeps on giving. They're the perfect accessory to put in your home on a side table and continue to enjoy over time." —Cara Woodhouse, New York
'How to Read Houses' by Will Jones (Rizzoli)
"This book, How to Read Houses: A Crash Course in Domestic Architecture, makes a cute and informational addition to any coffee table. It's filled with amazing drawings of houses, their architectural components and fun historical tidbits!" —Eneia White, New York
Women's Personalized Long White Robe by Weezie
"We love to give our clients monogrammed bathrobes that coordinate with their bedroom/bathroom schemes. We like to make our clients feel good, and what says that more than a cozy, comfy robe?" —Cindy Rinfret, Greenwich, Connecticut
The Dozen Gift Box of Rio Ruby Red Grapefruit by Pittman & Davis
"Our go-to holiday gift for clients is a dozen ruby red grapefruit from Pittman & Davis. For years, I sent fancy chocolates and addictive cookies, but when Andrew [Fisher] and I joined forces professionally and started Fisher Weisman in 2000, he convinced me to adopt the tradition that he and his late business partner had maintained for decades. Clients have come to count on the delivery, so happy to get something wildly delicious that they don't have to feel guilty about enjoying. It's not chic—in the best way." —Jeffry Weisman, Fisher Weisman, San Francisco
Peony & Blush Suede deluxe Candle by Jo Malone London
"We love products from Jo Malone London as client gifts and thank-yous for referrals. Their home and body products encourage us all to take a bit of time for ourselves during the busy holiday season." —Lauren Lerner, Living With Lolo, Scottsdale, Arizona
For the Minimalist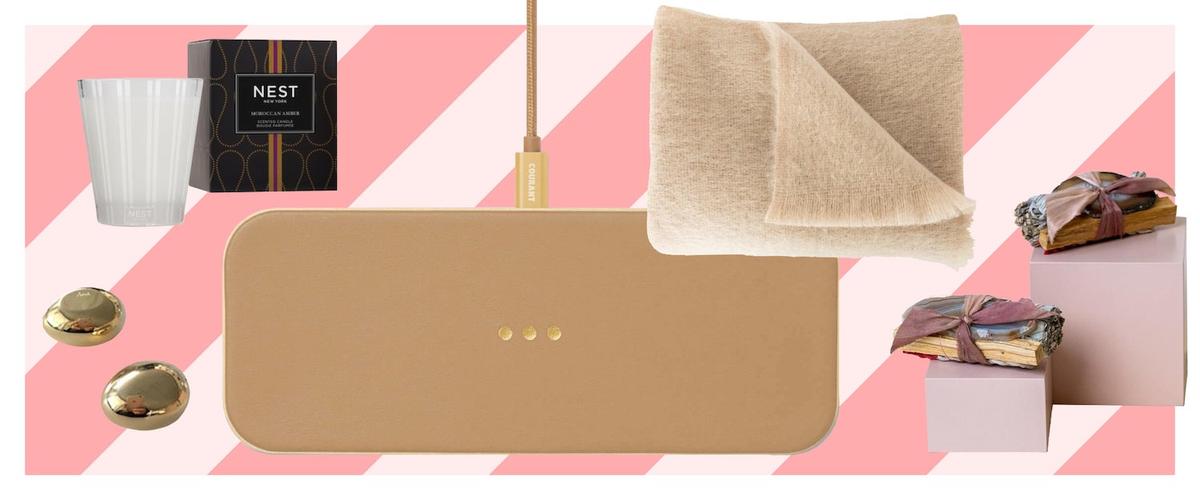 Moroccan Amber Classic Candle by Nest New York
"I love this candle and frequently have it burning in my office and my own home. Clients always comment on how great it smells, so at the end of a project, I always gift one so they can have the same scent." —Brittany Hakimfar, Far Studio, Bryn Mawr, Pennsylvania
Catch:2 Classics Wireless chareger by Courant
"We recently gifted a client a wireless charger from Courant. We thought it made the perfect gift due to its sleek design and array of styles. In our technology-driven world, this gift effortlessly marries design and function." —Tavia Forbes and Monet Masters, Forbes + Masters, Atlanta
Dusty Rose Mohair Throw by McGee & Co.
"I love gifting throws to clients, and our Mohair blanket is one of my favorites. It's neutral, so it will blend with any style, and it has this beautiful fringe detailing and texture that feels timeless and thoughtful." —Shea McGee, Studio McGee, Salt Lake City
White Sage + Agate Smudge Stick Bundle in Rose by Black + Jane
"Sage takes negative energy [out of a space] and palo santo brings in the good energy—so I like to give this smudge stick to our clients, since energy in your home is, to me, the main reason you hire a designer. I usually give this at the beginning or end of a project as a thank-you. We also like to give local products, since a lot of our clients are visiting or moving here from the mainland." —Shaolin Low, Studio Shaolin, Honolulu
Egg Paperweight by Carl Auböck at The Glass House Design Store
"I love gifting the Carl Auböck paperweights from The Glass House Design Store—I particularly love the egg! It's so cute and chic, and everybody needs a little something from the Wiener Werkstätte movement in their home." —Young Huh, New York
For the Entertainer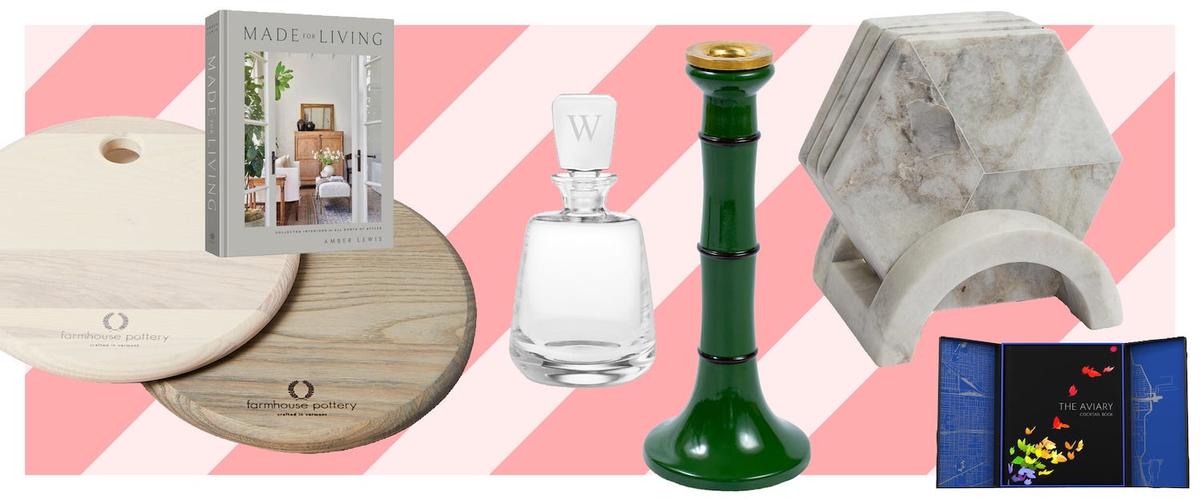 Cheese Board by Farmhouse Pottery + 'Made for Living' by Amber Lewis
"Last year, we gifted all our clients a small package that included Amber Lewis's Made for Living book and a cheese board by Farmhouse Pottery. We love a gift pairing that can be used at the same time. In this case, clients were asked to comb through the book—highlighting morsels of inspiration while noshing on a delicious charcuterie spread. I wrapped everything up using a Japanese technique called furoshiki, which made it a little experience in and of itself." —Becky Shea, BS/D, New York
Estate Barware Decanter with Monogramming by Williams Sonoma
"I love giving clients monogrammed crystal decanters. They're a great way to dress up a bar area or tabletop, and I always complete the gift with a bottle of liquor." —Sarah Stacey, Austin Texas
Cane Candle Holder in Forest by Salvesen Graham
"These candle holders are classic and timeless—something every home needs and one can never have enough of. We love creating homes that our clients can entertain and host in, and these candle holders create a wonderful sparkle over the holiday season and beyond." —Mary Graham and Nicole Salvesen, Salvesen Graham, London
Clyde Coasters Set of 4 in White by Soho Home
"Coasters have always been a quick go-to gift for my clients. I have done simple coasters or extravagant ones, depending on a project's longevity and overall budget. What I love the most about this gift is that it offers functionality along with the aesthetic. Given that I have designed the space, I know firsthand what will work with the existing decor." —Jenelle Lovings, St. Louis, Missouri
'The Aviary Cocktail Book' (Reserve Edition) by The Alinea Group
"While most people have a collection of cookbooks, fewer have a great collection of cocktail recipe books. The Aviary Cocktail Book is a special gift for the client that loves a good cocktail—not only is it engaging and beautiful, but it's the definitive word on 21st-century cocktails." —Philip Mitchell, Toronto and Nova Scotia
For the Client Who Has Everything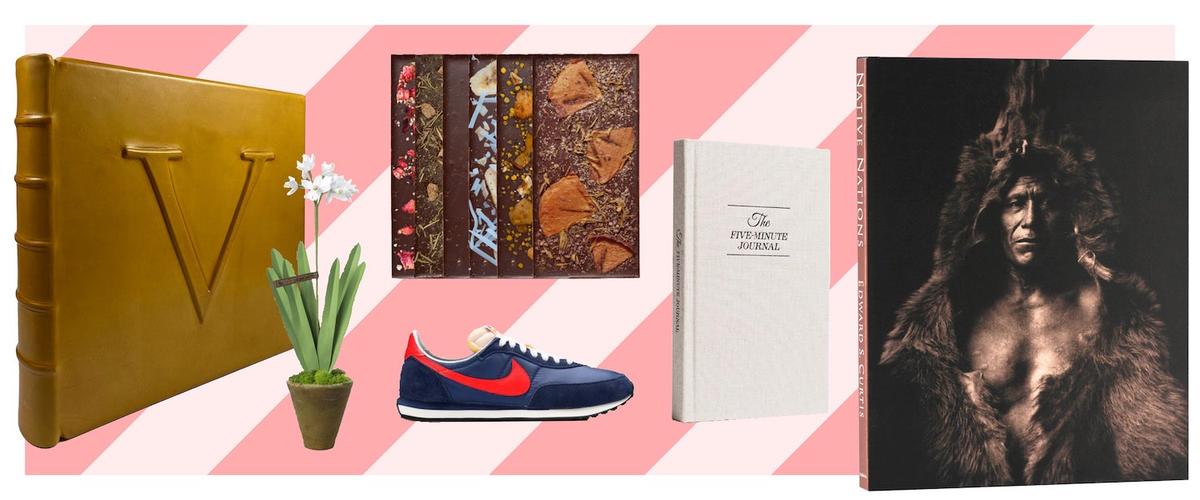 Hand-bound Leather Photo Album by Vogel Bindery
"I often give my clients a hand-bound leather album with the before-and-after photos of their home. I find Paul Vogel's photo albums not only elegant, timeless and special, but a great way for clients to note the stories of their individual projects. We all know that designing a home is a painstaking process with many ups, downs, delays and issues—it is so fabulous to see the fruits of all of that labor on a few pages of thick album paper under a bespoke leather cover with gilded lettering done by hand. These photos take up a few pages, and then my clients have room to continue the stories in their new home." —Alexa Hampton, New York
Mini Paperwhite Plant by The Green Vase
"I love giving paper flowers as gifts for a more special touch than live flowers—and the paperwhites and poinsettias are so festive for the holiday season." —Lauren Lowe, Lauren Elaine Interiors, Atlanta
Orchard Chocolate Set by Flamingo Estate
"Flamingo Estates has a variety of gift options, so I can easily find something suitable for each and every client. One of my everyday gifts is their Orchard Chocolate Set, which looks beautiful and tastes delicious. Chocolate is my favorite sweet, and I never tire of sharing it." —Karen Harautuneian, Hub of the House Studio, West Hollywood, California
The Five Minute Journal by Intelligent Change
"Staying true to my purpose of transforming lives and spaces, this gem of a journal, beautifully bound in cream linen, has been a favorite gift for clients. Journaling invites the cultivation of more gratitude, joy and meaning in the everyday, and can reveal endless possibilities for creating the lives we want to live. I can't think of a better gift than that!" —Joshua Smith, New York
'Native Nations' by Edward S. Curtis
"I have previously gifted the first edition of Native Nations, an award-winning compilation of Edward Curtis's most iconic photography from his magnum opus The North American Indian, to a client with deep admiration and thirst for more knowledge about the Native Americans and first inhabitants of America. I chose this gift after noticing my client collected some art and decorative objects related to Native American culture. The gift was based on a subject my client had a strong affinity for; therefore, I knew it would have personal meaning to them." —Keita Turner, New York
Waffle Trainer 2 SP in Midnight Navy by Nike
"I gave a client a pair of Nikes once. He's a shoe fanatic—I know because we designed his closet!—and one day he complimented my sneakers, so I followed up with a pair for him. I try to be genuinely thoughtful with my gift-giving, which means listening to people and showing that you see them. It also means that the gift should be about the recipient, not the gifter. Just because I'm a designer doesn't mean I give home!" —Christine Gachot, Gachot Studios, New York