In a new series, What I Love, we're asking designers to build us a mood board of what's inspiring them right now.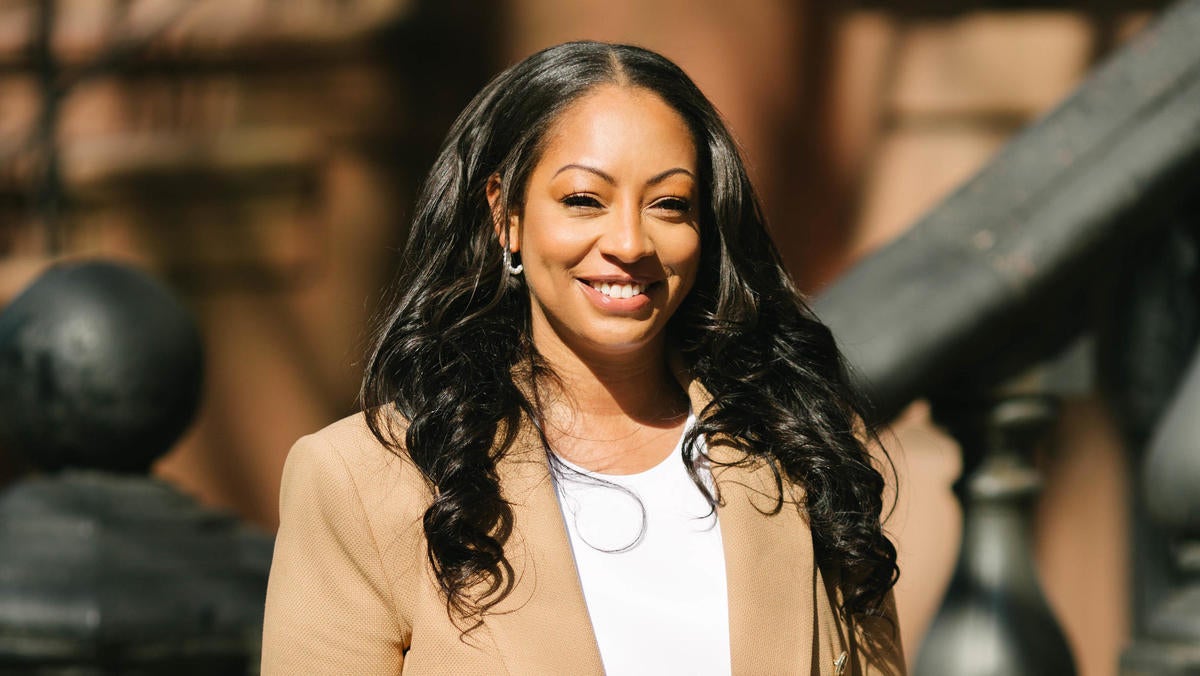 Courtesy of Nick Glimenakis
When it comes to designing interiors, Eneia White strives to strike a balance between fun and sophisticated. Whether it's through a surprising mix of textiles or unexpected color combinations, her mission is to create spirited, welcoming spaces with a touch of whimsy. "I love blending sultry and playfulness together," she tells Business of Home.
Case in point: White's current mood board. Teeming with rich colors and peppy patterns, the founder of New York–based Eneia White Interiors says the palette was inspired by a hand-knotted rug from Armadillo in a rich shade of saffron. "I employed prints for feminine charm, and leaned on classic colors like navy for a more serious approach," she explains.
A nuanced use of color and texture is evident throughout the board, where she says the fabrics and wallpaper "display humbled patterns, with nubby textures to add another layer of depth." Her ultimate pursuit: casual opulence. "My flat lay shows what livable luxury looks like—rooms that feel rich without being over-the-top," she says.
Here, White breaks down the details—from bright cobalt tile samples to graphic wallpaper swatches.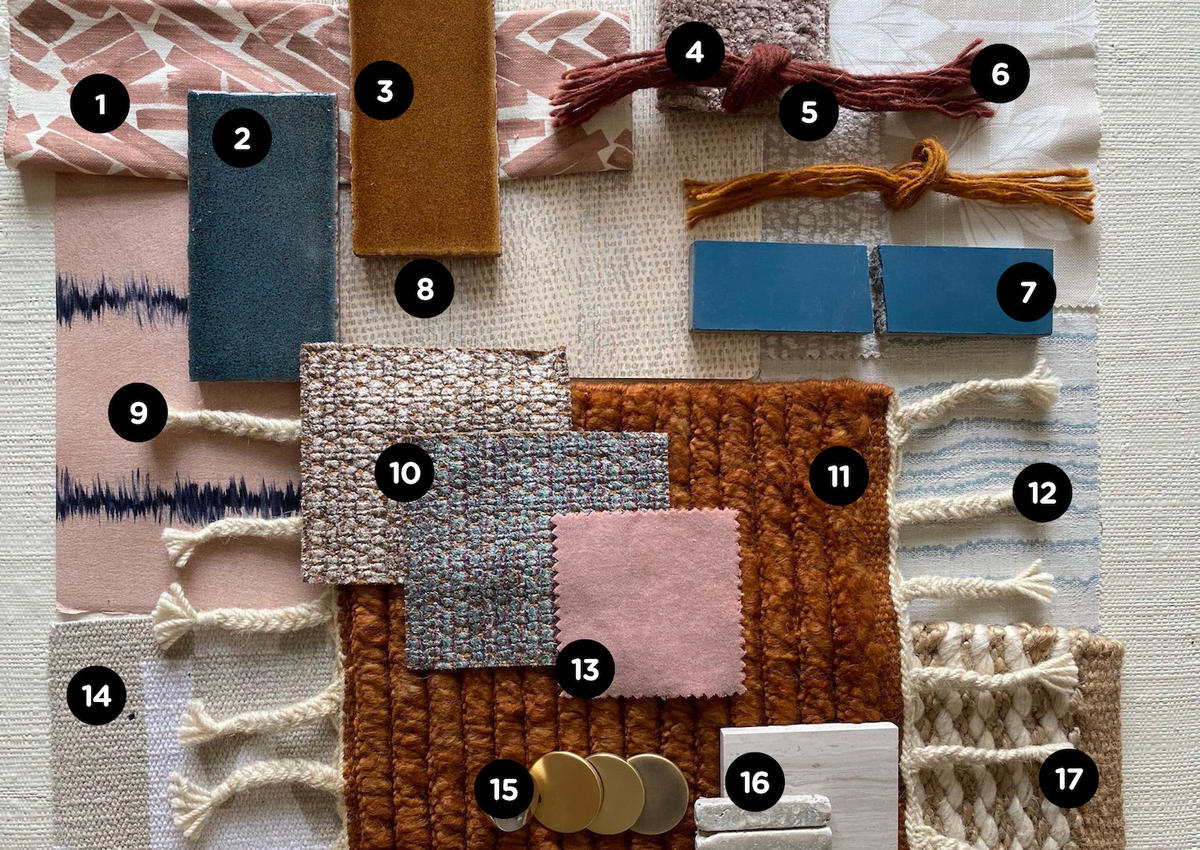 Courtesy of Eneia White Interiors
1. P6170 HABERSHAM-ROSEWOOD FABRIC — PINDLER
"The marker strokes are playful and bold," says White of the graphic printed cotton-linen blend. "I'm itching to use this pattern on drapery!"
2. ARCHITECTONICS TILE in Cadet — WATERWORKS
"The glossy finish on these saturated hues adds a layer of sophistication to an otherwise classic shape," she says.
3. BRADBURY TILE IN TIGER EYE — WATERWORKS
Crafted in ceramic, the Bradbury tile collection at Waterworks features a hand-glazed finish that mimics the rugged texture of bricks.
4. COCOON fabric in CHAMOIS — MÉTAPHORES
"This lilac plum number adds soft depth to any scheme," the designer says of the fabric's chenille weave.
5. ROCK STEADY fabric IN WHITE SANDS — PERENNIALS
Composed of fade-and-mold-resistant outdoor-friendly fabric, Rock Steady boasts a speckled design that gives it a distinctly textured appearance.
6. CATALINA 1 BISQUE Fabric — STOUT
A barely-there beige-and-white floral print helps balance out the bolder hues in White's mood board.
7. CEMENT TILE IN COBALT — ZIA TILE
Create a pop of contrast in an earth-toned space with tile in a rich shade of bright blue.
8. ASTERISK DESIGNS WALLPAPER — STUDIO FOUR
"This wallpaper reminds me of a seashell you would find along the shore," says White. "The soft dimples create a slight unexpected reflection."
9. GOOD VIBRATIONS Wallpaper IN COPPER/INDIGO — SARAH + RUBY
"Wallpaper with organic shapes and lines help keep spaces from feeling too cold and linear," she says. "I love the playfulness of the pink and navy."
10. MAXIMAL TEXTURE FABRIC IN SEASONS AND TAILORED — S. HARRIS
Striated chenille in neutral shades supplies a dash of texture and graphic drama without disrupting an earthy color palette.
11. MALAWI RUG IN SAFFRON — ARMADILLO RUGS
This is the piece that jump-started the entire scheme. A bonus? "I love the tassels on this one—so fun!" says White.
12. MINGLE 1 SEAGLASS Fabric— STOUT
Rhythmic seafoam green linework that evokes crashing waves gives this versatile woven fabric an added touch of texture.
13. 3363 ROSE Fabric — FAIRFIELD
A soft, dusty pink velvet with cool undertones plays up the blue hues in White's palette.
14. COPP FABRIC IN NATURAL — SCHUMACHER
An abstract print on a neutral ground complements a variety of color palettes and patterns.
15. METAL FINISH COIN SET — WATERWORKS
A sleek selection of metal finishes provides the designer some material inspo.
16. STONE AND MOSAIC TILES — ANN SACKS
"We like to tone down our trendy elements with moments from nature," says White. "Ann Sacks has the best collection of natural stones and mosaics!"
17. KALAHARI RUG IN NATURAL & CHALK — ARMADILLO RUGS
"From dusty grays to saturated cinnamons, there's something for every room in the home within their collections," White says of Armadillo Rugs.
Homepage photo: A flat lay by designer Eneia White | Courtesy of Eneia White Interiors