Browse Food52's product offerings—kitchen, table, home, outdoors, pantry, and even sourced vintage finds and only-found-here collaborations—and it is clear the brand's e-commerce strategy has been as carefully designed as, say, the hand-knotted wool rugs from Canadian maker Gus* Modern, or the late-19th-century copper fish-poacher/braiser.
Food52 raked in $22.7 million in revenue last year—two thirds of which is from online sales, and has become an e-commerce colossus. Co-founded in 2009 by Amanda Hesser, a chef and former writer-editor at The New York Times, and Merrill Stubbs, a Cordon Bleu–educated chef and freelance writer, as a community uniting chefs and sharing recipes, Food52 launched Shop in 2013 and, the following year, reported $6.2 million in revenue. Earnings leapt to $15.6 million by 2016.
Food52 Shop's approach boils down to a combination of top design and key sales data. Senior director of buying Jojo Feld is the creative mind enabling that design-focused approach. Now in her fifth year with the Food52 Shop, Feld oversees strategy and assortment, "with a deep dive into curation and product development for our Table, Home and Vintage verticals," as she puts it. She works one-on-one with the categories' makers to develop new products each season, as well as to brainstorm exclusive-to-Food52 products with partners—among them, Farmhouse Pottery, the Vermont-based artisanal potters; Staub, the high-end French cookware brand; and Elsie Green Custom Furniture, a Bay Area maker who offers an étagère, china closet, buffet, farm table and bench exclusively on the site.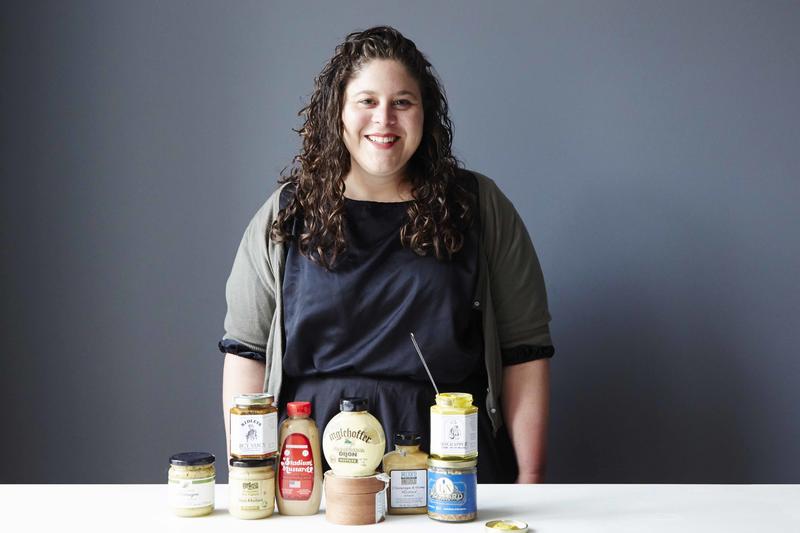 Feld, along with her buying team, "is out there in the wild sourcing products every day," and she says their approach is not necessarily a structured one. "We're naturally inclined to pay attention to product design in our everyday lives, so sourcing new products and partners is not only a piece of cake, but a joy of the job. We find ourselves turning over dinner plates at restaurants, sifting through Instagram recommendations and our Saved Collections, and meeting new shop partners through friends-of-friends-of-friends."
Some of those distant friends are local. "Living in New York with its vast creative community lends itself very well to sourcing, especially when it comes to really unique, forward-thinking, well-crafted product," says Feld. One case in point illustrates both the local angle and Feld's sourcing process: seasonal ceramic dinnerware developed with potter Kim Gilmour of FisheyeBrooklyn. The collaboration is the latest in an ongoing partnership; Food52 Shop partnered with Queens-based artist four years ago, "selling a few soup bowls she had up on her own website for sale."
Back in 2014, Feld says, "I went to [Kim's] studio in Brooklyn to visit and see what else she was working on. While there, I noticed shelves of unglazed organic-shaped pinch bowls she had been working on—hundreds of them. She told me she had just gotten really into those, and was experimenting with glazes. I thought they were so elegant and beautiful, and asked if we could do something with them—in an exclusive glaze—for Food52's holiday season that year." Feld noticed she was working with metallics and suggested "something with the gold. Splatter and rims seemed to be overdone at the time, but possibly an organic little gold dip on each?"
Gilmour ran with the suggestion and the partners launched two colors of the Gold-Dipped Pinch Bowls in December 2014. They would sell out within weeks. The approach became de rigeur. "Every year since, we have iterated on the Gold-Dipped ceramic offerings with Kim—new colors, new patterns, new shapes, etcetera, but always with that signature exclusive gold dip."
The pair's next a-ha came over a drink. "When Kim approached me with the idea of doing a handmade dinnerware line, I was thrilled," Feld tells Business of Home. "We got together for a few beers at a local Brooklyn bar to discuss what the dinnerware should look like. And then we had our duh moment: The dinnerware should be part of the gold-dipped line! Kim sampled a bunch of glaze chips for us that we had selected, and we decided on three colors, all with the gold dip. These are beautiful, organic handmade shapes, and earth-inspired tones, but with a touch of gold for a celebratory feel." They're currently sold out on the site.
The experience with Gilmour is representative of the partnership-based approach Food52 buyers take in curating product. "We bring ideas to our vendors based on wants and needs presenting themselves amid the Food52 community—sometimes community members write in to let us know what they're looking for, but can't find anywhere, and we'll run with it—as well as a Shop Palette and Trend Report that the Buyers create each year. But we also ask the partners what they're working on, what they wish they could be doing more of, if there's anything they're dreaming about making but not sure who the audience is, etcetera, and then come up with some product ideas to test out. We don't try to dictate exactly what we want them to develop, but rather, work together with them to make something both parties are proud of and excited to reveal."
Feld, who had studied journalism and creative writing in school, has long worked in the startup realm; she began her career editing a punk rock music website out of the cofounders' Williamsburg loft, where she got early, if unexpected, product design experience: A colleague at the site, who was also a part-time product designer, introduced Feld to the world of product design—and she was ultimately hired to a buying team for "a fast-growing e-commerce startup," where, "unlike most of the buyers, I hopped around there from category to category … [and] bought everything from sports equipment to food and wine to print-on-demand art to tech and gadgets." She eventually joined Food52 Shop, which was only live a few months at the time. "While I had gotten a lot of experience up to that point in terms of strategy, curation, collaboration, and startup business building," she says, "I had never worked somewhere where I wanted to consume the product that my company was selling."
When Feld joined Food52 Shop, she says, "it was just a six-month-old baby. We were still building up the assortment and trying to understand what our community was looking to buy. We were also just learning about who our customer might be, and what we wanted to share with them. When I joined, the strategy was really to lead on what Amanda and Merrill thought were great, life-changing, best-in-show products and small makers, put them into the Shop, tell their story, and see who buys what. We hadn't really strategized beyond that, because that is, after all, the core of the Food52 Shop's existence, and starting out, that's really all it should have been."
But once the product reached a certain scale, they began to plan more strategically, identifying "what were customers coming to us for, and what could we bring to them," as well as considering "price points, artistic and conceptual direction, types of makers, and storytelling." Feld recalls the team's entrée into price-point strategy ("aspirational but also approachable"), as well as its increased emphasis on the shop's visual direction (to have "a story and cohesiveness to the assortment"). To that end, their holiday concept for 2016 product launches included a color palette and a theme, designed so that "all buyers could follow [it] when developing exclusive products or finding new things to launch in the Shop during the holiday season." The following year, they adopted that same, formalized approach across the seasons, and the buyers adopted a Shop Palette as well as Trend Reports.
They also wanted to expand beyond the "obvious" categories of kitchen and tabletop—"we really wanted customers to venture into other rooms of the house with us, and spent years building out our Home category and establishing the Shop as a destination for all things Home." Today that category's business is just as substantial as the tabletop category's. And kitchen-focused tools, in line with the brand's early mission to reach home cooks, are what earn top hits with the brand's consumers.
"Our shop is filled with all sorts of smart kitchen tools that add beauty to a space, and that's really where we shine with customers. As kitchen-loving shoppers, we found many kitchen tools and gadgets on the market useful, but visually lacking. This hole we were seeing created a special place for us to develop and find new products as solutions—we knew we weren't the only ones who didn't love the novelty look we were seeing out there on the market," says Feld, citing the likes of their Wood-Handled Dish Rack by Japanese company Yamazaki Home, the Nonstick Skillet Set by GreenPan, a handmade Porcelain Butter Keeper by Sawyer Ceramics, and Solid Wood Pasta Cutter by Amana Woolen Mill as fast sellers.
Among the requirements to produce a top-grossing product? Longevity, creativity and usefulness. "We source products that they are going to use or have for a long time, that fill a need in their everyday lives and that visually create a calming and warm space for them," explains Feld. "We work every day to find and create products that our customers will love and that bring them joy."