You don't have to be active on TikTok to recognize the impact it's having on interior design buying trends. The recent fate of Umbra's Magino stool—an acrylic side table with built-in storage racks—offers a particularly compelling case in point. Though it was originally released in 2006, it wasn't until TikTok user @christinaprothro posted a 10-second video declaring the piece her "all time favorite purchase from amazon" this April that it reached stratospheric levels of fame.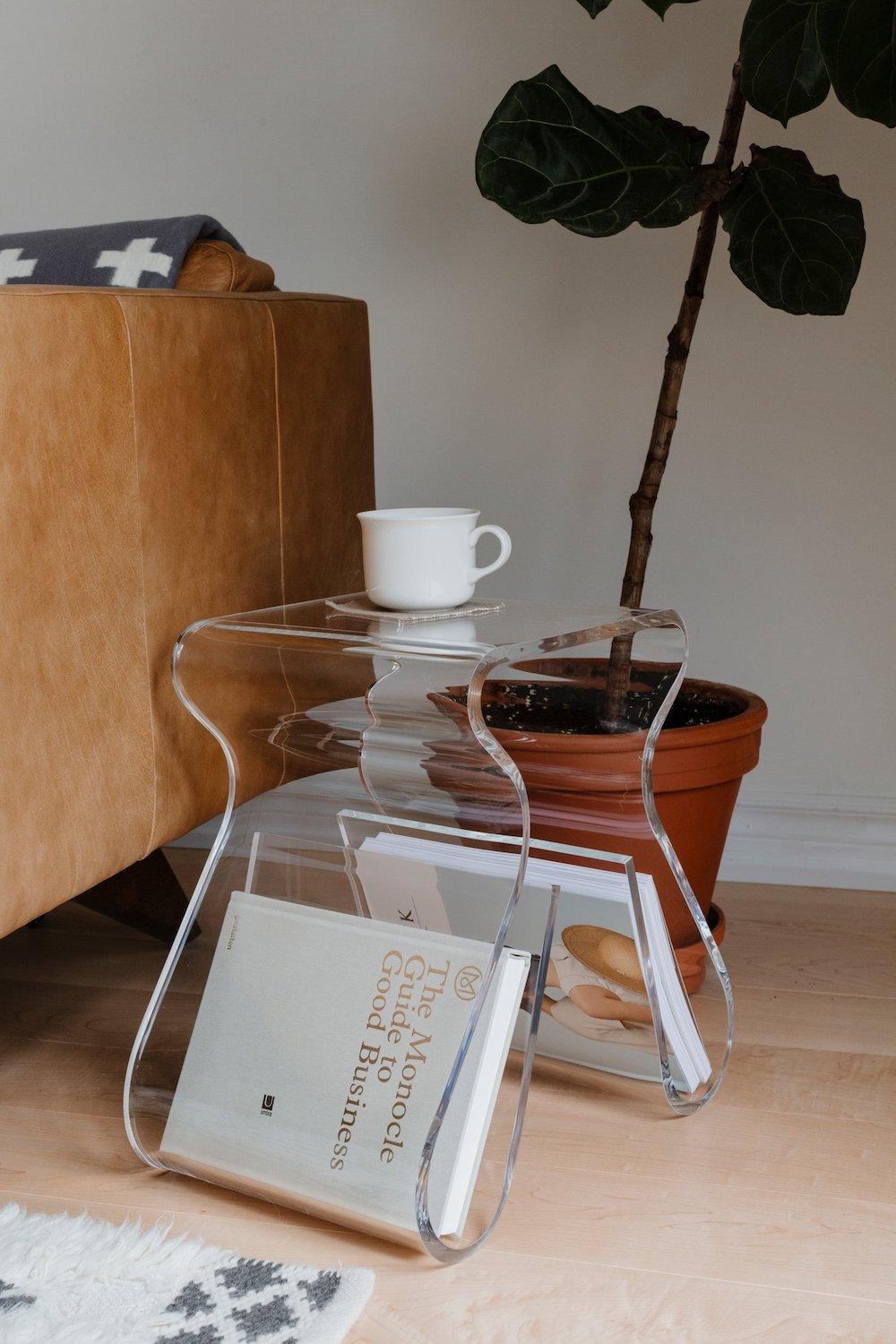 That clip racked up millions of views and more than 530,000 likes, and the stool it was championing (which sells for $250) remains sold out both on Umbra's website and Amazon to this day. "[After going viral on TikTok], it wasn't a huge surprise to see it sell out almost immediately on Amazon—with a 371 percent increase in sales compared to the month prior, which could have easily been more had we not sold out," Steve Andrade, head of e-commerce and growth at Umbra, tells Business of Home. "Naturally, demand also spilled over to our direct-to-consumer website, where we experienced a 319 percent year-over-year increase in Magino sales for the month of April before selling out there as well."
Whether the platform's up-to-three-minute videos are creating a frenzy over some previously unremarked-upon side table, or causing DIY furniture hacks to go viral (the hashtag #decorhacks currently has a whopping 63 million views), TikTok's influence on shopping habits is undeniable. And it's particularly undeniable on the shopping habits of Gen Zers, a demographic that research firm YPulse reports constitutes nearly 60 percent of the platform's users.
It's no surprise, then, that many social-media-savvy design companies are eagerly attempting to capitalize on the TikTok sensation. Consider Ori, a Brooklyn-based brand specializing in convertible furniture pieces. When it launched in 2015, the company mainly was selling to real estate developers and residential designers. Then, its Cloud Bed series went viral on TikTok at the height of the pandemic. "People were looking for creative ways to make small spaces feel bigger," Hasier Larrea, founder and CEO of Ori, tells BOH. "We started posting videos on TikTok that got hundreds of thousands of views, which led to more and more purchase requests."
Larrea took the Cloud Bed's TikTok success as a "wake-up call" that consumers were ready to buy Ori's goods directly. So, in September 2021, the brand opened the doors of its Brooklyn Navy Yard studio to buyers for the first time, enabling the public to purchase its internet-famous series in person. "Sales have already exceeded our expectations," he says.
Design brands aren't the only ones finding success on TikTok—some designers are also following suit. After graduating from Endicott College in 2020 with a degree in interior design and architecture, 23-year-old Emily Shaw (aka @EmilyRayna) of Emily Rayna Designs began posting videos to document the renovations she was making on her parents' home. Within weeks, she gained thousands of followers, a number that quickly snowballed to 4.6 million over the next few months. Today, Shaw is so busy with sponsored content creation (she's currently in the middle of revamping her own home) that she is unable to take on clients as an interior designer, though she is open to it in the future. "TikTok has completely changed my life from a business point of view," she says. "I did not grow up wealthy, and money has always been a big stressor, but creating on TikTok has allowed me to fully explore my creativity while remaining stable, and I am so grateful for that."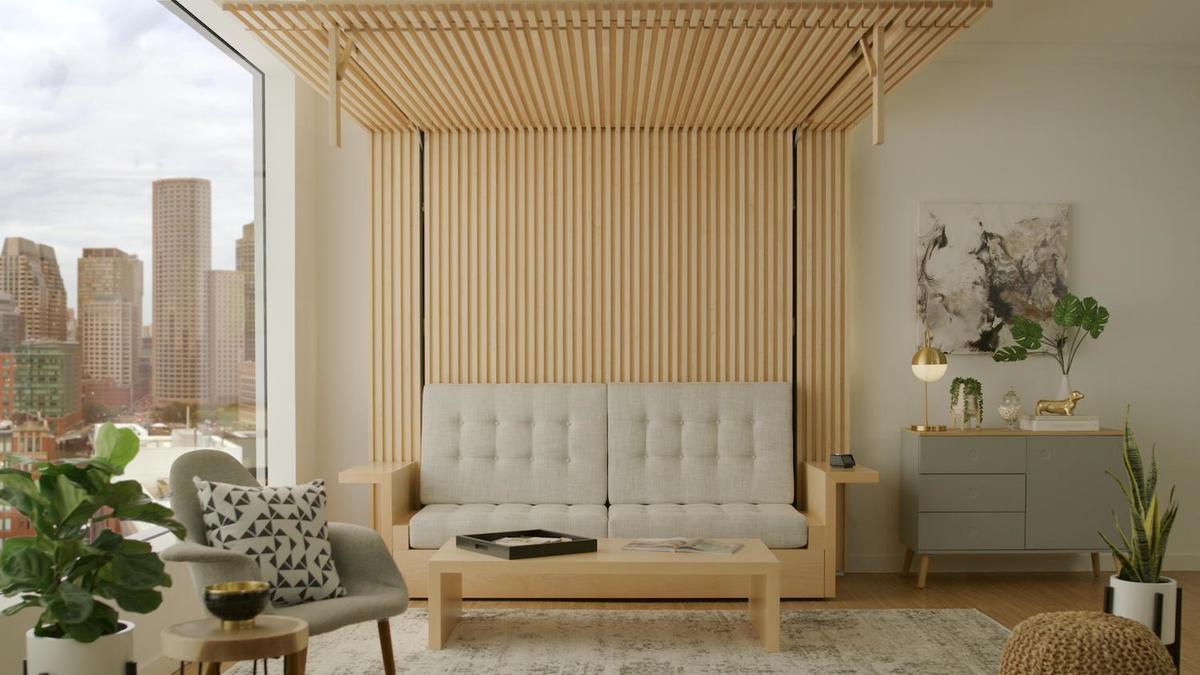 Design blogger Kyla Herbes of @HouseofHipsters had a similar experience. She joined TikTok in 2019, and after posting a short video of herself dancing alone in an undecorated room in 2020, she gained 20,000 followers overnight. Herbes subsequently decided to steer her posts toward service-driven content, such as DIY tutorials and behind-the-scenes clips of the One Room Challenge, and now boasts a following of nearly 350,000. "Celebs have reached out asking for help designing rooms, but I've had to turn them down," she says. "I'm a blogger, not a designer, so I give them real designer names instead."
These success stories beg the question: If some interior designers are making it big on TikTok, why have most been slow to embrace the platform as a way to snag new clients?
To an extent, the problem is generational. For starters, Laura Bindloss, PR pro and founder of New York–based firm Nylon Consulting, says designers are quick to dismiss TikTok's youthful audience. "The general impression is that TikTok is for 12-year-olds and dancing videos," she explains. "It feels like something their kids are doing, not their peers." Along with this skepticism regarding the app's predominantly teenage fan base, Bindloss says the type of content necessary to make waves on TikTok can be intimidating to established designers. "[Most] interior designers aren't going to do dancing videos, so the only option is creating educational content," she says. "Unfortunately, designers are often uncomfortable with being the content."
The challenge of producing service-driven videos does indeed prove daunting to designers who are used to letting still images do the talking on social media. "We are trying to find our footing on how we differentiate the use of TikTok versus Instagram, YouTube and Facebook," says Shea McGee of Studio McGee, a design firm that boasts over 3 million followers on Instagram but just under 10,000 on TikTok. "Currently, we're leaning into what's most native to the platform: underproduced and raw behind-the-scenes footage."
Courtesy of @emilyraynadesigns
In spite of clients' reluctance, Bindloss says she's encouraging design pros to jump on the TikTok bandwagon ASAP. "Now is the time," she says. "If you're not comfortable doing it yourself, then hire someone who is, because TikTok is the future."
And before you write off TikTok as an app that's solely for young people, remember that just 10 years ago, Instagram was a quaint photo-sharing app for millennials that had no bearing on the business of design. The platform helped launch the careers of so many present-day design stars (including the aforementioned McGees), and the 20-somethings who have been active on Instagram since its inception are finally moving into their first adult homes—and are ready to hire the designers they've followed over the years.
Another advantage of TikTok is that it's among the only social media platforms where designers can expand their organic reach without spending a cent. "You can grow your audience on content alone," explains Bindloss. "You don't need to pay to promote your posts on TikTok for them to be successful like you do on Instagram."
Though she still has a lot to learn about the platform, McGee is excited about the opportunities that TikTok has to offer. "Any app that allows you to reach a niche segment is valuable and can make a huge impact," she says. "The algorithm seems to create stars overnight and serves the most relevant videos to each user, and I think that capability can be a helpful tool for designers looking to build their businesses."
Other big-name designers are starting to warm up to the platform, too. "I think TikTok is amazing and has a major future in social media," says Amber Lewis of Amber Interiors, who currently has more than 1.5 million followers on Instagram, and is preparing to launch an account on TikTok. "The conversation on social media can be very powerful. I'm working on it—stay tuned!"
Homepage image: The Cloud Bed, Sofa Edition, from Brooklyn-based convertible-furniture brand Ori | Courtesy of Ori