Fresh off a year that saw Shea and Syd McGee pen a bestselling book and debut a hit Netflix show, the Utah-based husband-and-wife design duo are exploring a new frontier: private equity. They have announced a deal to sell a minority stake in their business to Los Angeles–based firm Strand Equity.
"As we've seen all this growth, we've never actually been able to keep up with the demand," Shea tells Business of Home. "At a certain point, we realized that reinvesting our own money wasn't allowing us to meet the next phase of growth, so we started looking at taking on partners."
Thus far, the McGees have self-funded their two businesses, Studio McGee (interior design services) and McGee & Co. (e-commerce). The bootstrapping approach, say the couple, has helped them build a genuine rapport with their fans and forced them to stay scrappy. "We've been approached multiple times [by investors], but we always had felt like, 'Well, what would we do with the money?'" says Syd. "We grew up seeing people taking so much money and then these companies disappear—and you're like, Wait, where did they go? We wanted to make sure we knew who we were as a company and brand before we took on anything that would accelerate it."
As it turned out, the momentum of the McGees' growing fame, both online and off, has created its own kind of acceleration. After a courtship period with various firms that didn't feel right, the couple finally found a partner in Strand Equity through a client's recommendation. The deal was closed earlier this year for an undisclosed sum.
Kevin Chen, the partner at Strand who oversaw the deal, tells BOH that he first heard about the McGees through Adam Gibbs, the CEO and co-founder of The Shade Store (another company that has, coincidentally enough, benefited from private equity partnership). Chen's firm, known mostly for developing brands in beauty and consumables—its portfolio includes everything from Chopt to Oatly to Wander Beauty—has not dabbled much in the home world, nor does it typically partner with celebrity-driven brands. However, he saw two major opportunities in partnering with the McGees.
Because of COVID, home is hotter than ever, and there's a celebrity vacuum at the heart of the category. "Even before COVID, [home] has been a growing, highly fragmented category. There's a void in terms of, no one has become the leading authority or voice for the millennial generation," says Chen. "I'd put the McGees up there against any one of the contenders [to be that voice]. With COVID and the renewed emphasis on the home, I think that gives them a long tailwind to continue building."
Plus, in a world where acquiring customers online gets more expensive every day, the McGees have something that even the most slickly branded direct-to-consumer brands don't: real fans.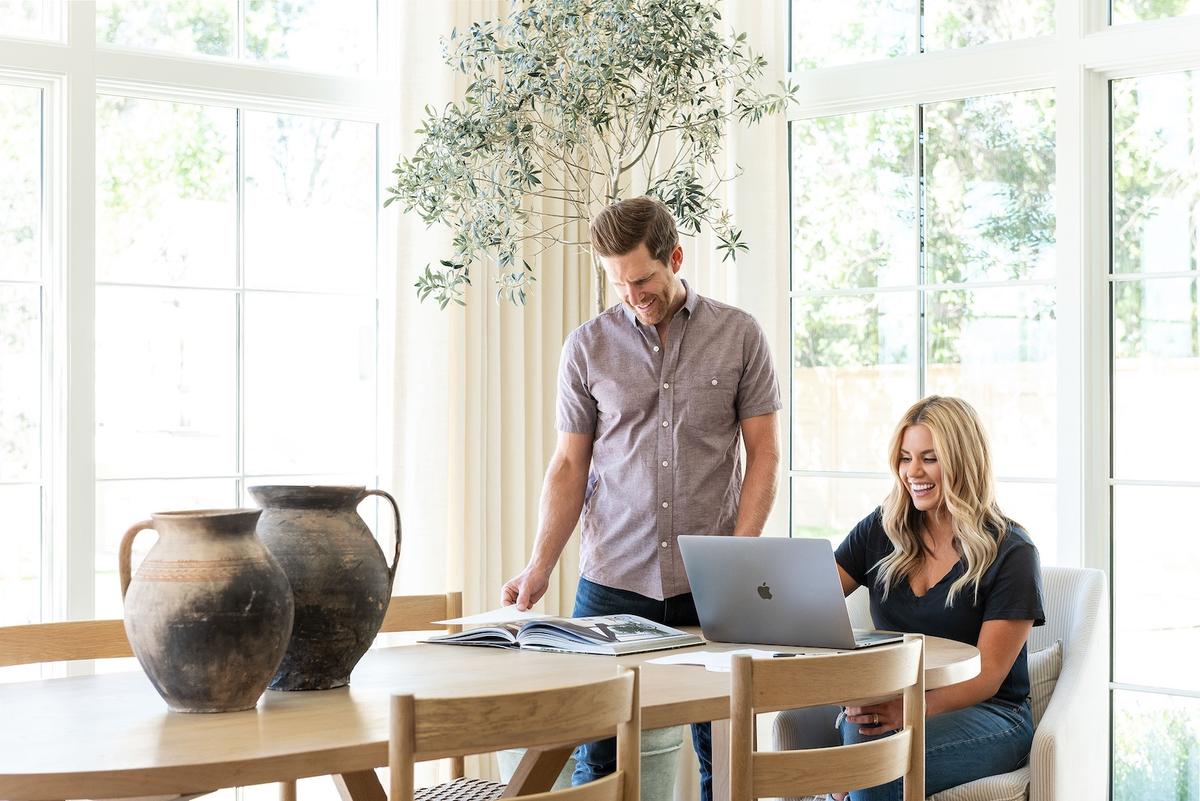 "[What] really jumped out to us was the size and momentum of their business they've been able to achieve with virtually no paid marketing spend," says Chen. "Everything was built organically. They have fans first who became loyal customers second. That's very rare. Usually it's the other way around—a customer discovers a brand due to paid marketing, and it's a coin flip whether they become a loyal customer. [The McGees'] repeat metrics and reorder metrics were very impressive."
What to do with an infusion of cash? The pair say their first goal is to expand the selection of in-house product they offer through McGee & Co's online marketplace. The company currently makes roughly a third of what they sell, a number Syd says they'd like to quickly grow—partially because the margins are more profitable, but also because it would allow them to better control the customer experience.
"Everyone in the home retail space has trouble with the best delivery experience, especially with furniture. It's always a challenge of, How do we get this to the end consumer in the best way possible? Not just delivered unbroken, but: Was it nice? Did we put it in their house? There are so many different layers to improve their experience, from Instagram to the site to the ultimate product that's in their home."
There's also an opportunity, says Shea, to give the marketing department a glow-up. "People would be shocked at how little we've spent on advertising," she says. "That scrappiness has been good, but even renting a location for a marketing shoot is something that's new for us. We've always relied on client homes we were already installing and then we would get a shot of the product [at the same time]. That's great, but it would be really nice to expand and polish our marketing efforts. There are so many things we're already doing that I can see us doing better with more capital."
Of course, private equity firms invest in companies because they hope to one day sell their stake, leading to the inevitable question: Who will one day buy Strand's slice? Their business, Syd admits with a laugh, makes for an awkward acquisition target. "From a business perspective, we're kind of weird. You have Instagram and a lifestyle component and a design component and a product component. People will say, 'I don't really have something similar to line that up against.'"
It's precisely that mercurial nature, says Chen, that makes the McGees an exciting prospect. "The fact that I can't tell you who it may be is what gets me really excited. This isn't a pure-play e-commerce business. They're just scratching the surface on the media and entertainment side; on the licensing side, there are brand management companies that are looking for licensing businesses [like the McGees]."
Whether it's a strategic buy for someone else in the home world, a media business looking to grow its e-commerce efforts, or a brand conglomerate looking to fill out its roster, Chen is confident that shoppers will come knocking when the time is right. "The rise of D2C and e-commerce is a double-edged sword. It's lowered the barriers to launching brands, but it made it much more difficult for brands to actually sustain themselves," he says. "In our minds, the brands of tomorrow are those that are able to generate engaging content organically that actually drives commerce, and I think Studio McGee is the perfect example of that. ... There will be no shortage of buyers."
Homepage photo: Shea and Syd McGee | Lucy Call