It's hard to think of a design firm that's experienced a more meteoric rise in recent years than the husband-and-wife partnership Studio McGee. Six years ago, Syd and Shea McGee were operating a boutique design business in Southern California, doing everything themselves and growing a dedicated following on social media. After moving to Salt Lake City in 2015, Utah, their business exploded—they now run an operation with 110 employees and reach 1.3 million on Instagram. Not to mention the product lines, a forthcoming design book, a shop in Costa Mesa, California, and now a new Netflix show, Dream Home Makeover.
Working designers sometimes have mixed feelings about both celebrity designers and design shows in general. However, those who overcome their skepticism and sit down to watch Dream Home Makeover will find that the show is a lot more upfront about the messy realities behind design projects than the average 25 minutes of HGTV. Real budgets are discussed (and stuck to!), clients make confusing requests and accidents happen. Put simply: It's a lot more real than it needs to be.
Business of Home spoke with Shea McGee about what design TV so often gets wrong, why she still does one-room projects, and her favorite (seemingly) impossible client asks.
One of the things I hear from designers who get into TV is that it's really hard to have regular clients and projects, and produce and promote a show at the same time. Did you worry that doing a show was going to distract you from running your design business?
I think we were definitely a little apprehensive because it was a lot to take on, but at the same time we have built an amazing team. We've worked very hard to increase our efficiencies in our studio through delegation and trust, which means we can work hard at training and communication so our vision is carried throughout the design and the business side of things. When we were busy filming it allowed our team to really take ownership of their roles and step up to the plate in new ways!
Why was Netflix the right partner for this as opposed to a more traditional design network?
We knew Netflix was the right partner for this because they didn't try to fit us into the "husband & wife designer and contractor duo" that is a common part of design shows. They were also very open to the idea of making the visuals of the show feel like an elevated extension of the look we're known for on social media. Plus, we have such a large international audience through Instagram and YouTube, it was so much fun to be on a platform where they could participate in watching the show with us!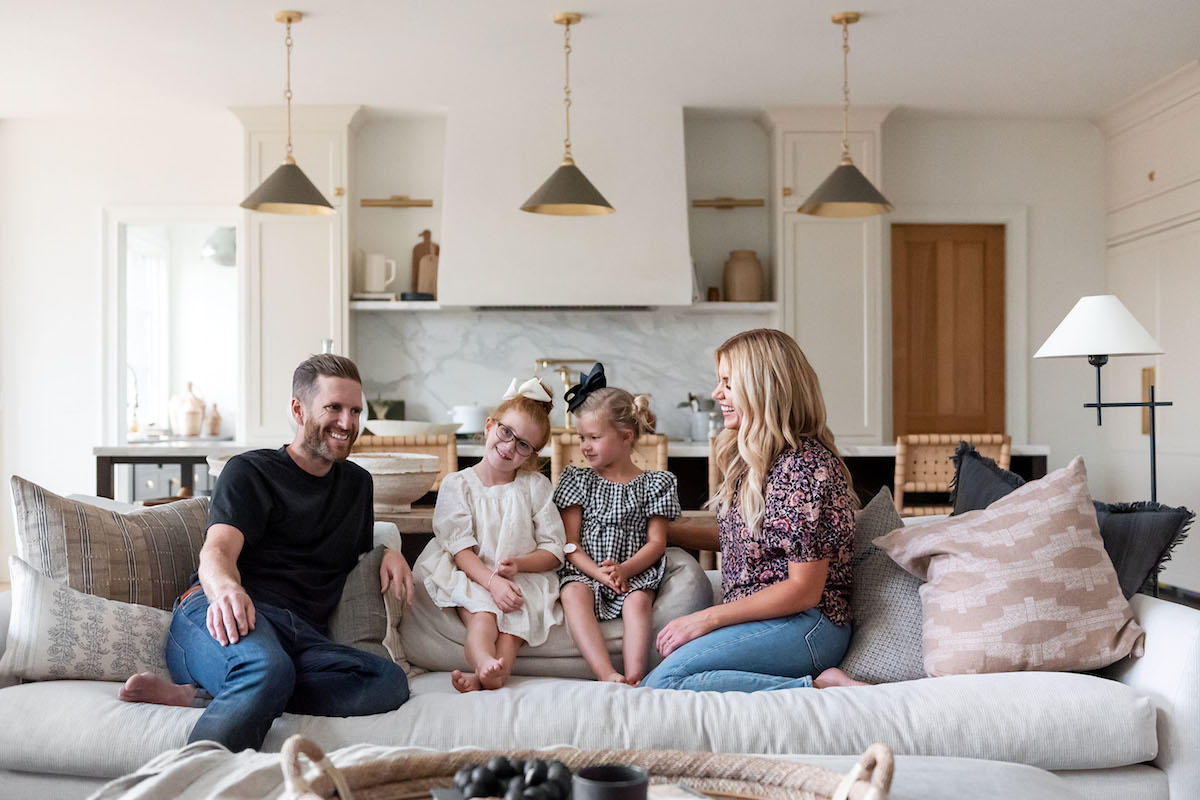 I love that the show feels a lot more "real" than the average design show, where designers are parachuted in to do quick renovations that sometimes feel a bit like stunts. What made you guys want to take a more documentary approach?
We grew on instagram because we started peeling back the curtain of interior design—we shared information about our favorite paints and flooring, [and gave] design tips. It just wasn't something people gave out before, but we also wanted a way to say thank you to our audience for their investment in our company by following and liking. We focused on showing a lot of our own behind the scenes and we knew we wanted to carry over that same messaging with a realistic portrayal of how design really works. This is a real industry with budgets that are personal to the client, design choices that people want to live with forever, and timelines that don't compromise the design process—no gimmicks.
What's the hardest part about doing the show that way?
Just not knowing how people were going to react to it! It's scary to put your life, family, and business out into the world not knowing how it will be received.
One of the things I liked about the show is that you use real numbers, like the $30,000 budget for the Call's room refresh. For a lot of Americans, that may sound like a huge amount of money for one room. But interior designers know that $30,000 really isn't that much to work with! How did you think about the decision to be upfront about how much all this stuff really costs?
It was important to us to be more realistic about budgets because design shows have really misinformed people for years about the true cost of construction and furniture. When you share unrealistically low budgets, it sets people up for disappointment. Budgets are incredibly personal and it's a delicate subject. I really want to share that whether you can only afford a can of paint, new pillows, or to rearrange your furniture, you can glean tips and tricks from aspirational budgets. It's the thoughtfulness and intention in design that really affects how we feel in our home.
The first episode is a one-room project, and you make a point of saying you guys like to still do those types of projects. A lot of designers, when they get to a certain point, stop taking on that kind of work. Why keep doing it?
For the most part, we do full-home renovations or new builds, but we also take on a few smaller projects to help keep a steady flow of work with the design team. Also, it's good to keep your skills sharp and experience different challenges! I just love the way one room can elevate a whole home.
I loved that in the first episode the client said, "I want something moody but bright." What are some of your favorite client requests like that?
Moody but bright is actually requested a surprising amount! Another statement I love is, "I want an open layout, but still want it to feel intimate and cozy," which is actually very doable!
What do you want viewers to understand about interior design and the designers work from watching?
I think it's important to note how much the interior designer works to create a space that makes the client feel all the things they want to feel in a space. It's not creating an amazing page in our portfolio—although that's nice. It's about bringing out the client's personal style and giving them something that'll be the background of their lives.
What's been the most surprising piece of feedback?
I didn't think we'd get so much feedback about my daughter, Ivy! She totally stole the show.
Now that it is out, how do you think having a show will change your future relationships with off-camera clients?
It's funny, even though we've launched our show internationally, our day-to-day has not changed much. We always strive to provide high-quality experiences to everyone we work with, whether it's a home being filmed or not.