In a new series, What I Love, we're asking designers to build us a mood board of what's inspiring them right now.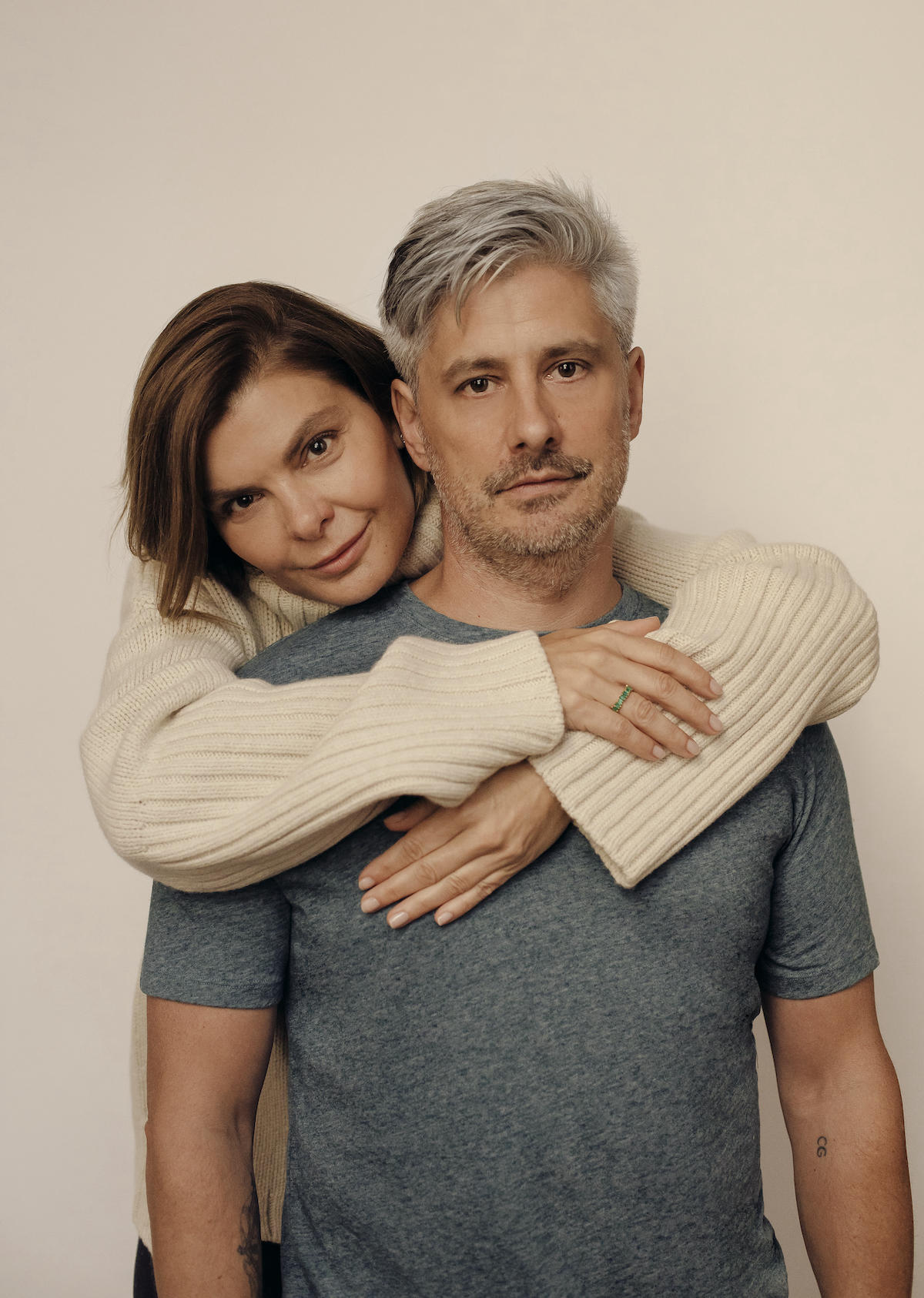 Christine and John Gachot are no strangers to hip interiors. The husband-and-wife design duo behind New York–based firm Gachot Studios have turned their downtown-inspired aesthetic into a thriving business, often relying on the help of creative partners and colleagues to get the job done. "We are a collaborative studio by nature," Christine Gachot tells Business of Home. "Oftentimes, putting together a palette at the beginning of a project can feel like curating a dinner party: 'Which artists, artisans, vendors, etc., can share in our vision? Who can push the conversation forward?'"
The pair's current flat lay is no exception. Teeming with rich textures and moody hues, Gachot says they relied on plush textiles and sumptuous finishes to set a lush tone for the palette. "The spaces I enjoy living in are defined by an urbane, warm tonality executed in super luxe materials, so that's where we landed for this board," she explains. "Think of it like a dream home."
Just as they would in one of their projects, the Gachots referenced a wide range of design styles in the mood board. "Ever-present in our practice is a desire to find harmony in texture, luxury in materiality and comfort in application," says Gachot. "Ultimately, no matter the thematics of the project, we always aim for an unfussy but considered timelessness."
Here, Gachot breaks down the details—from curly shearling swatches to statement marble samples.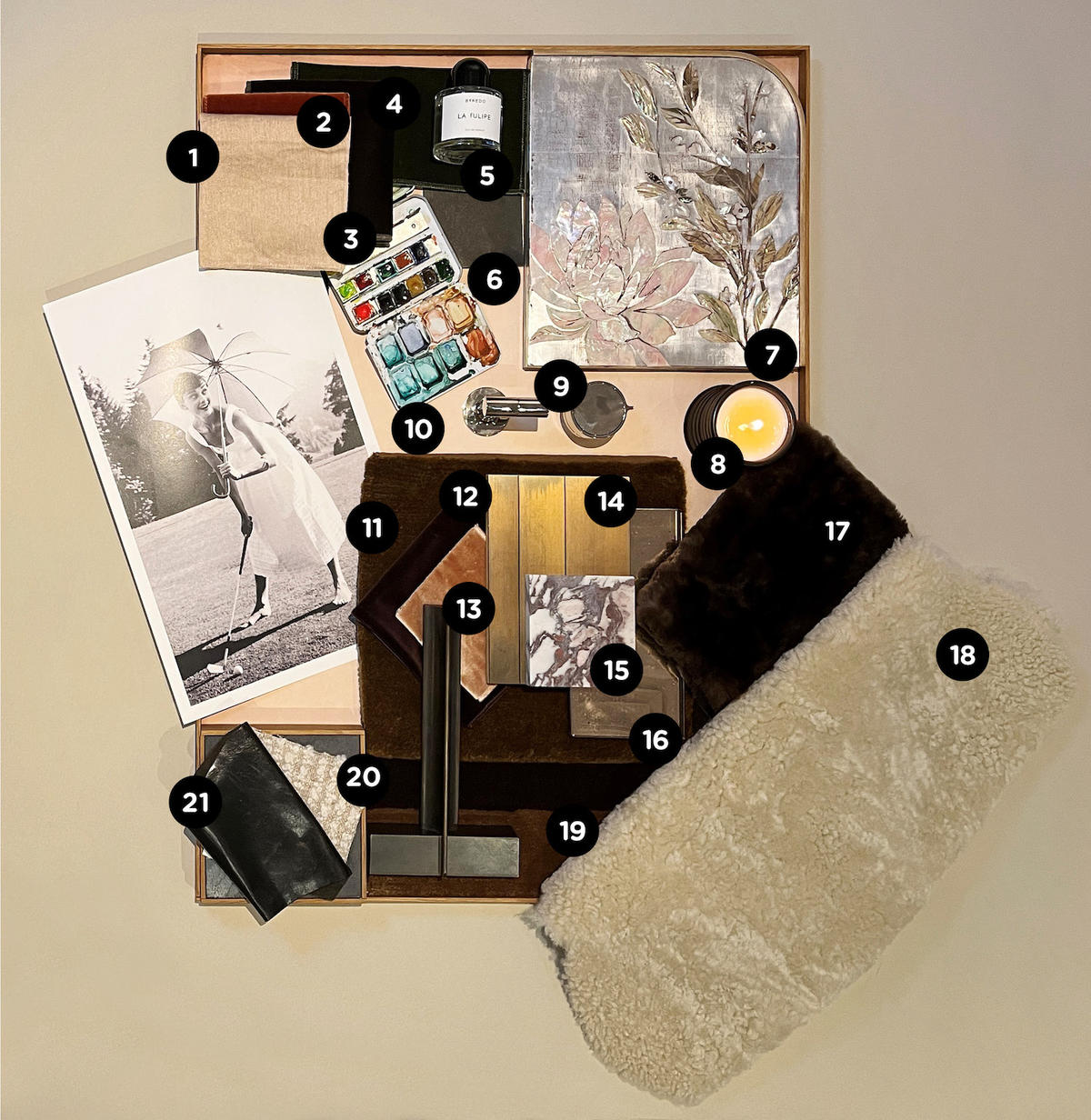 Courtesy of Gachot Studios
1. NAVARRA Fabric IN DRAPELLO — KOHRO ITALY
"This textured wool fabric is ideal for simple throw pillows or even a window treatment," says Gachot.
2. MARCI MOHAIR IN BRICK — MAKROSHA
"It's clear I love brown and beige, but this deep red mohair fabric provides the perfect pop of color."
3. APPLAUSE COTTON VELVET IN COFFEE SONG — GRETCHEN BELLINGER
"Gretchen is an iconic fabric designer, with her work included in the permanent collections of several museums," says the designer. "This deep plum color is almost black, and plays beautifully against the other rich tones on the board."
4. PLUSH VELVET IN DARK TRUFFLE — ALT FOR LIVING
"ALT for Living makes the perfect plush velvet, and this Dark Truffle color is perpetually on my mood board."
5. LA TULIPE EAU DE PARFUM — BYREDO
"Some of my biggest design influences are hotel experiences, where scent is always an intentional and integral decision," she says. "This Byredo scent is what I've been wearing lately, and it's the mood I'd like to capture in this fantasy project."
6. MILAN IN POP BOTTLE — DUALOY LEATHER
Inspired by the look of high-end Italian leather accessories, Milan in Pop Bottle boasts a lightly buffed surface and resin finish that gives it a soft, lustrous feel.
7. PANEL DETAIL — NANCY LORENZ
"Nancy has been a friend and collaborator for many years," says the designer. "We recently opened the Pendry Manhattan West, and her work is featured prominently at Bar Pendry. She deserves a standing ovation for that one!"
8. LIQUORICE CANDLE — LOEWE
"The project isn't finished until the last accessory has been placed, flowers arranged and candles lit," says Gachot. "Our business isn't just making things look good—it's making people feel good. So there's a bit of theater involved, and every detail counts."
9. BOND ROBE HOOK AND BOND SOLO SERIES KNOB HANDLE BY GACHOT — WATERWORKS
"[Our firm] designed a fixtures and fittings line for Waterworks," she explains. "Everything is so beautifully made; it feels so luxurious to touch. It's all designed to be modern yet timeless—meaning it can work in any space."
10. FORTE IN VANILLA — DUALOY LEATHER
"Pro tip: Line a simple wooden tray in a single piece of fitted leather for a luxe upgrade," she says.
11. CUSTOM RUG — ALT FOR LIVING
"Decorator trick: You can layer carpets!" says Gachot.
12. LEONIDA Sofa IN 017 MORO — BROCHIER
"We have a custom sofa in this really beautiful, rich brown velvet," she says. "It's the perfect shade of dark brown."
13. RIVOLI II Fabric IN CAMEL — MANUEL CANOVAS
"A deep-pile mohair velvet on a sofa or chair makes it luxe and inviting, while still feeling streamlined and neat."
14. CUSTOM BRASS SAMPLE — GACHOT
"Mixing metals is an ideal choice to make sure a room doesn't feel too matchy-matchy. When possible, throw in metals with patination or a live finish that evolves over time."
15. CALACATTA VIOLA HONED MARBLE — BAS STONE NYC
"BAS Stone is female and family-owned," says Gachot. "They're always on call for those special stone specs that really make a room—think wet bar in the primary bedroom."
16. CUSTOM MIRRORED SAMPLE — STEPHEN CAVALLO NEW YORK
"Everyone can use a little glamour in their life these days, no?"
17. KRYSTAL BROWN SHEARLING — DUALOY LEATHER
"Fur isn't for everyone, but for those who partake, there's nothing better for a sweet accent pillow."
18. CURLY WOOL SHEARLING — ROMAN AND WILLIAMS GUILD
"An alternative to the boucle trend is a well-sourced shearling," explains Gachot. "You get the same richness, texture and comfort without feeling like you've seen it on Instagram a million times. It suggests Nordic modernism, but you can use it on any array of forms."
19. CUSTOM RUG — MARK NELSON DESIGNS
"Mark Nelson helped us create a beautiful natural fiber rug for the living room in our Paul Rudolph town house, [where] the floor plan is insane. Thank God Mark can accommodate custom requests."
20. COBBLE Fabric IN WILLOW — ALT FOR LIVING
"The linear composition of this fabric makes it feel elevated from the typical boucle you see everywhere right now."
21. HIGHLINE IN DARK ROAST — DUALOY LEATHER
"The Dualoy team is the best in the biz for leather," says Gachot. "When it comes to materials like this, you really can't cut corners."
Homepage photo: A flat lay by designers Christine and John Gachot | Courtesy of Gachot Studios