Summer's here, and while travel may be a challenging new proposition, it can still be glamorous—especially if you're staying in famed Spanish architect Antoni Gaudí's first-ever designed home (now an Airbnb listing). Wherever you're headed, stay in the know with our weekly roundup of headlines, launches and events, recommended reading, and more.
Business News
A condo building in Surfside, Florida, suddenly collapsed last week, leading to the deaths of at least 12 people and leaving 149 unaccounted for as of Tuesday, The New York Times reports. An investigation is currently underway; experts who have examined video footage of the disaster speculate that an initial failure near the lowest part of the building may have set off a progressive collapse due to design flaws or faulty construction of the 40-year-old building. A 2018 report conducted by an engineer hired to examine the building found key vulnerabilities in the structure, such as the corrosion of reinforcing steel, and prompted the planning of a $12 million repair project that had been scheduled to begin soon. There is still no conclusive reason found for the collapse, as rescue teams continue the arduous process of clearing the rubble and recovering lost residents.
Ikea sparked outrage at its Atlanta location last week when management there served a meal in honor of Juneteenth containing food items historically used to stereotype and demean African Americans, specifically watermelon and fried chicken, a local CBS affiliate reports. As a result, 33 employees didn't show up to the workplace on the day the menu was served. Ikea issued an apology and offered a revised menu the following day.
A piece by American contemporary visual artist Julie Mehretu titled Dissident Score sold for $6.5 million through Artsy, Penta reports—a double achievement, marking a new record for Mehretu at auction and the highest-value artwork ever sold on the online marketplace.
This year's Amazon Prime Day boosted total online retail sales in the U.S. to a record $11 billion, surpassing the platform's already record-breaking Black Friday and Cyber Monday 2020 revenues of $9 billion and $10.8 billion, respectively. As Deseret News reports, Amazon benefited this year from an extra 50 million subscribers from its Prime services, and cast a halo effect on other large retailers, which, according to the Adobe Digital Economy Index, saw sales jump 29 percent over 2020.
Fresh off its deal to provide virtual model homes for Lennar, Modsy is partnering with LGI Homes. The collaboration makes this the second top-10 homebuilder to work with the e-design platform for digital design services.
Home-staging startup Guest House has announced the completion of a $3 million seed round of funding led by Range Ventures, with participation from 87 Capital, Rucker Park Capital and Ludlow Ventures, among others. With services in Denver, San Diego, Boulder and Colorado Springs, the company enlists interior designers to stage homes for sale while also allowing the public to shop the staged items, which include a curated mix of premium brands and local makers.
Despite incurring net losses each year since its inception, private members club Soho House has begun the process for an initial public offering in New York after filing paperwork with the U.S. Securities and Exchange Commission, Reuters reports. The company plans to file under the name Membership Collective Group Inc., using a placeholder figure of $100 million for the offering. The club currently operates 28 locations worldwide for nearly 119,000 members and sells home decor and furnishings through its Soho Home brand.
Apparatus Studio has announced changes at the top, as partners Jeremy Anderson and Gabriel Hendifar have decided to part ways personally and professionally. Hendifar will continue as creative director and head of the studio, and Anderson will remain a co-owner while stepping down from running the studio to focus on his practice as a ceramic artist. The duo launched their practice in 2012 after moving in together and making light fixtures for their new apartment. "We do this with immense gratitude for each other, for what you have helped build, and for who we have each become through our relationship," Hendifar said in a statement on Instagram. "Apparatus began as a labor of love, and it is with that spirit that we step into this new chapter."
Launches and Collaborations
The Black Artists + Designers Guild has launched the first issue of The BADG Journal, which includes features, essays and artwork united by the theme "Celebrating the Black Imagination." Available for purchase (in print and digital versions) via the organization's website, the inaugural edition of the publication focuses on the Obsidian Virtual Concept House. Alongside the journal's debut, the group has also unveiled a new online store offering clothing, accessories and more, with proceeds from both new ventures to benefit projects, programming and events focused on achieving a more equitable and inclusive culture for the Black design community.
Crate & Barrel and CB2 have joined together to offer free design services. The new program, called Design Desk, offers customers 3D renderings, 360-degree walking tours and 2D floor plans, as well as pairing them with a personal designer to meet with in-store, at home or virtually.
Direct-to-consumer custom window treatments company Wovn Home and wallcoverings brand Chasing Paper have teamed up for a joint wallpaper collection. Available in both traditional and removable forms, the new line includes three prints (Jaipur, Jacobean and Stripes) in a variety of colorways and will be sold on Chasing Paper's website.
Pottery Barn Kids and Pottery Barn Teen have tapped fashion designer Tracy Reese for a new online-only collection of bedroom and nursery decor. The Hope for Flowers line features duvets, quilts, sheets, pillows, rugs and lamps in floral prints inspired by Reese's designs.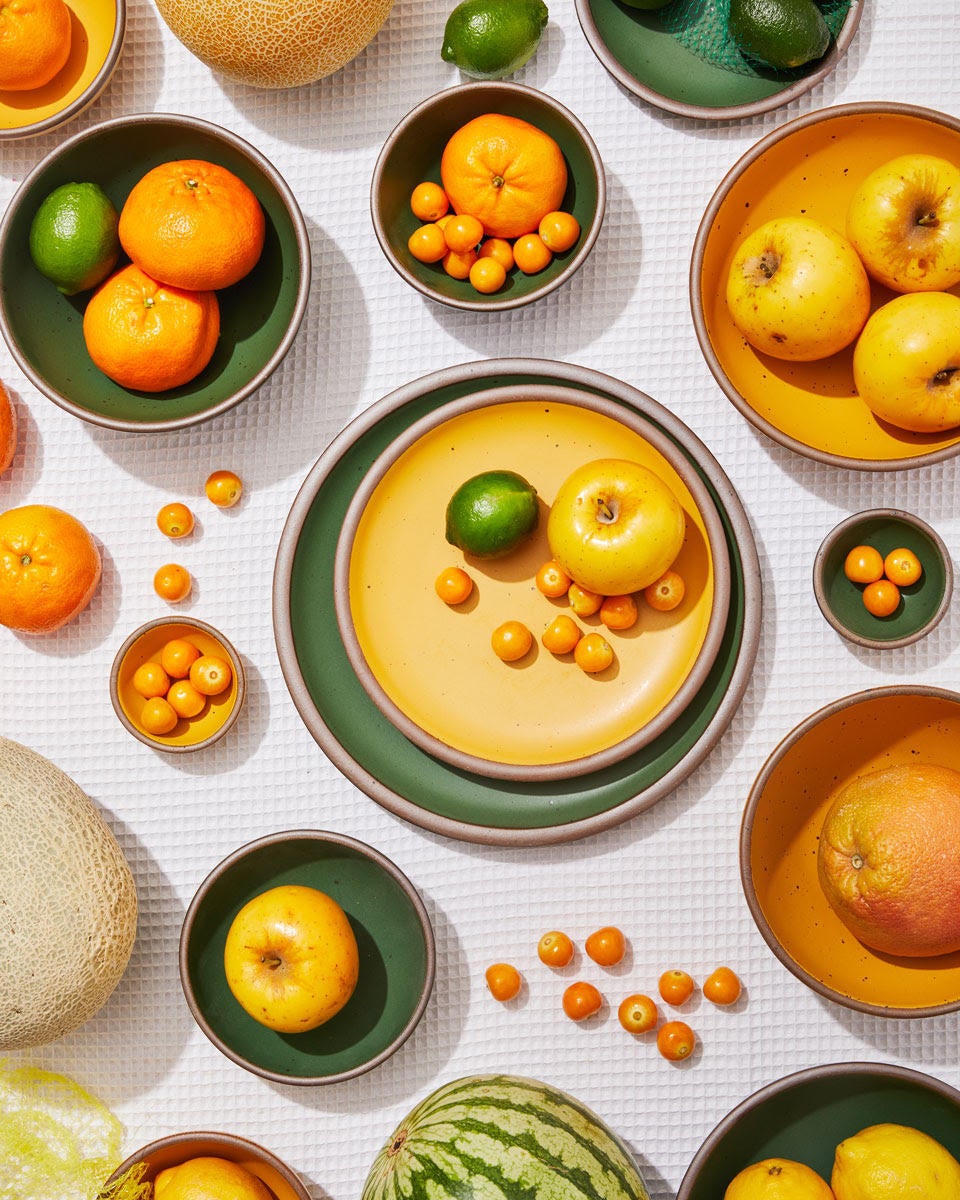 Mother-daughter creative duo Fanny and Michelle Haim of Fanny Haim Atelier have announced the launch of their debut collection Natura, available in Holland & Sherry Interiors showrooms throughout the U.S. Crafted from Belgian linen, the new line is designed to represent moments of nature in motion, with embossed patterns inspired by aerial views of estuaries and tributaries, natural rock faces and shifting tides.
East Fork has announced the return of its popular collection of pots made in collaboration with the Momofuku restaurant group, with the Orchard and Peachy Keen glazes once again available for all of the brand's pottery forms.
Recommended Reading
Over the past year, tensions reached a boiling point for fledgling cookware company Great Jones—in Business Insider, Anna Silman paints a picture of the mismanagement that led to the business's implosion and the ousting of one half of its founding duo. Positioned as the affordable, millennial-friendly alternative to Le Creuset and Staub's classic cast iron pieces, the brand was ultimately a feat of well-executed marketing and PR efforts from co-founders and childhood friends Sierra Tishgart and Maddy Moelis. According to the accounts of former employees (who collectively quit the company in one fell swoop last fall), the business lacked critical structure and support underneath the beautiful veneer of its founders' vision. "None of this really matters. …We're selling pots, come on," one former marketing employee says in the piece. "Think about your employees, think about the bigger picture. And they couldn't."
Exploring abandoned homes is a hobby shared by architectural designers, Instagram photographers and urban explorers alike, NYT reports. The individuals who venture into these dilapidated, long-forgotten spaces are taking to Facebook and other social media sites to document their findings—antique furnishings, tiger skin rugs, ration cards and photo albums among them.
The Olympic and Paralympic Games are making their return in Tokyo this summer, and the designers and planners have been tasked with creating an event that is both emblematic of its locale and safe for participants and attendees. From individually customizable mattresses to a venue crafted of wood sourced from each of Japan's 47 prefectures, Monocle looks at the design behind the Olympics.
Showroom Representation
The work of London-based furniture designer Jennifer Newman is now available in the U.S., with a license to be manufactured and sold exclusively by the Chicago showroom Muzo. Newman founded her eponymous studio in 2007 with the goal of creating made-to-order outdoor designs that would withstand changing climate conditions year after year.
Cue the applause
Coverings, the international tile and stone exhibition and conference, has announced its 2021 Rock Stars. The winners include 16 emerging leaders in the industry, who will be honored at the in-person event and corresponding virtual component scheduled for July 7 to 9 in Orlando, Florida. For the full list of winners, click here.
Call for entries
Plumbing manufacturer Waterstone Faucets has announced its first design contest, seeking the best installation projects across the U.S. and Canada that incorporate the brand's products. The company will select winners in four categories: traditional kitchen design, contemporary kitchen design, mudroom or laundry room space, and bar or butler's pantry. Winners will receive a cash prize, a three-piece faucet suite and promotion across the brand's platforms. Entries will be accepted through November 30; for more information, click here.
In partnership with the Interior Design Society, home appliance brand Thermador has launched the Diversity in Design Pipeline initiative. The program will support up to five college students in their senior year at an accredited interior design program offering a financial scholarship of $10,000 toward tuition, plus mentorship with an interior designer, invitations to industry events, and a one-year IDS membership. For more information, click here.
Homepage image: Bedding from the Hope for Flowers collection produced in collaboration with Pottery Barn Teen and designer Tracy Reese | Courtesy of Pottery Barn