For better or worse (mostly worse), the pandemic has thrown everyday actions into a new light. Shaking hands or attending a large indoor gathering, for example, are now anxiety-inducing health risks. Cooking, however, has been transformed into the national pastime of the social distancing era. With restaurants closed and plenty of time for indoor projects, the once-mundane "What should we have for dinner?" conversation has taken on a new twinkle of possibility in the past few months. This newfound obsession has had an economic impact. In the earliest days of stay-at-home orders, as novice bakers began attempting to create sourdough starters and fine-tune banana bread recipes, King Arthur, one of America's largest flour suppliers, tripled their monthly sales and nearly depleted their entire stock trying to keep up with demand.
"It's the silver lining of this hard time—the entire country is cooking," says Sierra Tishgart, the co-founder of New York–based direct-to-consumer cookware brand Great Jones. "So many people are using this time to learn how to cook, which is a skill that seems like a necessity at the moment."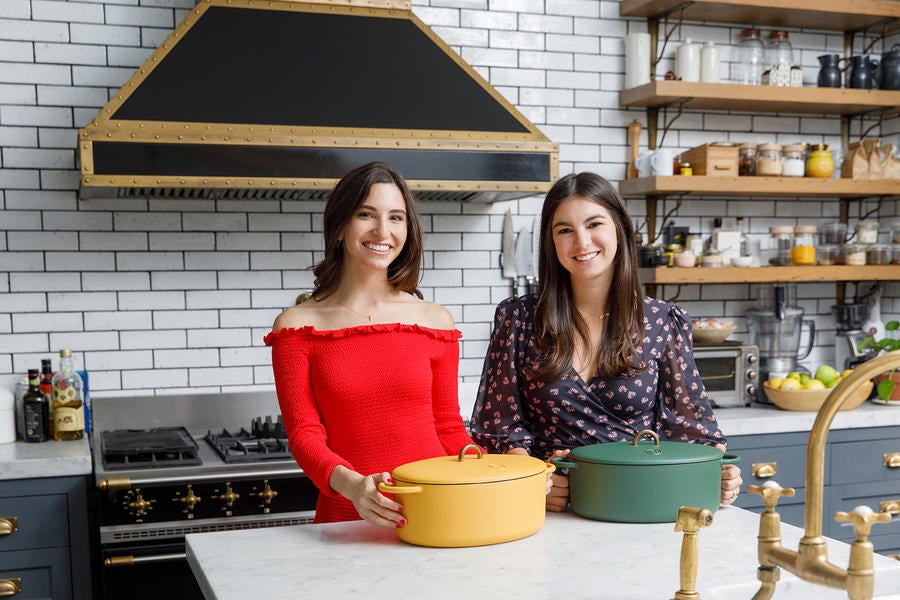 This new burst of home cooks has been beneficial to Great Jones and other direct-to-consumer cookware brands like the New York–based Caraway and Los Angeles–based Our Place, all of which have had trouble keeping their products in stock. Since March, Caraway has sold out of its signature set of nontoxic pots and pans more than 10 times and seen a 300 percent increase in sales. "It's obviously exciting, but it's also a challenge to keep up with such demand," says Jordan Nathan, the founder and CEO of Caraway. Nathan launched the brand in November 2019, and it's safe to say that sales are tracking well above his initial projections for its first year. "We're working to make sure our supply chain is safe at all levels while still meeting the demand from consumers," he says.
The DTC cookware category has been quietly growing for the past few years, with at least half a dozen brands now on the market, but until now has yet to have the boom of D2C bedding brands like Parachute, Boll & Branch and Brooklinen. But there's nothing like cooking three meals a day to inspire a desire for new pots and pans. Both Great Jones and Caraway have placed an emphasis on design that's missing from major players such as All-Clad or Calphalon, which sell through retailers like Williams-Sonoma and department stores including Bloomingdales and Macy's. With the notable exception of Le Creuset and Staub, most cookware lines avoid color entirely and present a self-serious, chef-quality product in stainless steel or aluminium.
Like most D2C companies, Caraway and Great Jones have given their brands a playful quality, using color and design to set themselves apart from legacy brands. At Great Jones, the handles on their shiny stainless steel pots resemble chic bangles, and their cast iron Dutch oven comes in seven hues. All of their products have cheeky names like Small Fry, Holy Sheet, and Saucy. And a set of five of their core products runs for $395 (by comparison, All-Clad's set of five essentials retails for $550). "I do think that if something is beautiful, you're more inclined to use it," says Tishgart, adding that their goods are designed to go from oven to table, doubling as serveware.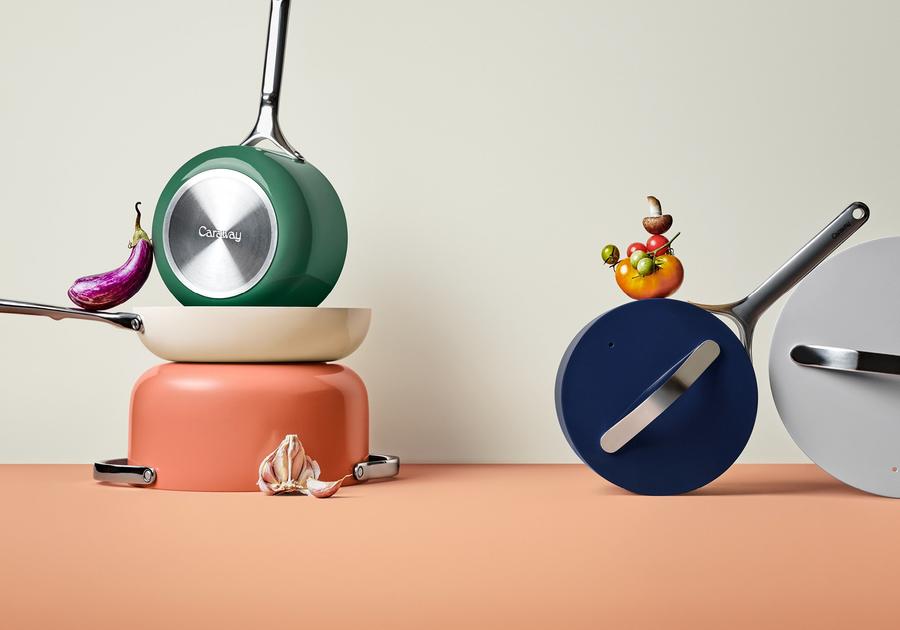 She sees the brand's target customer as an older millennial: someone who may be wearing Warby Parker frames and sleeping on a Casper mattress—in short, a customer who isn't the least bit bothered by not testing something out in a store before clicking "add to cart." During the pandemic, with stores closed anyway, it's easy to see how 30-something shoppers may feel emboldened to give a D2C brand a try.
With screen time up—most people have been spending more time on social media than before COVID-19—D2C brands also experienced a boost in exposure. Targeted Instagram ads are the bread-and-butter of any online startup's advertising budget, and Caraway and Great Jones are no exception. With a captive audience of consumers who are cooking at home every day and constantly scrolling through Instagram, the boom in sales the brands are seeing makes total sense.
With the influx of new customers, Great Jones has ramped up its digital editorial content, providing recipes and interviews with popular chefs and, through a partnership with Domino, interior designers. Shortly before the pandemic, the brand introduced Potline, a service where customers can get real-time cooking advice. "People can text our experts and say, 'Here's what I have in my fridge—what can I make with that?' And we'll give them suggestions and walk them through a recipe," says Tishgart, who was a food editor at New York magazine before co-founding Great Jones in 2018 with her childhood friend, Warby Parker alum Maddy Moelis.
Great Jones has also ramped up its social media presence over the past few months, inviting chefs to take over their Instagram to host cooking classes and even launching a cookbook club, with a guest chef sharing their favorite each month. "People are looking for a sense of community," says Tishgart. "In addition to selling products that are as functional as they are beautiful, we're offering storytelling and conversations around why people cook in the first place."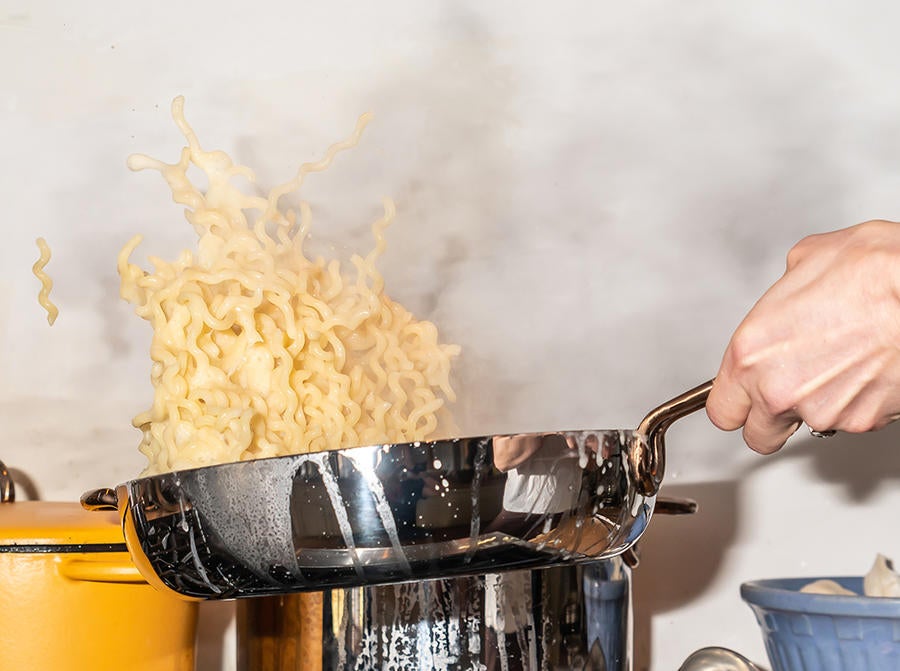 While Great Jones makes its products without polytetrafluoroethylene (PTFE) and perfluorooctanoic acid (PFOA, or C8), the chemicals that can make Teflon toxic, the brand has tapped into foodie culture in its marketing initiatives. Caraway, meanwhile, has positioned itself in the wellness sphere, with its nontoxic materials at the forefront of the brand's messaging. It's a selling point of particular importance to Nathan, who, several years ago, left a Teflon pan on a burner and forgot about it for over half an hour. He experienced nausea and a headache from the fumes and ultimately called poison control, unsure of what was happening to him. "They told me I had Teflon poisoning," he says. "I couldn't wrap my head around the fact that something I used to make my food could also poison me." After researching the category, Nathan felt that there was an opportunity to create a nontoxic set of cookware that had an emphasis on aesthetics and was affordable. Caraway's four-piece set (the one that has sold out nearly a dozen times over the past four months) costs $395 and comes in five different colors.
Both Caraway and Great Jones are working on further product development, building on the success of the past few months. While the trendiness of home cooking might die down, Tishgart is confident that those who did take the time to hone their skills in the kitchen aren't going to be hopping off the bandwagon. "I think cooking will continue to be a bigger part of people's lives going forward," she says. "It's a ritual you don't unlearn."
Homepage photo: Courtesy of Caraway