Like many industries, real estate has taken a huge digital leap over the course of the pandemic. Virtual walkthroughs—once mostly reserved for luxury properties—are now a fairly standard feature on Zillow. Especially in today's overheated market, it's not uncommon for a buyer to snap up a house without ever setting foot in it. But what about a house that doesn't exist yet?
In a new partnership between digital interior design platform Modsy and homebuilding giant Lennar, prospective buyers can do just that. The collaboration uses the platform's technology to create a "walkable" online 3D tour of a model home decorated by Modsy designers. Though the project was dreamed up before COVID, pandemic restrictions kicked it into high gear in the spring of 2020. To date, the online design service has created more than 150 virtual model homes for Lennar, and is developing partnerships with other homebuilders as well.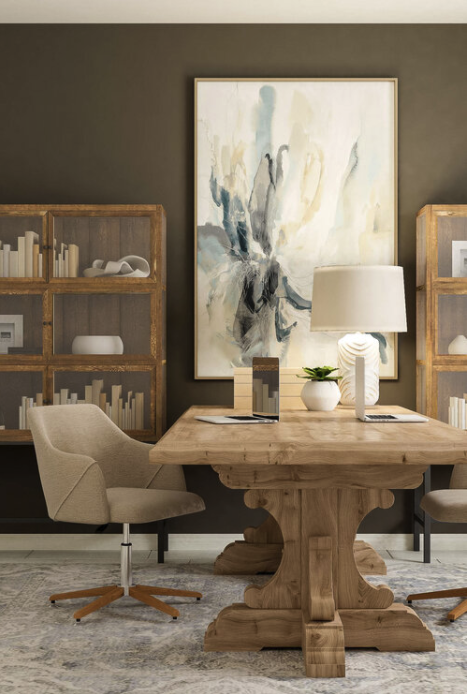 "Last spring, the pandemic hit, all model home tours stopped, and within two weekends we had hunkered down with Lennar and said, 'This is exactly what we're going to get up and running.' Six weeks later, we had our first prototype up and running," Modsy co-founder and CEO Shanna Tellerman tells Business of Home. "It was a vision they already had, but it was certainly accelerated by the pandemic."
Going forward, Modsy will be developing its tool to be used in tiers: as a virtual tour that homebuilders will use to sell units; as a template the builders can use to purchase furnishings for the model unit they'll eventually build; and finally, as a shoppable portal for the homebuyers to outfit their new digs.
Though the idea of virtually touring a home that doesn't yet exist has the ring of science fiction, the idea is not new. Developers have long hired rendering agencies to dream up seductive digital versions of their properties before they're fully completed. Many feature 3D models (indeed, Modsy competitors like Decorilla already offer that service to builders). And in some instances, developers have gone the extra mile and paid to create walkthroughs that deliver a similar experience to what Modsy is offering here.
The difference with this new initiative has more to do with business logistics than a technological breakthrough. Such marketing tools tend to be expensive (the best agencies charge thousands for a single 2D image, never mind a full 3D walkthrough) and complicated to execute. By tweaking its existing technology and leveraging it to a new market, Modsy looks to offer a standardized package to homebuilders at a lower cost (the company says its virtual model homes start at less than $2,000).
For homebuilders, the advantages of a virtual model unit are difficult to overstate. They're exponentially cheaper and faster to make than the real thing, and have the potential to reach a far greater number of potential buyers. Selling a virtual model in advance of breaking ground also allows builders to condense their timelines, and gauge interest in a property before they actually have to build it. And, unlike an IRL model unit, they don't take up physical space that the builder would rather sell to a customer than use as a show unit.
"We have somewhere between 2,500 and 3,000 model homes sitting static across the country—more than the number of Targets and Best Buys combined," says Eric Feder, president of LenX, Lennar's innovation lab. (His company took an investment stake in Modsy as part of the partnership.) "That's not the best use of our capital. If we can eliminate them and make the customer's buying journey more fluid and more digital, I would say, … in a perfect world, we'd go 100 percent digital."
A virtual model unit is also more flexible. One of the risks of designing a model unit in any particular style is the risk of alienating a potential customer. Imagine instead if that would-be buyer could see a unit in a new design style by clicking a few buttons. (Then imagine if the same buyer could easily purchase all of the decor in the model with a few more clicks.)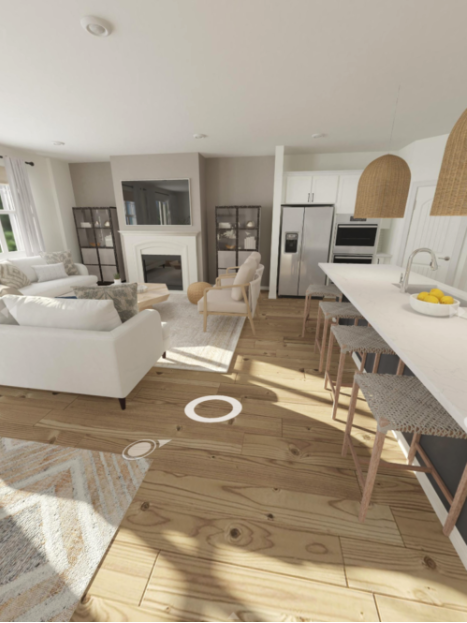 Faster, cheaper, more malleable—the appeal of virtual model homes has been there for as long as the technology has been feasible. What's changed over the past year is the audience. Consumers have quickly become comfortable with shopping for everything, including homes, online. Lennar's data backs that up: The company says its conversion rate on homes with Modsy virtual walkthroughs is 10 times higher than those without.
For Modsy, the appeal is also obvious. Every year, more than a million houses are built in the U.S. alone. If the digital design platform can create virtual model units for only a tiny fraction of that number, not only can it bring in revenue on the design fees, but it can also make a margin on furnishings if the buyer ends up shopping what they see. Maybe most importantly, Modsy can get its brand in front of the right audience (homebuyers) at precisely the right time (when they're getting ready to decorate).
"We see this as another brand touch point to a homebuyer; that's really our incentive," says Tellerman. "It's growing really quickly—annually 4.5 times over what we did last year—[but] I don't see this as the multibillion-dollar center of Modsy's business. I see this as the ecosystem that supports our accessibility to the homebuyer."
The project comes on the heels of a busy time for Modsy. Like many home-world companies, the platform saw a boom in demand during the thick of the pandemic, reversing what had started as a rough year that saw the company cutting down its network of designers and slashing pay. Due to the spike in new customers (98 percent growth overall, and 275 percent growth for Modsy's higher-end offering), Tellerman says the planned rollback of its designer workforce was never completed.
"We, unfortunately, started the year in a tough place. Then COVID hit. Historically, it's been a 30 percent reduction in furniture buying from past recessions, and so we looked at that and said, 'There's no way this will be any different,'" says Tellerman. "We were just shocked. We stopped all marketing in April, and by May, we were waiting for [the amount of new projects] to drop, and [instead] it barely budged—with no marketing spend. … The second half of the year was exceptional."
Homepage photo: Courtesy of Modsy