One afternoon this summer, while sheltering in place in a borrowed home in upstate New York, I held up my iPhone to film and performed a slow, almost ritualistic walk around the perimeter of the living room. A few days later, I received a file: a 3D model of the room, decorated in a pleasantly cozy style. The rendering was shockingly accurate, down to the dark wood bannister. The only discrepancy? In the image, there was sunshine pouring in through the windows. In real life, it had been a flat gray day.
All of this was done to test a new iOS app that e-design platform Modsy has rolled out—one with a feature that promises to deliver a 3D model of your space, accurate down to the outlets, moldings and windowpanes, all without the use of a tape measure. It's a testament to an age of constant technological innovation that, for consumers, this new capability may not seem all that different from what Modsy had delivered before. But from the back end of the system, being able to take a smartphone video and automatically convert it to an accurate 3D model represents a significant breakthrough in the e-design world.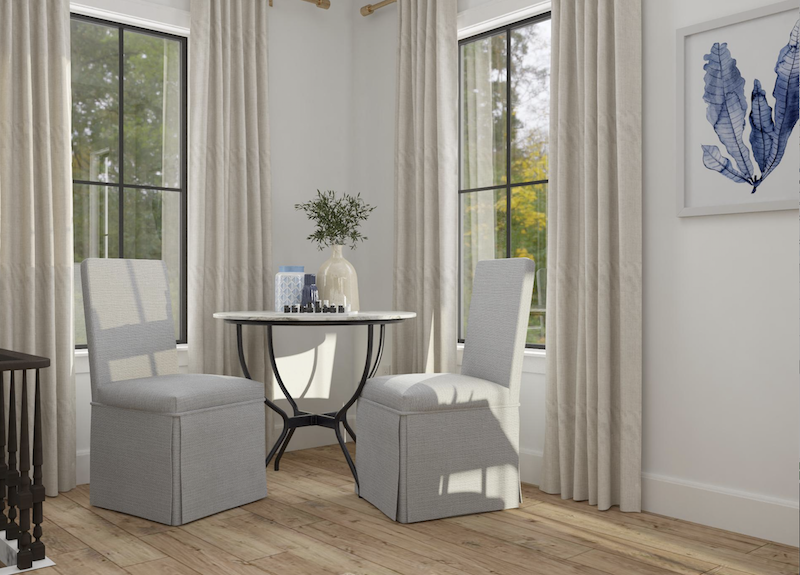 Accurately capturing its clients' spaces is a problem that Modsy founder Shanna Tellerman says the company has been trying to solve since it was founded. "There are two major things that have been happening in 3D, and one is the quality of photorealism. The second is computer vision and the 3D reconstruction side of the business—taking photos and transforming them into an accurate 3D representation of that photo," she tells Business of Home. "Those are both super hard unsolved problems where even the best in class in the industry [who are researching this] are still writing white papers on conceptual ideas on how to solve it. That's why it's taken us five years."
In publicizing the new features, Modsy understandably focuses on the consumer benefits. Before, users would have to break out the tape measure to get an accurate reading of their room. Invariably, they'd get a few things wrong. And modern houses involve unique challenges. "You're asking people to do really annoying and hard work, but also their ability to do it accurately is pretty poor," says Tellerman. "We've found, after such a large volume of customers, that where exactly you measure from [makes a big difference]. For a hallway that blends into an open living room or kitchen, where do you stop? Where do you start?"
However, in many respects, the biggest impact of this new tool happens out of sight of the consumer. It allows Modsy to almost completely automate its intake process. (Before, the company hired a 3D artist to create the empty rooms, which its designers would then fill with furniture and decor.) This saves Modsy tons of time and money, in addition to eliminating the human error involved in re-creating a room digitally by "hand."
More broadly, the new feature speaks to the state of play among big e-design platforms, and Modsy's position within that ecosystem. The two big challenges of the model have always been: how to make money (or at least not lose money) on the design service itself, and then how to command the largest possible margin on furniture sold through the platform. For the latter, most e-design platforms have either developed their own collections or are about to—Modsy's is called Ravine, and Havenly just raised $32 million to grow its own. For the former, most players in the space have thus far accepted that it is very difficult to generate significant income on design packages that retail for as little as $99. (Indeed, earlier this year, Modsy instituted cuts to the rate it pays designers for creating rooms.)
However, as befits the e-design platform with the most sophisticated back end, Modsy has adopted a tech-forward approach to the problem. By automating the creation of 3D "shells," it radically reduces the cost of its basic unit of service. The company is betting that it can use AI and machine learning to drive down the costs and make e-design more profitable on the design side of the equation.
Which isn't to say that it's all about the back end. Having a beautifully and accurately rendered 3D space is certainly a compelling sales tool as well. Tellerman says that a design-driven, rendering-based approach, done right, delivers a much higher value per consumer than the average retail experience. "At Wayfair, they might talk about average order values of $200," she says. "With a design service, you're going to be seeing five to 10 times that AOV, and that's just the first-time purchase. The spend unlock is extraordinary."
For what it's worth, the home in upstate New York not being mine to furnish, I didn't purchase anything Modsy's designer suggested. However, I texted the renderings to the owner. Her reply? "Awesome! Gotta go get drapes and a bar cart. The possibilities … "
Homepage photo courtesy of Modsy