This week, there's a second impeachment trial, a lot of chatter about cryptocurrency, and more Valentine's Day gift guides than anyone knows what to do with. All the while, the home industry pushes on. Stay in the know with our weekly roundup of headlines, launches and events, recommended reading, and more.
BUSINESS NEWS
Since its December IPO, Airbnb's market value has continued to surge, defying naysayers who thought the stock's hype would flash and burn. As reported by The Wall Street Journal, the company's valuation has grown to $117.7 billion since December, making it exponentially more valuable than many top hotel chains—Marriott, Hyatt and Hilton's combined market capitalization is roughly $40 billion shy of Airbnb's, despite their higher revenue.
Elsewhere in the stock market, The Container Store Group has initiated a secondary offering of 5 million shares of its common stock, reports HomeWorld Business, which represents roughly 10 percent of its issued and outstanding shares by funds affiliated with Los Angeles–based private equity firm Leonard Green & Partners.
According to data from Mastercard, spending on home furnishings in 2021 is up 16.2 percent year-over-year, demonstrating the strongest growth of any sector during the recent holiday period. As reported by HFN, consumers continued their internet shopping habits, driving a 31 percent growth spurt in online home furnishings. Mastercard's SpendingPulse report also measured a 14.1 percent rise in the home improvement segment, with e-commerce sales up 79.7 percent from the same period in 2020.
Redwood City, California–based interactive entertainment company Electronic Arts Inc. has entered into a $2.1 billion agreement to acquire mobile game producer Glu Mobile Inc. Glu is known to BOH readers as the maker of Design Home, a so-called "casual" game that allows players to source product from real-life brands like Kathy Kuo Home, Serena & Lily and Loloi in "gamified" design projects.
Courtesy of Williams-Sonoma, Inc.
LAUNCHES, COLLABORATIONS & PARTNERSHIPS
Williams-Sonoma and Pottery Barn have announced a new collaboration with actress Marlo Thomas. The collection of tabletop and entertaining pieces ranges from a cheese board and Champagne bucket to blue-and-white cocktail napkins and appetizer plates.
Scandinavian rug company Nordic Knots has collaborated with Danish artist Carsten Beck Nielsen to release two new rugs inspired by the artist's "Untitled 01" and "Untitled 02" oil paintings. The hand-knotted rugs draw inspiration from geometric and mathematical forms, expressed in a neutral color palette.
L.A.-based home furnishings brand Lulu and Georgia has released a new collection of wallpaper with children's clothing brand Rylee + Cru. The four botanical-inspired wallcoverings come in a variety of neutral colorways, available on the Lulu and Georgia website.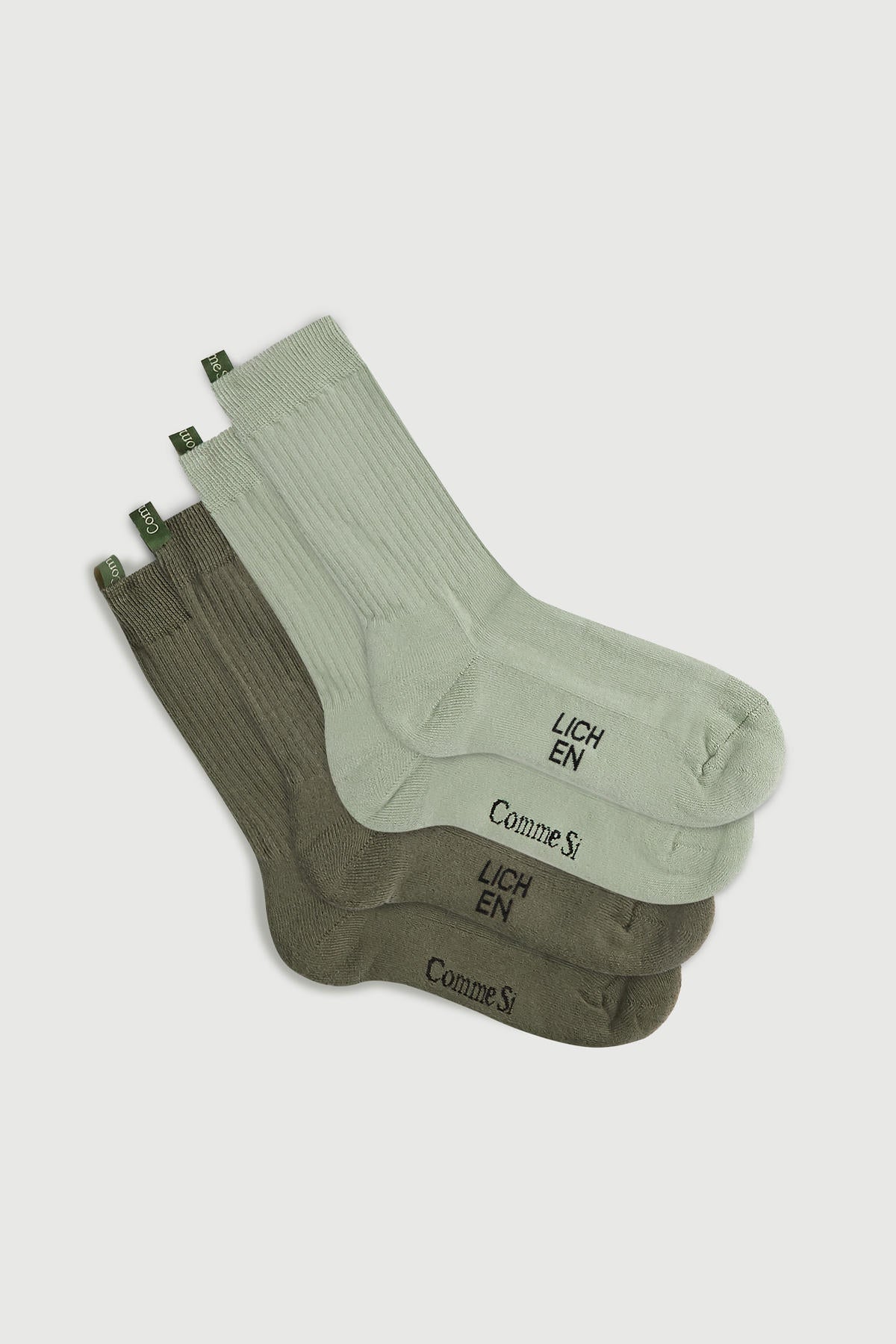 Courtesy of Comme Si and Lichen
Luxury fashion brand Comme Si and Brooklyn, New York–based interior design incubator Lichen have announced a new creative partnership: a special-edition zine, accompanied by a line of unisex socks designed with daily indoor life in mind.
CALENDAR UPDATES
In light of supply chain challenges, Sherrill Furniture has announced that it will not attend the June 2021 High Point Market or the April Pre-Market.
SHOWROOM REPRESENTATION
Family-owned furniture company Sisli Home has joined the Somerselle showroom for representation in the New York tri-state area, marking the multiline's entrée into the furniture category.
Minneapolis-based wallcoverings brand Area Environments is now available to the trade through Holly Hunt, bringing its signature collection—each piece a carefully scaled reproduction of work by emerging and established artists—to the New York design scene.
Balsamo is now representing contemporary American ceramicist Sandi Fellman, whose collection is now available through their showroom at the Interior Arts Building in New York.
RECOMMENDED READING
The Cannes, France, villa belonging to the late fashion designer Pierre Cardin is now for sale through Christie's Real Estate. Completed in 1979 by architect Antti Lovag, the "Bubble Palace"—a sprawling 10-bedroom home that looks something like an amorphous barnacle—is a striking example of contemporary design. The home boasts panoramic waterfront views through futuristic semicircular windows, with entertainment spaces galore (and not a corner in sight).
Sometimes our four-legged clients get the short end of the stick when it comes to interior design—as many will tell you, finding a stylish dog bed is no short order. This week, The Wall Street Journal has rounded up five options for designers, ranging from a posh 19th-century-inspired throne to an ultrasleek cylindrical number by German interior architect Uta Cossman.
Another one from WSJ: The newspaper is answering its readers' most pressing questions. This week, "What's the best kitchen countertop material?" Writer Sarah Karnasiewicz tapped seven interior designers for their expertise on the matter.
In Newark, New Jersey, developers and construction workers have set to work repurposing the city's historical buildings into a newly imagined urban landscape—without gentrifying it. "The transformation, fueled largely by a push to expand affordable housing and homeownership in this city of renters, is part of a deliberate strategy with an ambitious goal: erasing Newark's long legacy of blight without pushing out residents, 86 percent of whom are Black or Latino," writes Tracey Tully for The New York Times.
CUE THE APPLAUSE
Design Within Reach has announced the winners of its 17th annual Champagne Chair Contest: The North Face designer David Kessler was awarded first place for "Chairplane," New York–based furniture designer Todd Anderson won second place for "Woven Chair," and MIT undergraduate Vanessa Pipitone won third place for "Wavy Chair."
CALL FOR ENTRIES
The Atlanta Decorative Arts Center has announced its call for entries for the 2021 Southeast Designers & Architect of the Year Awards, which recognizes talent in residential interior design, contract interior design and architecture. Finalists and winners will be recognized during the fall edition of Discover ADAC, with the winners announced at a private awards gala on September 23. Submissions will be accepted until May 7; to enter, click here.
The American Home Furnishings Alliance has extended the deadline for its scholarship application. The AFHA Solution Partners Education Fund presents up to twelve $2,500 scholarships each year to applicants aged 21 or younger with a parent who is employed full-time at an AHFA member company. To submit an application, click here.
The 2021 Dezeen Awards is now open for entries, and submissions prior to March 31 will receive a discounted entrance fee. This year, the awards will recognize designs across 36 categories ranging from architecture and design to interiors and sustainability. For more information, click here.
The virtual trade show Closeup, presented by ICFF and WantedDesign Manhattan, is now accepting entries from brands launching new collections. From May 16 to 18, the platform will present the launches through a TV show format. To learn more, click here.
WantedDesign is moving its spring 2021 Design Schools Show to a virtual exhibition, opening to international schools this year. The online event will combine photos, renderings, audio and video of students presenting their design work, providing links to their portfolios and social media. For schools looking to participate, learn more here.
Homepage image: One of the rugs from the Carsten Beck Nielsen x Nordic Knots collection | Courtesy of Nordic Knots