What is it about miniatures that catch our eye? Perhaps it's nostalgia, or the playfulness that comes from shrunken everyday objects. Teacup pigs, bonsai trees, tasting spoons at ice cream parlors—even the shenanigans of the 1989 blockbuster Honey I Shrunk the Kids—there's something downright wonderful about all things itty-bitty. In 2018, French fashion designer Simon Porte Jacquemus's Le Chiquito purse graced the spring/summer runway, and celebrities like musician Lizzo catapulted it to fame. "It had all the makings of a viral accessory: It was cute, trendy and highly Instagrammable," reported CR Fashion Book. Many took the fad as a farce, but in the two years since, tiny has been trending.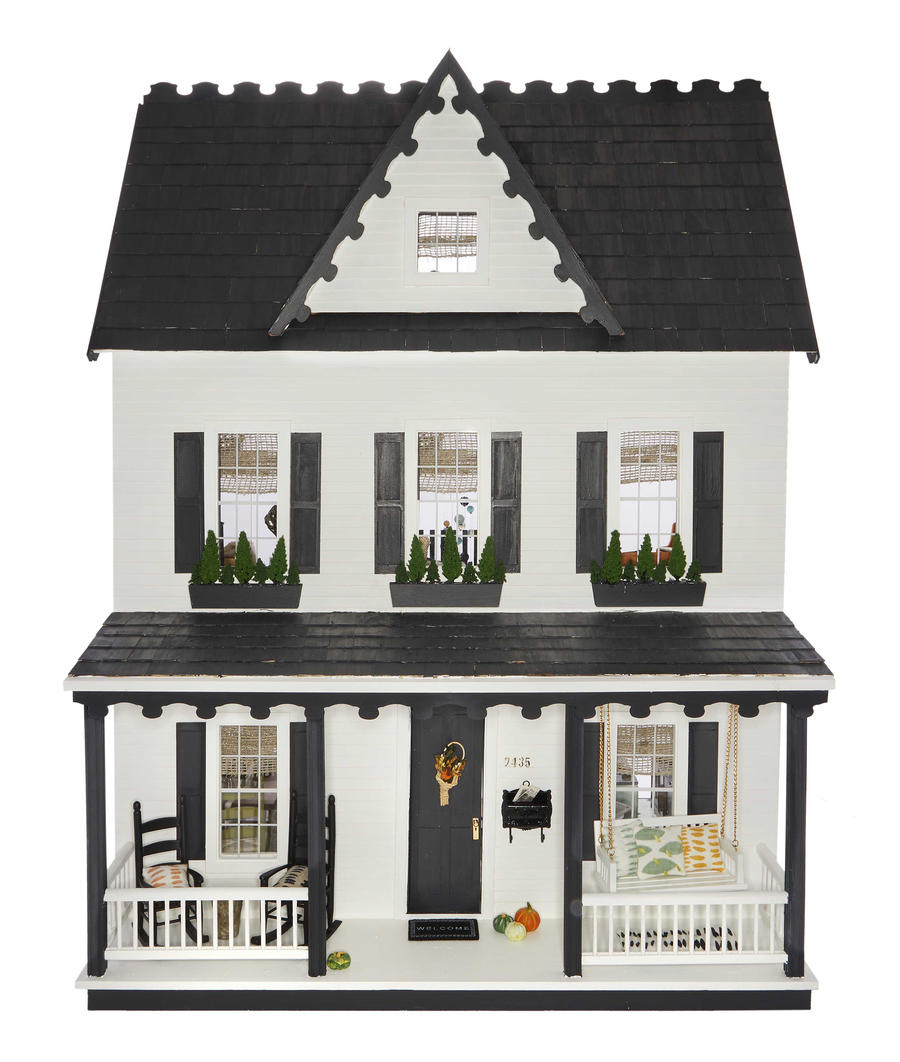 Courtesy of House Beautiful
In the home industry, House Beautiful senior editor Hadley Keller's Dollhouse Beautiful YouTube series brings a lighthearted, just-because attitude to the practice of mini-decorating. Eleven designers were given the same Victorian dollhouse, a $500 budget and the freedom to decorate as they pleased. The project was about a year in the making, from designing the starting dollhouse (with a few hurdles and one wounded toe in the process) to film production—and tomorrow the final episode will air. Fear not: "There's definitely going to be a season two," Keller tells Business of Home.
"We asked high-end designers what they would do at a mini scale. I thought it would be funny to see how their work would translate, and it surpassed all of my expectations. They went all out—CAD drawings, custom furniture, artists were commissioned … Each of the dollhouses are so different in style, they really reflect each of the designers' aesthetics," says Keller. Sasha Bikoff was online at 2 a.m. bidding on mini furniture, Jenny Kirschner taught herself how to quilt to complete her house's bedroom, and plaster artist Stephen Antonson was tapped by two of the designers to build custom chandeliers. So what's the draw to dollhouses? Keller says that she actually used to make miniature furniture as a kid: "I do think people love tiny things. … It's mesmerizing to see that level of detail, especially when it's a designer you know."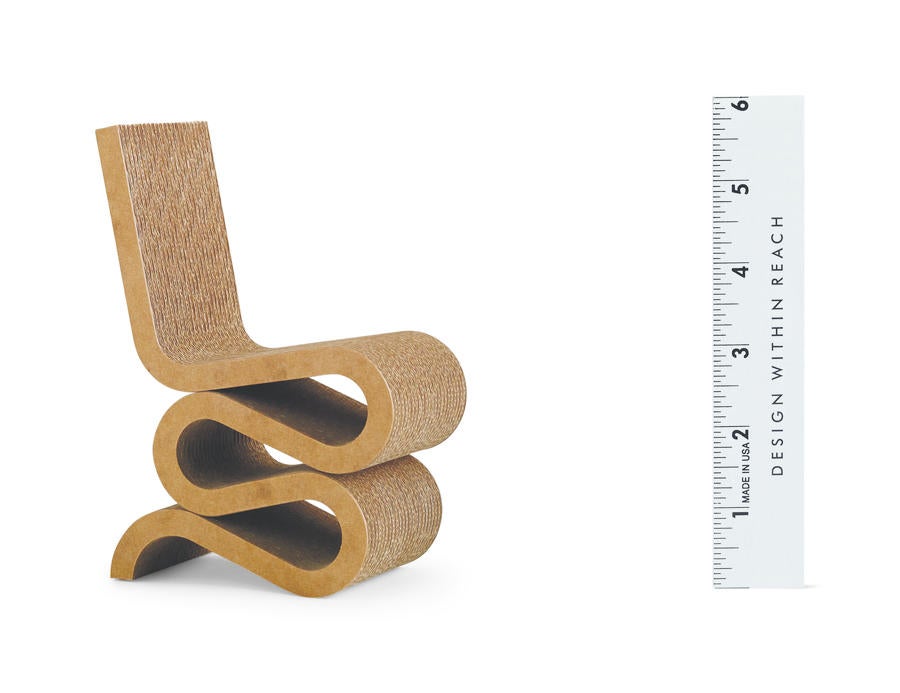 Design by Frank Gehry | Courtesy of Design Within Reach
Keller wagers that the dollhouses are also a hit because there's something powerful about recognizing a full-size design in mini form—the element of surprise that comes from seeing something familiar in an unexpected context. When it comes to re-imagined classics, Design Within Reach has been ahead of the curve. In 2007, the retail brand partnered with the Vitra Design Museum in Weil am Rhein, Germany, to release Vitra Miniatures, a line of 28 classic furniture designs. The pieces of note: the Zig Zag Stool by Gerrit Rietveld, the Tulip Chair by Eero Saarinen and—lest we forget—the iconic Eames lounge and ottoman are made at desk scale (though not exactly at desktop price). The Vitra Design Museum Store has been producing these tabletop chairs for the last 20 years, bringing the designs of Frank Lloyd Wright, Alvar Aalto and Hans J. Wegner to a wider audience at a 1:6 scale.
DWR has shown more than a little interest in small design. In 2004, the brand began its annual Champagne Chair Contest, where miniature chairs are submitted using only the foil, label, cage and cork from no more than two Champagne bottles. (A few sizes up, they've also partnered with Kinder Modern, the Manhattan-based children's furniture gallery and design studio, for a line of whimsical children's furniture. Founded by design entrepreneur Lora Appleton in 2013, the brand creates products such as artful rocking horses and armchairs for child-size clients without compromising on quality.)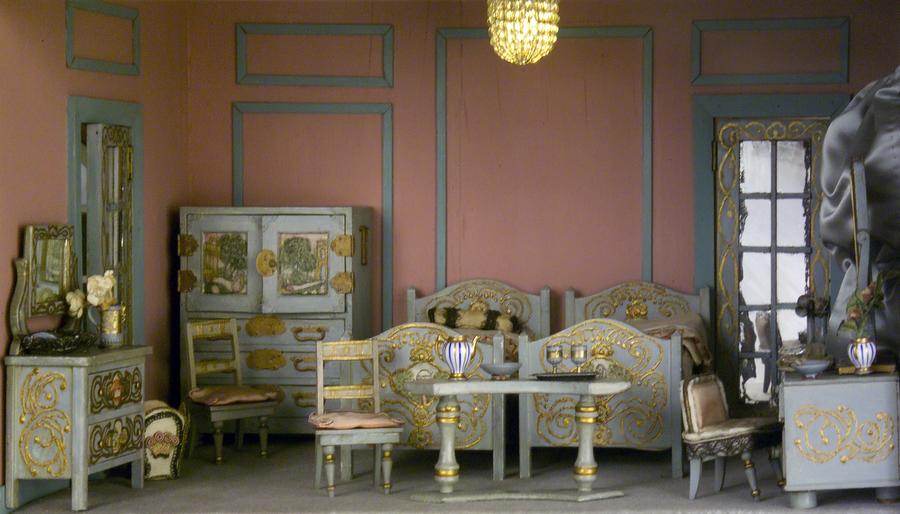 Courtesy of the Museum of the City of New York
Iconic furniture at doll-scale is no novelty—dollhouses and miniatures have histories that reach back to the 16th century. More than just playthings, dollhouses were once used as tools to display wealth and teach domestic roles to children. Currently on view at the Museum of the City of New York is an exhibition spotlighting the Stettheimer Dollhouse, the Gilded Age magnum opus of Carrie Walter Stettheimer. The dollhouse is one of the museum's most beloved artifacts, complete with Limoges vases in the chintz bedroom, a crystal-trimmed candelabra in the salon and a three-inch version of Nude Descending a Staircase by Marcel Duchamp (a family friend who curated the posthumous retrospective of Carrie's sister Florine Stettheimer's paintings and set designs for the Museum of Modern Art in 1946).
Maybe it's the feeling that we really can have it all, just so long as it's small. Etsy and Instagram have taken that sensibility to the masses—pocket-size Eames chairs or shrunken French armoires are for sale by those who have found their passion in crafting these decorations. Accounts like @life.in.a.dollhouse or @tinydollhousenewyorkcity spread the splendor of life-in-miniature to thousands of followers every day. In fact, Dallas designer Caitlin Wilson was so taken with the caliber of Life in a Dollhouse's designs that she commissioned the kitchen for her Dollhouse Beautiful project—unwittingly enlisting the design skills of the 13-year-old supertalent behind the account, Ella, who works at a 1:12 scale out of the basement of her family's home in Minnesota. Her most recent project has surged her fanbase, after Joanna Gaines shared the young designer's model of the bakery at Magnolia Market at the Silos, Gaines's shopping center in Waco, Texas.
Comically small takes on everyday objets, are, well, comical—there's a refreshing innocence to these wee delights (and an undeniable entertainment factor). The YouTube sensation Tastemade introduced the Tiny Kitchen Show in September of 2016, and the Instagram account boasts over 2 million followers to date. In each episode, the Tiny Kitchen chefs whip up fully edible creations on an ultrasmall scale—from meatball subs to Victoria sponge with Chantilly cream—and the finished plates are no larger than the size of a fingertip. These exquisite trifles might be nothing more than curiosities, but maybe it's that exact defiance of purpose that leaves us feeling so gratified after 8 minutes of watching a micropancake being made—it's attention to detail, just for the sake of it.
Come February 27, the New York Design Center will auction the 11 projects from the Dollhouse Beautiful series, with proceeds to benefit the Kips Bay Boys & Girls Club. The kitchenette wunderkind Ella will be in attendance, as well as Keller and the designers behind these mini masterpieces—all to celebrate the little things.
Homepage image: Dollhouse designed by Nicole Fuller | Courtesy of House Beautiful