The real estate market has been tight in recent months, but prospective homeowners will soon have another option for finding their happily ever after—Disney announced plans to start developing residential communities made up of houses and condos. Whatever happens next, stay in the know with our weekly roundup of headlines, launches and events, recommended reading, and more
Business News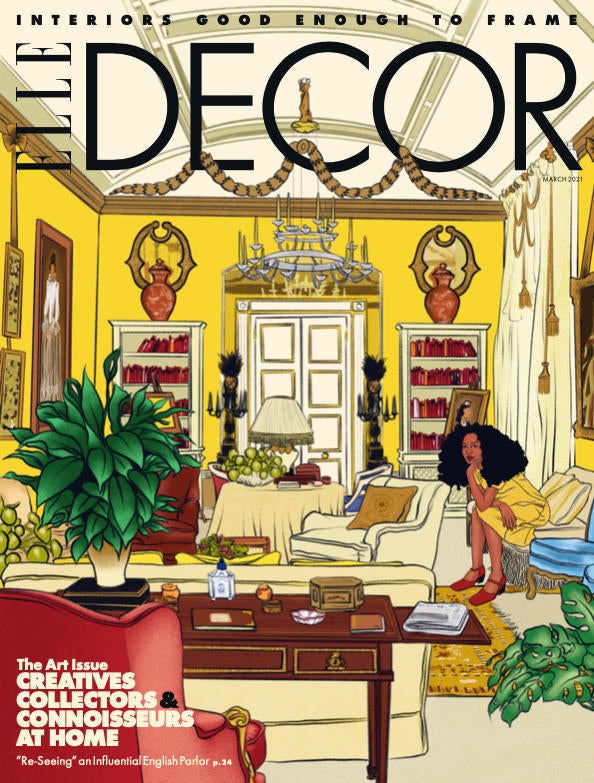 Elle Decor's first ever illustrated cover was acquired by the National Museum of African American History and Culture, a Smithsonian Institution museum. For the March 2021 issue, Asad Syrkett marked his first edition as editor in chief by commissioning Detroit-based illustrator Rachelle Baker for a reimagining of the "Yellow Room," a 1958 London salon designed by American socialite and decorator Nancy Lancaster. In the original space, Lancaster included two tables with carved Black figures holding up the weight of each piece. Known as "Blackamoors," the decor motif originated in the 17th century and often depicted Black people in positions of servitude or as physically distorted. For Baker's rendition, the tables are replaced with a Black woman gazing out at the reader in a commanding stare. "The space she takes on the couch represents a stark contrast to the crouched bodies of the Blackamoor figures propping up tabletops," reads a description of the cover on the NMAAHC's site. "In "re-seeing" the room for Elle Decor, Baker makes the Black woman the protagonist of this design story."
First lady Jill Biden chose an interior designer to reimagine her East Wing office: Los Angeles designer Mark D. Sikes. According to The Washington Post, Sikes is the first design professional the Bidens tapped for any work in the White House's public rooms or private residence (New York designer Victoria Hagan carried out the task when the pair were living in the vice president's official residence). Sikes previously designed for high-profile clients like Reese Witherspoon, and favors a blue and white color scheme in his creations, paired with fabrics in stripes, gingham and prints. "This is an honor of a lifetime and I am both humbled and thrilled," Sikes wrote in an Instagram post announcing the news. "Thank you to the first lady, her team and to those who came before her and those still to come."
Miami surpassed New York as the country's most expensive housing market, The Real Deal reports. According to a report conducted by property investment firm RealtyHop, a household in Miami contributes 78.7 percent of its income toward homeownership costs—a share greater than the nearly 78 percent required in New York, or the 74.2 percent in Los Angeles. The Real Deal attributes the recent rise in Miami home prices to an influx of out-of-state buyers and renters during the pandemic, which priced much of the local workforce—especially those in the healthcare and education fields—out of homeownership.
Real estate crowdfunding platform Groundfloor completed a $118 million Series B funding round, TechCrunch reports. The Atlanta-based company, founded in 2013 by Brian Dally and Nick Bhargava, allows individuals to invest in real estate debt in increments as small as $10. Groundfloor plans to use the new capital for team expansion and supporting company product growth, aiming to expand from 160,000 to one million investors in the coming years.
3D-printed home construction company Icon raised $185 million in an extension of a Series B funding round initially announced last year, led by Tiger Global Management. According to TechCrunch, the Austin-based company completed more than two dozen 3D-printed homes across the U.S. and Mexico since its 2017 founding, and announced in October that it would partner with homebuilder Lennar to build a 3D-printed home community of 100 structures in the Austin area.
Messe Frankfurt will combine its Ambiente, Christmasworld and Creativeworld trade fairs beginning in February 2023, while folding stationery show Paperworld into the event's home goods section. Billed as the Home of Consumer Goods, the new event combines several shows that were previously held separately within a few weeks of each other, and will take place February 3-7, 2023. In a statement, Detlef Braun, a member of Messe Frankfurt's executive board, explained the decision came in response to a global consumer goods industry in "upheaval," citing strained supply chains and material shortages, along with rising online sales and declining in-person foot traffic.
The Port of Los Angeles had the busiest January in its 115-year history, Home Textiles Today reports, facing a 3.6 percent increase in containers processed compared to the same month last year. For North America's leading seaport, the statistic marks an improvement in operational efficiencies as officials aim to resolve supply chain-related backlogs.
Launches and Collaborations
Interior designer Martyn Lawrence Bullard was tapped by French oven and cooking range manufacturer La Cornue for the creation of a new color palette inspired by his childhood love of vintage race cars. Handmade in Paris, the resulting collection features ten enamel tones in rich saturated colors.
Fashion designer Rachel Zoe and peel-and-stick wallcovering brand WallPops have teamed up for a collection drawn from Zoe's trademark aesthetic—a combination of relaxed glamour, edgy details and Bohemian elements. The six wallcovering designs in the new line feature both vintage-inspired neutrals and bold, floral patterns created to serve as a room's focal point.
Showhouses
Atlanta Homes & Lifestyles announced the designer lineup for the 7th annual Southeastern Designer Showhouse & Gardens, which benefits the nonprofit organization Camp Twin Lakes. The 9,300-square-foot custom-built residence in the Kingswood neighborhood features five bedrooms, seven full baths, a kitchen, a fireside family room, two office spaces, two music rooms and an outdoor living area among other spaces, and will be reimagined by designers such as Ashley Gilbreath, Joy Williams, Jason Mitchell, and honorary chair Tish Mills.
At the upcoming spring gala benefiting the Lenox Hill Neighborhood House, a group of 45 designers were tapped to create tablescapes around the theme of "A Garden of Earthly Delights!" Chaired by Christopher Spitzmiller, Lindsey Coral Harper and Harry Heissmann, the cohort includes Allessandra Branca, Brynn Olson, Halden Interiors, Michael del Piero, Mimi & Hill and Toledo Geller. For more information or to purchase tickets, click here.
Recommended Reading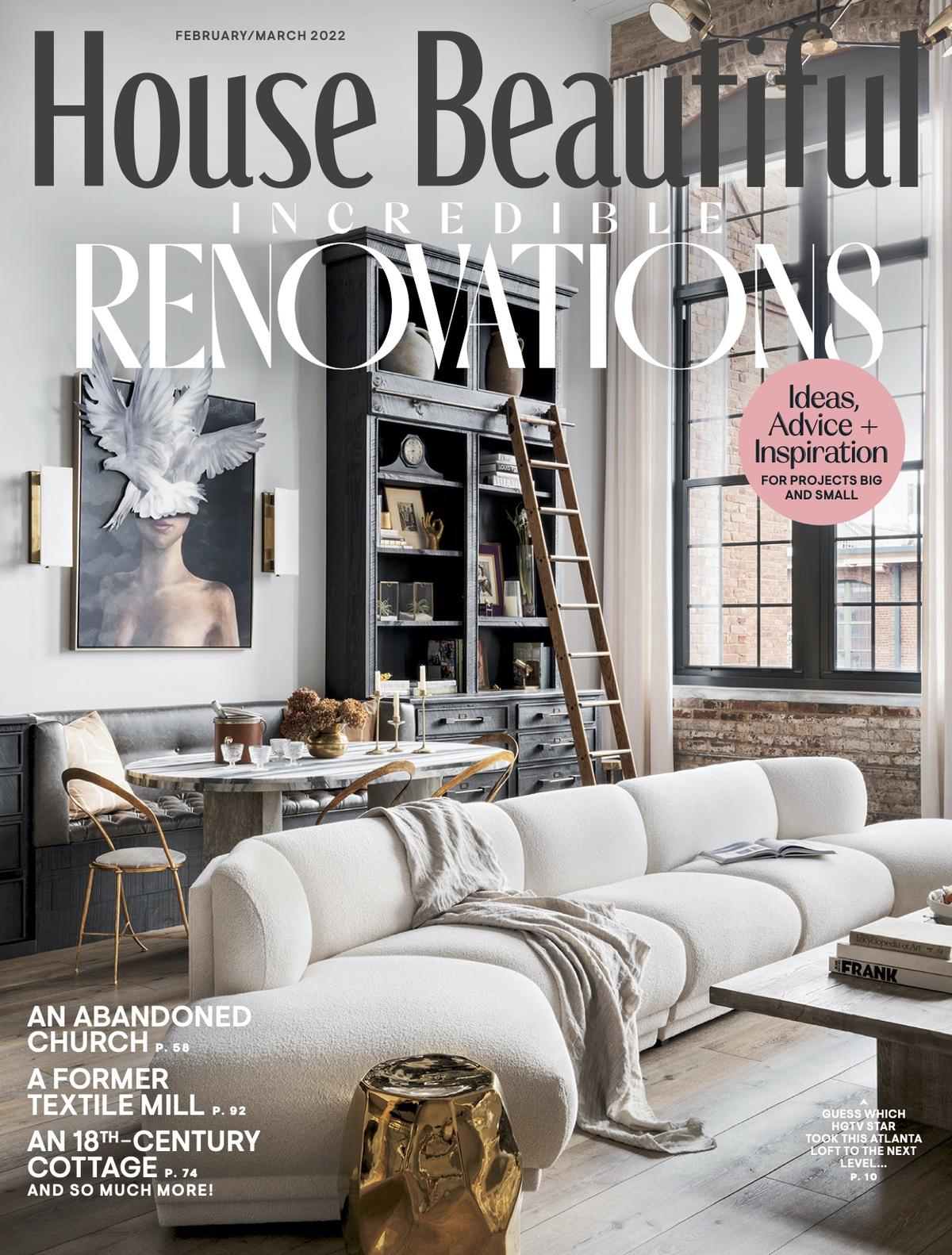 Courtesy of House Beautiful
In a regular year, home improvement projects introduce a few headaches into your home—in today's climate, a combination of supply chain issues and shortages of both labor and materials amplified those problem points into twice-as-long project timelines and costs that continue to spike. With a bit of industry insight, however, there may be a few ways to game the system and get the most out of your renovation project. In our latest column for House Beautiful, BOH editor in chief Kaitlin Petersen gathers expert advice from design and construction professionals, providing a roadmap for how to end up with the upper hand.
The most prominent artists of the Surrealist movement were often preoccupied with creating bizarre combinations from everyday objects—from Salvador Dalí's lobster phone to Méret Oppenheim's furry teacup, their creations placed household items in unexpected circumstances for an end product altogether playful, odd and eye-catching. For The New York Times Style Magazine, Amanda Fortini takes a look at contemporary artists carrying on the sculptural tradition in the field of ceramics, bringing forth strange combinations including hot dogs tucked into platform sandals and tape dispensers with tongues.
A simple three-ingredient substance, concrete has experienced a rise in popularity among DIY home goods makers in recent years, who increasingly use the sturdy, clay-like material to create furniture and home goods items. As Katherine McLaughlin reports for The New York Times, the small-batch products are seeing a subsequent spike in interest from shoppers, with Etsy reporting a 49 percent increase in searches for concrete or cement trays on the site within the last year, along with a 25 percent increase in searches for concrete or cement decor generally. "There's something about concrete that is very particular, and we've learned through the years that it's hard to mass-produce," Mario Guagnelli, a co-founder of home goods brand IntoConcrete, tells the NYT.
Call for Entries
Submissions are open for the eighth annual Andyz Design Awards, presented by the Las Vegas Design Center and the California Central/Nevada Chapter of the American Society of Interior Designers. Celebrating noteworthy projects by interior designers, architects, showrooms and design students in 12 categories, the competition will honor winners during the Summer 2022 Las Vegas Market, running July 24 to 28 at World Market Center in Las Vegas. The deadline to apply is May 2; click here to apply.
Homepage image: Fashion designer Rachel Zoe and peel-and-stick wallcovering brand WallPops have teamed up for a collection. | Courtesy of WallPops