In Business of Home's series Shop Talk, we chat with owners of home furnishings stores across the country to hear about their hard-won lessons and their challenges, big and small—and to ask what they see for the future of small industry businesses like theirs.
This week, we talk with interior designers Miriam Silver Verga and Hillary Kaplan of Mimi & Hill, who opened a home goods store in Westfield, New Jersey, four years ago to supplement their interior design studio. While they closed the store in the pandemic due to lack of foot traffic—and because they needed the space to house their growing design team—they opened a pop-up last fall as a response to the flailing downtown area and as a "gift" to the community they love. It's scheduled to continue past the holidays into February, and longer if their landlord will allow it. Here, they discuss the death of retail, the mango bowls everyone loves, and the agony of selling off their vintage wares.
What were your professional backgrounds before opening the store?
Miriam Silver Verga: We've been interior designers in town for 10 years—we've had a studio together for 10 years. We opened our previous shop four years ago. And before that, we were stay-at-home moms for 10 years. Before that, Hillary was a sweater designer, and I wrote for This Old House magazine.
What does the design aspect of the business look like? Is it primarily residential?
Silver Verga: It is primarily residential. We have done offices for clients who wanted their husband's dentist's office, or whatever, done. We are mostly New Jersey, but we have done Puerto Rico, St. Thomas, North Carolina, Florida, Chicago and Toronto. The majority of our work is local, but I think when you're in business this long, you definitely have more experiences.
What is the aesthetic vibe of the pop-up, and is it different from the original store?
Silver Verga: It's textured neutrals. Hillary and I are not high-color people. We thrive in a very tight color palette, but we love patina and texture and shine, and we love them in relationship to each other. When you go into the store, there is this warmth.
Hillary Kaplan: That's where the textures come in. It's kind of Miriam and my secret sauce, that mix. It's similar to what we had before, but on steroids. We have more items. It's more space that we got to really play with wood tables and then brass. We have vintage in the shop. So, we get to do our look—our patinaed look—but still be comfy, modern and cozy at the same time.
Who is your typical customer? Is it the trade?
Silver Verga: Probably a lot more [non-trade] people. I think everyone in the trade is so busy right now—they're not out shopping that much. I've gotten questions from some of my designer friends: "Can you send me what you have in vintage right now?" Which kills me, because I want it for our clients! Get me out of that mindset!
Kaplan: Our clients are the people who are walking in, especially with the town we're in—they're looking for this textural look. It's not a farmhouse—it's more modern, eclectic. Would you say international? I think that our clients are a little bit more sophisticated.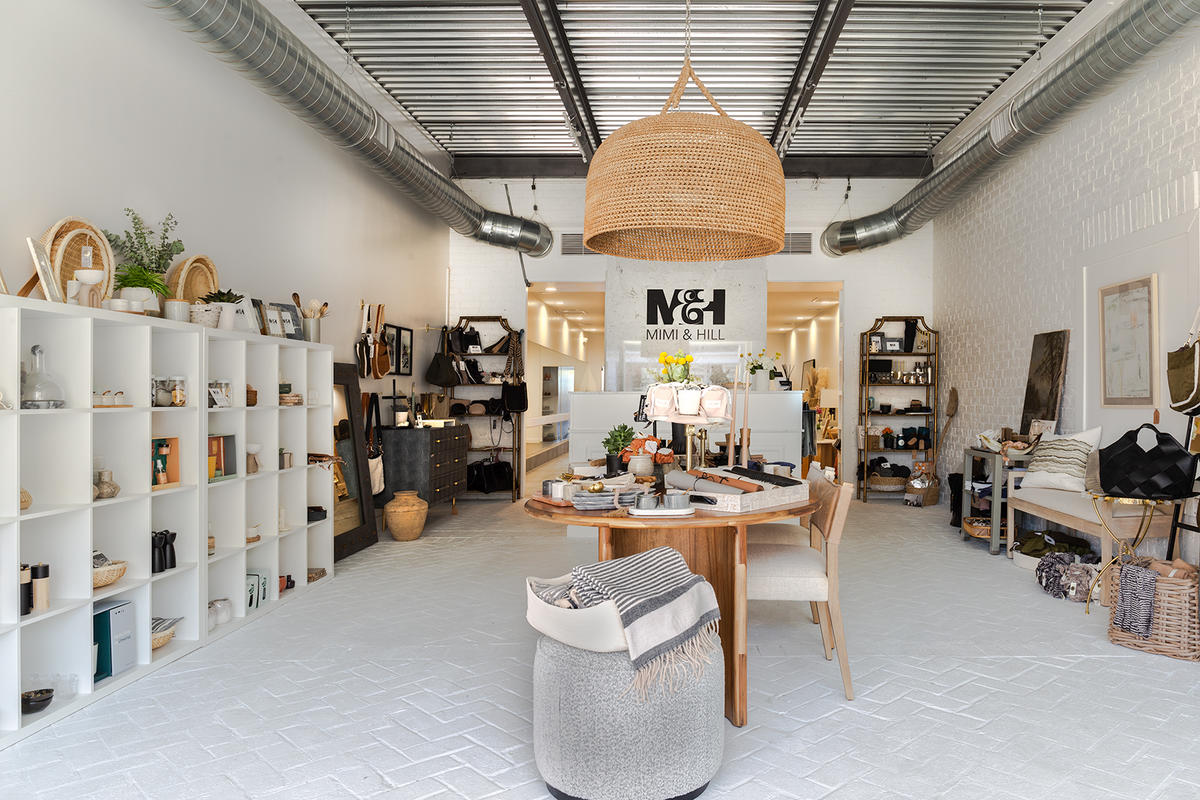 Do you have a favorite vendor, or can you shout out one particular vendor that you're attached to?
Silver Verga: We have to shout out this woman, [Harriet Zaffoni], who was born and raised in Uganda. She goes back a few times a year, works with artisans there and empowers them to create items that will sell. She actually will ask us, "What should I have them make?" It's called Harkiss Designs. Because she has brought so much hope and business to the community there, when she walks into any market, they just are so excited. They're showing her what they made and what they can make, and she's always working with them to create more things that our market would appreciate and purchase. She's also just a lovely woman, and to [work with] a Black-owned business is very important to our company.
What are your favorite objects in the store—the ones that make you smile every time you walk past them?
Silver Verga: I am obsessed with our vintage section. I won't even mix it in with the rest of the products—I keep it like a shrine in the back, and I go in and visit. I have a pity party when something sells, like I have to touch it and kiss it and send it on its way, and I prefer to know where it's going. I have a problem, but it is really so fun collecting the vintage. I do not excel at the shopping like Hillary does. Hillary has been the brain behind filling this store. I would never have picked the 3 million bags that are flying out of there, the purses. We can't keep them in stock.
Kaplan: I love everything, so what do I say? There's a million candles in the market, but we have a few different types. We have a company, Vancouver, that just does beautifully handmade candles with beautiful packaging. But then we do this amazing two-sided candle in a U shape. It burns on two sides, and they created a little brass stand that helps it sit down. It is so sculptural and beautiful. Glazed candles, that's what it is. I love all the accessories.
What's the product that flies out the door, something you can't keep in stock?
Kaplan: Mittens. That's boring, but it's so true.
Silver Verga: Oh, those giant mango bowls.
Kaplan: We have a bowl—I think it's 25 inches wide.
Silver Verga: Mango wood on the outside, a white enamel in the center. We've been carrying them for four years, and they're hundred-dollar bowls. I brought one home and my husband saw the sticker on the back and he's like, "I mean, seriously, who pays this much for a bowl?" Then we use it every single night and he says, "Call me wrong! Call me wrong." We use this salad bowl every night of the week.
What's the advice you would give yourself if you could go back to opening day of the first location?
Silver Verga: Buy the building.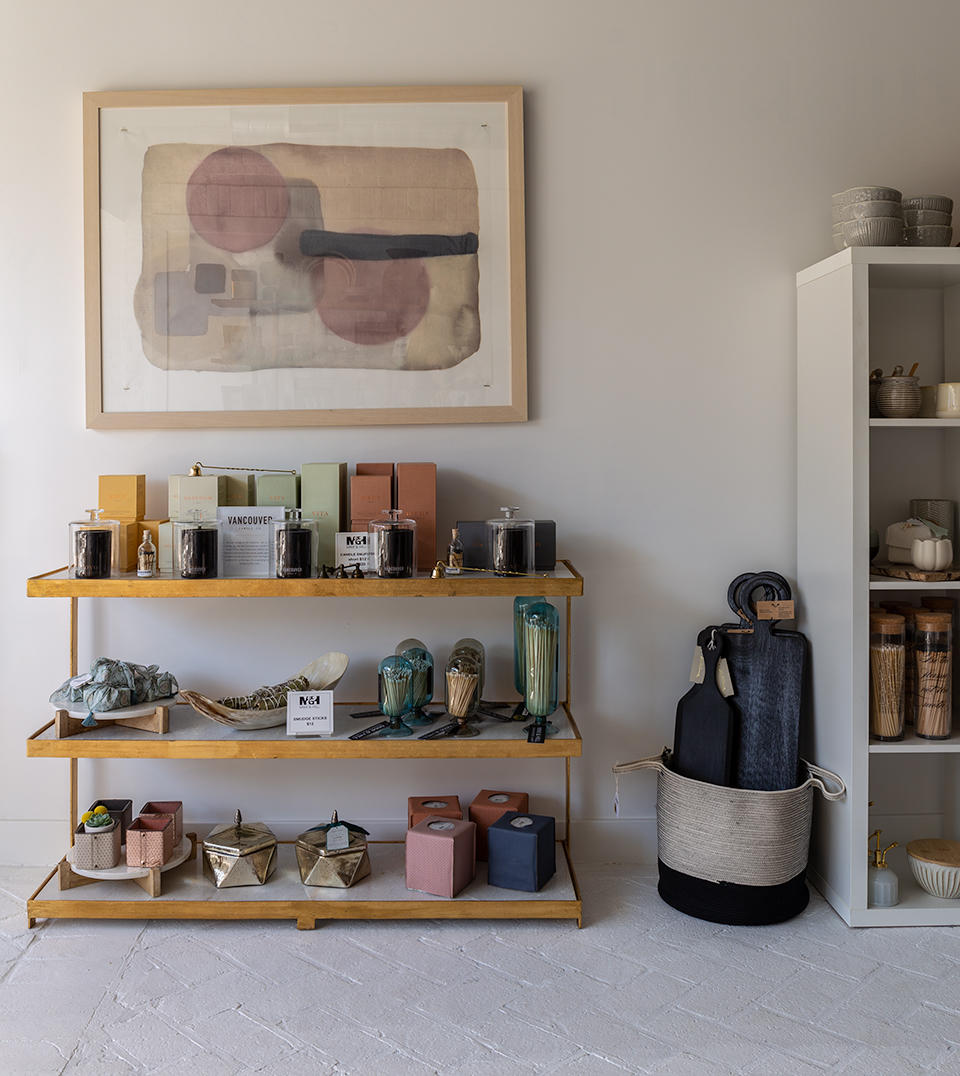 How much does rent factor into your decisions or complications or frustrations?
Kaplan: Our town is half empty, and we couldn't get landlords to call us back to even rent anything. And now we are trying to extend our lease, and the landlord won't call us back. There's this weird dynamic between the desire to stay empty and keep prices higher and how much you can really, truly make from a store, like the actual rent that makes financial sense for people. Because we have a pop-up price for our rent right now, which is a little lower than retail, and that really would be the amount that would make sense for us to be able to profit, because we don't work at our own store. We employ a full-time employee to work there. Rents are so high in our town—that's really the biggest problem with opening a retail spot. It's $40 a square foot.
There are so many empty retail storefronts where I live in New York, and I think it's because they're not dropping prices.
Kaplan: Well, it's hard for the small shop owner, because everything is up basically 25 to 30 percent this year. Getting our goods into the shop is more expensive, too. Everybody knows things are costing more. So, if rents are not going down, then how are these small shop owners going to [make a profit]?
Silver Verga: It's funny, because we don't really need our store to profit. We just need to not lose too much money. It's our gift to our town, our followers. I know that sounds crazy, but Hillary and I really adore our mayor. There's just so much negativity about our downtown, and we just felt like we could afford, right now, to put our money where our mouth was. We had the capital to put toward filling the shop, so we were happy to do it, almost as—I know it sounds so crazy—but as a way of supporting our local politician and our community. We love our town. Our employees are mostly from our town, and to have an empty storefront when we could fill it, it felt like, why wouldn't we?
What is your biggest everyday challenge, and what is your biggest existential challenge?
Silver Verga: Existentially, there is no future in retail. We know that to be true, but we also love the shop and love the connections with the community and love the top-down nature of being able to touch and feel and see and create an experience for people. So, we don't care that there's no future in retail right now, until we have to care.
Kaplan: Miriam and I love to go upstate, going to Hudson. We love going into towns and having somewhere to walk on a Saturday, and we want people to have that in our town. It's a gift to walk around your town and enjoy it.
Silver Verga: For everyday, in this industry, whether it's our design business or our shop, it's delivery delays. It's hard to refill the shelves with certain things right now. Shipping is taking a long time. I walked in Monday morning, and one of our team members was like, "Yeah, everything's delayed another month from all our furniture vendors." How do you keep on giving this news to people?
How do you prepare customers for not getting what they ordered for a couple of months?
Silver Verga: We invested in really strong project managers, so there's a lot of communication. For instance, we have a client having a party this weekend. We have a moving truck backing up to the shop, pulling items out, and dropping them off to her house, so that her house can be filled for the party—and then bringing everything back the next day. That's the service we can provide to our best clients because we have this shop. We're trying to be creative about staging with what we have and making people feel like even if their room's not complete, it's so layered with accessories that at least there's something going on that they can be proud of. The word "unprecedented" is so thrown around, it's almost silly, but you'd have to live under a rock to not know that we're all in it together. We're all suffering together. We're all delayed together. We are very selective about our clients, and for the most part, they are incredibly kind, generous people, so their response has been kind and generous.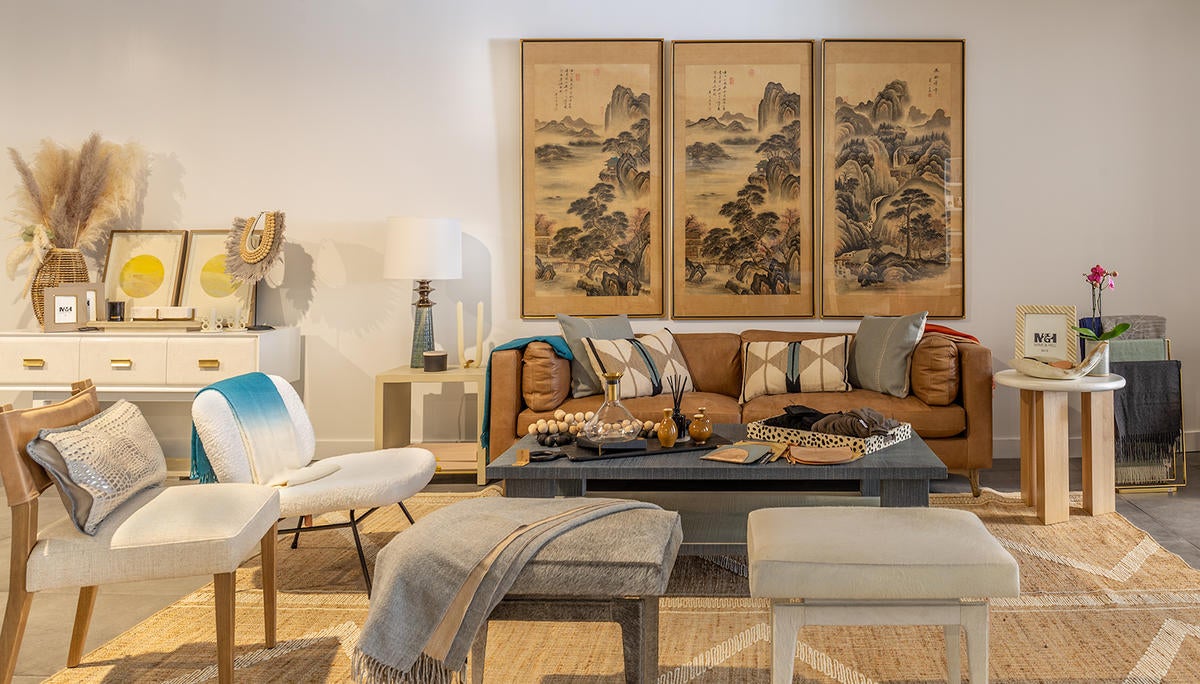 Kaplan: There has to be some cost to keeping clients happy. We understand that. Unfortunately, our furniture companies don't feel like that. They haven't extended any kind of discounts or any goodwill to us, which is unfortunate. But we're dealing with the end user, so we have discounted people on things that are taking forever. We have filled in with other items that they can use. We ordered a very inexpensive basket for a client so that she has a basket for over the holidays, and we'll figure out what we're going to do with it later because her custom basket is not done yet. We're not going to pretend that part of that profit shouldn't go back into keeping those clients happy during this crazy time.
You've mentioned a lot about the issues going on with Westfield, but are there any other challenges unique to your city? I'm wondering if proximity to New York makes it complicated.
Silver Verga: Proximity to New York means the [residential] real estate is more expensive. So, even when they're doing well financially, I think it's a shock to people how much it costs to fill a house. They're lured into these incredibly expensive real estate investments, and they're not getting a lot of reality checks from [real estate agents] or from even the design community—no one will say publicly, "Hey, guess what, if you don't have $200,000 sitting to the side, you're not filling your house." There's this disconnect. They want it to look that beautiful. They're just shocked that it costs money.
Kaplan: We're not young anymore. When we did this 20 years ago and started our homes, we completely understood that we could only do one room at a time. We did our living room, and then two years later did our dining room. We have clients coming out to us saying, I need my whole house done. This generation is very "I want it all, and I want it now."
What's a great day as a shop owner?
Silver Verga: It's our community. It's our neighbors, our friends, our kids, our kids' friends' moms. It's just an absolute joy to be connecting with our neighbors.
Kaplan: Every person who's come in says, "Thank you so much for putting this together."
Silver Verga: So much gratitude! Without a shadow of a doubt. And what we love most about design also is the concept of connect, connect, connect. When your home connects you to your family and to your community, that is our joy. Connection is the true raison d'être.
Homepage photo: Miriam Silver Verga and Hillary Kaplan of Mimi & Hill outside their pop-up in Westfield, New Jersey | Photo by Toni Deis Creative