In a new series, What I Love, we're asking designers to build us a mood board of what's inspiring them right now.
Best friends and business partners Miriam Silver Verga and Hillary Kaplan are all about finding the perfect balance in their designs. Whether armed with a strategic selection of vintage pieces or a mix of carefully curated textiles, the pair behind Westfield, New Jersey–based design firm Mimi & Hill approach each and every room with the goal of creating visual harmony.
Their current mood board is no exception: It's brimming with sumptuous earth-toned fabrics and soft geometric motifs, a thoughtful blend of colors and prints the duo employed to evoke the spirit of autumn. "I would describe this as a refined pumpkin spice latte that you can still drink outside and enjoy all year round," Kaplan tells Business of Home. "We loved layering in warm rusts and cool greens for a palette that exudes fall coziness."
Inspired by a jungle-themed wallpaper print from The Vale London in rich shades of brown, the pair incorporated natural colors and organic shapes that "work together the same way they would in nature," says Verga. "When this wallpaper arrived at our studio, a story just naturally developed. We also chose different-size patterns that complement each other without fighting one another."
Here, the designers break down the details—from graphic flora-and-fauna wallpaper swatches to sweet-potato-colored ombré fabric samples.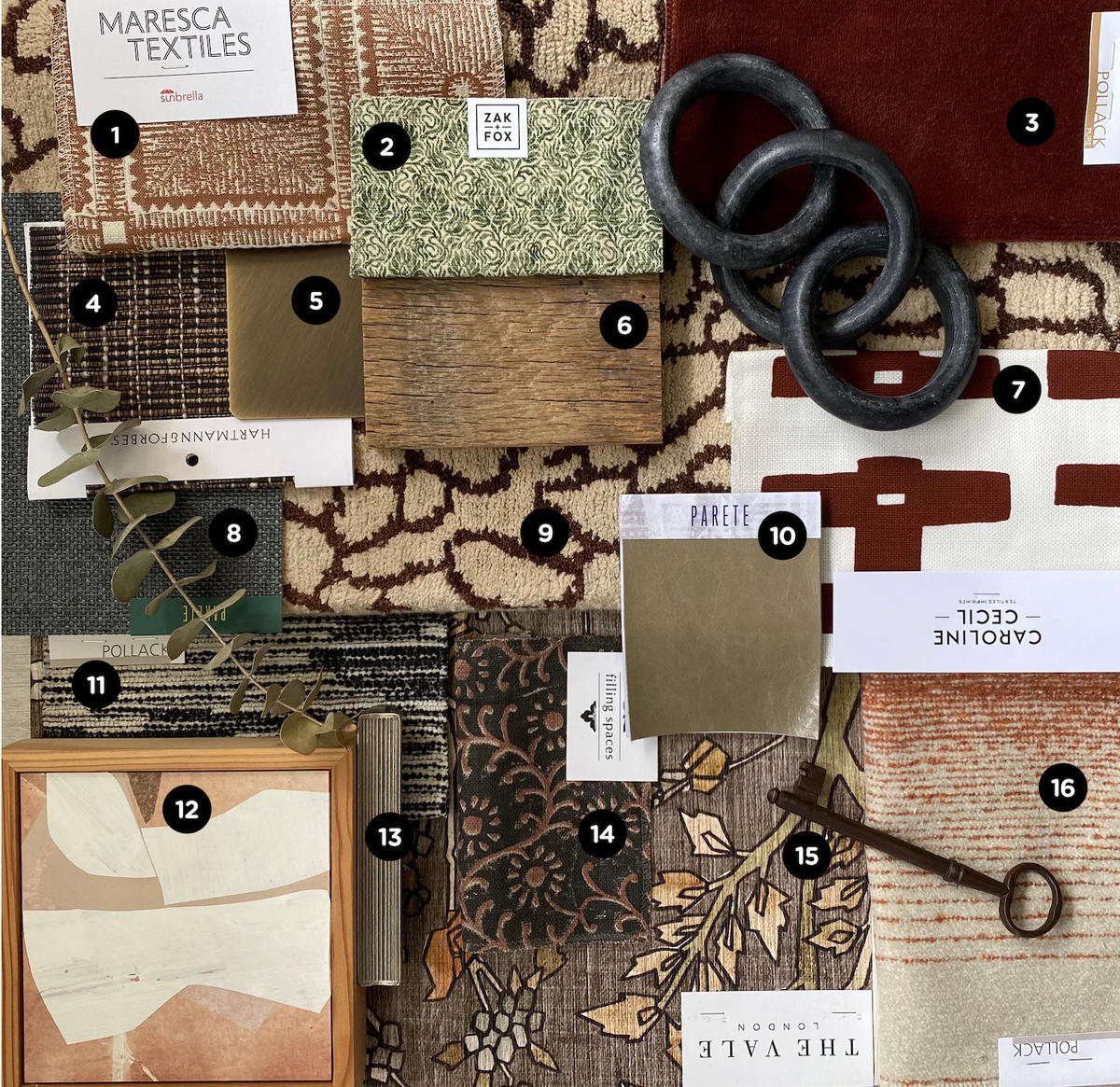 1. PISA INVERSE OUTDOOR Fabric IN NUTMEG — MARESCA TEXTILES
"We love using indoor/outdoor fabrics for high-traffic areas," says Verga. "We also love the softened geometric pattern, which feels timeless but essential in a room."
2. MANDRAGORA Fabric No. ZFMD-03 — ZAK+FOX
This print's small, rhythmic pattern, inspired by the mandrake root, provides a dash of graphic drama, while its natural tones provide a perennial quality.
3. HEAVENLY PLUSH Fabric in ROSEWOOD — POLLACK
"This warm plush fabric transports us to the best of fall instantly," says Kaplan. "The color is a perfect sienna that anchors the space."
4. LE4642 GROOVE Window shade — HARTMANN & FORBES
"We are huge fans of Hartmann & Forbes for window coverings," says Verga. "This water-hyacinth-and-abaca blend lends an organic texture to a space."
5. BRASS DARK — AMORE DESIGN FACTORY
"This beautiful varnished brass adds weight and warmth to any space," says Verga. "We would love to see it as a kitchen hood."
6. RECLAIMED ORIGINAL FACE OAK IN NATURAL MATTE — LV RECLAIMED
"We imagined this reclaimed wood as a central beam in a vaulted ceiling," says Kaplan.
7. BRIDGE/RUST/OYSTER FABRIC — CAROLINE CECIL
A high-contrast pattern in warm rust tones brightens up Mimi & Hill's mood board without straying from the color palette.
8. PAT IN BACK wallcovering IN BLACK — PARETE
"We love a moody room, and this woven black wallpaper adds the slightest bit of shine and incredible depth to a space," says Kaplan.
9. RABAT 33N4 — RUG ART
"This custom rug in linen adds a neutral base with enough pattern to add some spice," says Verga. "The organic pattern is reminiscent of nature, whether it be an animal print or a spider web."
10. FAUXREAL fabric IN GOLDIE FAWN 3 — PARETE
"We love this faux leather as a family-friendly option for stools or chairs," says Verga. "The waxed finish and mossy green color feel fresh."
11. MOUNTAIN Fabric in CINDERS — POLLACK
"No room is finished until you have a black element," says Verga. "The nubby texture of this is so exciting."
12. AUGUST — JENNIFER DAILY
A hand-painted paper collage set on a rustic wood panel inspires the designers with its soft color palette.
13. HADEY IRON CABINET PULL IN ANTIQUE NICKEL— SIGNATURE HARDWARE
A solid metal pull with an antiqued fluted finish brings a touch of texture and linework.
14. KOCHIN NOIR SAFFRON Fabric — FILLING SPACES
"The hand-blocked nature of this print adds patina and depth, as well as freedom and playfulness," says Kaplan.
15. MIGHTY JUNGLE WALLCOVERING IN AUTUMN — THE VALE LONDON
"This was our jumping-off point for the board," says Verga. "The warmth, texture and strength of the pattern are incredibly inspiring to us."
16. WILDER Fabric IN SWEET POTATO — POLLACK
"This ombré fabric is soft to touch and feels cozy and lived in," says Verga.
Homepage photo: A flat lay by designers Miriam Silver Verga and Hillary Kaplan | Courtesy of Mimi & Hill