In case you've been avoiding social media, we've rounded up some of the top tablescapes presented by design world luminaries at last week's Lenox Hill Neighborhood House "Make a Splash" spring gala.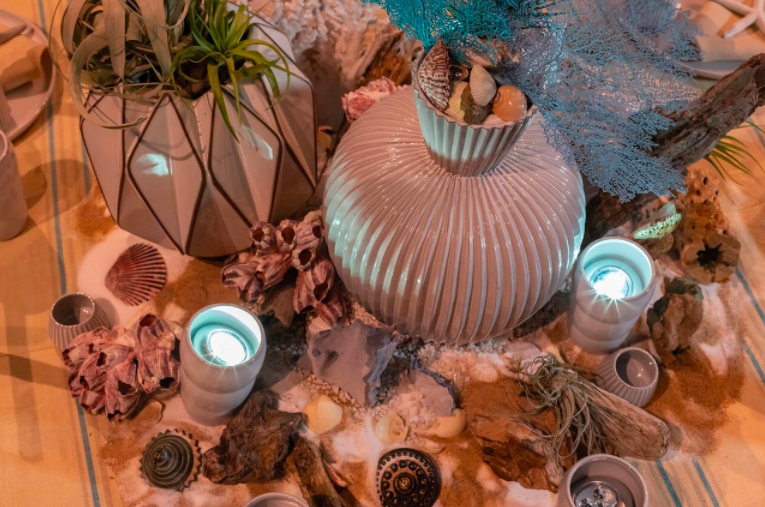 Design chairs Ellie Cullman, Lindsey Coral Harper, David Kleinberg, Alberto Villalobos and Vicente Wolf, among a host of others, lent their styling talents to the evening, which honored Sana H. Sabbagh, long-time supporter of the Lenox Hill Neighborhood House, while Christopher Spitzmiller served as honorary design chair. Take a peek at the best-of:
Funds raised benefit the Neighborhood House, which offers social, educational, legal, health, housing, mental health, nutritional and fitness services to those on the Upper East Side who are in need.
"The theme reminded me of everything I love about living on the California coast. I wanted to bring the joy of a lighthearted afternoon at the beach to the dinner," said Sara Ledterman, founder of luxury lifestyle brand Gather & Serve California, of her tablescape, which included a curated selection of modern pottery and hand-cast bronze items.
"The driftwood is from our local beach," she says, noting that the candy and beach balls she included also evoke summer days. "I wanted it to be fun. The beach is a free place that everyone can gather and strangers become friends. I hope the guests had as much fun as we had."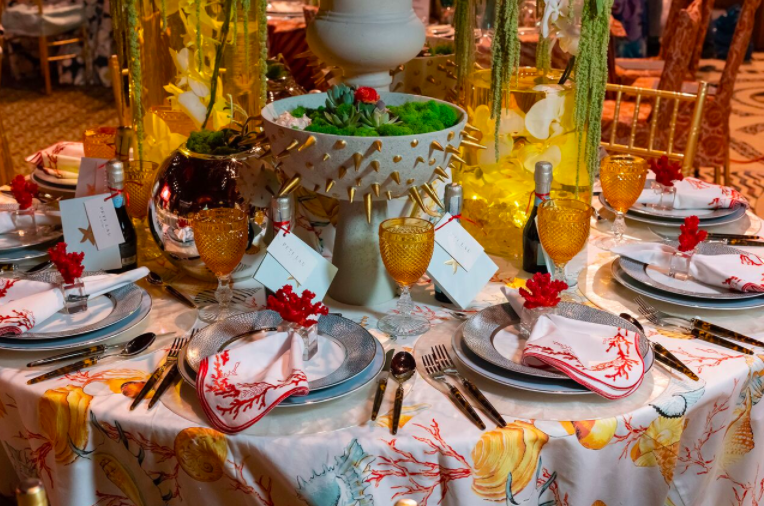 Kim Seybert worked the theme, bringing in her existing wares. "In fitting with the theme, 'Make a Splash,' our table was initially inspired by the 'splashed' beads of our Jackson placemats. It just so happened that the Ivory/Gold colorway paired perfectly with a hand-painted jacket we purchased during the design process for our spring 2018 collection. We took the art from that jacket and transformed it into the custom tablecloth you see on the table! We all really loved the warm shades of violet with small pops of yellow. The colors worked so well together—which is why we chose to 'splash' the table with yellow flora, in the form of forsythia and cymbidium orchids."
Designer Kirschner shares of her inspirations, "In order to inspire and to bring an 'Under The Sea' experience right to the table, I recreated a sea landscape, where life and movement are transformed and nature's colors, textures, and shapes become strikingly different from our usual surroundings."
Wolf, who created a tablescape in addition to serving on the chair committee, reflects to EAL, "What better way to use our talents as designers than for a worthy charity such as Lenox Hill Neighborhood House. I thoroughly enjoyed all of the tables, dinner and dancing."
The full roster of participating designers included: Andrea Stark, Anne Carson; BKSK Architects, Barbara Brown; Byron C. James, Catherine Brown Paterson, Cathy Kincaid, Connie Plaissay, Edward Lobrano, Elizabeth Pyne, Ernest de la Torre, Gather & Serve California, Grace W. Kaynor, Jared Hughes, Jenny Dina Kirschner, Jonathan Savage, Joyce Sitterly, Katherine Nedelkoff, Kathy Abbott, Keith Williams, Kim Seybert, Kristen McCory, Laila's Florist, Louis Navarrete, MA Allen, Margaret Kirkland, Montana Timchula, Natalie Kraiem, The New York School of Interior Design, Nicole Fuller, Peti Lau, Rio Hamilton, Roric Tobin, Sam Allen, Susan Carlson, Swoop, Tamara Stephenson and Susan Young, Timothy Brown, and Virginia Tupker.