This week, we're kicking off the 50 States Project, a yearlong series of candid conversations with interior designers we admire, state by state. Today, we catch up with Ashley Gilbreath, a Louisiana native who launched her own firm in 2007 after following her heart (and now husband) to his hometown of Montgomery, Alabama. In addition to sharing the lake house project that won her a Shutze Award in 2019, Gilbreath explains why there's no set-in-stone way she charges, why director of first impressions and promise keeper are the most essential roles on her 10-person team, and how she's prioritizing fewer, better projects this year.
We are so thrilled to launch this series with you! Let's start at the beginning: How did you become a designer? What was your path to where you are now professionally?
It started when I was little. My younger sister was always into baby dolls when we played house, but I went to "work" to draw. I had no idea what architecture was, but I wanted to work the puzzle of putting a house together, so I would draw house plans—this is the living room, this is the dining room, and so on.
I went to Auburn University because they had a wonderful architecture program. I had a professor who was talking about how sunlight comes into the windows from the outside, and I kept asking, "When do we talk about the inside?" Finally he was like, "You know what? I think you would like our interiors program." I was like, "I'm sorry, your what?" So after two years studying architecture, I switched to the interiors side, and it's been that ever since. That said, I am beyond grateful for the years studying architecture, which is knowledge I have used every day as an interior designer.
The summer before my senior year, I went to New York, took some classes at New York School of Interior Design and got to work for [acclaimed Alabama-born designer] Richard Keith Langham. I had to come back to Auburn to finish my senior year, and sweet Keith offered to let me fly back and forth weekly to continue to work. But I was also dating this Auburn boy from Montgomery …
After college, I worked in Atlanta doing hospitality design for a bit and loved it, then came to Montgomery kicking and screaming—but now I love it and wouldn't change a thing. When I got here, I worked for a sweet little shop, then switched over and led the design department for an architecture firm that did more commercial design. And then I started my firm. My husband is incredibly encouraging. He is a big believer in "Get out there and go do it. If you fall flat on your face, you will get back up—so go for it." And for some crazy reason, I listened to him.
Courtesy of Ashley Gilbreath Interior Design
Tell me a little bit about Montgomery—what's the design scene like?
We're in the capital. It is a large city in terms of population, but in terms of the design scene, it's very small. One thing that we love about Montgomery is that it's a small, cozy town—it's great for children, for families, for church, for a good, close-knit group of friends. It's also centrally located. We're at the beach in three hours; we're in Birmingham in an hour, Atlanta in two, and Nashville in four. So I can make a day trip to any of those places and be home fast enough to put babies in bed.
Where do you typically shop?
Atlanta is the base—we go to market and tons of great antique shops like the monthly Scott Antiques Market. We hit Birmingham, which has great shops. Mobile has a couple of fun antique shops that we love to pop into—especially Atchison Home and Charles Phillips Antiques. We also have our own shop in Montgomery, and are about to open another one at the beach—hopefully in the next two or three months.
We have a shop because, selfishly, there really wasn't a wonderful place to shop in Montgomery that had curated, one-of-a-kind items. When we do installs, I needed a place to pull from, and quickly. The shop is called Parish because I'm from Louisiana, and we have parishes instead of counties there, so parish means home to me.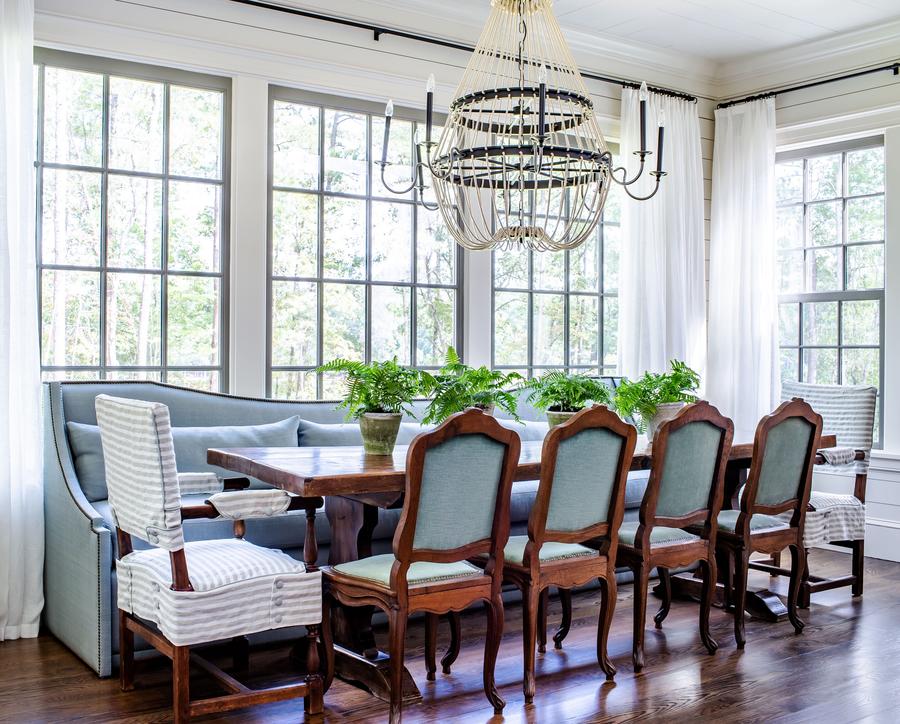 Courtesy of Ashley Gilbreath Interior Design
When did you open the shop, and how did that change the mix, or the experience of the firm?
The shop came very unexpectedly in 2010. [My husband and I] had been married for five or six years, were unexpectedly pregnant, found out we were having identical twin little girls, made it to 31 weeks and lost them both. I needed a distraction, something to keep my mind going and excited and busy, and that's where Parish came from. That, and from desperately needing things at my beck and call for jobs—so it served two goals. It worked well, and it's worked well ever since. It filled a void when I needed it to, and it's kept us busier than I ever dreamed.
How do you describe your design style? What do you think people come to you for?
We say that we are casually elegant, which is a complete contradiction. But what we like to create is a lived-in space that's ready to go and take on all that life offers. I have three crazy children, a dog that's really a puppy, we love red wine, and we live in our stuff. That's the way it should be. So I want to make sure the rooms we create look nice, have a sense of history—pieces that were your grandmother's or your mom's that you want to hang on to—but it's still your house and it needs to look like you. We show you how to pair a fun vintage piece with a Lucite piece and a great piece of contemporary art, so that you have a little bit of your grandmamma, a little bit of you, a little bit of a piece you can grow into, and pull it all together.
What projects are you working on right now? How many, and how hands-on are you with each?
We're working on roughly 20 projects—in Alabama, Florida, Georgia, Louisiana, Colorado, Tennessee and Connecticut. I am the lead designer and hands-on in almost every detail of these projects, so I am busy! My goal for 2020 is to cut down on the amount of projects we take on so that we can control growth and allow for more family time.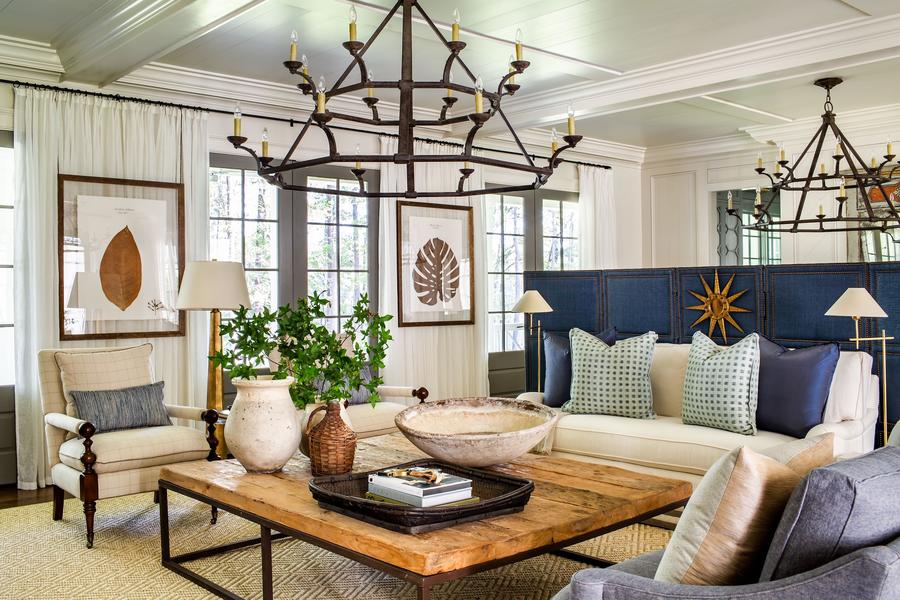 Courtesy of Ashley Gilbreath Interior Design
What does your team look like? How many people do you have? What are they doing?
Including me, there are 10 of us. I have two project managers, a junior designer, an office manager, a bookkeeper, a PR person, a marketing person, and two warehouse guys.
What is the role of your warehouse guys?
They will tell you they're like a husband for hire most days. They do all of our deliveries; receive any shipments; and open, check, label, and put them in the right client pile. They are present for install day, not so much as movers, but [because] they know us and know how we do things. They do all the cord management for plugging in lamps across the room, and package all of the accessories we check out and bring to a job site. They're the ones who say, "I just moved that 900-pound thing by myself all the way out of the van, and yes, I'd be happy to move it all the way back into the van for you." They take good care of us.
What do you look for in a new hire?
I started out thinking I needed another one of me, so I hired another designer. Well, that's great, but she thinks just like I think. Who's doing the other stuff? Who's keeping it organized? Someone once told me that you need someone on your team that is the director of first impressions. I love that title. It's the person that answers the phone, the first person you see when you walk in the door, because I'm not always there to be that person. And then you also need someone that's a promise keeper, because I'm going in 900 directions, and I want to be that person—I try to be—but Lord knows I fail at that more often than I should. So the person in that role is the one that says, "Hey, Ashley said she's going to do this. I heard her say that. I'm going to make sure she does it or I do it for her." So I think those two are big roles—and then someone that understands QuickBooks and the finances of the office.
Courtesy of Ashley Gilbreath Interior Design
On the bookkeeping and contracts side, do you have a standard way of charging for your work?
The very first thing I tell every client over the phone is, "We would love to work with you. We have a set contract that we work from, but it is really built to be a series of guidelines because everyone's needs are so different. Whether you're doing ground-up construction and need our help with space planning, furniture and finishes, or you're doing a renovation and we're drawing the renovation plan, or you're just doing a powder bath, or just furniture—there is not one set of rules that fits all." It also depends on who the team is. Do we have an architect? Do we have a builder we like? Or am I doing these plans for you?
How have those conversations changed over time?
One thing I have learned—and it's taken me a lot of years and coaching to fully realize—is that my time has a real value. Just because design seems to comes easy to me does not mean I need to give it away or that it has a lesser value. I can generally put a floor plan together pretty quickly, but Lord knows I couldn't make fabulous meal to save my soul. Design is my talent. That's what I know how to do. There is a value there that I sometimes think designers don't realize. And if we don't value it, no one else will.

It's taken having a family and realizing I'm sometimes missing out on life with them to put a better value on my time. I've learned to ask myself what an hour with my family is worth to me—what's the dollar amount—and that's what I try to charge. It's never that cut and dried, but you have to put a realistic value on your time, on your life. We get to do this little life one time. Our oldest is nine years old, so I guess it's taken me that long to finally figure it out—and I've also learned when you put a higher value on your time, clients tend to value you more, too.
Courtesy of Ashley Gilbreath Interior Design
What is your biggest challenge right now? What are you thinking about for 2020 and beyond?
Coming off the end of this year and evaluating what we've been doing this last decade—I think if I could map out what happens for the next little bit, it would be to be uber-intentional with time management. To do fewer jobs, but very quality jobs. When you work for yourself and there's only one of you, everybody wants you. They want your take on it, they don't want somebody else. That's an honor, and I'm thrilled to be a part of it. But there are only so many hours in the day, so I want to make sure that I'm doing the jobs that I want to do.
The goal for this year, honestly, is to have a better quality of life. That doesn't mean we're going on vacation, that just means going to bed before midnight. If I could wish anything for us, it would be to pace out the work and enjoy the process. You know, these clients are a luxury because they become your fast friends. That friendship is something I would love to be able to foster even more. Now, if you come back and ask me in a month how well I've done on that, I might not tell you I've done a very good job. But for today, that's what I want.
Courtesy of Ashley Gilbreath Interior Design
Whose careers do you follow and admire?
Bunny Williams is an all-time fave. And John Rosselli, of course. When I worked in New York for a little bit, I used to pop into his store. When I won the Shutze Award [for the project pictured here] this past year, I was in the same room with the two of them. I looked at my husband and was like, "I think I can quit now." I'm in the same cool club that they're in—are you kidding me? On the architecture side, anything Bobby McAlpine does is phenomenal. Gil Schafer is always inspirational, and Tippett Sease Baker is putting out some amazing work as well.
And then there are fun designers that I just love—Charlotte Lucas, Sarah Bartholomew in Nashville. I worked with Lindsey Coral Harper when I worked for Keith Langham in New York—I was a baby, still in college, and she taught me a bunch of funny things that I will never forget.
What are you most excited about? Or what are you getting inspired by?
Honsetly, the family stuff—maybe because that's where my mind is right now, but it is such an honor to be included in molding and shaping the way that these families we get to work with remember life. It's fun to think through experiences in these new homes for these people. It's inspiring to think how these children remember childhood, how the parents or grandparents are going to remember life. We get to make that mark—if you think back to your childhood, you can probably remember the smell of your grandmother's house. That was a feel-good. I get to create that feel-good. In a way, I shape what's in these people's minds forever. It's kind of an honor, you know?
To learn more about Ashley Gilbreath, visit her website or find her on Instagram.
Homepage photo: Ashley Gilbreath | Jeff Herr