The 50 States Project is a yearlong series of candid conversations with interior designers we admire, state by state. Today, we're chatting with Green Brook, New Jersey–based Kesha Franklin of Halden Interiors about why she moved to the state to take her business to the next level, her love-hate relationship with renderings, and where she turns when the going gets rough.
When did you know that you wanted to be a designer?
I actually didn't know for the longest time—this was something that I fell into, or that found me, I should say. My husband is in the entertainment industry, so back in 2002 we had heard that Barclays Center would be coming to Brooklyn. The following year, there was a four-story building [near the Barclays site] that was vacant; we reached out to friends of ours and [decided to] partner on putting a bar/lounge and restaurant there. I have a background in corporate event production, so I knew that I could fill it and run it. But the part that we didn't really think about was how to actually build it and get it to open.
Doing that venture is how I got exposed to interior design without even realizing it. We invested almost three years in that project, with lots of ups and downs, and by the end, it had become a money pit—I think it was 75 percent there, but required more financial investment. We had gotten some legal and financial advice, and they were like, "Guys, it doesn't make sense." So we walked away. When I was closing out on the different accounts, one of them was the architect that I had worked with in Manhattan. I went to his office to give him the check, and I mean, I'm depressed—we're talking about three years I had dreamed about this place, and now it's not happening and I'm destroyed. So I got to his office, and he says to me, "Have you ever thought about getting into interior design?"
Because of the way you had collaborated?
He pulls up the work we had created together on the screen—and now, all along I've been looking at this stuff like, "Move this, move that, we need it to be wider." My brain was not connected to it as if I was designing. So when he pulled it up, I actually got to appreciate what was done for the first time. He gave me the biggest compliment I think I've ever gotten in my career. He said, "You know, I can't take credit for this. This is really all you. You knew what you wanted, you were strong in your opinions—and I think it's amazing."
He also said, "For you not having any background [in design], you were able to follow [my lead] as well." Part of that was because my dad was a contractor, and is also an artist. My parents are from Belize, so [my dad] didn't have his papers and he couldn't really be the boss that he really was, but he did drafting and construction plans within the companies that he worked in, so I was always around that stuff. I would see plans laying around the house, so it was this connection I didn't quite know was there.
A language you didn't know you could speak?
Yes! Exactly! With that said, [the architect] put this bug in my ear: "I think you should look into a career in interior design or architecture. I think you would do very well." And he actually printed out two bound copies of the plans and renderings that we had created together, and he gave those to me when I walked out. I still have them today. That project was called "Beautiful"—the three-story lounge was going to be called Beautiful. And because I wasn't able to open it, but then did indeed start my interior design journey, the name of my first company was The Beautiful Experience.
When did you launch the firm?
The beginning of 2007 is when I actually started putting it out there that this is something that I was going to explore. It was just among friends and family, but it was crazy the reception that I got. People were like, "Of course!"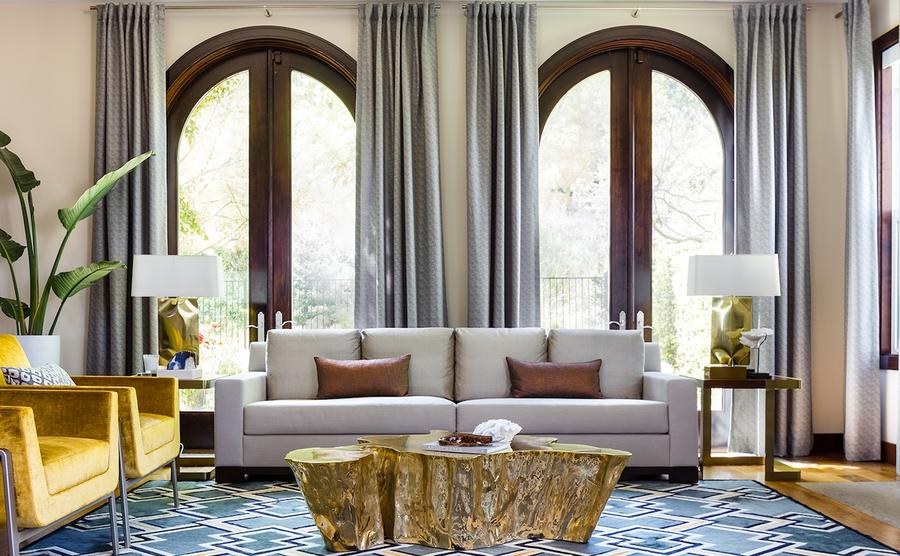 Christopher Stark Photography
How did you turn that moment of saying, 'I'm going to do this, I'm going to explore this,' into your first project?
My background at the time was heavy in event production—and I wasn't just doing event planning, I was doing stage design and galas for 2,000 guests. I worked for the Thurgood Marshall College Fund on their galas for several years. One day, we were at the Sheraton hotel in New York setting up for an event, and I shared with one of the directors there that I was doing a little bit of interior design on the side. He said, "You know, Kesha, I'm moving into a studio apartment in Brooklyn—it's literally a box, but it's yours if you'd like to take a stab at it." So that was my first complete project. Prior to that, I was doing little things—my girlfriend would say, "Come do my bedroom!" But this was the first time someone was like, "I'll pay you to do this, and you have full run of the entire space." I think back now, and we spent maybe $3,000 on the entire apartment.
I was just going to ask what the budget was!
Yeah, it was like $3,000. I think I made $500. It was something crazy. But I actually videotaped my process—my husband filmed it, and was like, "The fact that you could figure out how to get an office space, a living area, a dining area and a bedroom in this little box—this is what you're supposed to be doing." So it was a real proud moment. And from there, I was able to use that project along with his voice promoting me. Projects started to come in—again, very small, but they eventually grew to where I am today.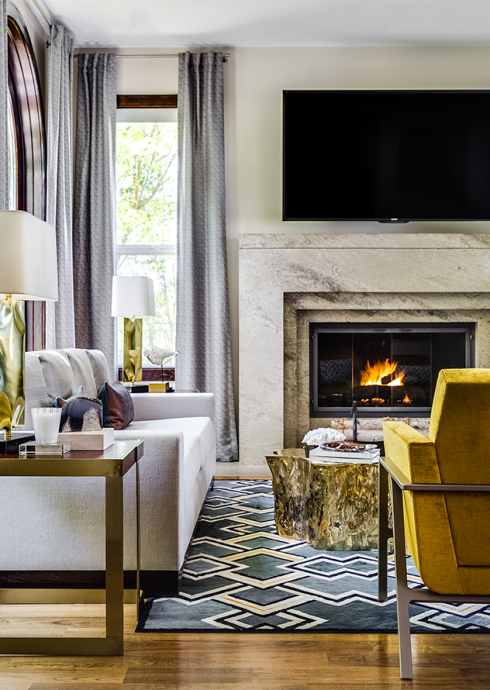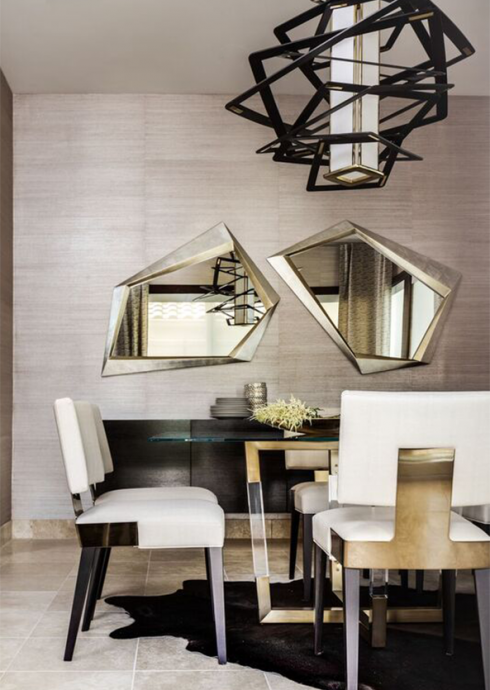 When did you make the leap to where the design firm was your full-time job?
Just as I finished that project in 2008, we started going into a recession.
A great time to be starting a design firm.
Yes, exactly. I'm feeling more confident in it, and then the recession hit. And as we all know, interior design is a luxury business, and it just tanked. But 2010 rolls around and the wheels start turning again, and in 2011, I got another big condo job. It was some renovations, some flooring, a spiral staircase—it was a whole job. And from that point on, I started to focus more on getting my website together and the business side of what I was doing.
In that moment, what did investing in your business mean to you?
Well, one, I needed to take ownership of it. When this is not something that you targeted or go to school for, there's a lot of doubt—a lot of second-guessing. Do I know what I'm doing? Can I even call myself an interior designer? I beat myself up around that a lot, and I think it slowed my process. [Finally] realizing that, no, this is what I want to do, I can do this, I have the ability—what I then felt that I needed to do was get some structure and get a team together to support me. It meant getting an assistant, which I did in 2012—and she's actually still with me to this day.
Oh, that's amazing.
I owe so much to her. [In those years], I was kind of winging it—I was doing well and I had created some structure, but I didn't have any business background either. But that same assistant connected me with the Goldman Sachs 10,000 Small Businesses program. It's free, but it's a six-month commitment and a rigorous process—they wanted everything.
In terms of opening your books?
That was really nerve-wracking—because, like I said, I'm kind of winging it, and I'm not sure if my things are really all in that order. What are they going to say? "This girl doesn't know what the hell she's doing, so no, we can't work with you." But it was the total opposite: I did have the things in place, I was doing the right thing, and what I didn't know, I think they saw an opportunity to really help me. I got accepted in 2014, and it changed my whole perspective about my business and what I was doing.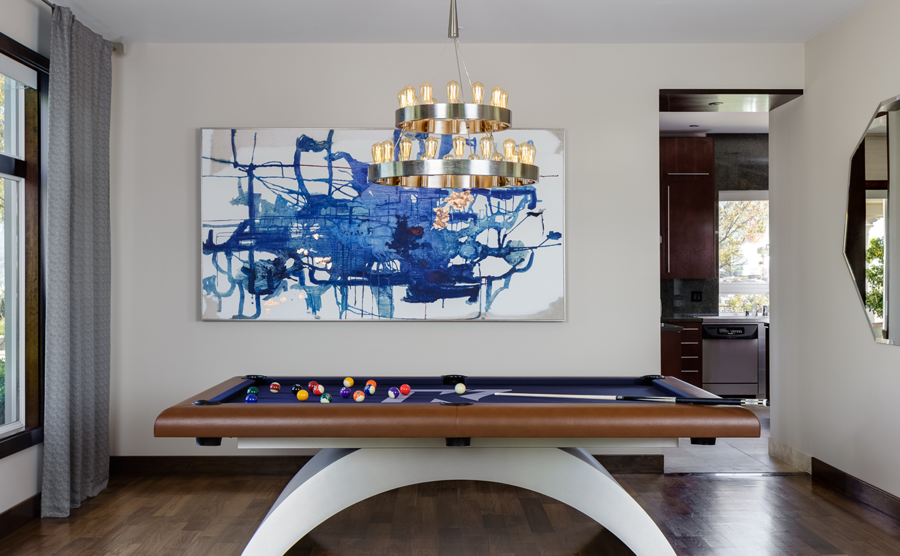 Christopher Stark Photography
What changed for you?
They started to ask me questions like, "Am I targeting the client that I want? Am I doing the business at the level that I want to do it?" And I wasn't. Because of how I got started, I was just so grateful to be chosen that I never looked at myself as the value. I always looked at it as the client picking me, so I value them. And that's great and true, but I wasn't giving myself any value. I wasn't charging what I was worth, I was giving away more than what I needed to be giving away, and I definitely wasn't targeting the big client. And Goldman Sachs instilled that—they opened me up to that, and they gave me the tools and the language. They made me dream big. That's what then gave birth to Halden Interiors, and when The Beautiful Experience went away.
You changed it right away?
What I walked away with from Goldman Sachs did not look anything like what I had done with The Beautiful Experience. [Before], I didn't have a point of view, there was nothing targeting the clientele that I wanted, so I had work to do. The one thing that they said was, "Don't wait on changing the name. Create the structure now and get the name changed so that when you are targeting the client, at least that part is in place. Then build the pieces as you go along." So in 2015, I changed all my contracts and documentation to say Halden, and then I set out to create a body of work that looked like what I wanted it to look like. And that took me three years.
What did the name change represent to you? Why was that such an important transition?
I got a creative advisory board, and I pitched them. I said, "This is what I'm doing, this is the information I've gotten from this program, and I want to know: When you hear 'The Beautiful Experience,' does it say luxury to you? What does it make you think?" I heard [a lot of], "When I hear 'The Beautiful Experience,' we think it might be a massage place." The word beautiful, in their minds, was connected to the beauty industry. So of course that didn't work. They also didn't feel like there was a direct connection in the name to interior design. The name was personal for me because it was born from this failed business that I had put my blood, sweat and tears into, but now that I was really looking to market my business, it didn't make sense.
There was a disconnect there.
Right. The first decision to say, "OK, we have to get rid of that." But now what is the name? I'm going to be honest with you, I debated strongly about calling the firm Kesha Franklin Interiors, because when I did my research, you would see most designers using their name. And it's funny now, talking about the current state that we're in—I've never said this out loud to anyone, but I thought that my name would probably deter me from getting business in the luxury market. My name is very much a Black name, and I wondered how it would be received. I struggled with that, because I didn't want that to be an obstacle. I'm a Black designer, I can't get away from that. Even if I have a different name in front of my business, when you call me, I am Kesha Franklin, and when you meet me, I'm a Black woman. So it wasn't that I was trying to get away from that, but I wanted the representation of the business to have a certain feel and stature when it was marketed and advertised; I also didn't want to just pick a name of fluff—I wanted the name to mean something.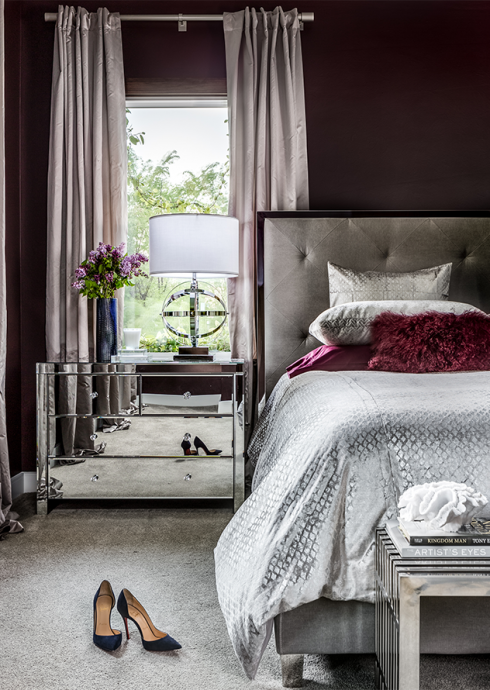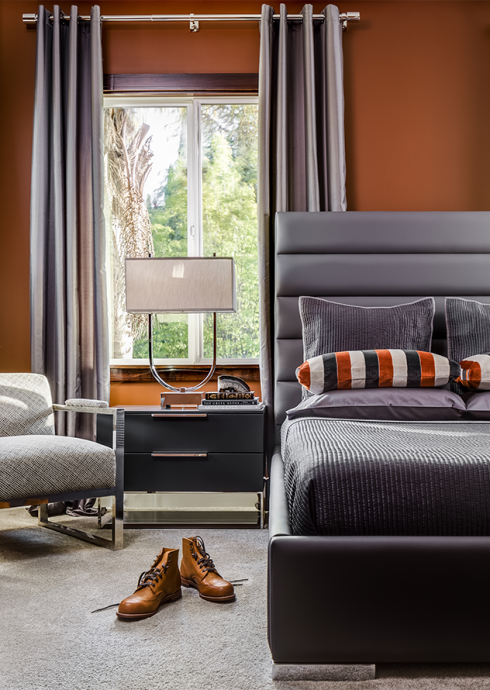 Where does the name Halden come from?
Halden is my paternal grandfather's name. His name was Henry Hugh Halden Vernon.
That's a great name.
It was a big name. When I was [meeting with] the advisory board, they asked me things like, "What do you want the representation of your business to feel like?" I love masculine design, I wanted it to be strong, and a lot of those words started to make me think about stories that my grandmother would tell me about my grandfather—he was the chief of police in Belize, and he was very strict, he was very well respected in the community, and [he valued] order. And so it just made sense, because that's what I wanted! I wanted the structure, the discipline, and I wanted my business to have a sense of pride.
That's such a beautiful tribute and connection.
What I really love about it, truthfully, as far as legacy-building goes, is [if it were] Kesha Franklin Designs, it would die with me when I pass, I feel. Because that's me, it's my name. But under Halden Interiors, my children or grandchildren can take that up—they, too, can tell this story about their great-great-grandfather. It just makes sense to me.
I was going to ask you that: Do you feel just as strongly about it now? If you were in that moment of renaming the firm today, would you make the same choice?
I would. Not so much about being a Black woman designer, because I've gotten past that, but for the legacy component and something that my family can take on. There's a connection to it because of the family name—I think yes, I would still make the same decision.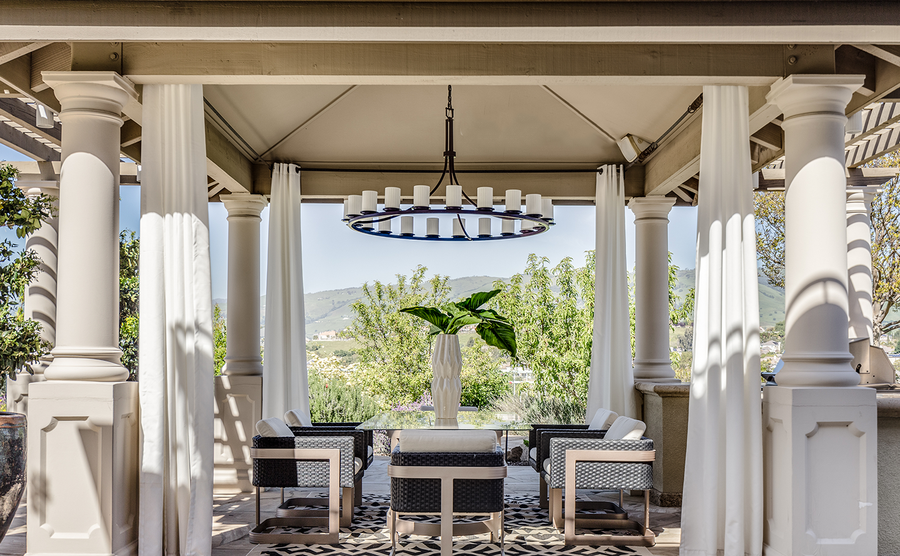 Christopher Stark Photography
You said you spent three years building a portfolio that looked like what you wanted it to be. What was the process, what was the work that went into making that shift?
It was by connecting with people I knew who had other connections—whether that's literally just an email, or, I think for a couple of people I sent floral arrangements with a note telling them: We are now Halden Interiors, the business is all about serving a luxury high-end clientele, and if there was any business opportunities that they felt would be a fit, please reach out. And that worked.
What was the big connection?
A former client—a friend now, but back then we were associates. I had done her office in 2012. She reached out to me and that's how I got connected with Colin Kaepernick [to design his San Jose home]. It was perfect timing for me—doing that project, 2015 and 2016 were just busy. I don't even know how I was breathing. I didn't go anywhere, we canceled all vacations. And a good portion of the projects that you currently see on my website took place in those two years.
That's amazing.
Some of the projects [on the site] from before that we felt were strong [are there too]. I had done Amar'e Stoudemire's apartment in 2012, so there were a few I had done where I had already started to tap into that luxury space—I just didn't really quite know how to command it yet. I wasn't really going after that business.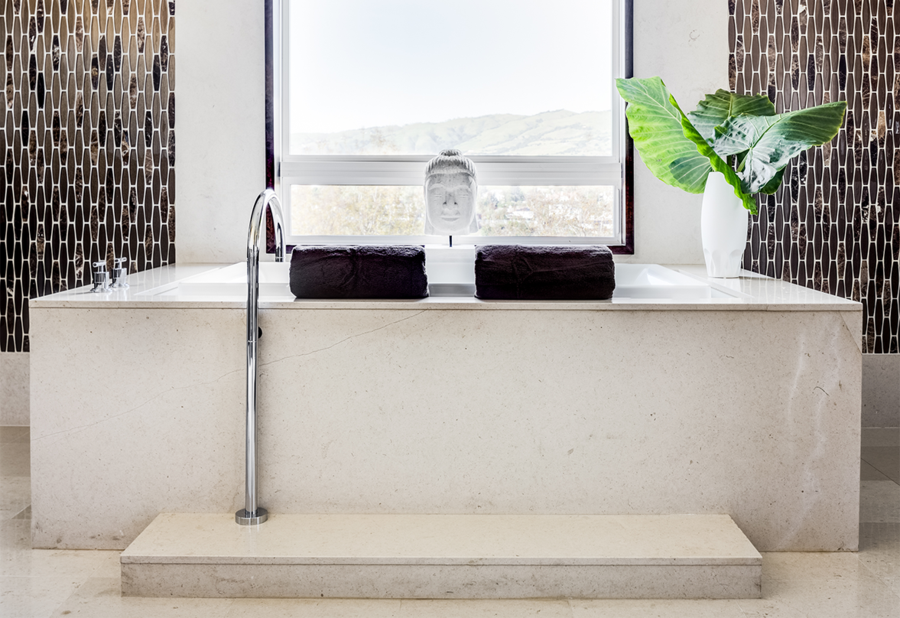 Christopher Stark Photography
How did those big projects play into the transformation of the firm that you envisioned?
During that time, I was investing money in photography to make sure my portfolio looked a certain way, and also building a website. I paid someone to do the copy on my website. I was just taking my time, making sure that every i was dotted and every t was crossed, and in 2018, I officially launched the website for Halden Interiors. And the minute I did that, the Colin Kaepernick project got picked as an online house tour for Elle Decor.
I remember that!
The dots connected. What I had learned at that Goldman Sachs program, and just really taking the time to invest in my business, paid off.
Did you know the project was getting picked up when you pushed your website live?
It was a surprise—at this point, the project was old, because I had sat on it for so long. I was not leading with that at all.
Did that coverage bring in new clients?
It did. There were a lot of inquiries and maybe one or two jobs that I was able to pick up from that. But for the most part, I've never really had anyone just say, "Oh, we saw this and we really loved it." It's always been, "We've looked at your work, we've been following you," which I appreciate more. Yes, work begets work, but I am more concerned about the person having a connection to me.
How do your clients find you?
I always struggle with that question, because you never really know. I'm not a person who asks, "How did you find me?" Other designers are always like, "You don't ask that?" And I don't. I find this work to be extremely personable. I want to be trusted. A beautiful space is a beautiful space—you know I can do that, I can do that in my sleep. But the client relationship is the critical part of running this business successfully. It's the critical part. So I'm more interested in, "OK, are we connecting? How does it feel, and does it make sense to move forward?" I will say, though, I did have a call at 10 o'clock this morning from a couple who said that they were reaching out because they saw me on an Open House NYC feature, and I'm meeting with them in a few weeks, so we'll see how that goes.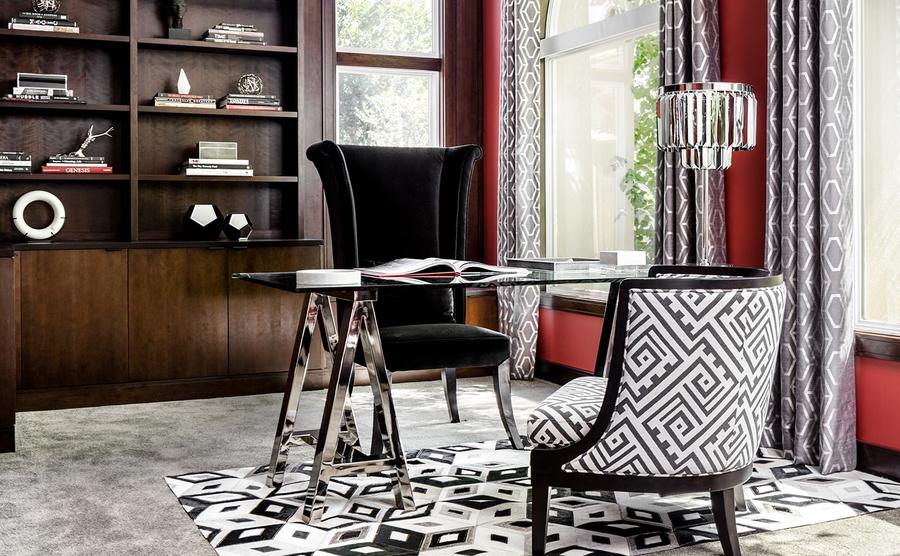 Christopher Stark Photography
You moved to New Jersey in 2017—in large part for your business. Why was that move such an important step?
One of the things Goldman Sachs had said to us in the courses was that the best way you can service your client is to experience the things that they want to experience, because you then become the expert in that thing. I was definitely performing in that space, doing the research, showing up, understanding the way in which they lived and how they wanted to live. I was living like that in my head, but it wasn't tangible for me. I wanted to have that experience to have it relatable to the work that I do. We moved to Green Brook, New Jersey, which is in Somerset County—Green Brook is so small, but I'm near Warren and Watchung—and I now have a beautiful, contemporary, open-concept home, which is what I'm attracted to and the type of work I like to do.
Also, my children were grown and I wanted my ... not necessarily dream home, because I feel like there's still another home [out there] and I don't think I've actually got my dream home yet—but a home that I could actually call mine, that I could design and have fun with. I'm in the process of doing that, and I can't wait for it to be done. It's part of my next targeted goal, which is to showcase my point of view. I think of all the projects, this is the one that's now going to take my business in another direction again.
Do you mean rebranding?
I'm feeling that need. I'm at the five-year mark—even though I launched Halden Interiors publicly in 2018 with the website, the firm has been here for five years, so I'm feeling this kind of five-year itch. I want to redo the website, edit some of the work, add new projects, and ultimately showcase a tour of my home. I'm working on that now.
The other reason we moved was to have the space to accommodate at least myself and two other people to work [out of my] home. But I have to tell you, having had that experience, I don't want that anymore. I feel like the next step for me is to move the office outside of the home. I want to be able to separate the two.
That's a really interesting kind of inflection point to be at.
When you're working with an employee, less is more. Having them see how I live, it's counterproductive in a way, because you're seeing more of my personality as Kesha versus Kesha Franklin, Your Boss. And so I'm taking notes on that.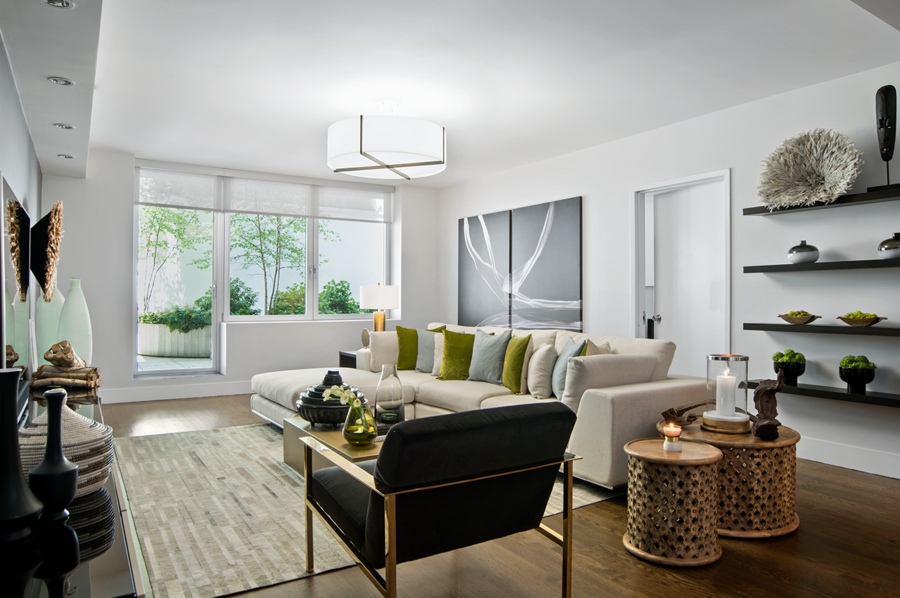 Where do you see the most opportunity to grow?
I've been thinking a lot about that with this whole stay-at-home. It's been a real time of reflection, and with all this surge of new eyes on Black interior designers in particular. I don't know what is next. Is it about more work? Is it about publishing more work? I'm doing these Instagram Lives and I'm getting great feedback from that, so is it more about sharing me? I'm at a crossroads trying to figure out what is needed in order to get to that next level. One thing I've realized is that it has to do a lot with relationships, and I am not strong in that. I'm very personable, but I'm a bit shy, so networking is challenging for me. That, or asking. I know that there are other people like me who just don't like to ask—I don't want to bother, to impose. I don't ever want to show up as an opportunist. So I think in those ways, I probably missed opportunities to grow.
What kinds of opportunities?
I see people who are very forward, like "Listen, this is what I want, this is what I can do, how can we connect? Let me show up! I'll take you out to dinner! Want to meet next week?" And I'm not that girl. I love Jamie Drake, and I've been wanting to build up the courage to ask him out to lunch to pick his brain and ask, What was it? Is it relationships? Is it the work? Is it then getting the work that's tied to the relationship?
So I don't really know the answer to that question about what is next, but as far as the growth, I know I'm ready for it. I'm prepared, but I just don't quite know what ingredients I need to put together in order to really make it happen. I've been doing this for some time now, and I think it is time for another shift.
I think that's so true—that feeling where you just know that you're ready for the next step.
Definitely. Because you know what happens? You start to feel like it's work. And then you start complaining. And I'm at that space, to be honest. There's nothing new and you don't feel challenged—that, to me, is a telltale sign that it's time to shake things up.
You mentioned your Instagram Lives. What made you want to launch the series?
It was a way to do some marketing. 2020 was really going to be my year of marketing. I went to Paris in January for Maison&Objet, which was amazing, and when I got back, I was [supposed to be] one of the designers for the Lenox Hill [Neighborhood House] Spring Gala, and I was also on board for a Hampton [Designer] Showhouse in July. And of course, all these things disappeared.
I saw other designers, as well as people in different industries, showing up on Live, and I was like, I guess I could probably try to do that. My kids would always tell me do to more Instagram Stories, but I wouldn't do it—it just felt so interactive, and I didn't have the time. Also, when I saw Stories with other designers, they were showing a lot of their work process, but I don't desire to do that. I feel like what's happening in my client's home is private; my approach is to show you the pretty side of it—I don't necessarily want to show you the ugly process of the bathroom renovation, but I know that for some designers, that works. That's what gets them the business, is that they're so open.
Why doesn't that work for you?
When I think about my clients, they don't want to see that mess. They want to see it pretty—it's all magic. I felt like if that's the direction I want to go in, then showing this ground-up process just wasn't what I needed to do, so I felt stuck, because then what do I share? When this opportunity [to go live] came up, it felt easier to do because I was just sharing me—and also, I could interview other people, so a lot of the focus wasn't on me. But as I started to do it, I realized that folks seemed to be attracted to me, which I wasn't expecting. I thought that what I needed to do was attract them with a thing, or another person, but everyone is like, "We want you!" That has been really cool. Thinking about my business, how do I leverage that? I don't have the answer yet, but I'm thinking about it.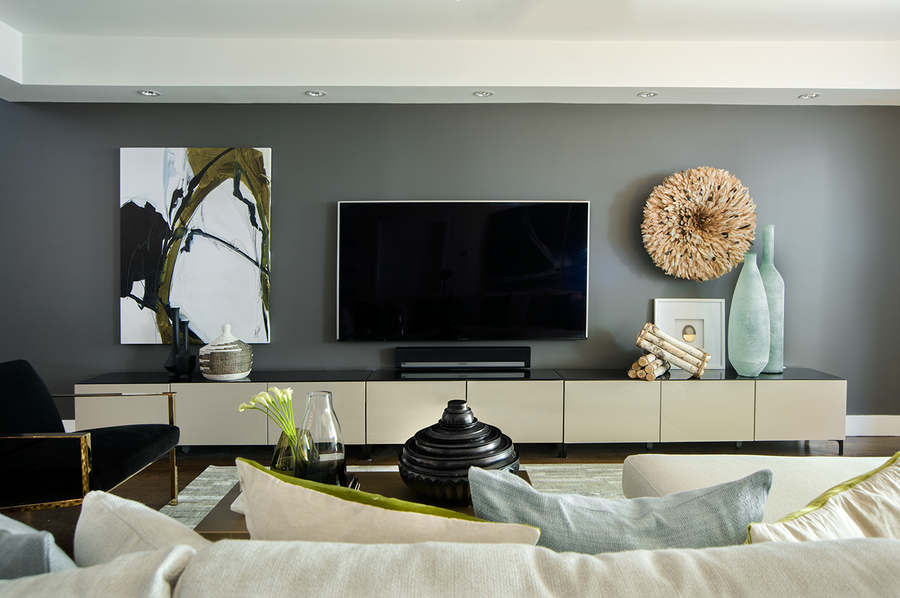 Have these Lives changed the way you're thinking about social media in general?
Oh, 100 percent. Because I was anti-that—it felt like a chore to just put out one post a day. It was like, What am I going to think about today? And then because I'm a little bit OCD, I'm [spending so much time] writing and editing this little post!
I feel like every single one of my Instagram posts takes me an hour of second-guessing myself to get it right.
Exactly! I am the same way!
I can't figure out how to be faster, or care less.
That's it—or care less! But I have to tell you, I think people appreciate when you do care. I think there is something to be said for that, rather than it just being kind of like, wham-bam-thank-you-ma'am. And you can kind of tell, when [people] are posting three or four times a day—yeah, they're getting a lot of likes, but it can sometimes feel a bit thoughtless. I think when you do take the time and your words are intentional—when you're thinking about what to say and how to say it and even, "Does this post make sense for today?" Don't change that—never change that!
But yes, these Lives are making me feel more connected to social media—and making me understand social media [better]. I looked at it like, "They're just being nosy. They just want to be seeing what I'm doing and how I'm doing it." Now I'm really understanding it as a tool of connectivity and branding.
The community of it.
Yes! I'm getting that now, because it's happening to me. And for anyone who felt like I did in the beginning, where it was like, "I've just got to post this picture every day and wait for these likes," it's this: If you engage, you will be engaged.
One funny thing about this series is that I'm often talking to people who don't have a design center they can pop into. But in New York and now in New Jersey, how do you shop and source?
For a long time, I dreaded going to the design centers, especially the D&D Building, because I just never felt welcome there. I didn't feel like I was assisted in the way that I should have been, and so I just never went. I was aware of it, I knew what it was and how it worked, so when I started my business, I knew that's where I needed to be, but it just wasn't a place where I felt that my business was being supported. So instead, I used to do a lot of shopping at retail in the very beginning. As you start to understand the business, you [realize] that's what not to do, because that little 10 percent [discount] they're throwing my way is not benefiting my business—or really, my client, because I'm shopping for things that their neighbor can come by and say, "Oh, I saw that at West Elm!"
I started going to High Point Market, and that's when things changed and expanded for me. I was able to start tapping into how building these vendor relationships was a real asset to my business, and also how they valued the designer. They wanted the business. So that ended up becoming, and still is, my main source for furniture for my projects.
I am now more comfortable and have built relationships within the D&D Building and the New York Design Center, so yes, I do go to those centers and shop, but the amount of resources that I have through going to High Point, it's huge. When I want to touch and feel, and also explore new furniture lines that do come through the center, then yes, I will go there to source—especially when it comes to fabric. I'm not buying fabric online. You cannot do that. So I'm in Romo, Scalamandré, Fabricut, Élitis, and all of that. That I'm definitely in the building for.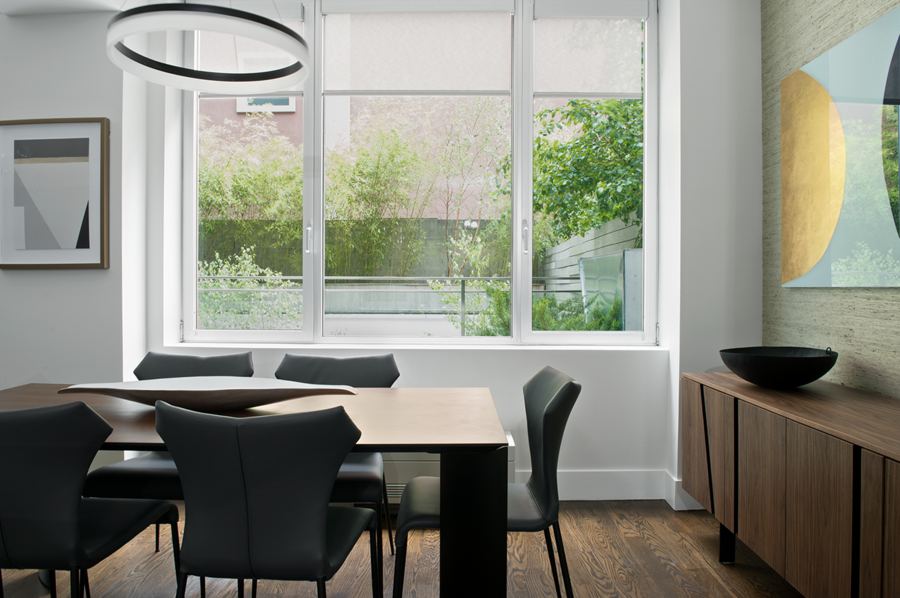 What does the presentation phase of your project look like for your clients? What kind of experience do you give them when you're doing that piece?
I used to do the traditional thing with all the images and fabric samples attached to the board like an arts and crafts project, but now I do digital presentations in InDesign or Photoshop that show the selected pieces for the room, and then I print them out on beautiful photo paper. To support that, we'll have the floor plan, the design concept, and then also a rendering of the space. And then I have beautiful large trays where I place all the materials. What I have learned over the years is that when these items are on the board, you're touching it, but you can't take it off or hold it—and also my memo had to be small because you're trying to get everything on the poster board. Now, I can actually bring in a 12-by-12 memo, so I can lay it out on the couch to give them a feel for what's going on.
How does the rendering help the client along in the journey?
I don't like renderings—I don't. I feel like some clients get very stuck on the rendering, and as a creative, I don't want to be locked into that. When I present the rendering now, even if I'm confident about it, I love it, and it's 85 percent where I'm going, I still say to them, "This is a draft." I use that word a lot. "This is a draft of the room." And in my contract, I have language in there that talks about having flexibility within the creative process so that I have some room to make executive decisions. Some of that would be more in the conceptualizing and the layering of the project—of course I'm not going to be forceful on the sofa or a $20,000 rug. But on the little details—like if I have a lamp in the rendering, but now I bring that lamp in and even though it looks great on paper, I don't think it works in the space, some clients will say, "Oh, but that wasn't in the rendering," or, "I thought you were going to use this."
It's like going shopping and you say, "Give me everything on the mannequin!" But when you get into the dressing room, it's not a one-size-fits-all, right? I use those examples to get my clients to understand that this is still an artistic, creative process, and I need room for that. However, when you're dealing with a client who has a hard time envisioning, the rendering is golden. It literally walks you through the job, because they now see it. So I do use them, but I try to be very clear that this is a draft and some of these elements will change. Not may—they will. I tell the client, "There are three voices here: mine, yours and the home's." Because sometimes it's amazing in the rendering, but when you bring it in, for some reason—it could be the way the light hits it from outside the window, or in proportion to how we place the bed—it just doesn't work. I need room to be able to make those adjustments.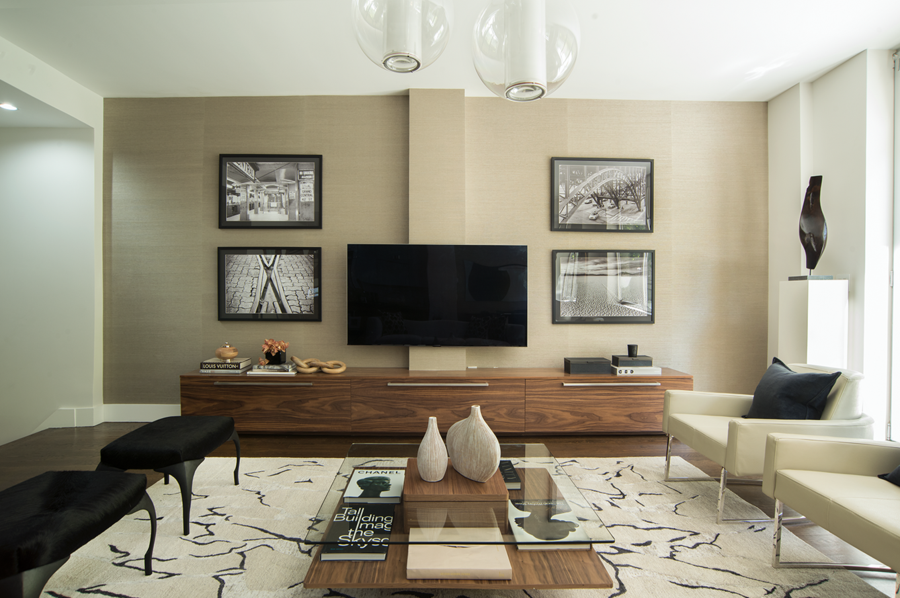 We've talked before about how you'll add that extra layer of things that clients said no to for a photo shoot, and then they want it all after all. Can you tell me a little bit about that?
It's so true. Clients want what they want and they make certain decisions based on their comfort level. They're thinking, "Why would I have a leopard tray?" When you show them these individual items, even if it is in a rendering, it seems frivolous to them. I'll say, "I totally understand," but when I truly think that this is a great piece—that extra touch to really make this thing [special]—I bring in a couple of pieces to stage the project, and I'll say, "Would you like me to leave them here for a few days? I can, and you can sit with it, or we can remove it all and you'll be none the wiser about what went on." Now they're all curious, so the answer is always yes. They're curious to see, "What is she bringing in here that's so fabulous that she didn't think I would want, or that I said no to? Let me see what this thing really looks like." And nine times out of 10, they want it.
When you first said, 'I'm going to pursue interior design,' what is the biggest thing you wish you knew from the start?
And I wish I had known that it wasn't this secretive industry that I assumed it was. I wish that I had felt confident to reach out, seek help, and get advice earlier on. I think I would have avoided a lot of pitfalls if I had had a helping hand, so I wish I had known that the industry would have welcomed me and given me some guidance. It has been great to realize that it is there, and I have been able to lean on the industry in that way.
When did you first feel that sense of community?
There were moments before, but a big moment was in 2014. Danielle Colding had recently won HGTV's Design Star, and I was a huge fan—out of everything that I watched on HGTV, those episodes with her, I made my husband watch every single one. I was rooting for her and so excited when she won. My husband is a DJ, and one night when he was working at a party, she was there. The way that they both tell the story is that he did like a double-take and was like, "Aren't you—you're the design winner, right?" And she's a fan of his work, so she's like, "Hi, yes! You know me?" She gave him her number to give to me and we spoke. Maybe a month after we had chatted, she extended an invitation to me to meet at a rooftop lounge in the city. It was about a dozen interior designers and a couple of editors from the Hearst Magazines. That was where I met Joy Moyler, Beth Diana Smith, Yetta Banks—it was a real turning point, because from that one gathering, many others came after that.
That's so great. When you give advice to up-and-coming designers now, what do you tell them?
Keep the passion. I think that's the one thing about this industry—you have to continue to keep that passion burning, because it can quickly start to feel empty. It can feel shallow in some ways. I hear people who are in the fashion industry say this a lot too. Because ... we're not performing open heart surgery, you know?
Is it a sense of, 'What is this for?'
Yes! 100 percent. I was talking with Sheila Bridges one time and she's like, "I just wanted to be like, 'It's just a lamp!'" It's true: You can have a client literally stress you out for two days over a lamp, and you start to feel like, Are you kidding me? What am I doing here? But the reality is that in every project, there are those moments—it happens in every single project. An exercise that I do when I get to this place, I say to myself, Why did we want to do this, Kesha? Honestly, I'll actually turn HGTV on. The one big difference with it is that it doesn't give me the same excitement, because HGTV now is very DIY—it's not Candice Olson or Vern Yip or Genevieve Gorder transforming beautiful homes.
Plus, you know just how hard they're working when the camera's not rolling. Yes, exactly. So it's not the same, but I will fill up on some of that to get the excitement back. One of the things that I would say is true for every designer—I don't care whether you're just starting out or you're seasoned and you've been in the business for 30 years—is that there's nothing like when that client walks into the home and gasps. You're like, Yes! It's your home run, your dunk shot. So watching [HGTV reveals] and going back to that feeling [helps me] say, OK, Kesha, this is why. Yes, it's a lot of work. Yes, they're driving you crazy. Yes, the dresser came and it's broken again. But the end goal is to get that "Oh, my God, I love it!" from the client. That's what I try to hold on to when things get a little rough.
To learn more about Kesha Franklin, visit her website or find her on Instagram.