Like many a design journalist, Elle Decor editor in chief Asad Syrkett studied architecture in college before realizing he was more interested in writing about finished buildings than grinding out schematics and filing permits to get them built. "A lot of architects love being a part of that process, and I really was pretty finished-product oriented," he tells host Dennis Scully on the latest episode of the Business of Home podcast. "[I was] thinking about how buildings expressed someone's specific vision for the world they were hoping to be part of."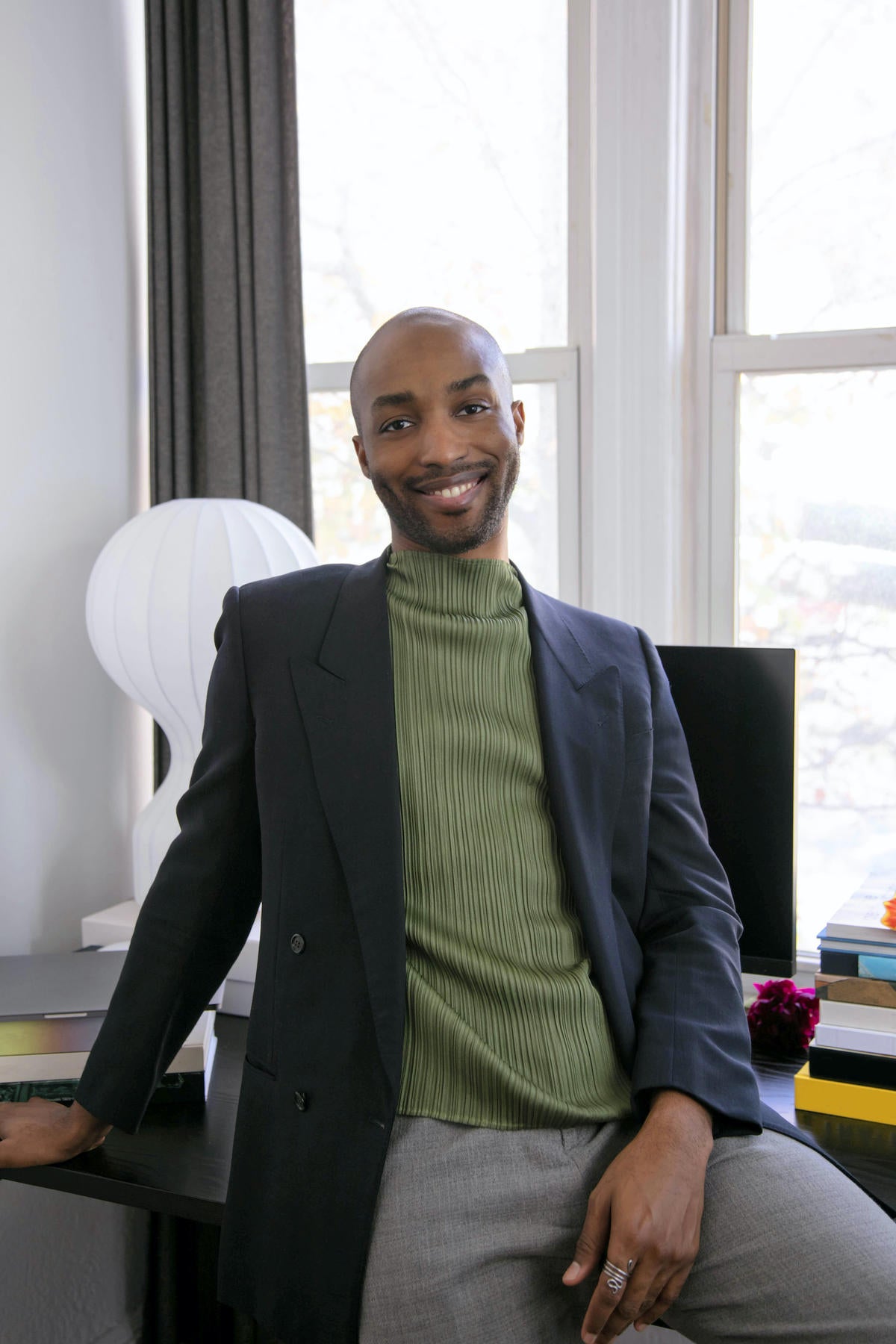 Syrkett's studies led to a job at Architectural Record, then Architectural Digest, then Curbed. He took a brief detour into the brand side, working for (fellow BOH podcast alum) Petrus Palmér's furniture company Hem, but it didn't stick.
"I did not like being away from editorial," says Syrkett. "There was so much about being in business development that I enjoyed … but I really missed the ability to tell design stories beyond just the single brand." Last year, a few months after the departure of former Elle Decor editor in chief Whitney Robinson, opportunity knocked. Syrkett got an email from Town & Country editor in chief Stellene Volandes, who also became editorial director of Elle Decor after Robinson's departure.
The subject line? Talking about Elle Decor. "I was like, Ohhh?" says Syrkett.
The opportunity came in the thick of a troubled moment. It was Memorial Day weekend, directly before the police killing of George Floyd ignited nationwide protests and kicked off a national reckoning on race in all corners of American life. "Decorating and design didn't feel urgent when we watched someone murdered on camera," says Syrkett. However, the raw, searching conversations about race in the weeks and months to come helped fuel his vision for a fully engaged, plugged-in Elle Decor.
"[The protests] didn't necessarily change what I think about my own role at [the magazine], but they definitely created some momentum, and that, to me, is such fertile territory because it means people are primed to join a conversation that has been going on for quite some time," he says.
Syrkett joined Elle Decor last fall, but the first issue he supervised, cover to cover, just hit newsstands. It is indeed a conversation starter—alongside the glamour, beauty and dazzle one would expect from a glossy shelter magazine, there are a number of pieces that explore the political and racial implications of design and decoration. For starters, there's the illustrated second cover, a reimagining of Nancy Lancaster's iconic Yellow Room by artist Rachelle Baker that was inspired by Syrkett's shock at seeing blackamoor tables in a photograph of the room on the cover of a well-known design magazine.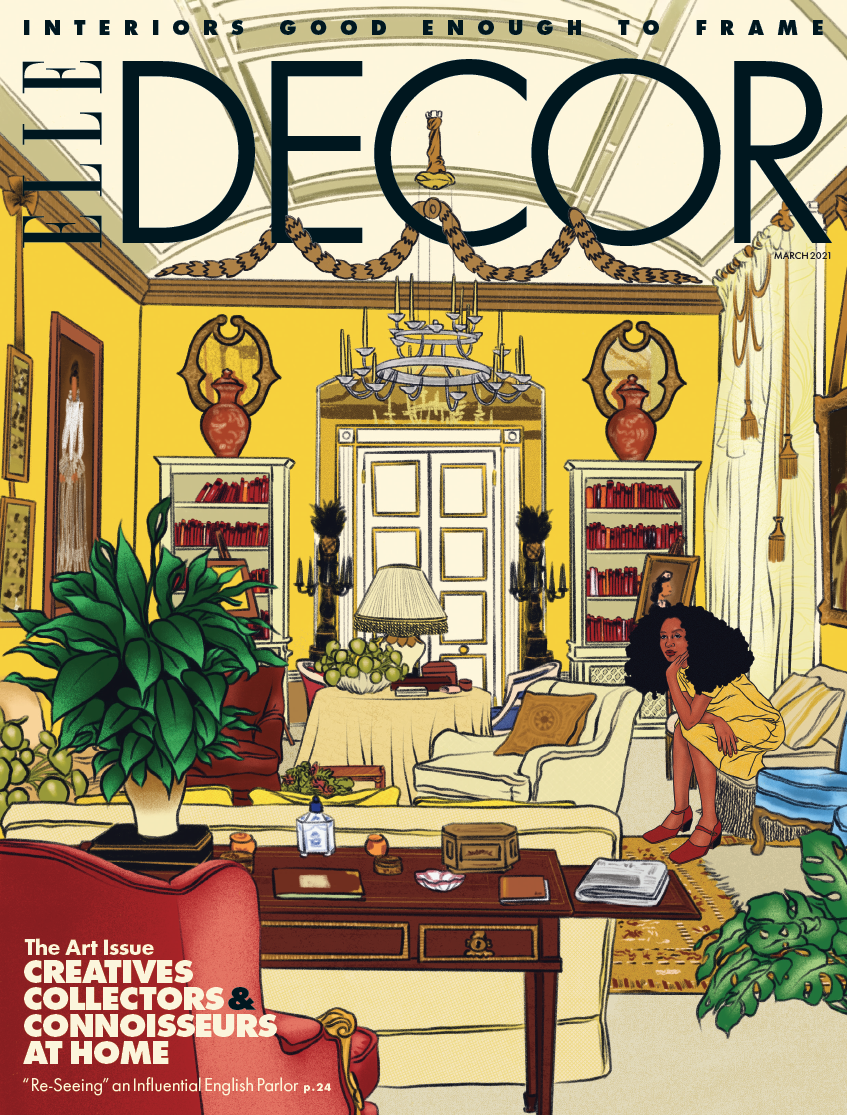 "It took my breath away to see them. I mean, I've seen them in many other places as a student of architectural history, but when I saw them on the cover of a decorating magazine, it reminded me that … architecture is so often a tool for folks who want to express their power or their dominance. I think decorating is the same thing," says Syrkett. "These tables were such a relic of thinking about what power is and power over human bodies. And that ... was a conversation I wanted to start right away." (In Baker's illustration, the tables are replaced by a Black woman, sitting, gazing directly at the viewer.)
Baker's illustration and a powerful essay by poet Caroline Randall Williams about inheriting a collection of furniture from great-grandparents who survived the Jim Crow era appear in the issue alongside features on art collectors' homes and a glammed-out piece on powder rooms. It's a mix that Syrkett hopes will provoke interesting conversations alongside decorating inspiration and (of course) shopping.
"This is not about calling people out. ... When I think about tone, when I think about how I want to go about starting this conversation, I do want there to be a bit of friction and challenge in it. It's going to be a little uncomfortable—but I also want people to feel like I'm inviting them to have the conversation with me," says Syrkett. "[When people think of Elle Decor], I want them to say, 'That's the brand that's having fun talking about decorating and design in ways that are about the industry and about what's happening in the design world but also what's happening and what's out in the world."
"If you're not ruffling any feathers," he adds, "you're probably not doing what the moment deserves."
This episode was sponsored by The Shade Store and SideDoor. Below, listen to the episode. If you like what you hear, subscribe on Apple Podcasts or Spotify.
Homepage photo: Asad Syrkett | Naima Green