Hearst Magazines announced this morning that Whitney Robinson is stepping down as editor in chief of Elle Decor. The news marks the end of a nearly three-year tenure at the top of the masthead. According to a company spokesperson, Robinson is leaving to focus on his design consulting business, DW NorthStar, and the launch of a new industry organization, the Council of Interior Designers of America. He will also remain a contributing editor for Elle Decor.
Though a replacement has not yet been named, the move brings some reshuffling at Hearst. Stellene Volandes, currently editor in chief of Town & Country, will see her role expanded to include oversight of Elle Decor as the title's new editorial director. Robinson's replacement will report to her.
Robinson began his career at Hearst, joining House Beautiful in 2005. Over the next decade, he occupied various roles at the publishing conglomerate's titles, before leaving to launch an arts and culture website in Qatar. Eventually, he found his way back to Hearst Tower as style director at Town & Country before replacing Michael Boodro as editor in chief of Elle Decor in July 2017.
Robinson's time at the top can be summed up in one word: more. Under his leadership, Elle Decor covered a wider range of subjects more deeply, including travel, watches and culture. Robinson also oversaw the expansion of the magazine's annual A-List compendium to include a new high of 151 designers—and last year, for the first time, the list included more women than men. In the magazine's pages, as host of a Bravo design show, and on his own globe-trotting Instagram, Robinson took an everything-all-the-time approach to his stint as editor in chief.
"Lifestyle has become sort of a dirty word, and I don't know why. We know this from our own personal lives. What's the difference between the elements of a stylish life? You want delicious food, you want to entertain for friends, you want to [vacation well]. All that is, for me, endemic to the Elle Decor reader," he told Business of Home in 2017. "That's the job of a magazine in the 21st century: to take all the incredible things out there and give it a [point of view]. Design, interiors, architecture, but also in food, travel, et cetera."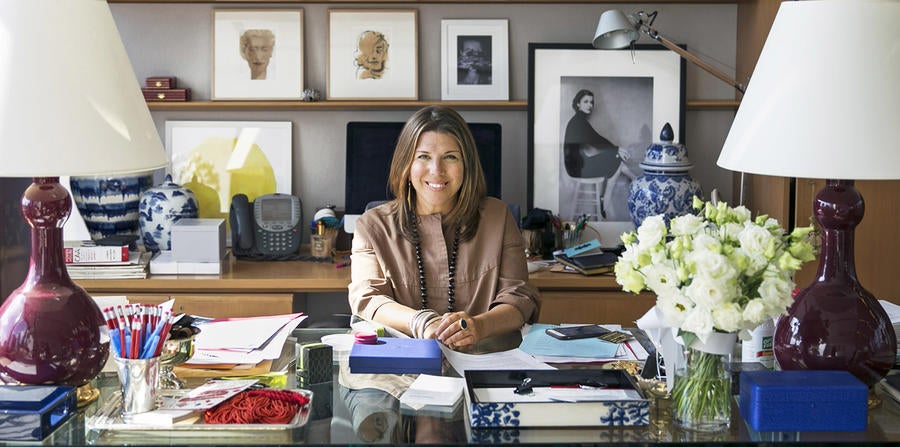 After stints at Vogue and Departures, Volandes joined Town & Country in 2011 covering jewelry and accessories. In 2016, she was promoted to editor in chief, replacing Jay Fielden, who had been tapped to helm another Hearst title, Esquire.
"Town & Country and Elle Decor share a mission of searching the world for the best of the best for their readers, a quest I've been on for most of my editorial career," says Volandes. "I look forward to continuing this tradition of rich storytelling and sumptuous visuals as I proudly lead these two brands into the future."
Homepage photo: Whitney Robinson | Courtesy of Elle Decor