Like all interior designers, Alessandra Branca is mostly known for work in visual mediums—in her case, rooms full of vibrant colors, buoyant patterns and a winkingly playful mix of old and new. As it turns out, Branca is quick with a clever turn of phrase as well. As she tells host Dennis Scully on the latest episode of the Business of Home podcast, launching a new brand and e-commerce platform in the thick of a pandemic is like being out in the middle of the ocean on a little dinghy. How, pray tell, has she managed? "You learn to paddle very quickly."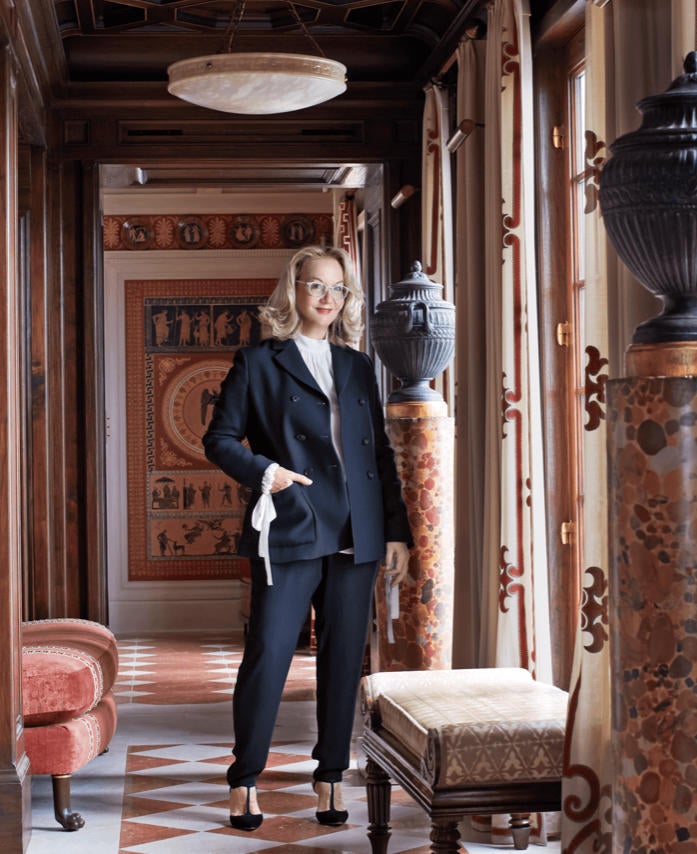 The brand in question is Casa Branca, a collection of mostly fabrics and wallpapers (though the line also includes tabletop, accessories and even a few vintage finds) that the designer is selling through an e-commerce platform. The digital part of the business, self-funded and helmed by Branca's son, is something a little new. But the underlying impulse goes back to the beginnings of her career, when she ran a shop before starting her design business.
"When I work with individuals [as a designer] I love it, but there's something about testing your ideas on a larger group of people. I like that in a store—within limits obviously. I'm not going to be Ikea, I can't be for everyone—but in a smaller measure you can make more people happy."
To that point, Branca, who is based in Chicago, is certainly not planning to rival Ikea, or even the smaller design retail brands: She has plans to open a shop in Palm Beach and one in Los Angeles, but the goal behind Casa Branca is to bring a unique voice to the market, not conquer it by force.
"When you go to certain design stores, they've been zeroed out. Everything's been sort of common denominatored, everything's been beiged out, it's all safe," she says. "Well you know what? I'm not worried about being safe, I'm happy having a point of view, and I'm happy to offer that to people. The Serena & Lilys, the Crate & Barrels, the Restoration Hardwares—they're all practical, wonderful stores; they serve a purpose, but I don't go in and feel inspired. … We're like a wonderful little boutique in Rome—you have to kind of be in the know to go to Casa Branca."
In conversation with Scully, Branca shares the inspiration behind the brand as well as lessons learned from a storied career in design. Listen to the episode and check out some takeaways below. If you like what you hear, subscribe to the podcast here. This episode was sponsored by Chairish and Universal Furniture.
Designing for designers
As a designer, Branca was mindful of how to structure Casa Branca in a way that would support her peers. What does that mean? Mainly, more service, less marketing. "[Designers] are your client as much as anybody else is," she says. "We have vendors that don't return calls for three weeks—it's crazy! You can't do that. We support these souls, we support them every way we can. … What's all the marketing in the world worth if you can't take care of [customers] when they show up?"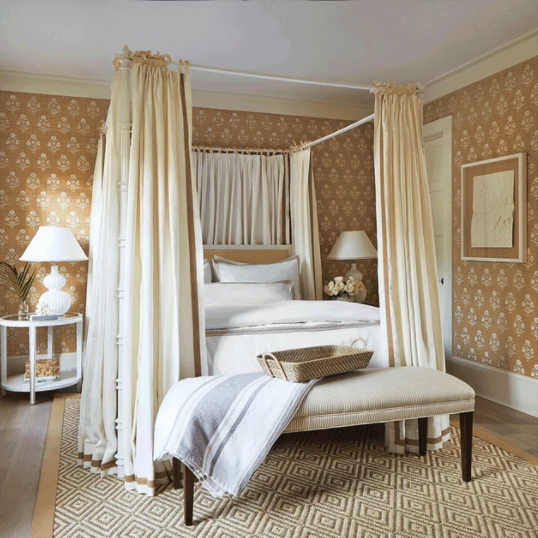 Slow down
On the design side of her business, Branca counts the only silver lining of the pandemic to be an enforced slowdown (in 2019, she took over 200 flights). Going forward, she's hoping to maintain the new pace, take it easy, and work on only the best projects—a philosophy she's passing on to young designers she mentors: "You don't have to do more projects, you just need good ones. You can do four incredible projects and you've done more than you need to. Really, it's a race to what? Where are we going so fast?"
Know your references
A pet peeve of Branca's: Designers who draw on their references in a shallow, smash-and-grab fashion. "Let's say you have a wonderful old-master painting and you've seen a photo of a photo of the magazine in which it was printed. … It's like the telephone game and you're supposed to understand the works of Caravaggio from that image. Well that's not Caravaggio. Caravaggio is standing in front of Caravaggio and understanding not only who he was, the time in which he painted, the context in which he worked, who commissioned it, how it influenced the art of its time, and how in turn it might affect you and influence you. That is proper referencing. It's experiencing what you are influenced by. When I speak of Caravaggio, I am speaking of Caravaggio. I have gone to see his paintings everywhere I could. It's a part of me, I get it."
Homepage photo: Courtesy of Casa Branca