The 50 States Project is a yearlong series of candid conversations with interior designers, state by state, about how they've built their businesses. Today, we're chatting with Dublin, Ohio–based Julie Paulino, founder of Julie Paulino Design, about finding clients and community through local cultural events, how she found her confidence as a designer, and the role of her blog as a portfolio builder and early digital design destination.
What made you want to become a designer?
I think it started when I was child, though of course I didn't know it back then. I remember that my mom had very nice midcentury furniture, and my aunt had nice furniture upholstered in chintz. I think I absorbed those things—and coming from the Dominican Republic, there is that influence: shingled homes, jute and rattan. I was also always fascinated by any kind of home improvement, but I grew up not knowing how I could make that interest into a career; it wasn't until we moved to New York when I was 12 that I considered being an architect. After graduating high school, I [enrolled] in the Bernard and Anne Spitzer School of Architecture [at The City College of New York]—but then after doubt and fear [crept in], I switched to international business.
What were the doubts?
I just didn't think I could become an architect—I felt like it was a career for men or people who were wealthy—people [with] a social circle that would help them get business.
Like your career needed to be based on the people you know?
Exactly—getting clients through connections. All this doubt made me switch careers.
What helped you pivot back towards design?
I was inspired by my mom. After she retired, she opened a vintage furniture store. I eventually opened an outpost in Connecticut, where I sold unique midcentury furniture. That was back in 2006 and 2007, right before the recession. Between buying at auctions and experiencing midcentury design, I started blogging. When I founded my blog, Belle Vivir, it was actually one of the first design blogs in New York after Apartment Therapy—can you believe it?
That's amazing!
I couldn't believe it myself when I was calculating it the other day—I was thinking, Wow, I can't believe that I had that vision. I have to give some of the credit to my husband, who was my fiancé at that point. I had no idea what a blog was, but he told me, "Why don't you try it and see what happens?"
Who did you look to when you were starting the blog?
There were really not many blogs back then, other than Apartment Therapy and Design*Sponge out of Brooklyn.
Courtesy of Julie Paulino Design
What did you want the blog to be? What was the inspiration or mission?
To be honest, I had no idea what direction I wanted to go, I just wanted to share some of the designs I liked, some of my aesthetic, and eventually it became an example of my learning curve—it has grown along with me. Sometimes I think I'll always be a blogger, and sometimes I feel like it's time to focus on bigger things, but it's an extension of my brand, it's a journal, and a part of my portfolio.
Did the blog help you launch the design firm?
I started the firm in 2010, a few years after I started blogging. The blog gave me a more direct, focused understanding of my design taste and helped me hone my aesthetic. It also helped me to be more confident, to push myself and understand that this was something that I could do, [which ultimately led me to go] to Parsons School of Design and study interior design and art history.
What was going to Parsons like?
It was very different. I was experiencing design from a very naive perspective, by going to auctions and things like that. Exchanging ideas with professors and like-minded people in classes was a completely different thing.
Did that shape your approach?
It helped me narrow down my design ideas and be more confident. It gave me the basic, fundamental principles to create something and combine those things, like the modern aesthetic and timeless, classic design. It also helped me [learn to] create drafts, 3D drawing, and three-point perspective, which I did not have before. So it gave me more of a professional selling point.
When did you relocate to Ohio?
I stopped my career for five years while we were living overseas and I was raising our newborn. And then three years ago, in 2017, we relocated to Ohio.
What was it like to restart your business in a new location?
It's been hard, to say the least—especially in an area of the country where people have a different idea of interior design. They do not have a culture of interior design as much as in New York or Los Angeles, so it's been difficult to introduce myself. I've been exceptionally lucky, because I was able to find clients who trusted me to do everything from remodeling to decorating after a year. It's been quite challenging, but it's also been really rewarding.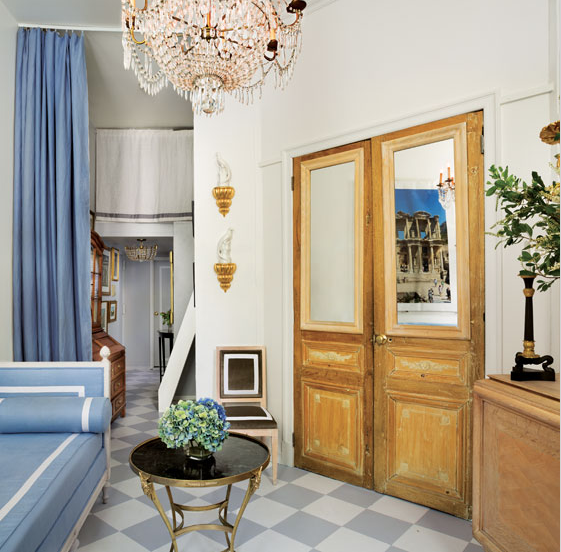 Courtesy of Julie Paulino Design
How did those clients find you?
Mostly word of mouth.
So you've been building your network slowly?
Slowly, yes. For me, it's very difficult to network. I wouldn't say I'm a shy person, but I'm an introvert and it's hard to [self-promote]. But I make an effort to participate in many cultural events. I'm part the Columbus Museum of Art Women's Board, and we do a lot of events and volunteering, so that way I have met a lot of very valuable clients, friends, and people who have gotten to know me and recommended me. That's how I've been able to introduce myself effectively.
Just by getting involved in the community?
Yes, I've been trying to give back [through] art and design. There's not much diversity around here, so as the Latin woman that I am, it's been challenging. A neighbor might feel more comfortable hiring someone they know from childhood or someone that looks more like them than hiring me.
Have you felt that lack of diversity has kind of held you back, then?
Oh, absolutely, yes. I think it's been a lot more difficult for me for that reason. It's also [related to] the fact that they don't really use much interior design here. I'm located in Dublin, Ohio, which is about 20 minutes from Columbus. It's a very nice residential area, with big homes and greenery. The housing market has been good, but people are more prone to hire contractors or handymen whose only sources are Home Depot or Lowe's, and they feel comfortable with it because that's what they know. That's what they've been doing, that's what their parents were doing, and as long as they're comfortable and their home is maintained, they're OK with it.
The culture [is more about] having big homes and driving expensive cars and [less about] the aesthetic and interior design aspect. Like, the farthest that most [locals] would go is probably to furnish their homes from RH, and that's what they do instead of hiring a designer that can offer them something exclusively customizable and for themselves, you know? I think they probably don't know [it's an option].
How do you have those conversations with new clients, helping to kind of open their world?
I think it starts with letting them know that they will have access to sources that they don't have here. There is only one local showroom that offers a few pieces of furniture. It's not like New York or Chicago, where you have two or three design buildings. Here it's very difficult to sell that concept. I think it's about letting them know the value that you're adding with designer-sourced furniture and your portfolio, your experience and taste. I think it is a new idea here, since they used to fill their homes with Pottery Barn and Crate & Barrel, which is not bad, but not the same as the pieces I would provide for them. I think it's about [expanding the awareness and] understanding of all the possibilities that interior design can bring.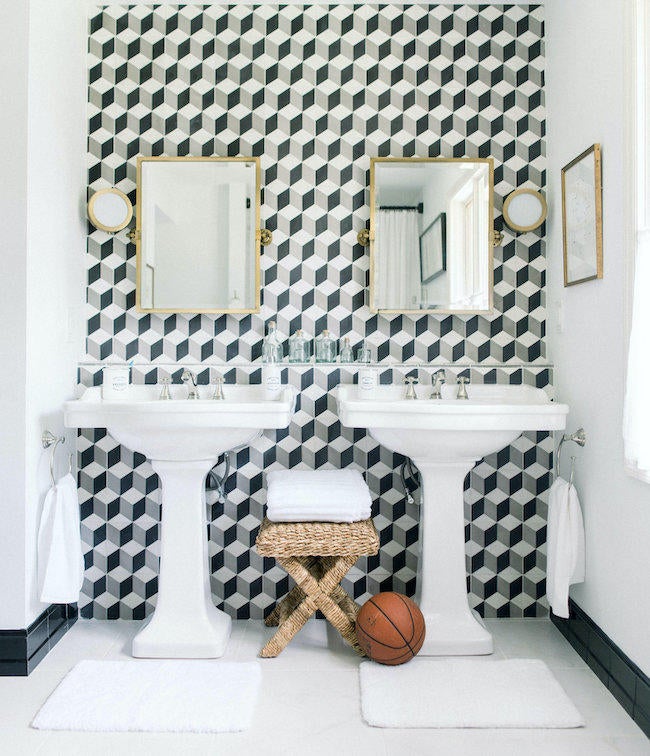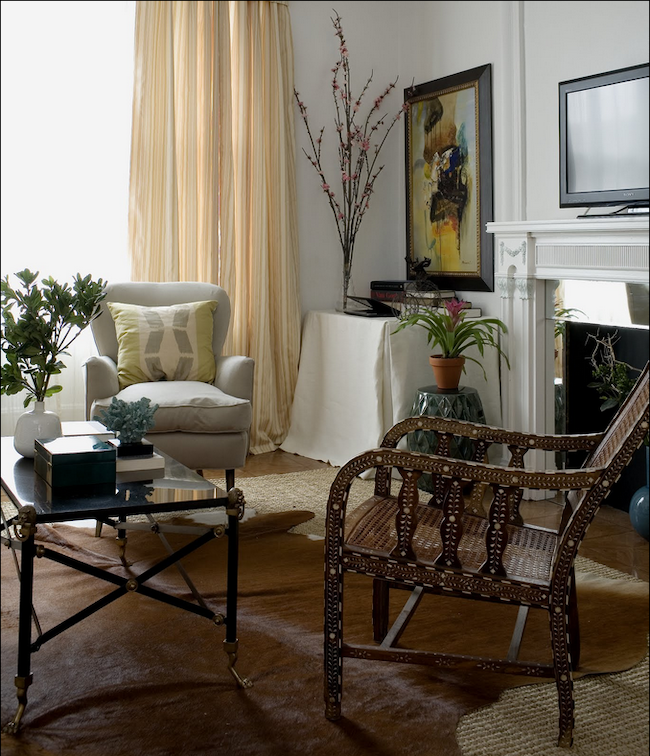 You mentioned that there aren't many nearby showrooms—how do you shop?
I'm lucky because I go to New York a lot, so I go to the D&D Building and the New York Design Center. We travel a lot to Chicago, as well, which is only a five-hour drive away, so I'll also go to the Mart.
That means clients are buying pieces that they haven't seen, that they can't sit in. How do you help them understand the quality they're buying?
It certainly helps if there's a store that they can go to. Many of them travel, so they can go to Chicago and I can advise them to go to a certain store and try a certain piece of furniture. But I also think they have to take the designer's word for it and trust you. The measurements of a piece of furniture can also explain a lot about the comfort. If you have a piece of furniture that is a certain width and depth and you find that it's comfortable, then I can look for something that would emulate that type of measurement but in a different design, and they will better understand the comfort.
How many projects are you typically working on at one time?
Right now, I have three ongoing. I'm also starting a new online concept store with my husband, called Julie and Ev, based on the principles of living a conscious life, selling a globally curated selection of home decor, tabletop, and fashion accessories for a conscious buyer. It's a concept that was born from our travels and our passion for good craftsmanship.
How have you found your vendors?
I found them through trade shows, all of my travels—and believe it or not, Instagram. I've always admired those high-profile people who have the platform to make a difference and give back, and this is our small way of trying to do that. We are also giving 10 percent of the profits to a [charitable] organization of the customer's choice.
Does this replace your design business, or is it a complement to it?
It's going to be a complement—and eventually I'm also planning to sell things designed by me. I love designing objects. When I was overseas, I created a couture jewelry line, and I'm a big fan of designing things that are unique, well-made, and sustainably sourced. So that's something I'll be incorporating into the online store.
Do you see the store opening a physical location, or is it an online-only initiative?
Before COVID I would have thought of opening a physical store, especially in a place where there's a need for it. But after COVID, I think that life has changed and people are more interested in buying online than ever before.
What does your team look like?
I'm an entrepreneur at heart, but I have used freelancers for bookkeeping and help with the design and development of my website. But I've been doing all my own sourcing and I'm basically the one designing the whole concept. I did start working with a virtual assistant about seven months ago.
What is working with a virtual assistant like?
It's a learning curve, like everything in life. Because she is virtual, the communication is more strict and limited. She helps me outsource for pieces and fabrics. I'm not such a good business manager, so she takes that role and helps me keep things on track and reminds me of things I need to do for each project—kind of like a project manager.
That's such a great solution for someone who's running a firm on their own.
It is. And now, with this situation where we're spending more time inside, I think it's a great way to also provide business to other people that need it. She works for me about three, four hours a day.
If you were starting your design business now, what would you do differently?
I would try to get a mentor. I would reach out, not be shy, and try to get as many recommendations as possible for what to do and how to do it—to be more prepared for the obstacles and the difficulties.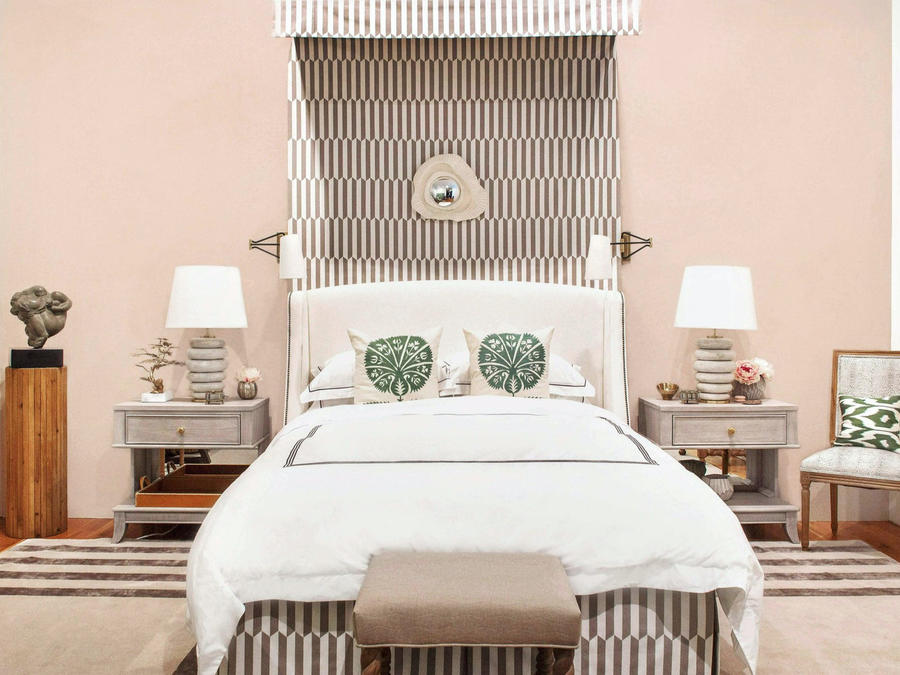 Courtesy of Julie Paulino Design
How have you approached billing and money conversations with clients?
That's probably been the most difficult part of my learning curve. I didn't have a mentor or anyone who I could ask these business-related questions, so it took me a lot of falls to learn. I'm sure that on many occasions I undercharged for my effort, and it's something that I'm still trying to understand. A lot of it depends on location—I can't charge here what I could charge in New York, and vice versa. People probably won't believe this, but labor here is more expensive than in New York. There are so many suppliers in New Jersey that you can find all kinds of price ranges for labor and still find good quality. So it's been difficult to figure that out—adapting to where I am and trying to not overcharge, but also not undercharge. One thing that clients always get is a great price for my sources, because I pass on a good portion of that discount.
Has that been important for clients to know that they're getting access to that discount?
Absolutely. And not only the discount, but the access to the source—the type of good fabric, good furniture, good craftsmanship. That makes a big difference.
Do you bill for your time or a flat fee? How do you make sure you're charging for the value you bring?
I charge in three different ways—I charge per hour, I charge a markup, and I also charge a design fee. It's been a little difficult here to explain to clients why I have to charge for the design fee, because how can you put a price on it? Because they don't understand it until they see the result, and even when they do, you risk that they don't understand and say, "OK, but I could have done that," even though they know they couldn't have.
So it's difficult to charge the design fee, but I always try to, because it's [the value] you're bringing. You're bringing that concept and vision that your experience has given you the power to realize—your time and effort and taste, which you curate throughout your life. It has cost me a lot of time to do that, to travel and hone that taste through studies and blogging and starting my own firm. It's difficult to get that across and make them understand, but eventually they get it.
I love that.
But I try not to charge [at] a fixed price, because there are always things that come up you don't anticipate, so it's very difficult to plan and say, "OK, this will take 13 hours," because those 13 hours can [easily] become 20 or 25 hours when there are complications.
I am such a fan of the design fee, but I can see how that could be a really crazy concept to someone who hasn't hired a designer before.
Absolutely. Here on this side of the country, you have to really earn it.
What do those conversations look like?
It starts with getting to know each other and answering their questions logically, being honest and clarifying upfront that you're not doing this as a hobby. This is your career, this is your job, and if you're spending time away from your family, you want to make it worth it and you're bringing a lot to the table. You're bringing something that they cannot do themselves—that's why they're reaching out to you. So respectfully, you let them know everything you're bringing and why it's an investment. You're adding value to their home, you're adding value to the way they live. And that's important, especially nowadays, when we're spending so much time inside and it's all you have. Home is all you know.
Have those conversations changed since the onset of COVID?
Yes. Many people are saying more than before that it's important to have a comfortable sofa, it's important to have everything you need in your home office, a comfortable office chair, everything. A good bed. They understand completely—this has probably helped the industry more than you would expect, sadly.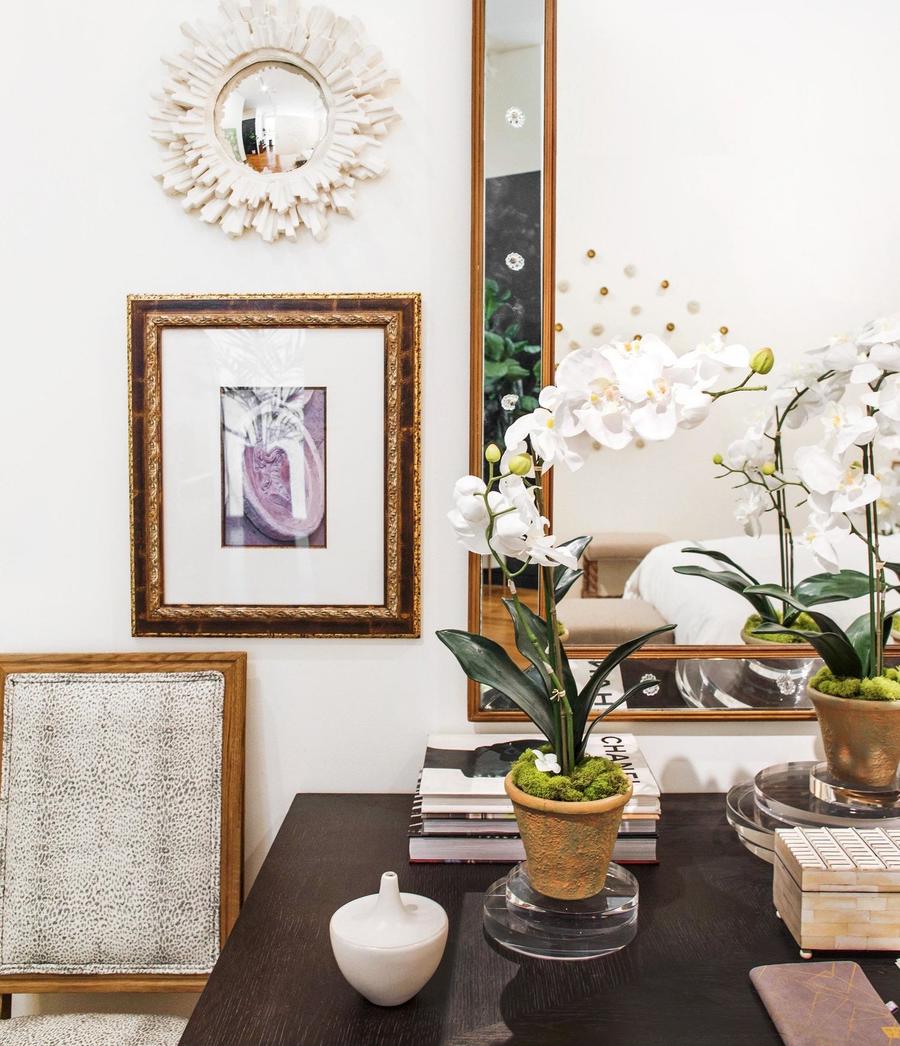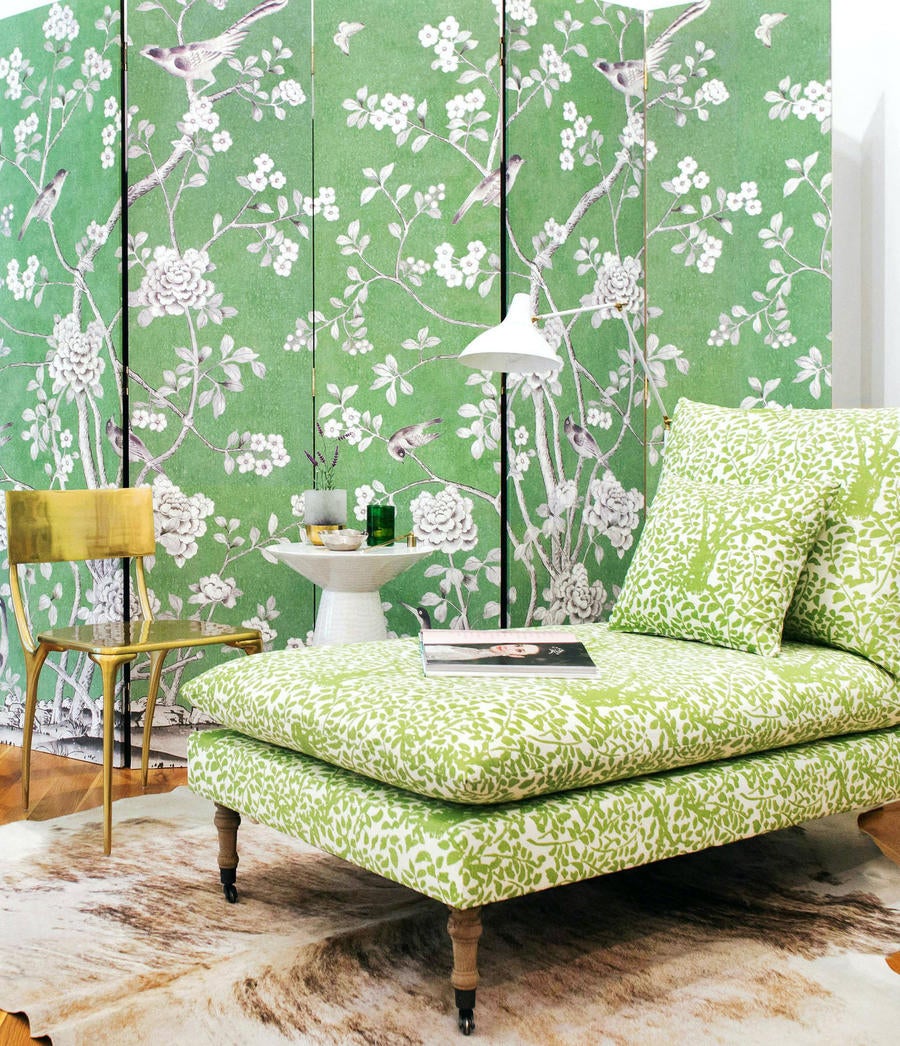 What's the role of your blog today?
It's an extension of my portfolio, my brand. It helps me curate my eye, it has helped me hone my aesthetic, it has helped me be more concise—it's like a journal of my growth. Lately, I'm not blogging that often, because I've been working on a project that has been taking most of my time. When I started, I blogged every day, and then it went down to two or three times a week. When I was [living abroad and raising my baby], I stopped blogging, since I wanted to immerse myself in the culture and enjoy it. I didn't want the blog to take away from my experience. But since I came back, I've resumed blogging maybe three times a week.
Would you still start the blog today?
Oh, my God, when I started in 2006, it was so much easier. There are so many blogs now—millions! It would be extremely challenging to start a blog today. My blog is very established—that's probably why it's so hard for me to let it go, and I'll always come back to it. But I wouldn't start a blog today, no.
You post a lot of vintage images, which I love.
Last week, someone perfectly described the blog as something between The World of Interiors and Elle Decor. I'd never thought of it that way, but I think it's very true, and it's because I have always been true to my love for timeless interiors with global sensibility. I love interiors that reflect a cultural element. Where you've been, who you are, different cultures, international, cosmopolitan—those aspects of interior design, I love. And I think the blog reflects it.
In this moment, what keeps you inspired?
Traveling has been my biggest inspiration. It can be hard to be an expat, but those years that I was away, nothing taught me more than the experience of getting to know different cultures, architecture and landscaping. It's remarkable to travel, there's nothing like it. But right now, I think Instagram is a big source of inspiration, because it's become a way of traveling in itself. It has opened doors in many different ways; it has helped me find sources for the store and make connections with local craftspeople. It's unbelievable, actually. That's the only social media I use.
What is your approach to social media for your business?
Ah, it's really difficult. I love it for the discovery side of it, but I don't love it for the business side. I find it a little bit difficult and even intimidating. If I could, I wouldn't even use it for networking—but I think it's a necessity, even if we don't like it. That, I think, is probably going to be the way of doing business.
To learn more about Julie Paulino, visit her website, check out her blog, or find her on Instagram.