The Hamptons have always been a beachside satellite of New York, a place where city dwellers can escape, relax and spend money. Because it is geographically more condensed than many other resort destinations, nestled in a small stretch at the tip of Long Island, it has become a fertile testing ground for brands big and small. For those with a large following and major name recognition, it's a chance to position themselves close to an affluent market. For burgeoning brands, it's an opportunity to usher those same affluent customers in on the ground floor, familiarizing them with a particular product and ethos early on.
What makes an outpost on Long Island's glamorous East End different from, say, a storefront in SoHo? Christina Bryant, founder of home and lifestyle brand St. Frank, attributes it to a vacation mindset. "We have a large customer base in New York, but our average shopper is in their 30s or 40s, and they don't have as much time to spend shopping in-store," she says. "But that totally changes when they're in the Hamptons. Suddenly, the client that's primarily an online shopper or spends a few minutes in your Manhattan storefront has time to really shop and engage with the brand in a leisurely way." It's the same clientele in a more relaxed circumstance.
St. Frank has done three seasonal pop-ups in East Hampton in the past five years, and was planning a fourth in 2020 before pulling out due to the pandemic. Because the Hamptons are primarily a vacation destination, the customer demographic tends to be multigenerational. "You'll get a woman in her 30s who is familiar with our brand, but she's with her mother and kids as well," says Bryant. "That opportunity to speak to multiple customers at once is unique to a resort location like the Hamptons."
For home brand Snowe, the primary appeal of a location in Southampton was that its clients were already there. "We had people coming into our Flatiron location in Manhattan telling us that they were buying things to take to their second home in the Hamptons, as well as designers calling in product to stock client beach houses," says Snowe co-founder Andrés Modak. "After hearing that sort of thing for a few years, we knew it made sense to open a store out there." Snowe launched its Southampton outpost in 2019, planned as a permanent addition to its brick-and-mortar roster, but the space ended up closing in March 2020 due to COVID. Modak says he's considering reopening a Hamptons location in 2022.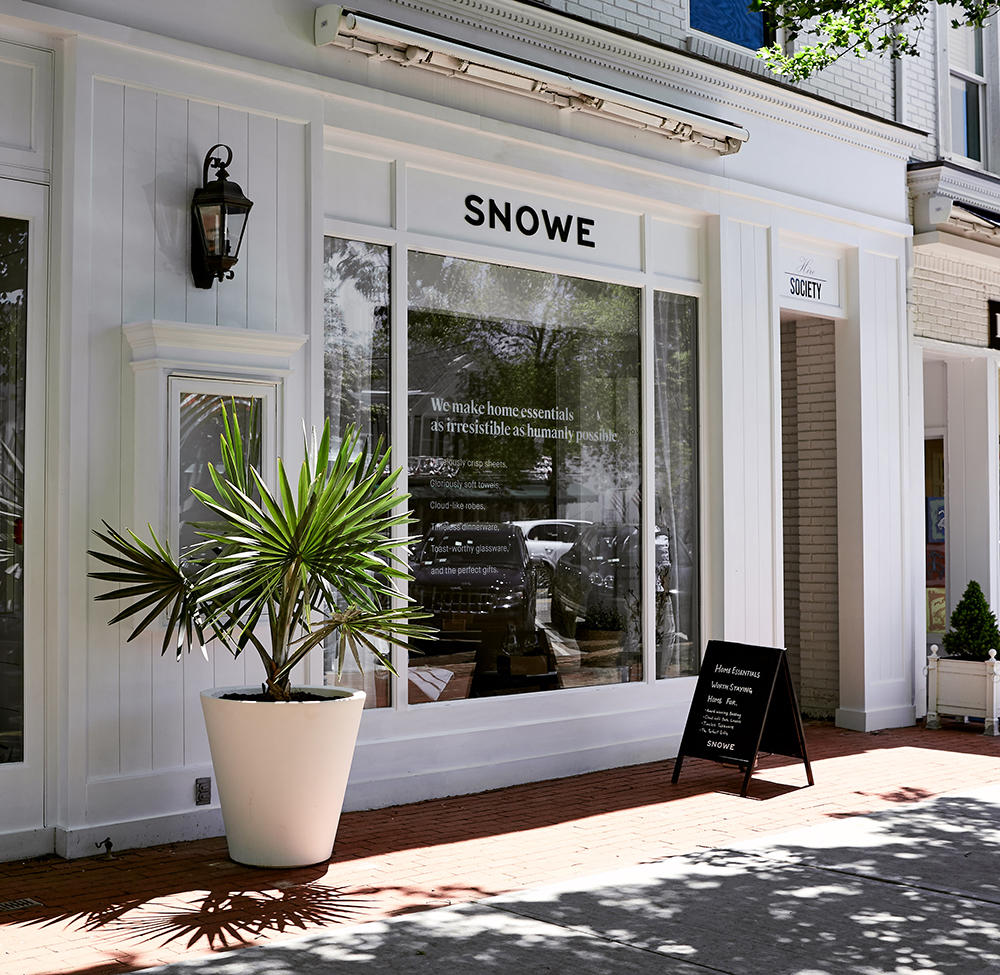 While the St. Frank and Snowe stores shuttered due to COVID, other companies used that time to put down new roots in the community. Motivated by the exodus from New York to the Hamptons during the pandemic, Design Within Reach recently opened a small shop in Southampton, testing out a far more specialized assortment than the brand has ever previously showcased. "The Hamptons has a distinct sense of style and a unique set of demands that require a more localized approach," says Debbie Propst, president of Herman Miller Group Retail, which owns DWR. "From my previous experience in this particular market, residents and visitors alike favor a coastal modern feel throughout their homes and are looking for quality products on demand and immediate design solutions across key categories. As we've expanded our assortment and moved to a cash-and-carry model at this particular store, we are leaning in to meet local needs."
Many brands use the Hamptons to test out a brick-and-mortar presence in an area where access to a high-end consumer is built-in, a stepping stone to opening in less-monied locations. It's a strategy that's been employed over the years by brands from One Kings Lane (under Propst's leadership) to Goop. This summer, even e-commerce brands are testing the waters in the Hamptons: Furniture and home decor brand Kathy Kuo Home recently announced that its first physical retail location will open next month in Southampton, and in East Hampton, online art marketplace Artsy debuted its foray into brick-and-mortar on Memorial Day weekend with One, an experiential retail concept store. "For us, this is a natural extension of our brand," says Dustyn Kim, chief revenue officer at Artsy. "In addition to the existing art collectors already in the Hamptons, we also see a growing number of new collectors there as well—people who have money to spend on the Hamptons experience but maybe haven't started collecting art."
Opening a shop in the Hamptons comes with a unique set of challenges—chief among them a lack of available real estate. "We've had so many businesses looking to come out here this year, but there's nothing available," says Hal Zwick, a commercial real estate agent with Compass who's based on the East End. "There's historically not a lot of turnover to begin with, but especially not right now." Companies looking to do seasonal pop-ups, once a common occurrence for fashion and home brands alike, are facing stiffer competition for diminished inventory. "Landlords aren't agreeing to seasonal leases, because they don't have to," says Zwick. "If your company is interested in an opening for summer 2022, you have to start inquiring this fall, or there won't be anything left."
A tricky real estate landscape—and the availability of a particular storefront, across from Ralph Lauren Home's newly opened Southampton location—is what propelled Kathy Kuo to plunge ahead with opening her brand's first retail store. "It felt like the stars had aligned and that we should go for it," she said.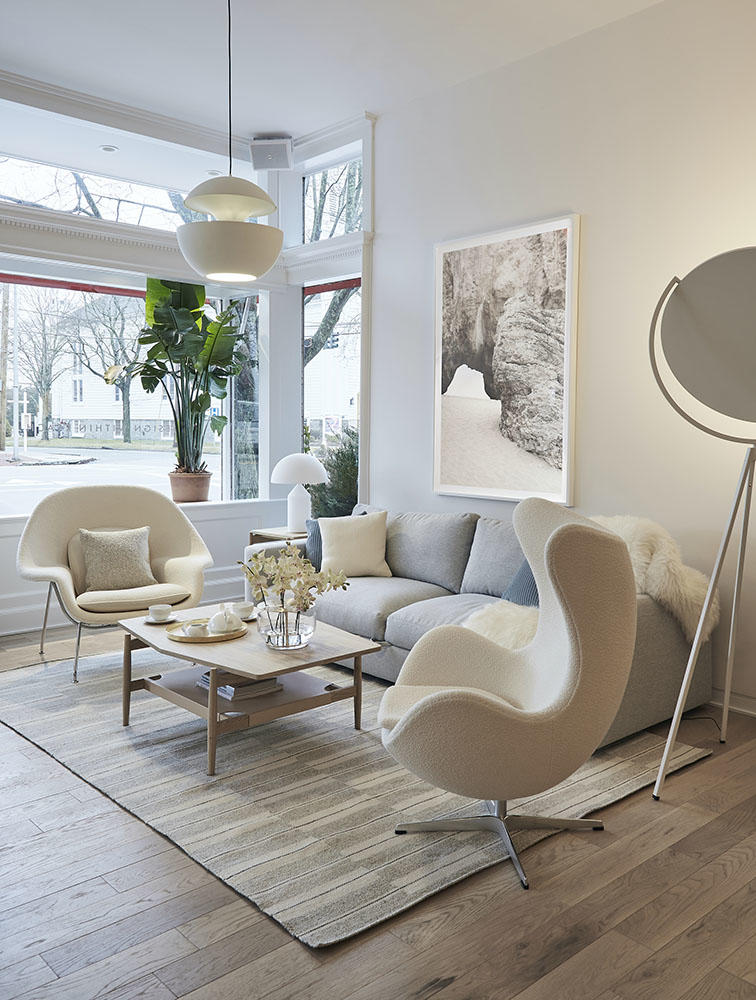 In past years, St. Frank rented its former East Hampton space annually, despite only running the shop seasonally during the summer months, a choice made in part because of the difficulties of staffing in the area. "We struggled to staff every year that we operated," says Bryant. "The Hamptons aren't like Palm Beach or some other resort locations, where people can live affordably 20 minutes away and drive in. It's isolated, and there are so many great retailers out there competing for staff—it's a challenge."
One solution? Covering the rent for seasonal employees. It's fairly common for larger companies to pay to house staff from the city for the duration of the summer, says Modak, "but that's not sustainable for brands looking to have a permanent location, which we were before the pandemic impacted that plan." He adds, "There's only so much super-high-quality retail talent, especially at the management level, that can meet the high bar that's expected, particularly from a trade customer. That takes a lot of training. It's a numbers issue as well as a saturation issue."
While the future of retail in the Hamptons is by no means in jeopardy, the future of the local pop-up model is a little less certain. For Bryant, e-commerce has been so lucrative in the past year that she has decided to put all of St. Frank's growth dollars back into that segment of the business. "We have a nice assortment of stores across the country, and we're not looking to expand that footprint right now," she says. Many New Yorkers who either took up residence in their vacation home or transitioned it into a primary residence during the pandemic are choosing to stay, changing the dynamics of the area and making it more of a year-round residential community than before. "Seasonal pop-ups were hard out there even before the pandemic," says Modak. "Now, the testing and learning approach that so many brands utilized is definitely getting shaken up."
Homepage photo: The new Design Within Reach store in Southampton | Photo by Aaron Limoges