Hundreds of thousands of design aficionados will descend on Milan next week for the 60th edition of Salone del Mobile and Fuorisalone. So pack your bags—and your cutest flats—and bookmark this page for the scoop on all the fun, design-minded stops this market editor will be making while she's in town. Buon viaggio!
LOGISTICS
Preregistration: Save yourself a headache—and skip the lines—by registering for the show ahead of time.
Getting to the fair: The main show is located at Fiera Milano in Rho (SS del Sempione, 28), a 30-minute subway ride from the city center on the M1 (red) line. Make sure to purchase a standard ticket, since you'll be riding the train to the very last stop. Or do yourself a favor, and buy a round-trip ticket so that you don't have to wait in line again after a long day of walking around the fair.
Map app: Download the Salone del Mobile.Milano app for easy access to exhibitors' booth numbers—and more important, a map!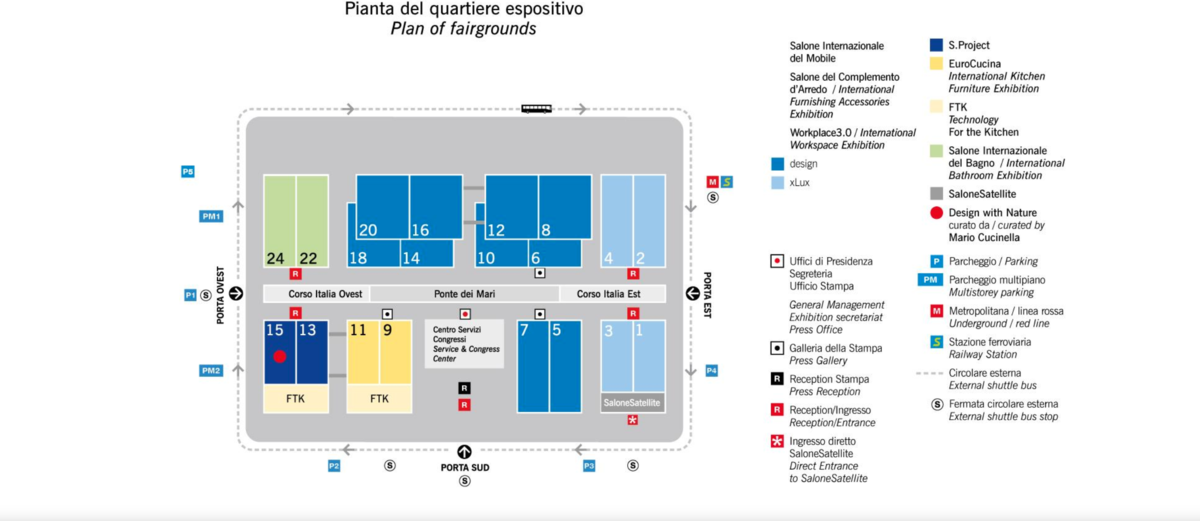 Courtesy of Salone del Mobile.Milano
AT THE FAIR
To celebrate the 50th anniversary of its Quaderna series, Zanotta unveils a booth created by Calvi Brambilla Studio in homage to the iconic grid-patterned design. (Pavilion 16, Stand A15–B14)
Fermob shows off its latest introductions, including the portable Aplô H24 lamp by Tristan Lohner; a rich, deep red finish named Black Cherry; and a selection of pieces from the French brand's collaboration with artist Leona Rose. (Pavilion 16, C26)
Eichholtz premieres the Philipp Plein Home collection, its highly anticipated collaboration with the internationally acclaimed fashion designer, which includes a series by high-end wallcoverings brand Zambaiti Parati. (Pavilion 4, Stand D06–D08)
Phillip Jeffries showcases its newly launched Japonaise series, which spans 10 serene wallcovering patterns inspired by the form and function of modern Japanese design. (Pavilion 13, Stand E01)
Modern furniture brand Arper reveals The Project of Living, featuring five new collections from designers Doshi Levien, Peter Kunz, Altherr Désile Park, Jean-Marie Massaud and James Irvine. (Pavilion 16, Stand C23–D18)
Courtesy of Mario Cucinella Architects
Exhibition space S.Project hosts "Design With Nature," a large-scale installation by architect Mario Cucinella that explores themes of ecological transition, raw materials and the future of sustainable living. (Pavilion 15)
Irreverent Italian homewares brand Seletti releases Gummy, a sculptural assortment of table lamps that mimic characters from the animated Disney film Snow White and the Seven Dwarfs. (Pavilion 7, Stand L25)
Nanimarquina exhibits five e-collections, including a vibrant line of rugs by Barcelona-based artist Claudia Valsells. The series, titled Tones, features four abstract geometric designs in sunbaked shades inspired by the hues of musical instruments. (Pavilion 20, Stand D03)
Belgian design brand Ethnicraft introduces Mahogany Pi, a sleek, artisanally crafted series of wall-mounted shelves that can be arranged in unique configurations to free up floor and surface space. (Pavilion 10, Stand E27)
German fixtures brand Dornbracht premieres its latest innovations, including a fresh collection of rain showers and a special presentation devoted to its bestselling cross-handled Tara fittings. (Pavilion 24, Stand F06–F08)
Technogym debuts the Ride bike—a state-of-the-art exercise bicycle—alongside the Personal Line series designed in collaboration with Italian architect Antonio Citterio. (Pavilion 20, Stand C12)
AROUND TOWN
At Alcova, Rinck unveils its collaboration with French fabric house Maison Thevenon. The collection boasts six graphic patterns, such as the geometric Métamorphose and the scribbly-lined Filigranes, available in several eye-catching colorways. (Via Simone Saint Bon, 1, Casa Delle Suore, second floor)
Artemest presents Blow, a collection of one-of-a-kind Murano glass pieces designed in collaboration with New York artist Bradley Theodore. (Giardino Roberto Sanesi, Piazza San Marco, 3)
Ralph Lauren Home previews its Fall 2022 collection at its private club and showroom in Milan. Built in 1941, Palazzo Ralph Lauren is a 12,000-square-foot art nouveau building showcasing an array of bespoke and soon-to-be-launched items from the brand. (Via S. Barnaba, 27)
The Eames family hosts "Seeing With the Heart," an in-depth display of works by Lucia Eames. The exhibition spans drawings, cutouts, photography and mixed-media pieces by the beloved artist. (Via Solferino, 11, third floor)
Centuries-old Italian lighting brand Barovier & Toso debuts its latest designs, including the Vallonné and Vallonné Opale collections—the first collaboration between the brand and multidisciplinary designer Luca Nichetto. (Via Durini, 5)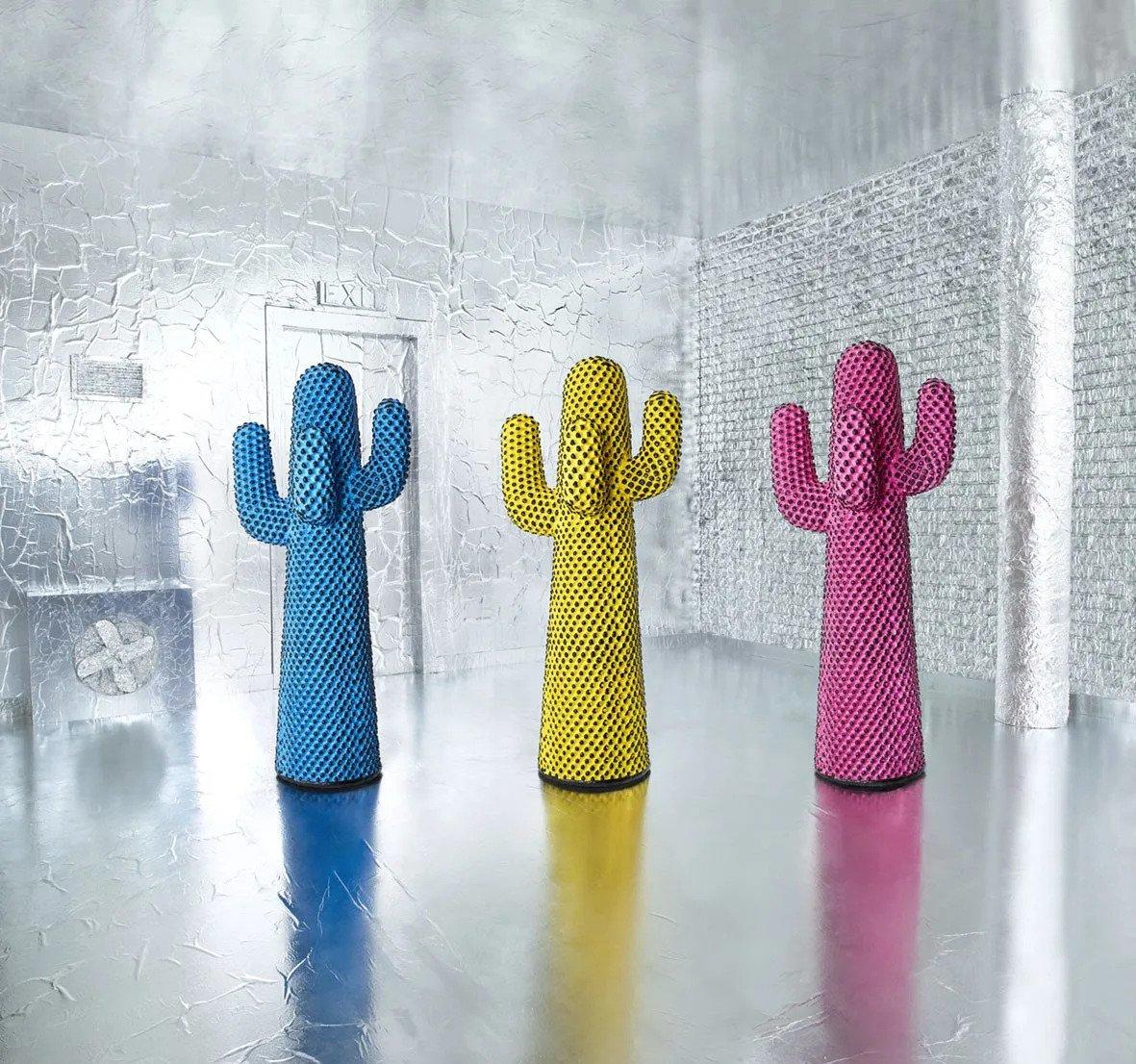 Courtesy of The Andy Warhol Foundation of the Visual Arts
Gufram celebrates the 50th anniversary of its legendary Cactus piece with a dedicated exhibition near the Impluvium at the Triennale di Milano. "Cactusrama" features a dozen editions of the sculpture, including a new collaboration with The Andy Warhol Foundation for the Visual Arts. (Viale Alemagna, 6)
At Alcova, PR collective Hello Human and experiential design studio Aditions present "This Is America," an exhibition that explores diversity in American design and showcases work from Alexis Moran, Nifemi Ogunro, Jialun Xiong and more. (Via Simone Saint Bon, 1, Casa Delle Suore, C6)
Refractory debuts a multisensory installation at Alcova called "Holotype." The exhibit includes furnishings from the Chicago-based brand alongside work by photographer and documentarian Sarah Wilson. (Via Simone Saint Bon, 1, E/Space)
The Memento Moooi wallcovering collection by Arte will be on full display at Salone dei Tessuti. An homage to a medley of extinct animals, the series offers six avant garde patterns—including Dandelion Cranes and Golden Tiger—crafted from materials such as wood veneer, sisal, gold foil and pleated paper. (Via S. Gregorio, 29)
In honor of its vicennial anniversary, Tom Dixon introduces 20 never-before-seen items inside the neoclassical Palazzo Serbelloni, showcased alongside some of the brand's most iconic designs from the past two decades. (Corso Venezia, 16)
Sustainable modular furniture brand Loose Parts makes its inaugural Milanese appearance at Alcova with "Sor," a presentation that draws inspiration from the building itself—a former nunnery—and includes a series of new designs based on architectural motifs. (Via Simone Saint Bon, 1, Casa Delle Suore, C24)
Poltrona Frau reveals "The True Evolution Experience," an immersive exhibition that recounts the brand's 110-year-long history and features a new outdoor collection and a sculptural installation by Greta Rosset. (Via Manzoni, 30)
Homepage photo: Inside the Salone del Mobile fair | Courtesy of Salone del Mobile.Milano