In a new series, What I Love, we're asking designers to build us a mood board of what's inspiring them right now.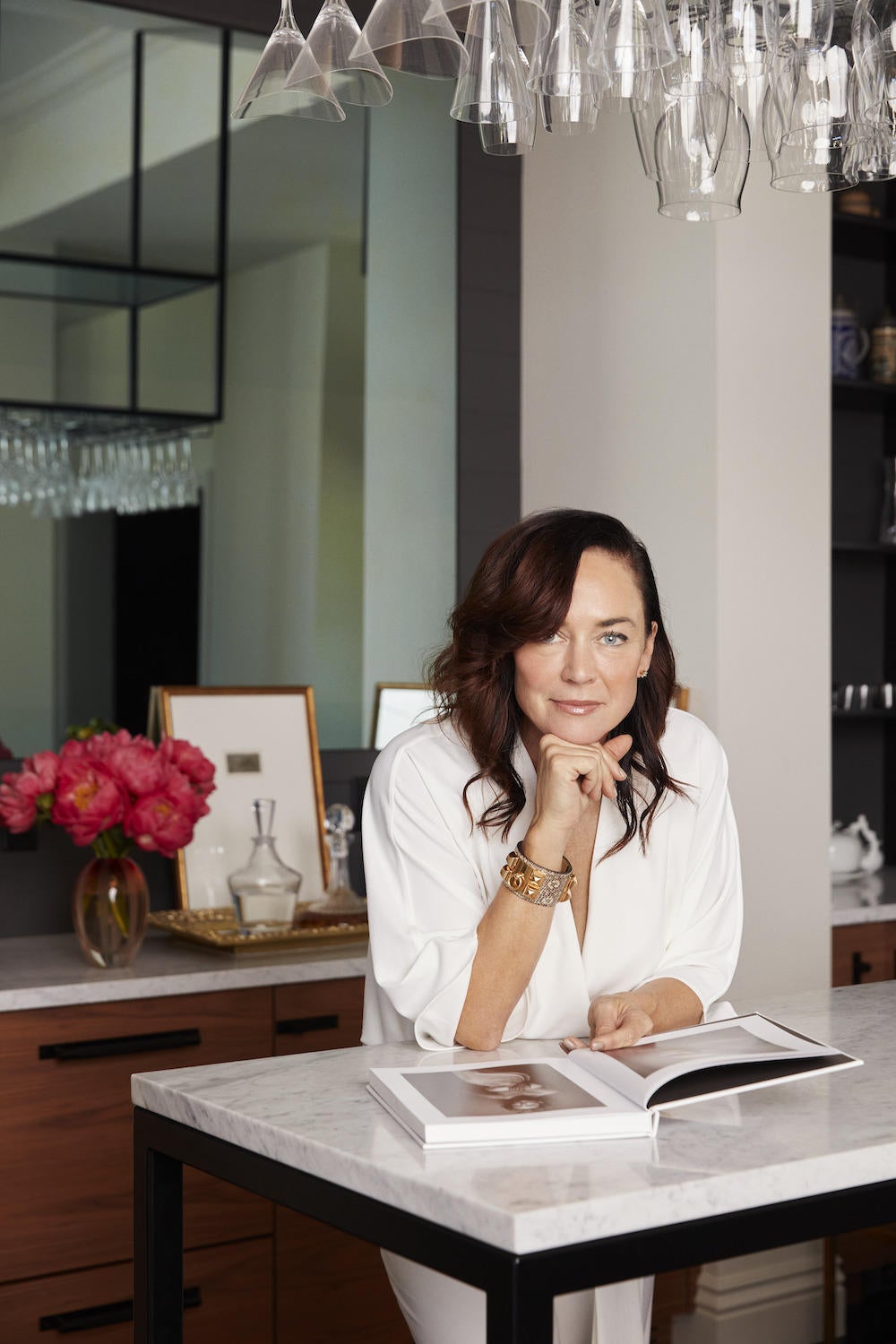 Andrea Schumacher has a knack for employing unexpected elements in a room. The Denver-based designer balances eye-catching prints and colors with organic textures and motifs to create sumptuously layered spaces that exude imagination.
Her current mood board offers an excellent case in point. Drawing inspiration from a whimsical chinoiserie pattern, Schumacher seamlessly blends earthy neutrals with deep burgundies and blues. "I like to think all of our schemes and projects are vibrant, even the ones where clients steer us to a more subdued color palette," she tells Business of Home. "We always strive to leave an impression."
An enviable range of tonal values and tactile materials is what ultimately draws the designer's flat lay together. "My favorite thing to do is create a space that feels curated, with a mix of old and new that represents the client's personality and experiences," she says.
Here, Schumacher breaks down the details, from teal hair-on-hide rug swatches to matte black wood samples.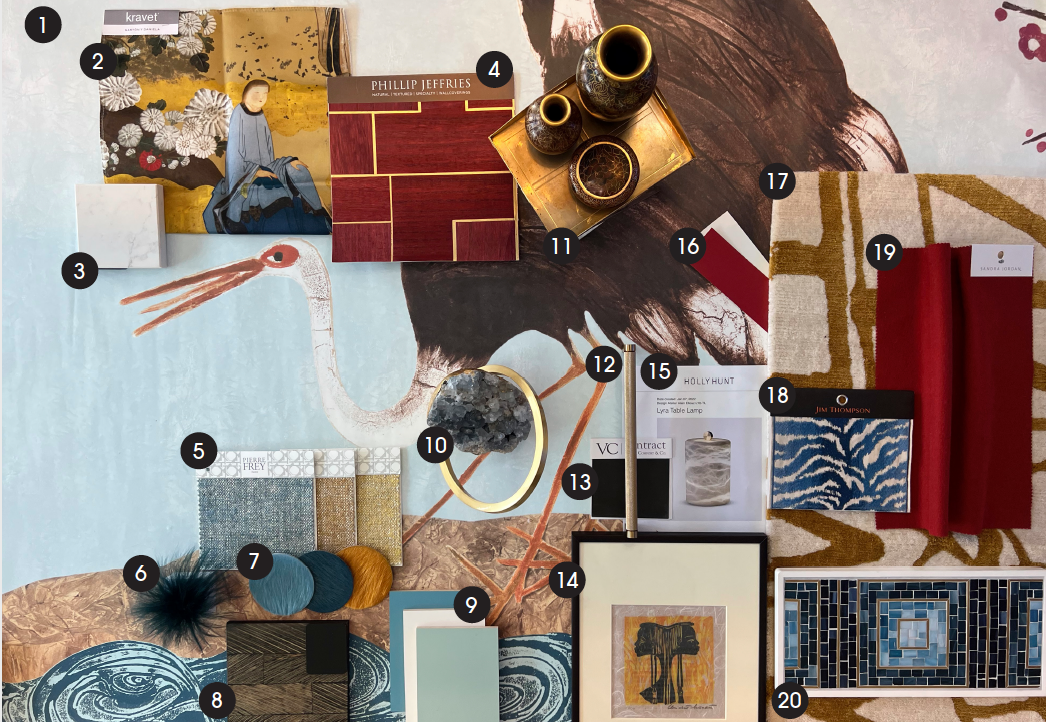 Courtesy of Andrea Schumacher
1. VOGEL WALLCOVERING — LIESL
"I've been developing a product line, Liesl, for some time now, and it's gradually coming to fruition. This is one of my favorite wallpapers in the collection, Vogel. It was inspired by a piece of original artwork by my grandmother."
2. ALTAI IN ORIGINAL FABRIC BY GASTON Y DANIELA — KRAVET
"This is the inspiration fabric for the flat lay. I love all the different colors and tones represented. The variation allows me to get really creative with the colors I can bring into the overall scheme."
3. CALACATTA NUVO — CAESARSTONE
"Caesarstone is a great alternative to natural stone. It allows our clients to enjoy their space and not worry about maintenance and upkeep."
4. FRETWORK IN ARISTOCRATIC RED — PHILLIP JEFFRIES
"I love nothing more than doing an unexpected pop of color and pattern on the ceiling. This Phillip Jeffries wallcovering pulls in the red from the Kravet fabric."
5. ARSENE IN CELESTE, MIEL AND POUSSIN — PIERRE FREY
"I adore Pierre Frey for their inspired patterns, but they also have a stunning collection of plains in what seems like thousands of beautiful colors."
6. LONGWOOL PELT — FIBRE BY AUSKIN
"Longwool pelts are great for adding a cozy element to a space."
7. HAIR-ON-HIDE RUG SAMPLES — KYLE BUNTING
"Hair-on-hide rugs are a perfect way to bring in texture and a pop of color."
8. WOOD FINISH SAMPLES IN MARQUIS — VANGUARD FURNITURE
"Vanguard Furniture offers beautiful furnishings manufactured stateside. Their Marquis wood finish creates a timeless look that we can use on any style of furniture— contemporary, traditional and everything in between."
9. CORSICA, ALPINE WHITE AND REINDEER LICHEN COLOR SAMPLES — WOOD-MODE
"Wood-mode offers an extensive list of high quality options throughout their product line."
10. GEODE
"Incorporating a natural element into a space is always important, whether it be a plant or something like this geode accessory."
11. ANTIQUE VASES AND TRAY
"I love mixing antique objects into a design scheme. It always adds another layer of depth."
12. ANTIQUE BRASS PULL
"Mixing different types of metals in a space is a must for me. In a kitchen, we may use a matte black metal finish on a majority of the hardware and then, on a few select items, use a contrasting element like this large brass pull."
13. BRONZE METAL FINISH SAMPLE — VISUAL COMFORT
"Visual Comfort offers a great variety of lighting fixtures designed by some of the leading designers in the industry. They always have something fresh that I can incorporate."
14. ORIGINAL ARTWORK — ELIZABETH BURGER MONATH
"My grandmother was an accomplished artist known for printmaking and illustrating and authoring children's books. I inherited her love of creativity and travel. She's the inspiration behind my product line, Liesl."
15. LYRA TABLE LAMP — HOLLY HUNT
"I selected the Lyra table lamp because it provides the function of a lighting fixture, but when not in use it looks like a beautiful found object. It's an unexpected, useful element."
16. HERITAGE RED HC-181 AND SWISS COFFEE OC-45 — BENJAMIN MOORE
"I love Benjamin Moore paints for the variety of colors and finishes they offer. My go-to white is OC-45 Swiss Coffee. It's the perfect tint, not too stark and not too creamy."
17. MASAR IN GOLD AND WHITE BY BRIAN O'HARA — ERIK LINDSTRÖM
"I was moved by the backstory of the artist who designed this collection, Brian O'Hara. He was inspired by his own dyslexia to create patterns as a means of communicating positivity."
18. TIGRE TAPE IN LAPIS — JIM THOMPSON FABRICS
"For this particular flat lay, the various shades of blue in the pattern provide a lot of depth."
19. PRIMA ALPACA SOLID IN GERANIUM — SANDRA JORDAN
"Sandra Jordan's prima alpaca fabrics are from the first shearing of the baby alpaca, which makes them extra soft."
20. HIP 2B SQUARE BLUE WITH BRASS MOSAIC — ARTISTIC TILE
"The irregular shapes of the glass tiles soften the hard lines created by the brass inlays for an updated Old World look."
Homepage photo: A flat lay by designer Andrea Schumacher | Courtesy of Andrea Schumacher