In a new series, What I Love, we're asking designers to build us a mood board of what's inspiring them right now.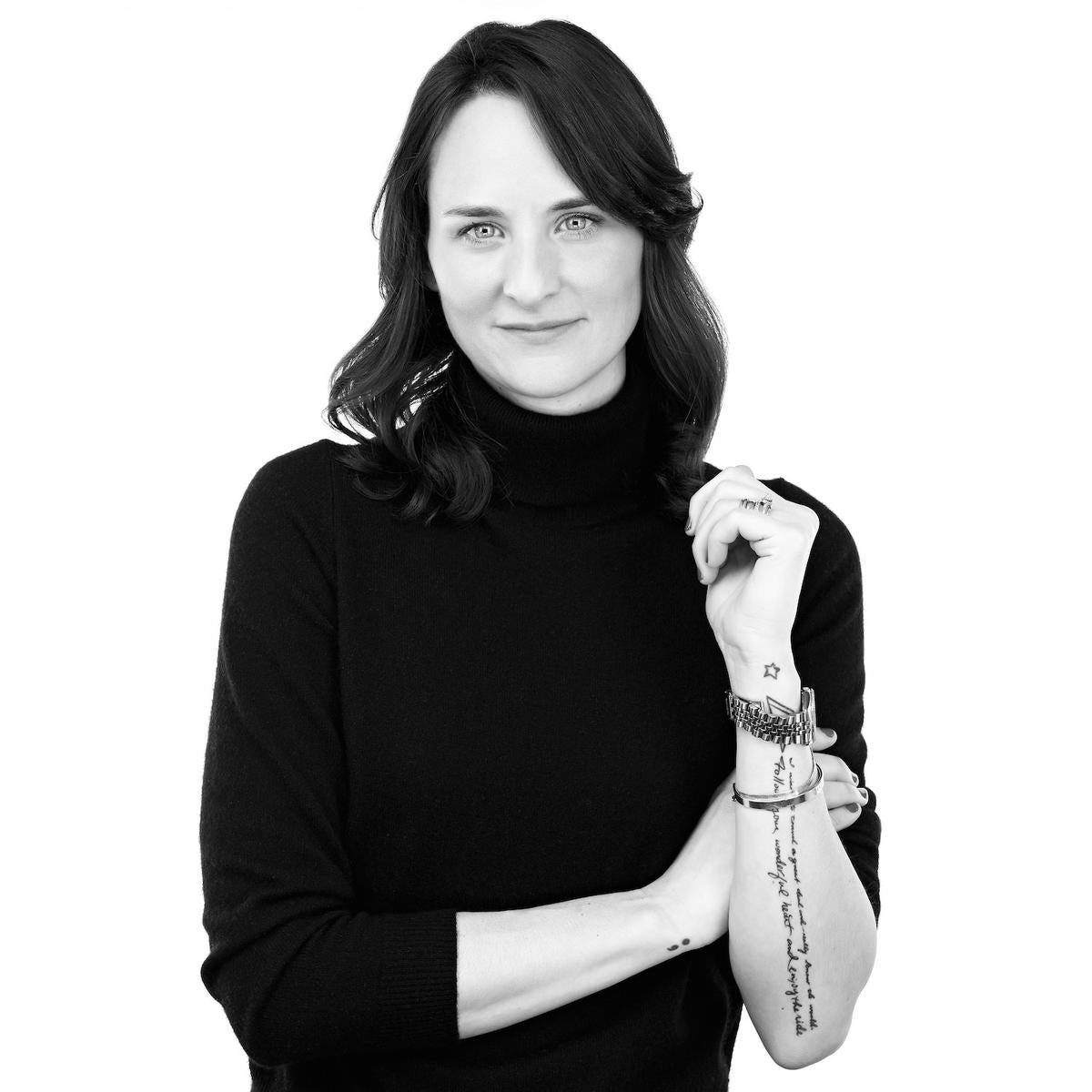 Above all else, Shelly Lynch-Sparks likes to create contrast in a room. The founder of New York–based design firm Hyphen & Co. has a penchant for pairing seemingly disparate elements—light and dark tones, dense and delicate fabrics—to foster atmospheric spaces that still feel luxe and layered.
Her current mood board is no exception. A nuanced use of color and texture is evident throughout the flat lay, where pigmented hues and tactile finishes reign supreme—but not without the occasional foray of an eye-catching floral print. "I constantly look to nature for inspiration," she tells Business of Home. "Neutral tones and organic motifs can create a sense of calm in an interior."
The end result is a medley of earthy hues mixed with vintage botanical patterns and, of course, lots of touchable surfaces. "Saturated colors and natural materials are what ultimately draw the palette together," she explains.
Here, Lynch-Sparks breaks down the details, from honed stone tiles to white oakwood samples.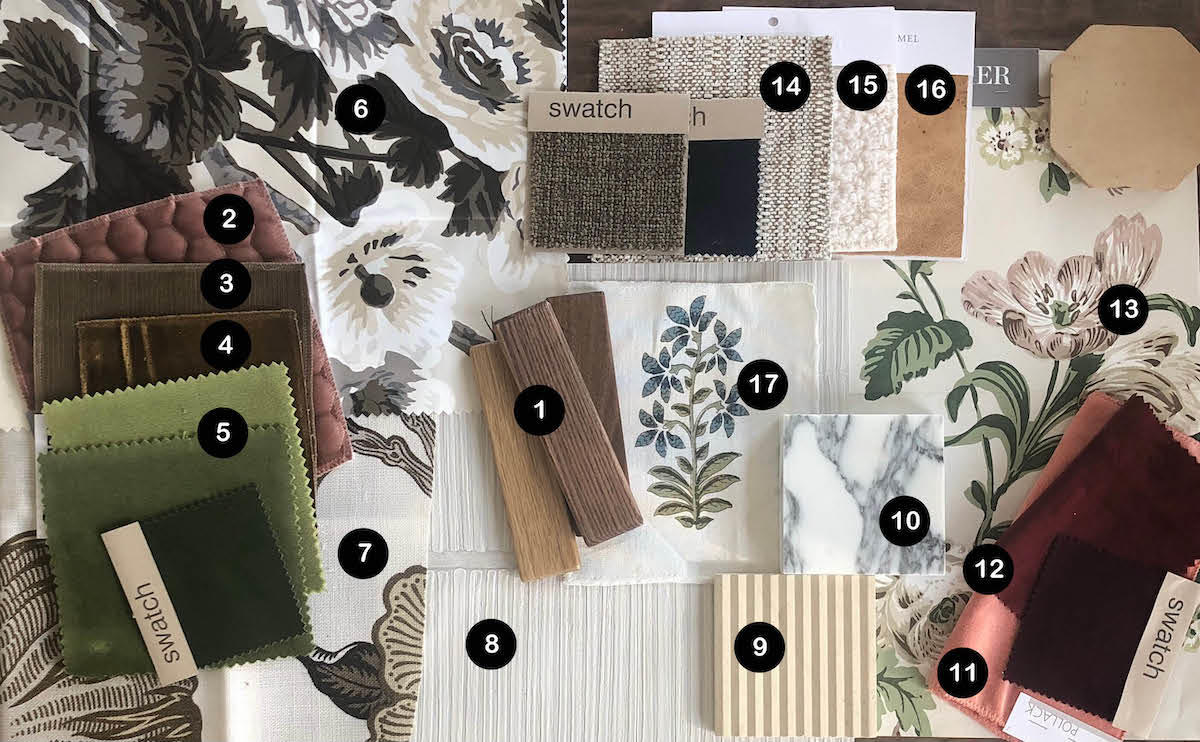 1. ASH, WALNUT AND WHITE OAK WOOD SAMPLES — VERMONT FARM TABLE
"Rich in color, these wood finishes add grain direction and a grounding saturation to the palette."
2. QUERCUS IN ROSA BY GASTON Y DANIELA — KRAVET
"I love a unique color and texture combo, and this velvet is the perfect example."
3. MEMORY — FIL DOUX TEXTILES
"I like layering earth tones in a way that almost feels monochromatic."
4. VENETIAN SILK VELVET IN MINK — SCHUMACHER
"Rich earth tones ground a lot of our projects and provide contrast. I love using Venetian silk velvet to elevate a textural palette."
5. ROCKY PERFORMANCE VELVET IN OLIVINE AND GAINSBOROUGH VELVET IN DARK OLIVE — SCHUMACHER
"The Rocky performance velvet is made for high-traffic areas, while the Gainsborough velvet offers a softer touch and a deeper saturation."
6. PYNE HOLLYHOCK IN CHARCOAL — SCHUMACHER
"Florals often make a big impact while still feeling neutral and drifting into the background."
7. HOTHOUSE FLOWERS IN DUSK — SCHUMACHER
"Pattern on pattern is the perfect way to add depth to any space."
8. NEWALL IN RENN WHITE — WALL & DECÓ
"Linear textures help modernize the flat lay."
9. LUCCA LINEN CREAM CORETTO HONED TILE — WALKER ZANGER
"The line work in this honed tile by Walker Zanger creates the illusion of depth and dimension."
10. ARABESCATO CORCHIA POLISHED MARBLE — THE STONE SOURCE
"Marble brings an organic element to the mood board."
11. ATLAS IN PEACH — POLLACK
"Peach upholstery provides a pop of vibrant color that's perfect for an accent piece."
12. EMPRESS PERFORMANCE VELVET IN GARNET — SCHUMACHER
"Deep red hues help balance out the brightness of the peach fabric."
13. BETTY IN QUIET PINK — SCHUMACHER
"Handpainted illustrations add movement and whimsy to the board."
14. PIEDMONT CHENILLE IN SAND — SCHUMACHER
"Neutral earth tones help balance out richer hues while grounding the palette."
15. ALPACA BOUCLE IN CHANTILLY — ROGERS & GOFFIGON
"Boucle is timeless. I love to use neutral fabrics with 3D textures."
16. ITALIAN BERKSHIRE LEATHER IN CAMEL — RESTORATION HARDWARE
"Leather patinates like no other [material]. Almost every space we design has a leather addition."
17. UDAIPUR IN INDIGO — PETER DUNHAM TEXTILES
"I love a modern take on a traditional floral print. This is one of my favorites."
Homepage photo: A flat lay by designer Shelly Lynch-Sparks | Courtesy of Hyphen & Co.