It's May, and a noteworthy number of trade brands are unveiling new and impressively designed spaces. In our monthly roundup, BOH gathers all the expansions and openings to have on your radar.
Showroom Spotlight: A new showroom-meets-gallery from Otras Formas
More industry professionals have been stepping up to challenge the long-held showroom model, whether by bringing the operation online or offering a lived-in option. With his new Manhattan-based showroom, former Dmitriy & Co. head of design Alex Lithgow of Otras Formas has found a niche between three worlds: design incubator, art gallery and high-end showroom.
The idea for Otras Formas started about eight months ago when Lithgow was looking at the furniture designs he had completed throughout the pandemic. After speaking with some friends, he realized he was ready to take the designs to market, but his debut was slated for Milan in 2020, which suffered the fate of so many other events at that time and was canceled. After further refining his designs, he decided to open his own showroom instead. "Over the years I had represented other folks, so I knew how to do this," he tells Business of Home. "I knew the challenges and pains that young folks face trying to get representation, so it was a short leap to just open up a space and represent myself."
Not only does Otras Formas show Lithgow's furniture designs but also the lighting, furniture and artworks of other emerging designers, as well as those from more established artists. At present, Lithgow represents six designers along with his own eponymous brand. (Fun fact: Four of the seven brands at Otras Formas are finalists at this year's NYCxDesign.) Although the space reads as part traditional showroom, it is abuzz with a distinct artistic—almost sculptural—aesthetic. The pieces on the floor are arranged in an artful way, taking curatorial direction from both Lithgow and the artists and designers his showroom represents.
As the showroom goes on, Lithgow hopes to rotate in new talent, collaborating with each individual designer for the incubatory portion, while retaining some of those from the inaugural roster. As opposed to a traditional vendor model, the by-appointment showroom intends to stay small to retain a personal touch—one that seeks to help each individual grow. "We have a two-tier track where our featured designers get a review at the six-month mark, the nine-month mark," says Lithgow. "I hope some people will graduate to open their own space. Or they might want to handle their representation differently. The advantage I have is that I'm not afraid of a client leaving, even if they're successful. I want this to be mutually beneficial."
California
Digital home and media brand Hunker has launched Hunker House, a new experiential showroom experience in Venice. The opening follows the success of the company's first Santa Monica–based Hunker House, which debuted in 2019. The new 4,500-square-foot showroom will display lifestyle products and decor, welcoming the public for digital shopping via QR codes.
Artist and designer Bari Ziperstein, known for colorful brutalist sculptures, has opened a new showroom in Los Angeles. The 9,000-square-foot space will duly serve as her ceramics studio and fine art showroom. An alumnus of The Future Perfect, Ziperstein enlisted Luke Foss and Ashley Hildreth of interior design firm Foss Hildreth, two designers she met at the gallery, to create the space.
Danville-based interior designer Nicole Salceda has opened a new shop, Eye for Pretty at Home. It marks the retailer's second location in California. The new space features an understated contemporary array of furniture, rugs and other decor.
Colorado
Holland & Sherry's newest showroom has opened its doors, making its debut in the Denver Design District. Located in the West Building, the space showcases the brand's product portfolio—including rugs, embroidery, wallpaper, hardware and more—while also offering design services for clientele.
Florida
Luxury kitchen and bath designer Waterworks has opened a new, larger showroom in Miami. The modern space offers an additional 1,000 square feet. Located on a prominent corner in the city, its panoramic ground-floor windows offer views into the showroom from the street. And for the first time, Waterworks will be showing curated bath fixture suites to serve as inspirational touch points for the design community.
Georgia
ADAC Atlanta welcomes two new showrooms to its campus: French wallcovering, textile, carpet and furniture designer Pierre Frey and lighting and automation brand Simply Wired. Pierre Frey will move to suite 308, its fourth and largest U.S. showroom, boasting more than 7,000 SKUs. Simply Wired will find its home in suite 406, a 3,500-square-foot space that features a model home experience with integrated lighting, audio, video and voice automation.
On the fourth floor of the Atlanta design center, HA Modern, known for its indoor and outdoor furniture lines, has expanded its showroom at suite 413 after six years at ADAC. The expansion tacks on an additional 2,200 square feet and now features outdoor vignettes to accompany the brand's indoor furniture displays.
Elsewhere at ADAC, Scalamandré has relocated from its long-held location on the fourth floor of the design center to a new first-floor space at suite 133. After 30 years, the textile and wallpaper magnate now occupies a 2,500-square-foot showroom space, headed by manager Wayne Breeden.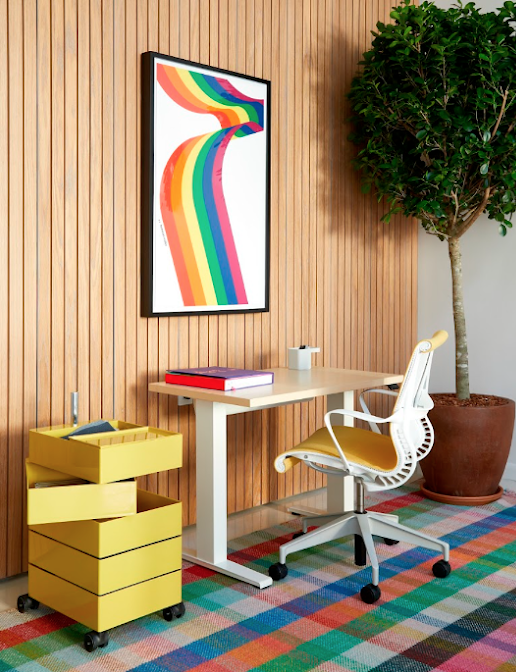 Courtesy of Herman Miller
Herman Miller is set to open its doors in Atlanta—the storefront is the fifth new location for the retailer this spring, one that comes as a continuation of the company's aggressive brick-and-mortar expansion strategy.
Maryland
Laurel, Maryland–based design firm ​​McLean and Tircuit LLC has opened a studio-boutique in the city's historic district. Founded in 2003, the luxury residential and commercial practice will now offer private consultations for design services and a home decor shopping experience beyond the scope of other local retailers.
Massachusetts
Roche Bobois has opened a new showroom in Boston at 61 Arlington Street. In collaboration with architect Leslie Saul, Roche Bobois's head of interior architecture Jacqueline Hopfer designed the showroom, a sprawling 5,400-square-foot space, in the city's historic Park Square Building.
New York
The eponymous label of beloved designer Bunny Williams has unveiled a new showroom and shop in New York's Interior Arts Building. The space is the latest step in the brand's 14-year history, an opening that is accompanied by Williams's garden-inspired line, Treillage.
Fall River, Massachusetts–based rug and textile company Merida has opened a new showroom at the New York Design Center. The space, designed by interior design studio Mark Cunningham Inc., spans about 5,000 square feet in suite 500.
Elsewhere at the NYDC, Leftbank Art has moved suites—the company's new 4,400-square-foot space will bring its array of wall art to the New York design scene from suite 610.
Danish textile company Kvadrat has unveiled its first stand-alone showroom in New York, the next step in its ongoing U.S. market expansion. Designed by Kvadrat CEO, senior vice president of marketing and designer Jonathan Olivares, the new location also has a connected residential space created by Antwerp, Belgium–based Vincent Van Duysen Architects.
Customizable direct-to-consumer furniture and home decor brand Interior Define has opened a new design studio in Williamsburg. The space will provide its bespoke furniture offerings to Brooklyn residents and the greater New York market, marking the company's third outpost in the city's metro area.
Place mat and indoor-outdoor rug company Chilewich has a new Midtown storefront: Located at 213 East 59th Street, the brand's new space has the added bonus of a back garden, where vignettes of Chilewich's outdoor line can be seen in situ.
Modern and contemporary decor showroom Haute Living has opened an outpost in New York. The showroom represents individuals like furniture designer John Ford, furniture and lighting designer Studio Piet Boon and metal furniture and surface designer De Castelli; its new location in Manhattan's Chelsea neighborhood will welcome trade and retail customers alike.
Luxury kitchen design and manufacturing company Bakes & Kropp has expanded its Cold Spring Harbor footprint with a fresh brick-and-mortar space. Overseen by designers Mary Dimichino and Jonika Ruz, Bakes & Kropp's new showroom at 43 Main Street measures 1,100 square feet.
Pennsylvania
Handmade textile and home fashions design house Kevin O'Brien Studio has moved into a permanent showroom located in the heart of the Philadelphia Design District. The new space will mark the Philadelphia-based brand's first brick-and-mortar location and will offer luxury bedding, throw pillows, upholstered furniture, fabrics by the year and samples of the Kevin O'Brien collections of New Ravenna mosaics and Jaipur Living area rugs.
Washington, D.C.
Herman Miller has opened a new retail location in D.C.'s Union Market District, a central shopping site for the metro area. The experiential store features inspirational vignettes for designers and shoppers (with a standing invitation for trial sits in the company's myriad seating options).
International
Luxury textile brand Loro Piana Interiors has opened a new showroom inside Palazzo Cortile della Seta, the fashion company's Milan headquarters. In addition to fabrics and textiles, the showroom is presenting selections from Loro Piana's furniture lines and includes a dedicated by-appointment space for planning and design. The interiors were designed by Vincent Van Duysen Architects.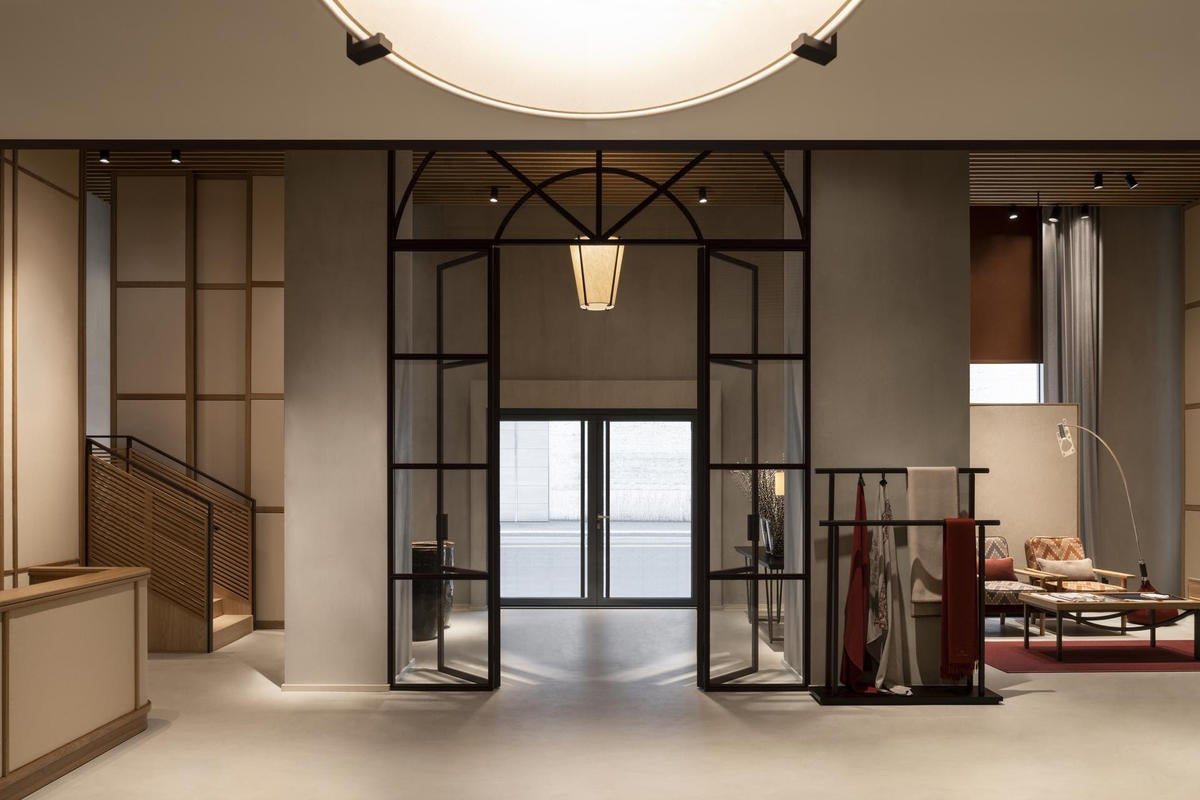 Global design gallery Charles Burnand has opened a new outpost in Fitzrovia, London. The two-story, 2,600-plus-square-foot gallery features the work of French artist, painter and designer Pierre Bonnefille, interior designer Alexandra Champalimaud, Ike Kligerman Barkely's director of interiors Mia Jung and more, with an additional roster of emerging and established artists.
Correction: May 11, 2022
An earlier version of this article misstated that Bunny Williams's new showroom was opening in the New York Design Center. It is opening in the Interior Arts Building.
Homepage image: Courtesy of Otras Formas