Personal style is a funny thing. Early in life, it's typically expressed through fashion, yet somewhere along the way (usually around 30), you become more concerned with what your dinner party guests will think of your new statement lighting than of the edgy (and let's be honest, uncomfortable) top you once sported so confidently. Still, an undeniable thread ties fashion and home, and intersections of the two sectors of design are not uncommon. Scottish textiles brand Holland & Sherry's to-the-trade interiors division grew out of its roots as a Savile Row mainstay. Fashion brands from Loro Piana to Ralph Lauren have robust home lines, and nowadays, there are plenty of cross-industry collaborations that wield the potential for serious brand exposure—if the shoe fits.
A case in point: Schumacher's latest collaboration steps outside of the interior design industry for a capsule collection with New York–based women's footwear designer Margaux. The partnership came about in 2018, when Margaux featured creative director Dara Caponigro on its blog as a "Gaux Girl," a series that spotlights ambitious (and stylish) female professionals. The shoe company's founders, Sarah Pierson and Alexa Buckley, sat down with Caponigro in the summer of 2019, this time to talk business. That meeting was one of many to come, as the two brands decided to team up on a collection that would feature Schumacher's textiles on Margaux's shoes—a well-suited pair, attests Caponigro.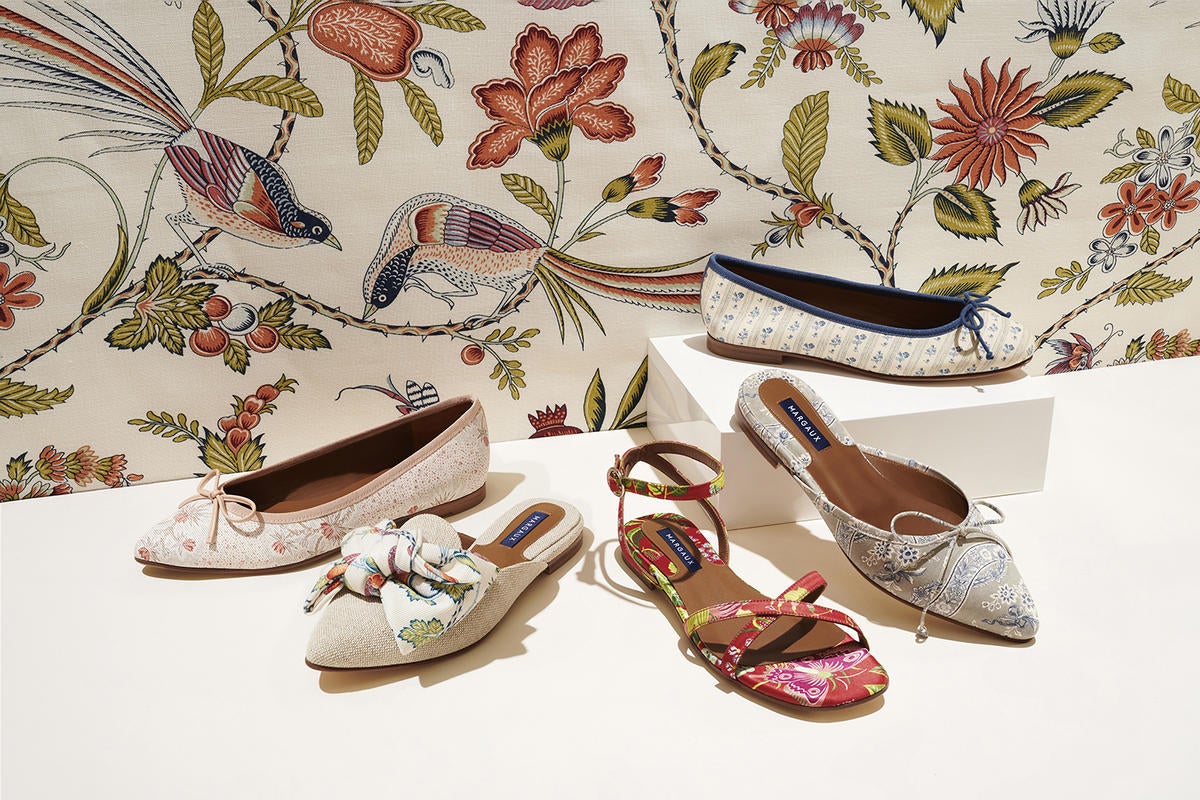 "These shoes are just so charming," she says. "Margaux has certain [signature] silhouettes, and I think that the [Schumacher] patterns turned them into something so special." Successful brand matches tend to capitalize on a shared sensibility, and Margaux's thoughtfully designed, modern shoes jibed naturally with Schumacher's fresh, traditional patterns. While the collection debuted with the Campagne print, the whole collaboration, which was announced yesterday, features five of Schumacher's textiles. And to the Margaux founders, the timing could not have been better. "We are not just in a moment where people are excited to get dressed again, but also people are shopping and looking more than ever before for really special things," says Pierson.
A similar idea inspired Beth Holman, president of British fabric and wallpaper company Zoffany, to approach New York shoe designer Sarah Flint. In November 2019, Flint did a pop-up in SoHo, and when Holman caught wind that the space was decorated using textiles from Zoffany brand Morris & Co, she had to see for herself. "The store was literally covered wall-to-wall in Morris & Co fabric and wallpaper," she says. "At that moment, I knew that we had to work together—it was clear that [Flint] is as passionate about English interiors as she is for shoes." Flint has also done a capsule collection with Samuel & Sons, seamlessly working their trims into her refined yet femme footwear designs.
The notion of trade brands crossing into the world of fine footwear isn't a new one—in addition to its line with Flint, Samuel & Sons has partnered with Spanish fashion icon Manolo Blahnik, while Palm Beach–based luxury slipper brand Stubbs & Wootton has produced select designs in patterns by Colefax and Fowler, John Derian, and Scalamandré. Such partnerships pose a relatively low lift for the home brands, with a pretty product to top things off, providing an entrance into the fashion world. But in both cases, the shoe designers' core demographic consisted of well-heeled buyers that recognized the home brands that were adorning their feet.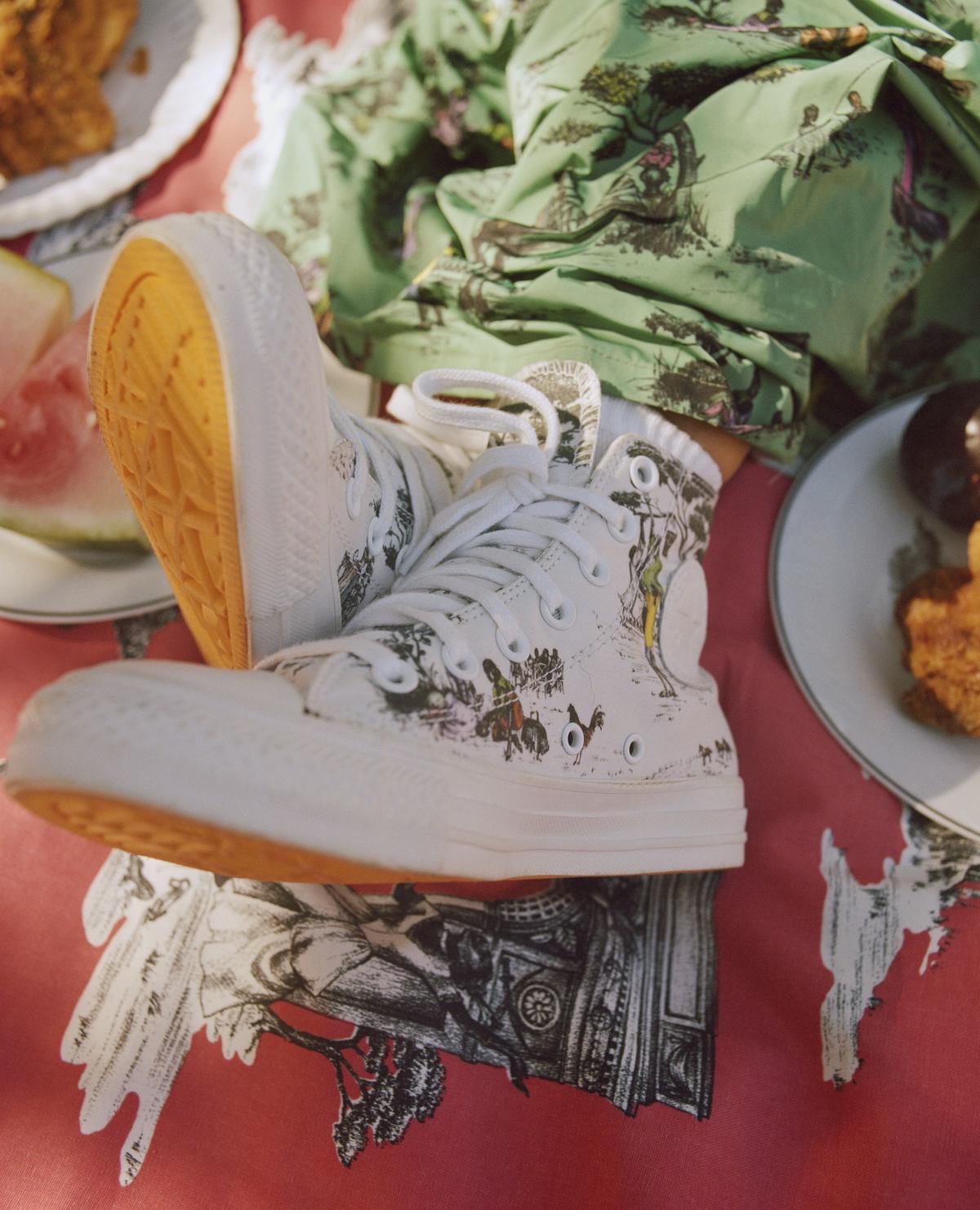 The same can't be said for Converse, which last year released a capsule streetwear collection featuring New York designer Sheila Bridges's Harlem Toile de Jouy pattern in partnership with clothing brand Union Los Angeles. At once tasteful and irreverent, the print's story was suddenly reaching an audience that may have otherwise never heard of Bridges or her work. "In the past, we have seen fashion designers moving into the home furnishings category, but rarely do we see it the other way around," she says. "A younger generation was introduced to Toile de Jouy for the first time—it's exciting to have one of my designs on an iconic shoe."
Across these footwear collections, home trade brands gained visibility in a new market, planting the seed for future clients. "[The Sarah Flint x Morris & Co collection] introduced both of our brands to new audiences," says Holman. Caponigro anticipates a similar resonance with Margaux's core customer: "Schumacher is a household name, but [this collection] exposes younger people to the brand, which is important for creating awareness and tapping into a new generation."
Perhaps now more than ever, the line between home and fashion has been blurred by the notion of the lifestyle category, and as more home brands tread those waters, maintaining brand integrity becomes the name of the game. "Both brands respect and anchor to classic and timeless traditions of the past, but both commit to reinterpreting and re-examining these things to bring them to our customers in a modern way," says Buckley. "We do that through our footwear staples, [Schumacher] does that through taking things from the archive and reinventing them. To get to do that together, we get to bring some of their most iconic prints to our silhouettes. It feels like a really special match."
Homepage image: Campagne print on The Mule from the Margaux x Schumacher collection | Courtesy of Schumacher