Once you're in the door, there's plenty of advice floating around about style, project management, budget and all the rest—but how do you actually get the job in the first place? We're asking designers to peel back the curtain and walk us through how they landed a project, step by step. Here, designer Marie Cloud of the Charlotte, North Carolina–based Indigo Pruitt Design Studio talks about why she stepped out of her residential comfort zone and plunged into designing a church.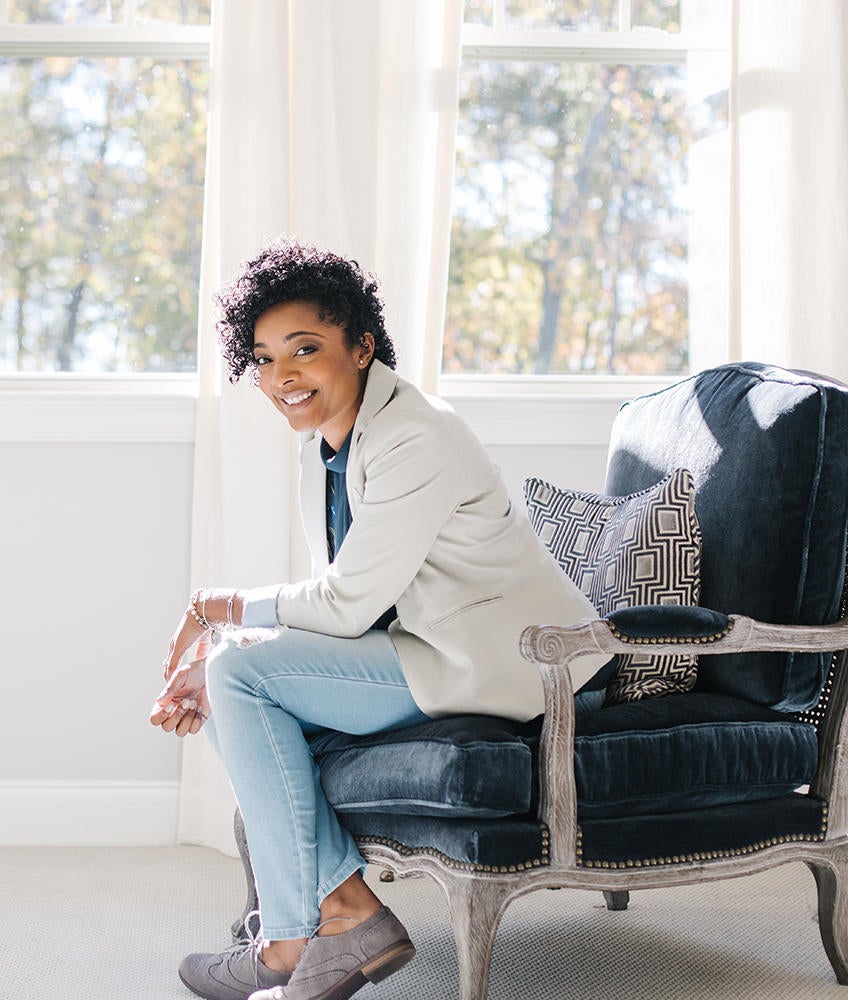 Courtesy of Indigo Pruitt Design Studio
How did you get involved with this project?
I'm a part of a church just outside of Charlotte. It's a multiethnic, multigenerational community. About three years ago, I started to notice that the church was growing at a crazy pace and the space needed some outfitting. It was just white walls and floor-to-ceiling windows in a huge warehouse. It needed some lipstick. Finally, cutting through the fat of my not-so-subtle hints and suggestions, two years ago they said, "Would you want to lead a renovation?" They wanted a space that aligned more with their vision and would be welcoming to everyone who came in. I connected with the right people and assembled a team that I thought could help me bring this space into a full expression of what this organization is about.

You're primarily a residential designer—had you done any institutional work like this before?
I had never done a commercial or institutional project on my own. My first internship was with a firm in Ohio that did office spaces, but I hadn't been in that world since then, and I'd never led a project that wasn't residential. So, it was like dipping my toes into a whole new world. The biggest challenge for me was, because I was so connected with this project—I'm completely ingrained in this community—I needed to ensure that I was able to express the vision and the values in a clear way. Everywhere someone looked, I wanted them to feel welcome. I had to communicate the hospitality that you feel from the members through the design. I wanted there to be different areas where people could dwell and talk to each other. Once we got in there, I had to ensure that I could express their mission statement in an aesthetic way that hundreds of people could appreciate.
Did the congregation move out of the space during the renovations?
No. All the activities and services the church normally offers were still taking place. My crew put up some temporary walls, creating different areas that could be used while we were working on another area. We got really creative. It was nice in a way, because the congregation got to be a part of the construction journey. We partnered with a production crew and filmed the whole process so that everyone could see what was going on. But yes, everyone had to bear with us through this process.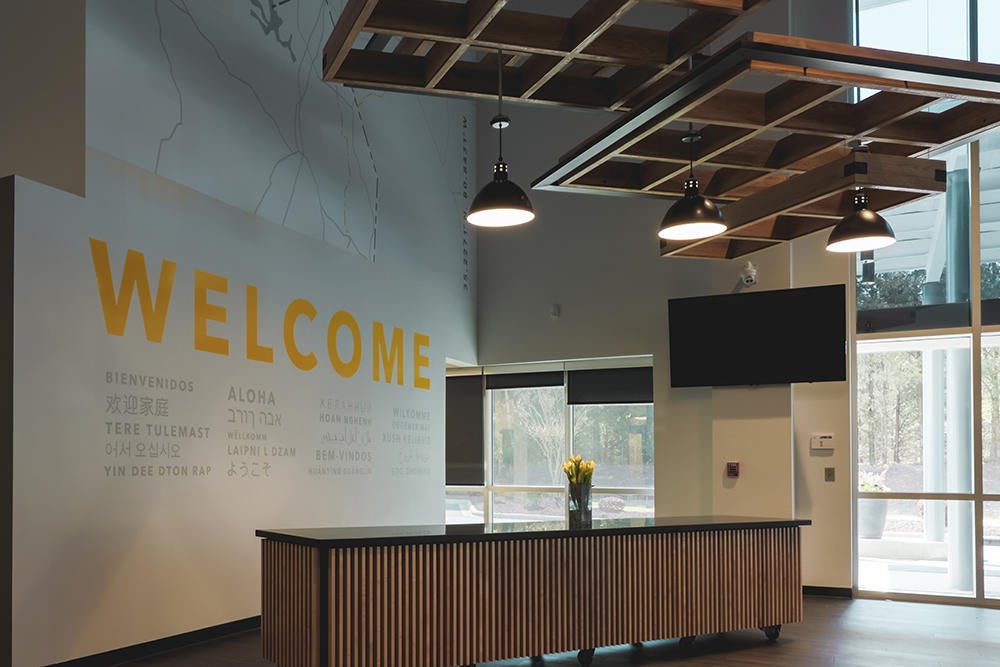 Courtesy of Indigo Pruitt Design Studio
Aesthetically, what was your vision?
That initial concern was that the space didn't direct folks comfortably. If you were coming into the building for the first time, you wouldn't know where to go when you walked in. It wasn't intuitive. So, the goal was to create a space that felt welcoming and had a variety of conversational areas. I also wanted to nod to the church's beginnings. It was initially founded in a small warehouse with an equally small budget. It was very industrial. I wanted to bring some of that history into this new modern space that they had built. We did that by adding ... iron and warming it up with some wood tones. The space is very open. The lobby area is very grand. One wall in the lobby is floor-to-ceiling windows, and then there are two paths into the auditorium. It was a blank canvas, really.
How do you find inspiration for something like this?
Because I'm entrenched in this community, that's where I found the inspiration. Who we are as a community and the vision among these people, it's so clear and engrained. That's what drove me. I knew that I wanted to incorporate that warehouse industrial vibe and that there also needed to be warmth.
This obviously wasn't a typical project, but what is usually your first interaction with a client?
It's normally a discovery call, which is 20 to 30 minutes. That's where I read between the lines of the inquiry form submitted on our website. That's our first interaction.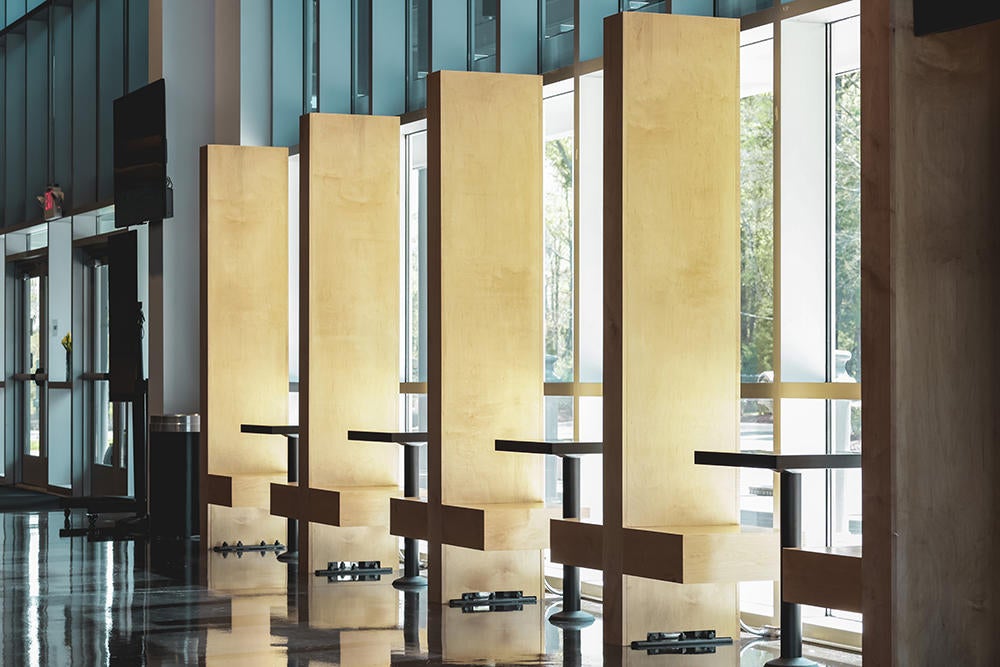 Courtesy of Indigo Pruitt Design Studio
How do you decline work if something isn't a fit?
I'm a very transparent person. I built my clientele and business on relationships, and a big part of that is being honest. I make it very clear initially during the discovery call that it's discovery for both of us. You're seeing if I'm a fit for you and the way you operate, but I'm also seeing if this project is a fit for our workload. Is it something that I can deliver at the level of excellence that you and your family deserve? If it's not, then it's a no for me. So, I'm very clear about that upfront. And I'm not sure if there's another way that I can be. That's how I am naturally.
Do you Google clients before that call?
Occasionally, I'll Google or look at their Facebook if I don't know them. Oftentimes, it's a referral, so I already know someone they know. Most of the time, someone has already given me a heads-up. No matter how they come through, even if it's someone I know personally, they have to fill out our inquiry form on our website.

And do you charge for your discovery call?
No. I look at it as an entry point. I'm not doing any design work for that. No hints, no suggestions—nothing. It's just to get an idea of each other and get a feel for what they're looking for. I don't want to waste their time, nor do I have time to waste. I need to make sure that we're a fit and get more information before moving forward.
Between the discovery call and signing a contract, do you do a site visit?
Oh, yeah. I do a walkthrough, even a virtual walkthrough during the pandemic. You want to know what you're getting yourself into. And that's complimentary as well.
How do you do your presentations?
We do a mood board. I'm big on expression and feeling in the space, so we spend time on that. There's a two-part mood board, one speaking to the feeling and tone and one to nail down aesthetics. Once we get on the same page, we move forward with presentations of the actual finishes and the fun, tangible items that will make the space.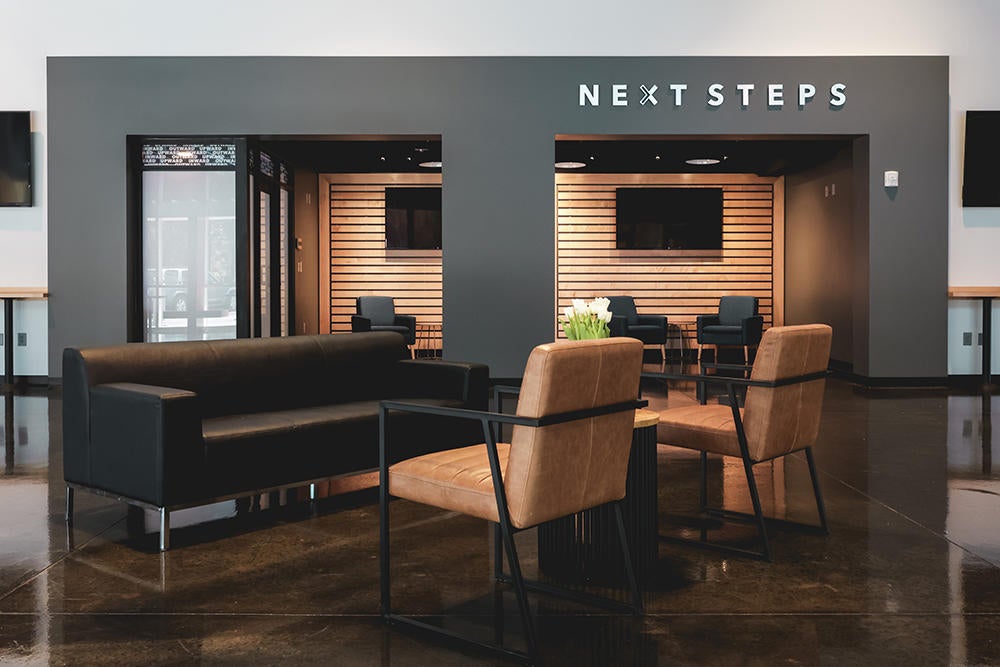 Courtesy of Indigo Pruitt Design Studio
What do you typically wear to a first meeting with a client?
I don't think I've ever been asked that! That's fun. I tend to wear something that I'm comfortable in but that expresses who I am and my style of design. That's normally something creative and expressive. I'm not too intentional about it, thinking of what I can wear to impress someone. It's an expression of who I am, just like it is every day. I like a mix of statement pieces—fun, trendy glasses; big curly hair; a mix of patterns; pops of color on a neutral base—which is the same as my design aesthetic.
What do you bring with you to a first site visit?
Paint swatches and measuring tapes always stay in my car, because you never know. I'm a pen-and-paper girl at heart, so I always have a notebook. Just the essentials. I always try to keep my iPad with me, even if I don't take notes on it, so I can pull up my portfolio or whatever else I might need to reference. It's more convenient than passing around your phone if you have to show the clients something.
How do you charge?
Our pricing varies. Every project is different, so my pricing is different. Right now, I'm doing a flat fee based on the project itself. If there are five spaces that I'm doing, the fee is per space. I typically tell the client that, depending on their budget, my design fee will be roughly a third of that, just to give them a ballpark figure. I'm very open about it upfront that no project is going to be priced the same.
Homepage image: The church renovation project by Marie Cloud | Courtesy of Indigo Pruitt Design Studio