Once you're in the door, there's plenty of advice floating around about style, project management, budget and all the rest—but how do you actually get the job in the first place? We're asking designers to peel back the curtain and walk us through how they landed a project, step by step. Here, a typically Dallas-based architect and HKS principal, Anice Stephens, discusses a mammoth Californian undertaking: the construction of SoFi Stadium in Inglewood, the largest stadium in the NFL. As of its opening in 2020, it is the home of both the Los Angeles Chargers and Los Angeles Rams—and it will host Super Bowl LVI this weekend. Stephens discussed the technical advances of the indoor-outdoor stadium, including its 2 million pound videoboard, and how her team managed to dig the venue double the depth of any other NFL arena so that planes could still land at LAX just 3 miles away.
What type of projects does HKS typically work on?
We're a multi-disciplined firm. The sports and entertainment group—the venues group, as we call it—works on anything from NFL stadiums to major league ballparks. We do a lot of college arenas and training facilities, as well as college stadiums. We do international work and sporting venues across the U.S.
How do you get into that niche as a designer?
I'm a principal [at HKS] and a senior project architect, so I didn't do the blank page designing on the project, but I did a lot of the core project work and coordination with our consultants, along with the client and the city of Los Angeles, and all of the disciplines that go into it. This was one of the most challenging projects we've ever done—digging a hole 100 feet deep to build a stadium. Immensely challenging! I found it rewarding just working on the complex projects—the roof, all of the suites and clubs.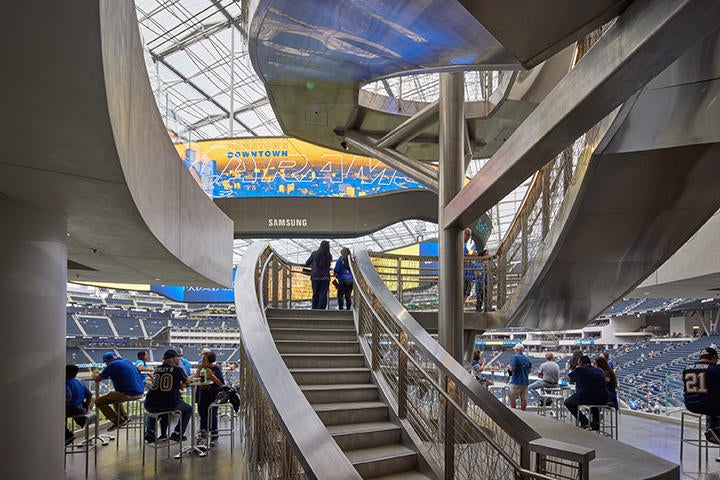 How many cooks are in the kitchen for something like this?
We had the Chargers and the Rams to deal with, plus the city of Inglewood, the police department and the fire department. [Stadium owner and Los Angeles Rams owner Stan Kroenke] had an entire team to work with. The Legends Group works with the client, as their representatives. Then the stadium has their own operator, the Hollywood Park people. We had dozens of consultants working with us and two different contractors along with all of their subcontractors. There were thousands of people on one job. It started in 2016, and we just opened [in 2020].
What does the bidding process look like for something like this?
It's a team effort. For our presentation, we do a lot of materials, like sketches and presentation boards, and built a few models of our concept designs. We did a lot of fly-throughs of our model through Rhino, Revit and Lumion to show various visual, digital elements. Mr. Kroenke asked HKS to create a very unique Angeleno destination. That edict quickly became a guiding light for our design team—to honor Southern California's unique qualities and create a one-of-a-kind place for public enjoyment and the environmental wellbeing of the city. I do feel like we gave them a very iconic civic gesture, a revolutionary stadium.
How do you make something feel super Southern California? Is it the materials, the literal design elements?
Being outdoors in California is one of the most important aspects of living there, so we created a true indoor-outdoor stadium. There's no [surrounding] wall—the roof is anchored at four different spots on the project, so fans can feel the Pacific breeze while inside the stadium. There's a clear ETFE roof overhead, composed of about 300 panels, with 24 of them operable, so you can get that open and closed feeling. When it rains, you can be protected and still enjoy the game. You get the feeling of being outdoors while still enjoying a football game under a canopy roof.
What else in this stadium is atypical? You mentioned the roof, but there are other technological advances, right?
The Oculus video board—it's one of the largest in the world. It's a dual-sided elliptical video board in the center of the stadium with an integrated, distributed all-inclusive sound system. It's larger than the football field, 120 yards long. And some people would call SoFi Stadium the cornerstone of Hollywood Park, the area it's been developed in. Its 300 acres make it one of the largest, urban mixed-use developments under construction in the western U.S. SoFi Stadium is one of three distinct venues integrated under a single canopy—the stadium itself; the 2.5 acres of public plaza, which they call the American Airlines Plaza; and then the 6,000 seat YouTube Theater, which is YouTube's first physical venue.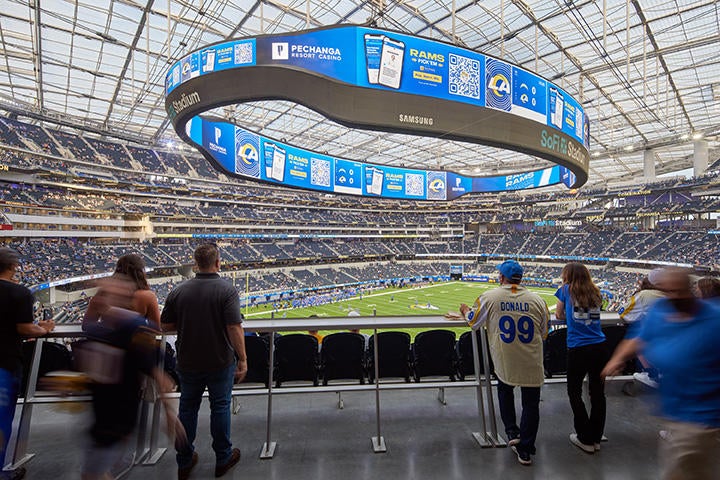 Are the architects the nucleus of all this, or are the developers?
HKS, the architect, facilitates a lot of the permitting with the city and the fire department. There's countless meetings. The city also hired a third-party consultant to help them out, because this was one of the largest projects they've ever encountered. I personally worked with the city. Weekly and monthly, we had different coordination meetings for various spaces of the project to get permits for the actual build. It's a lot of coordination with them and a lot of walking through the process as well, because none of them [had] actually done a stadium before, whereas it's our fourth one at HKS. It's really showing them what it is to permit and build through the different phases of the project, as well as just understanding the local codes that a stadium entails.
I usually ask about a project's challenges, but I'm usually thinking about, say, lumber prices. The challenges you'd be working with from a project of this scale—I can't even imagine.
Well, digging the hole, for one. We actually haven't built a stadium this deep in the ground before. Being in a seismic zone was also a big challenge. Because of our proximity to LAX, we were also faced with the Federal Aviation Association's height regulations for the stadium, which is why we had to go down so far into the ground. Mr. Kroenke challenged HKS to design an experience worthy of Los Angeles, the entertainment capital of the world. I think we did a pretty good job of entertaining people.
Were there other practical reasons that it needed to be dug that deep?
No, it was mainly the FAA. You can literally fly over it on either side of the stadium with the flight patterns.
Wow. Will guests be seeing planes going right overhead?
No, the ETFE has an opaque frit on it, so you really can't see planes. You may at night, but they don't normally fly directly over the stadium. They usually fly on either side.
What kind of contractor effort was that digging?
People say they were digging for close to a year. They moved tons and tons of dirt.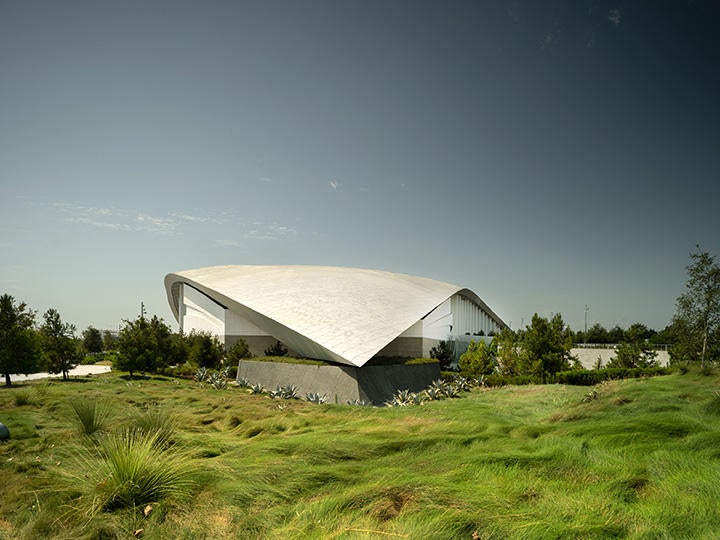 Are there other aspects or details of the stadium that are your personal favorite? Things that you were so proud the team was able to pull off?
I love how patrons navigate the building. There are some gorgeous stairs and escalators along the project so that, as you're traveling up or down, you get a view of the ocean and the mountains. You can see for miles, and it's an amazing view, to be so high up. And then the actual roof itself with the perforated metal panels and the ETFE [is] lit up from the inside as well, so it just gives you this really beautiful aura as you're traveling about. Even when you fly over the stadium, the lights! It's such a beautiful site. I love the landscaping that Studio-MLA did. I've been out there for close to three years building this, and once the plant life was finally in-ground, it's flourished. It really makes you feel you're not even in a stadium. There's canyons on the east and west of the stadium itself, so you always get natural light and natural breezes, and you see the landscapes surrounding you. You don't really actually feel like you're underground at all. That, for me, is a personal win, because digging 100 feet was kind of overwhelming— like building a garage, you know? But we haven't [felt that way] at all. That's a beautiful part for me.
What is your typical first interaction with a client?
Usually I'm one of the technical architects on the job, so they're already in. We've won the project. I usually come in when the design is being developed, and my first interaction with the client is typically with the city, introducing them to the project and making them feel comfortable. We're going to guide and help them understand the process of the building, and the codes, and what we're trying to build. I'm coming in sprinting, because the project already started.
What do you bring with you to a site visit?
I always have my iPad with me for keeping notes and punch lists. I've always got my PPE on me—a hard hat, glasses, gloves, vest and work boots. My dirty work boots, I should say. I always have my computer as well. It's the big program computer, but I take that with me wherever I go. My phone and my camera—I like to take pictures of what I'm working on—and a tape measure.
Do you research clients before you work with them? Are you Googling?
I didn't actually Google Mr. Kroenke, but I usually Google the team to see what people were talking about. I [go] on ESPN just to understand. Since I'm not from California, I wasn't a Rams or a Chargers aficionado, but I wanted to know who the teams were, and their coaches and their trainers, to understand what they needed on the job. A lot of times, when we program a project in the early stages, you need to know what they need, what they want, and their staff and how they work. So I Google them that way, but not like, personally.
Do you follow sports?
When I build a building, I hope the cameras scan it so I can see it on TV. My favorite sport is tennis, though. There's too many football players. I can't keep up!
Homepage photo: The exterior of SoFi Stadium | Nic Lehoux