Once you're in the door, there's plenty of advice floating around about style, project management, budget and all the rest—but how do you actually get the job in the first place? We're asking designers to peel back the curtain and walk us through how they landed a project, step by step. Here, Frank Fusaro, a New York–based partner at the global firm Handel Architects, discusses the creation of Inspīr, a luxury senior living residence on New York's Upper East Side. The building spans 23 stories and includes fine dining spaces, a library, a heated saltwater pool, a Mercedes-Maybach house car available daily and an open-air "SkyPark" on the 17th floor. Fusaro discussed winning the project with client Maplewood Senior Living and setting a beautifully well-lit design agenda, despite his firm having no experience with this kind of space.
What is your typical project, and where?
We're a firm of about 200 architects with offices in New York, Boston, San Francisco and Hong Kong. We've been doing a lot of residential and hospitality work in places like Taipei and Ho Chi Minh City. About 50 percent of the work we do is large-scale, multi-family residential; about 20 percent is hospitality; another 20 percent is a mix of mixed use projects. The [rest] is institutional work, and some in the public sector. We're working to be the best multifamily architects globally.
I know you're a partner, but do you have a concentration of your own? Or what are the projects you enjoy working on most?
One of my partners says I'm a Virgo, and that's why most of my work is centered around homes. Most of my projects are in and around New York. I have done some work in Miami, but I like working close by and seeing the project develop. I'm lucky to work on a variety of things, from the Dream Downtown Hotel, to the redevelopment of Pier 57 on the Hudson River Park waterfront, to a new home for the Tribeca Film Festival. And then I do a lot of multifamily residential buildings.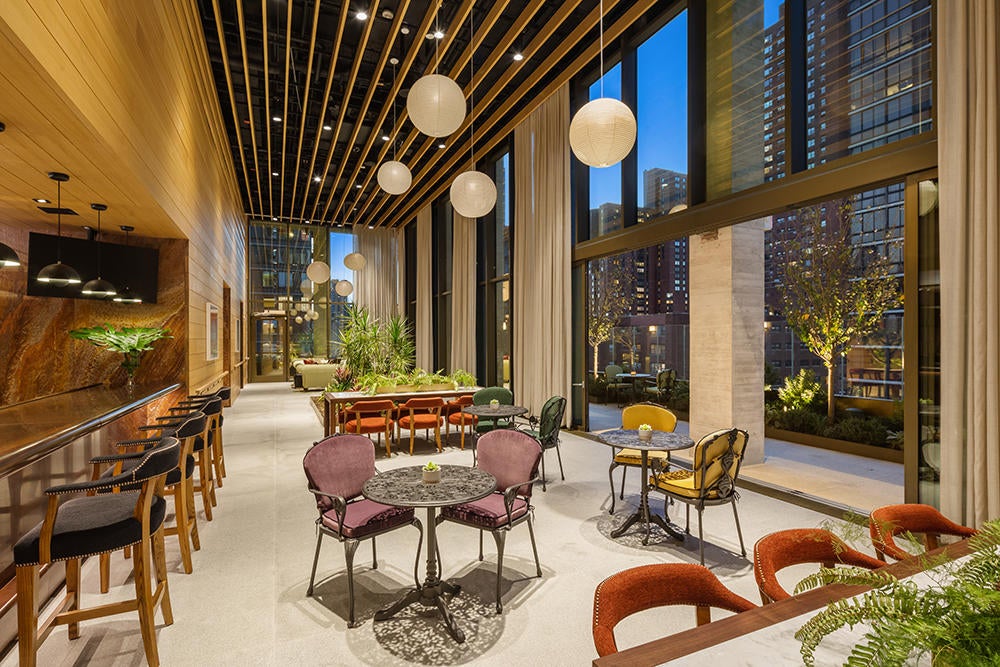 How did Inspīr come to your firm, and what were they looking for?
We had been working on the site on Second Avenue with another developer. When that developer decided they didn't want to move forward with the project, we put together what I would call almost a branding or sales package to take to the market that included some design work for a condominium building. That went into the brokerage community. The site languished for a bit, and then I got a call from Tom Gaston at Maplewood Senior Living.
When he called, I was exhausted after showing this [site] to so many people for so long, and I really grilled him. I wanted to know that his intentions were serious. He told me what he wanted to do there, and from that point we all really wanted to be involved. Architects love working on projects like this—projects that can make a difference. After that call, Tom invited us to interview.
What goes into an interview like that? Are you bringing a presentation?
In this case, they didn't really know what we were capable of because we hadn't done any assisted living projects before. We made some sketches about how we thought the assisted living program could work at the site. Developing this kind of building in an urban center is very different than the work they were doing at the time, which was more suburban. We brought a presentation of our hospitality and residential work, [where] we saw synergies with the assisted living project.
What other projects in the presentation had this sort of mix? This project is somewhat medical, yet also a luxury residence.
One was the Dream Downtown Hotel, which couldn't be for a more different demographic. It was focused on the very young—25 year olds—but it had this internal garden where we brought the outdoors right through the middle of the building, which became the heart of the hotel. That was something those guys were interested in. Another project my partner had been working on in Chile, called El Bosque, had all these trees that were planted on it, and were terraced to bring the landscape onto the building. [Maplewood chairman and CEO] Greg [Smith] really focused on those, and the idea of bringing nature and natural light into the building. From that first meeting, the design drivers were those connections—to daylight, to nature, to community. We're still talking about them.
Were there are other facilities like this in New York? In terms of the scale, and the sole purpose?
There weren't really any that I could think of when Inspīr launched, which from our perspective was part of the brilliance—having a new paradigm for the seniors in the city, and what it meant to be aging in the city. The Upper East Side was such a natural location to have that connection to museums and culture, parks, and great hospitals. I think there are a few now that developed simultaneously.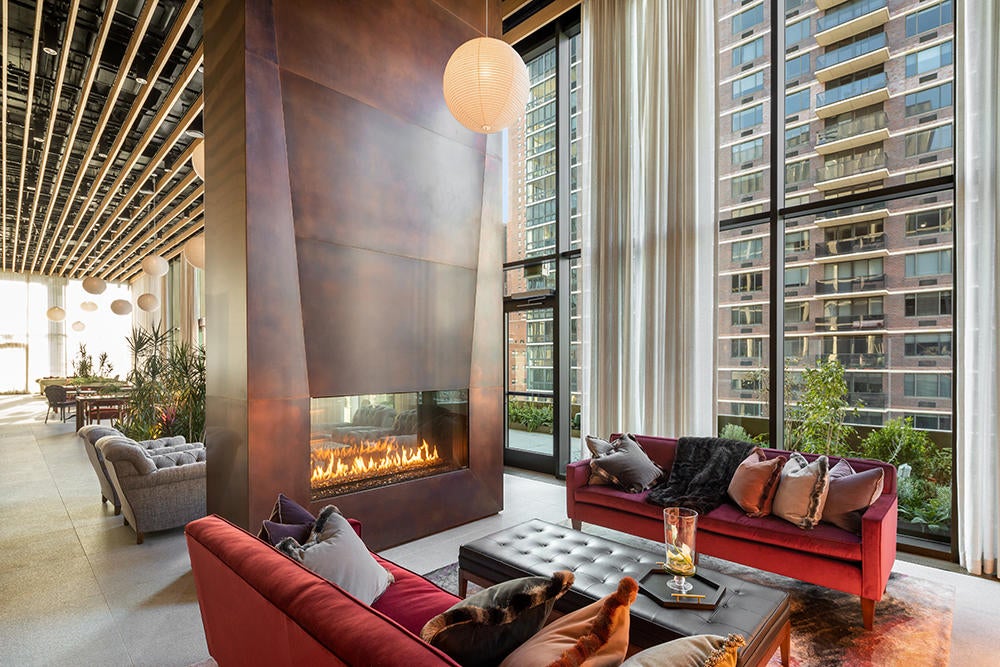 Once you won the project, what were the first steps? How did you jump in?
We really built on those ideas as we talked about how to zone the building. We showed the stacking of the building's floors, [with] folks who need higher levels of care closer to the ground and with larger floor plans, and then folks who need a little less care and were more independent at the top of the building. Sandwiched in between these two uses, we created a level we call Sky Park, a place where a resident could go even if they couldn't necessarily get out all the time. There's nature, greenery and plantings inside and out. Some of the walls of that space totally move out of the way so the terrace and indoor garden flow together. There's a great little circulation loop there for meandering and enjoying the fresh air and sunshine.
What was the general vision for the space?
We decided to make the building out of concrete. We wanted to make something that was authentic and had a very simple order of framework, so to speak, to introduce big openings and natural light in the gardens. When it came to the interior, we chose materials that contrast with that concrete. There are quite a few concrete elements in the dining room, for example—the columns coming through are actually the structure of the building, and made of concrete just like the façade—but it's elevated with materials drawn from the palette of nature. Warm tones, oak woods, stones, and shades of green, red and yellow.
Can you talk a little bit about some of the design problems with most assisted living or senior facilities? Because I've been in a few and they're often not gorgeous. How did you avoid creating a space that feels sterile or sad?
Like you, I'd been in these facilities. Maybe a year or two earlier, I spent a lot of time with my own parents looking for spaces like this. When I met Greg and Tom, I really wanted to be a part of this conversation to make these spaces better. What was sad about some of those designs is that they don't really have a lot of natural light. They're not bright, they're not particularly welcoming. The material choices and the colors—which have so much to do with the way you feel and what invigorates you—were really lacking. So here we focused on keeping the space bright, with all that light flooding in from the big windows, and then integrating those gardens so there was always a sense of a connection to nature, and then complementing that with rich, warm materials.
It worked all the way down, even into the fixtures and fittings and the furniture. The great chandelier that's in the lobby—I had been in Venice the summer [we were designing] and happened to be in the factory of the famous glass company Seguso, and we talked to them about making that chandelier. We had a great relationship with George Smith, an English furniture maker, so all of the pieces are bespoke, designed and tailored for seniors—the seat height, the shape of the back, how far it tilted back for comfort and ease of getting in and out of the chairs. Great fabrics that, again, come out of the colors of nature. It's not isolated or internal. It's connected to the city through those big windows. It doesn't make you feel claustrophobic. Even the restaurant has the garden, that glass box—that goes all the way up to the sky so when you're sitting back there, depending on the season, you can experience a really lush garden, or a snow-filled one. Imagine sitting in the middle of a restaurant where it's snowing around you? That's what we were looking for—moments to infuse the spirit with that light and vigor.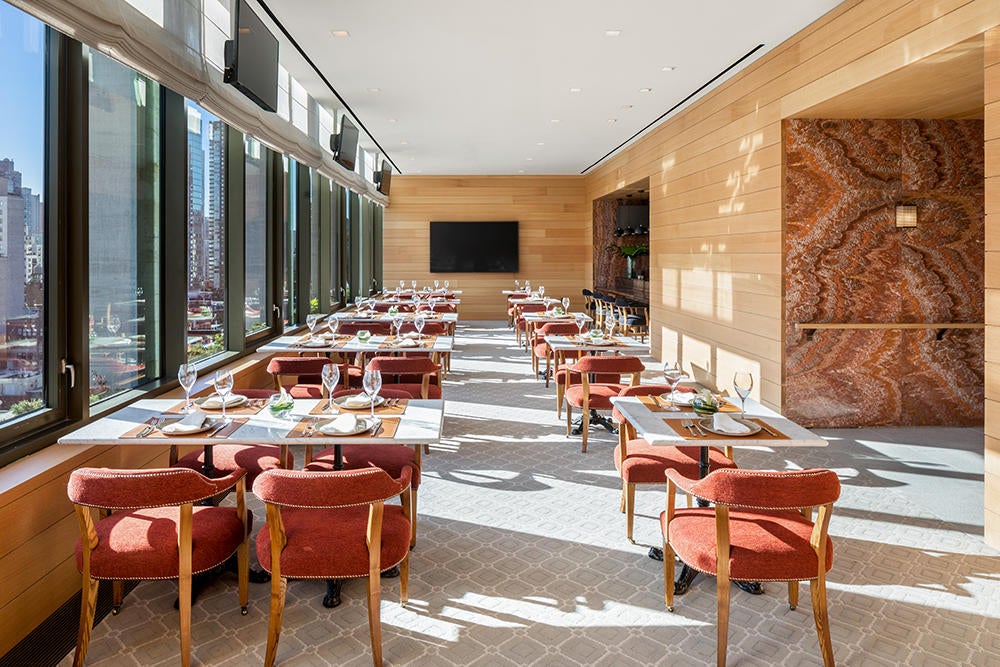 It's not necessarily a medical facility, but are there aspects of the design that prepare for the medical needs of the population? Even just wider spaces between tables for wheelchair access?
Yes, all of those things. Actually, we were lucky, because Maplewood realized that our portfolio wasn't built around these kinds of projects, so they helped us focus on those things. Even the spaces that communicate to the individual apartment units, those spaces are much wider than in a normal multifamily project or a hotel, for instance. They're lined with an oak banding, which functions as a grab rail so people can steady themselves if they need to. The doors to the units are extra wide to accommodate folks who may need a wheelchair. The bathrooms are all designed so they're easily accessible. They have sliding doors, so that if anything were ever to happen in one of the bathrooms, you can move the door out of the way to help someone. Showers have zero clearance at the floor so that you don't have to worry about tripping. The marble tile mosaic on the floors provides extra grip. What we tried to do was integrate those elements within the design so you don't really feel them until you need them.
What's your typical first interaction with a client?
We're a practice of 200, but we're like a small family operation, so it's pretty immediate. Tom called me directly and we met, and I think two weeks later we interviewed. That's pretty typical. We're a relationship-driven practice, and we have a lot of repeat clients. For new clients, we usually do an introductory meeting to show them the office's work and get to know them at the same time. We don't really have a formal intake process.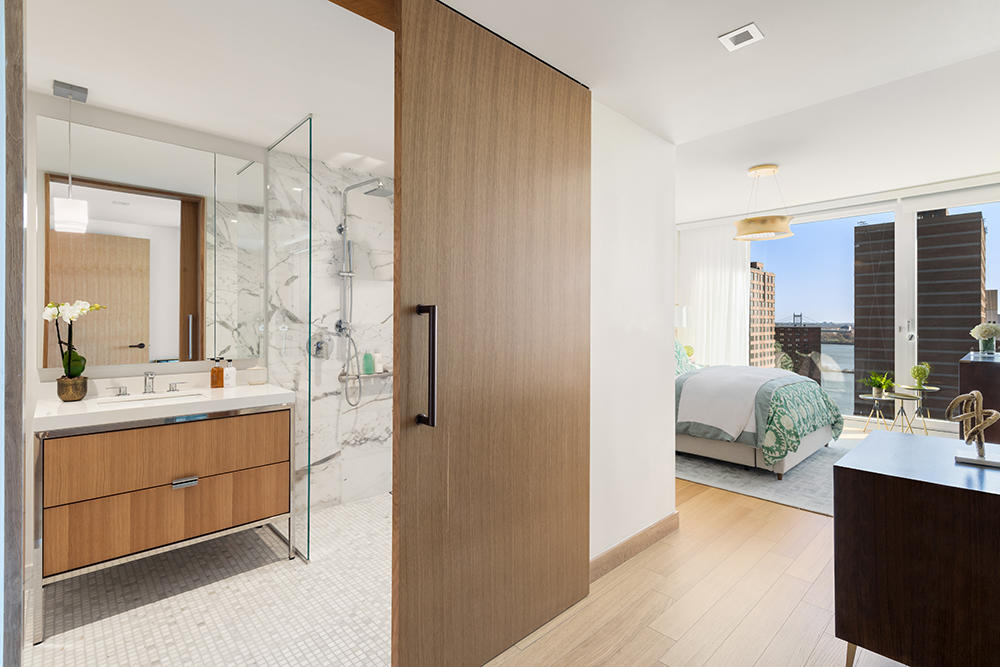 How do you usually present design concepts?
We normally start with some very simple and direct diagramming to explain some of the concepts in a digital format. Then as we're developing unit plans, we might pin them up on our conference room wall on a big scale and mark them with clients as we're developing the space allocation. The last couple of years have been particularly frustrating, where we're trying to hold materials up in front of our camera over a Zoom call. That's pretty tough. The only way to do that, really, is just to have them all laid out with a computer and there's a board, or with some digital imagery showing how we propose to use them. With this project, we actually had the luxury of having everyone in and around looking at materials.
What do you usually bring with you to a site visit?
My camera, my phone. I usually have a tape measure in my bag. That's about it. A project like this [has] a big team—we'll have people delegated to visiting the project regularly during construction, so a lot of the dimensional things that need to be checked are picked up by those folks. When I'm visiting, I'm really looking at the spaces to make sure they're consistent with the design that we set out at the beginning of the project.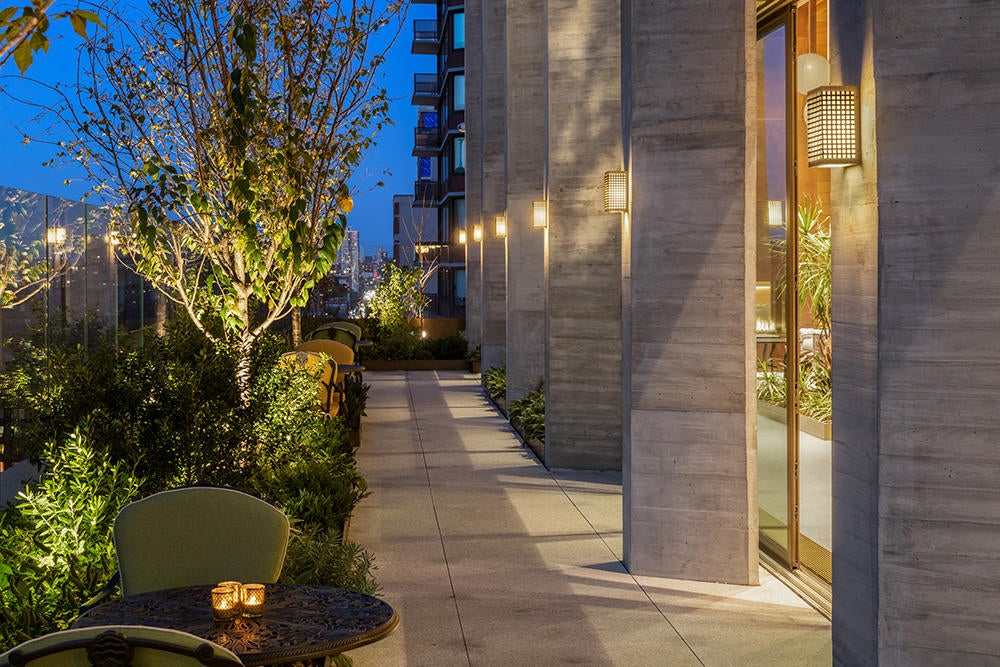 Do you google clients before working with them?
Not usually. A lot of the developers we work with are pretty well known—there's not a lot that you don't get to see or hear about through the industry. I think in instances where we may not know a particular client or developer, we will look to see what kinds of projects they've done so we can know if it feels like a good fit for us.
How do you turn down a client who's not a great fit?
If we do turn someone down, it's because we both realize that we're not the best fit in some way. A lot of times it has to do with the scale of work. We love to do projects of all sizes, but as a a big shop, we're maybe not as competitive on smaller things. At some point in the practice, we were collaborating with a lot of Pritzker Prize architects. For instance, we had done a bunch of work with Ian Schrager, and Herzog & de Meuron out of Basel, Switzerland. They liked us because we wanted to make great design with them. We weren't a traditional sort of executive architect firm. We've been asked to collaborate in that way a few times thereafter, but we made a decision internally that if people are looking for an executive architect separate from the designing architect, we were taking ourselves out of that business. That's probably most of the work that we turn down now.
Homepage photo: Inspīr, a luxury senior living facility on New York's Upper East Side. | Evan Joseph