Once you're in the door, there's plenty of advice floating around about style, project management, budget and all the rest—but how do you actually get the job in the first place? We're asking designers to peel back the curtain and walk us through how they landed a project, step by step. Here, Anne Hulcher Tollett, principal designer of the Richmond, Virginia–based firm Hanover Avenue, shares how she became involved with a new chain of social clubs, Common House, which is setting out to be the (friendlier!) Soho House of the South.
What kind of project do you usually work on?
We've been a design firm for over 20 years, which makes me sound like I'm ancient, but we won't talk about that. We [primarily] work on high-end residential stuff, whether that's working with architects to build a house from scratch or just redesigning rooms. Common House is a commercial job, obviously; the commercial work we do is usually kind of niche—boutiques, clubs or really fun small businesses.
How did this project come to you?
It was the craziest thing. I was working with one of the original founding members of Common House. I was gutting and renovating and designing their fantastic urban farmhouse in Charlottesville, Virginia. We were having the best time working on this job, and I knew that Common House was fairly close to being opened at that point. They'd been working on it for a few years. At the very last second, he called me and said that he and his designer parted ways. No joke—12 weeks or 16 weeks [out from opening]. I even said, "Hey, guys, I don't think I can do this." Nothing was picked—zero. And they were opening so soon.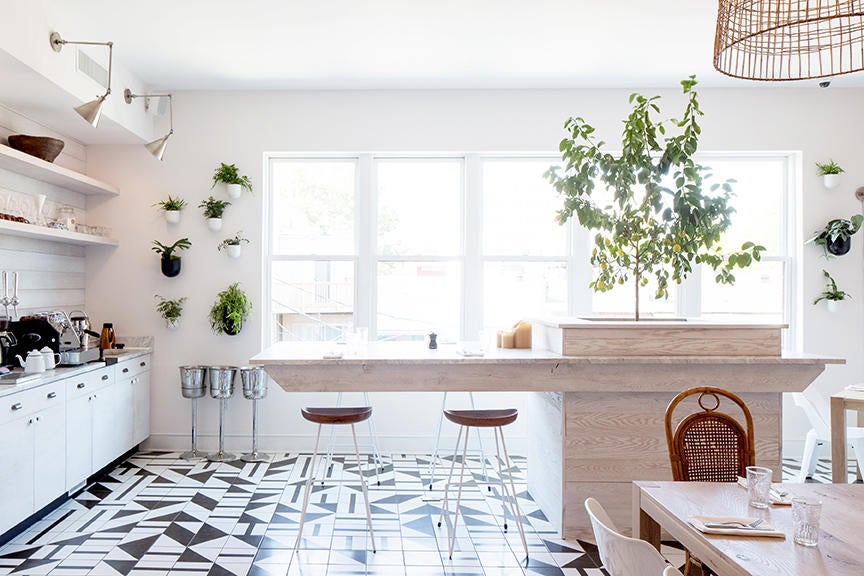 I had a conversation with the owners and I was very candid with them: "This is almost an impossibility. I have to have a clause in my agreement that says that if stuff isn't here on opening night, that I'm not liable for that." They hired me, and it was so stressful, but I was able to just pull a rabbit out of my hat, which I think is mostly because we have a buttoned-up design firm. We're not a one-man band, and I have a great purchasing agent that does all of our commercial work with us. Honest to God, we called in every favor under the sun. We designed a lot of custom tables. Some of the furnishings, like this huge banquette, I had to pop out of my brain and reach out to one of my workrooms in North Carolina and beg them to make it basically overnight. Somehow, amazingly, it all came together super fast and on a tight budget.
What did they want from the space, given what had been done so far?
Well, nothing was really done. I don't even understand how it got to that point, really. We were auditing furniture plans because things weren't even to code. It was crazy what was on paper. So, we had to completely start over. All three of the owners are just very creative types, and so—like all of our clients—we had to sit down and really try to understand what was in their brain.
They kept saying they wanted it to feel like a home away from home. We knew that our marching orders were to have it feel like a place where someone would want to take a client and relax. It needed to feel really inviting and comfortable. I was able to connect them with one of my really good friends, Tony Harris, who got all of the mural and graffiti art projects in Richmond off the ground. Tony was instrumental in helping them bring these really heavy-hitter muralists and street-art guys in to be a part of this. I looked at the graffiti artists they liked best, and then in a 3D design program, I just slapped what I thought would be appropriate images up on the walls, and it gave the artists a creative direction of where we wanted stuff.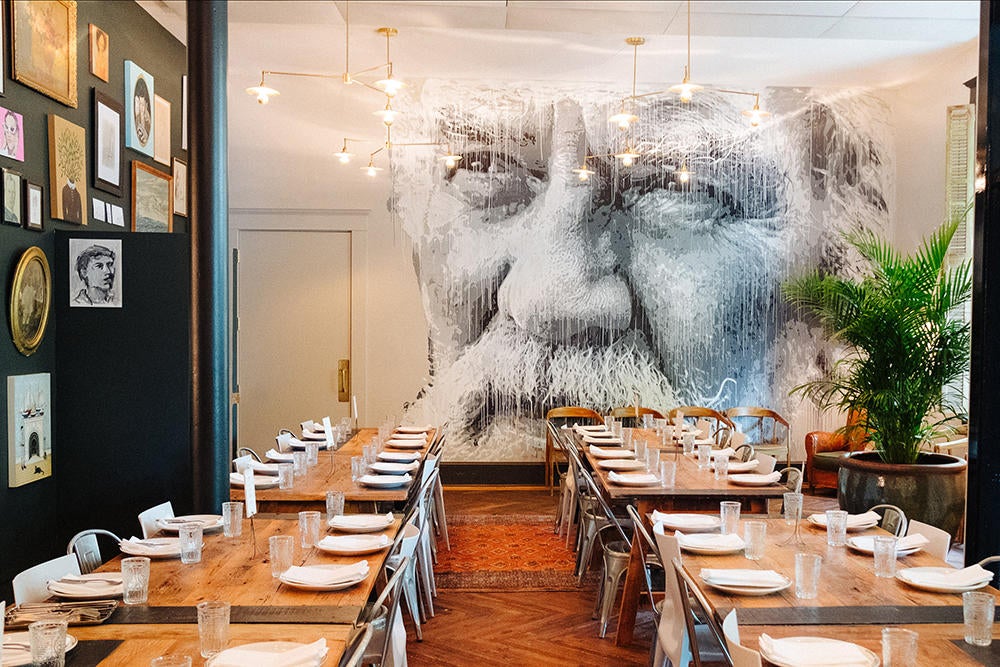 We picked vintage pieces, and I was very upfront with them that some of these pieces they wanted were not commercial-grade, but they liked the fact that the leather would break in. They also liked having quirky, weird things, so the owners and I went to thrift stores and found all these other pieces. That banquette that's around those vintage velvet chairs, near the fireplace—we designed that from scratch to fit. Even those Parsons tables—we designed those from scratch. It was really fun. Then that job led to designing the Common House that opened in Richmond. I hate to say it was a fluke, because I was doing good work for one of the owners, but who would've thought?
What was the timeline between the Charlottesville club opening and the expansion to Richmond? Were they always planning to expand?
I think they had to make sure that it was fully viable, and they had great success right out of the gate. So four or five months after the first club was up and running, I started driving around with them, their Realtor and the developer, looking at other locations. I was engaged on the second project soup to nuts, from scouting the location until opening night.
Just to place this concept within context: Are social clubs popping back up in the South? Can you tell me a little bit more about the regenesis?
Two of the founding members are part of the creative class: One was a former ad guy and then the other one is in film, and they were members of Soho House. I know that sometimes Soho House can feel like a scene—you go there and you've got to look good, feel good, talk well. At Soho House, they ask you what you do and who you know. At Common House, the premise was more like, What do you love? What makes you happy? In part of the application process, at least when I was seeing it initially, they asked, "How do you like to give back?" "Who do you want to be around?" It's just a completely different vibe. A lot of the old social clubs of the South were fairly bigoted. This isn't like that at all. You get to join Common House if you're a nice person.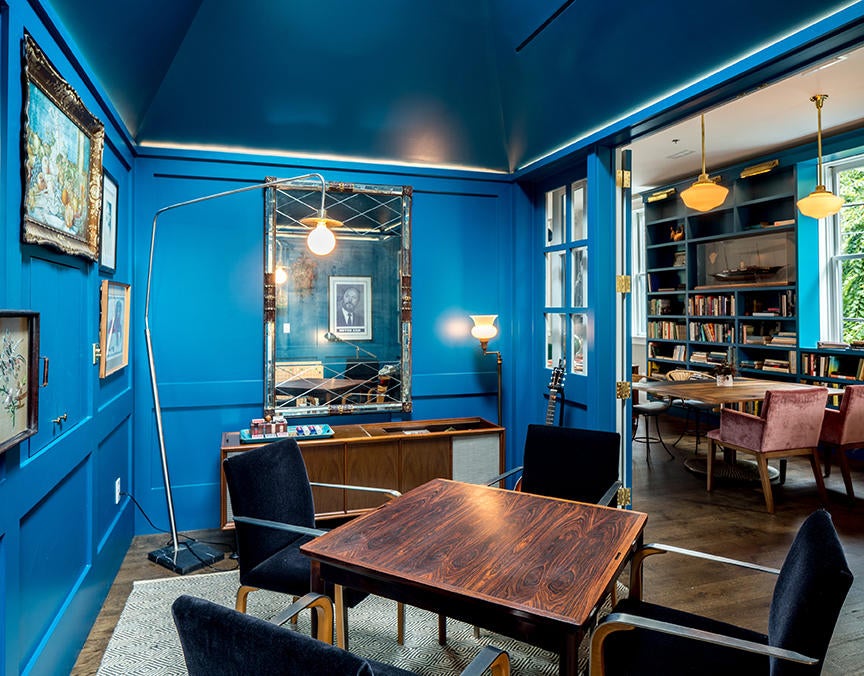 I talk to people who say that it feels like a camp for grown-ups. They'll have, like, these amazing chocolatiers come in from around the region, and you can go and learn how to make candy one night and meet a bunch of people who want to make candy too. You might be hanging out with a CEO or a music teacher, a librarian or a surgeon. You'll have a moment or take a class with someone in your community that you never would've met. That's why I love it. I really respect how they're trying to make communities better.
What are some of your favorite vignettes or details in the project?
This huge banquette that wraps the room so people can sit and be comfortable and have that moment where you're looking out into the crowd. So, you're a wallflower, but not—you're having appetizers or sharing a drink, but you get to see who's coming to the bar. Then, I loved the front entry that is just an old door that we turned sideways, designed some millwork to go on the top and lacquered in black. And I love the tea room—that big, fun cantilevered piece in the middle, and that great tile floor. They were all fun. It's like trying to pick my favorite baby.
What is your typical first interaction with a client?
We're so lucky that almost all of our business comes from word-of-mouth. It's very rare that we get someone calling us completely out of the blue. Typically, it's a phone call at first. It's a lot like dating, really. We're just trying to get to know each other and see if we like each other's voices. Do they have a compelling project? Do they sound nice? Do they like our work? In that call, we'll talk broadly about how we work as a firm, which is to say that typically, we try to get a real understanding of what the full scope of the project is, so that we can accurately bid it for them. And also in that conversation, I try to make sure that they have their arms around the budget. That's the first step.
And then if they're located out of town, we'll have a FaceTime and they'll usually walk me through the space or we'll start to look at floor plans, and that's when I can drill down the scope of it more. Then I work with my business manager and my team to figure out what we think the fee would be for the job, and then we'll typically present that in person.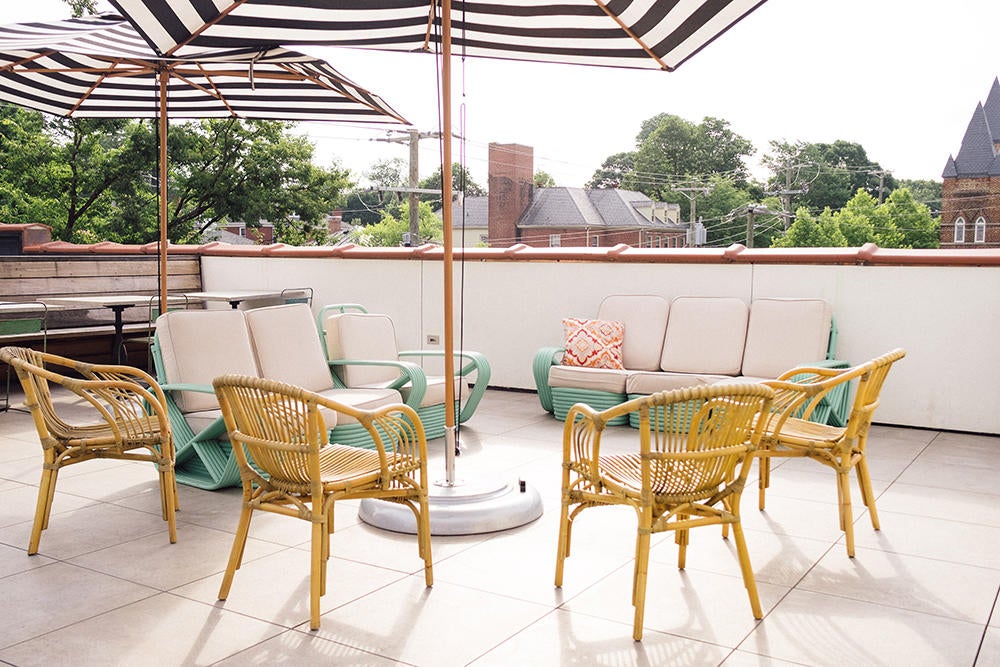 What do you wear for a first in-person meeting with a client?
Oh, just whatever I have on. Sometimes I'll have to give the heads-up, like, "I'm walking off a job site, so I'm covered in dust." But I feel like the more they can see who I really am, the better. As much as we can be ourselves right out the gate, we should, right? Sometimes I'll be dressed to the nines, and another time I'll be rolling up in work boots and pants that have drywall dust all over them. I try to keep it real from the get-go, because it's such a real relationship. I feel like you should come as you are.
How do you present a design concept?
We have a three-pronged approach. We start with schematic design. What is the purpose of the room? How does that room need to function today and tomorrow? What is the program of this space? If it's a living room, we're trying to figure out how many people would this room hold on a daily basis, and how many people does this room need to hold for a party or a holiday? How many grandchildren do people have? How many children do they want to have tomorrow? What color are their pets? Because if you've got like a huge black Labrador, maybe you don't want to have white slipcovers. We try to come up with every possible iteration of how that room would be used.
And then we have a phase called design development: I'm getting the clients to share the clothes they love, food they love, trips they love, rooms they've been in and loved—even if they don't know why they loved it. You spend that time getting into their brain, because once you start to see a collage of all of the things that they love, their natural style is revealed. And, usually, they're surprised! Then we start pulling together different profiles of pieces. We show it to them, either in our conference room or at their house. We'll open our computer and say, "This is what we're imagining." Because we've been so thoughtful about the first phases, nine times out of 10, they're like, "OK, great. I love it." Then it goes to design production.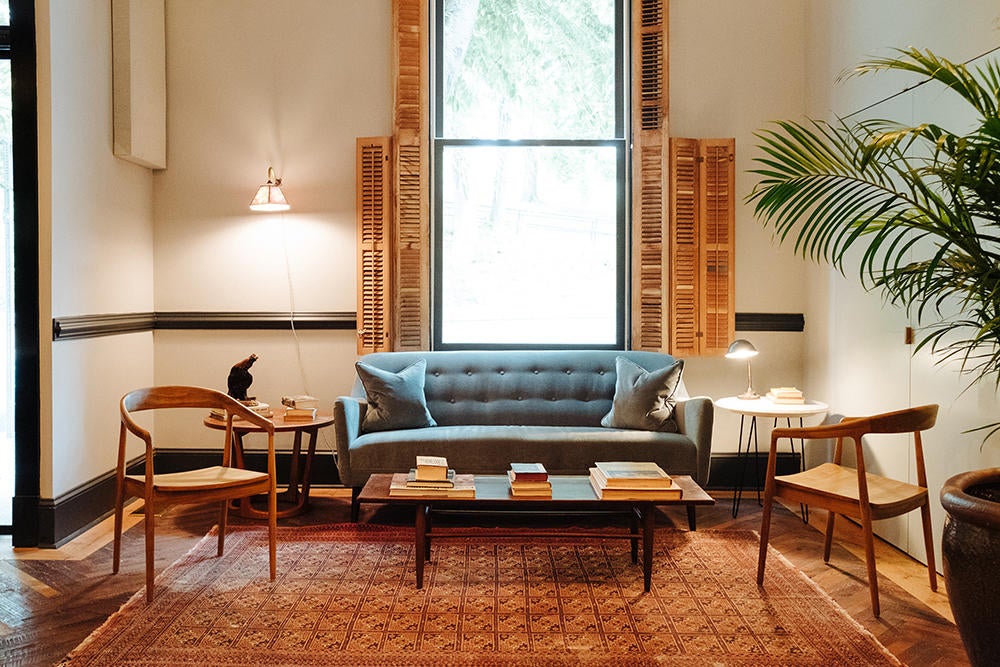 What do you bring to a site visit?
The main things I take are my phone for pictures, a person from my team, a measuring tape and a notepad.
What is your colleague's role?
We're both taking notes and taking pictures. We're both measuring, we're both talking to the client, or the client and the builder and the architect. I almost never go to a meeting alone. It's really important for my clients to fall in love with the team.
Do you google clients before you work with them?
Never. Never, never do.
Really!
I know that sounds really weird. I'm a really big believer in trusting your gut, and you can tell so much from a first phone call. Usually if that goes well, I'm like, OK, cool, I want to meet this person. And in that phone call, do they feel comfortable talking about scope? I tee it up a little bit: "This is generally what it costs to furnish a room, [everything from] rug pads to finials." And then we meet face to face. But I've actually never googled a client. Isn't that terrible? There was no social media when I was dating people, so I'm used to trusting my gut. I'm not that old—I'm 45—but I didn't fall in love with my husband and google him. I just had to ask my friends from college, like, "Hey, do you know this guy? Was he nice?" That's how I'm used to doing it. Niceness and being a nice person—it goes a long way.
Homepage photo: The Common House club in Charlottesville, Virginia | Photo by Andrea Hubbell