The 50 States Project is a yearlong series of candid conversations with interior designers we admire, state by state. Today, we're chatting with Charlotte, North Carolina–based Marie Cloud, who founded Indigo Pruitt Design Studio in 2017, about simplifying her process, getting clients based on her shopping cart in HomeGoods, and finding ways to give her talents away.
You're based in Charlotte, not so far from the epicenter of the furniture industry—has that shaped your career?
I'm originally from Ohio—that's where I did my undergrad. I've been in the Carolinas for about eight years, and over time I've started to see the impact of the actual location in the convenience of it. That's probably the biggest piece of it for me—that I'm only a drive away. Honestly, sometimes I just ride up there and look at beautiful things. But in terms of how it's affected my clientele, you'd be surprised by how many people aren't really aware of the goodness that we're surrounded by here.
Really?
So many people here are not from this area—they're from Florida or the Northeast or somewhere out there like myself. Educating my clients is the most rewarding and fulfilling step of the initial process for me, and part of that is letting them know that we have access to so many different opportunities. I can say, "Let's get out of this Pinterest mindset, or the magazine-perfect Chip and Joanna Gaines look. We have access to so much—let's play around and dream!"
Do you take your clients to showrooms, or is it more about inspiring them with the product you have access to?
More the second one. I don't take them into showrooms—in my experience, when you give a client an array of too many options and choices, you pay for it in the long run. It's been easier for me to do research and sourcing, then come back to them and have a conversation.
When did you know you wanted to be a designer?
I went to Bowling Green State University to study architecture. Toward the end of my freshman year, I went to a conference and ran into this amazing interior designer—she walked into the conference with such a beautiful, gentle fierceness and a confidence in the way she presented her ideas and projects that I wanted to get to know her. She mentored me for the next few months, and when I came back my sophomore year, I changed my major to interior design.
What made that switch feel like the right move?
I felt like that was always within me. At least once a month, my mom would take me to model homes in—we called them "the nicer neighborhoods up the hill." We would walk around these homes just to get inspired. I know now this was her way of allowing me to see a different way of living—a different life that I wasn't privileged to have back then—so I grew up seeing and having a great appreciation for beautiful design, but not really knowing that that's a talent. It wasn't until I saw these designers in college that it dawned on me that it takes skill and a gift—and it wasn't too long after that that I realized, "Hey, I've got that, too—let's go."
What was your path after graduation?
I had an internship with a commercial office design firm, then continued with them after graduation. From there, I jumped into property management for a multifamily area in Cleveland while I was taking my real estate exams. My goal was to get to historic homes—get investment properties and make them beautiful—so I wanted that [real estate] title as well.
I moved up pretty quickly through that property management program. At one point, we were doing a renovation I had initiated when the Sherwin-Williams sales rep came in to get us familiar with the brand. I was the only female [on the job site], and I was running the whole thing. I'm assuming he was impressed with the way that I carried myself, because he was like, "Have you ever considered working for Sherwin-Williams?" And I said, "No, but tell me about it." I ended up applying for their management training program for the Charlotte area, which was a city I was falling in love with—I had visited a few times and wanted to make my way here. I made it through the interview process, relocated to Charlotte and worked for Sherwin-Williams for about four years.
What kind of management track were you on?
It's basically a fast-track to store management, so I was brought on as an assistant manager and then quickly became the manager of a store. I requested design privileges from the very beginning, and I made it very clear that my goal was to be an interior designer. The regional manager gave me those privileges, so there would be situations where, if a residential customer came in, we're having a consultation while the paint is being prepared. I spent a lot of time exploring color theory, undertones, and taking a lot of additional trainings; I also kept asking for more responsibility outside of the management role, like: How can I build up a clientele within the store? Doing well with that pretty much confirmed that this was the route I wanted to go, so I set up a way to start taking on design clients.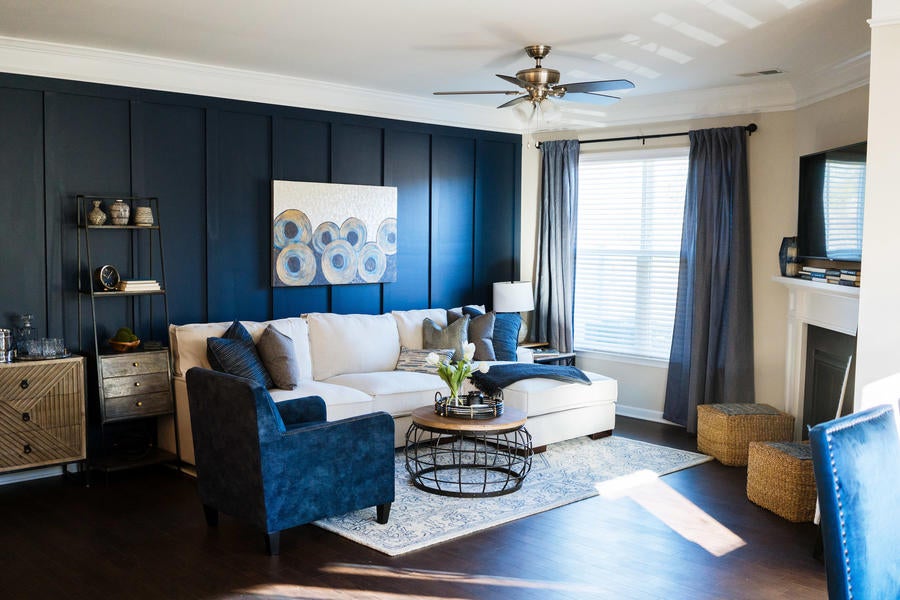 Courtesy of Indigo Pruitt Design Studio
How did you know you were ready to launch your own firm?
In that last year at Sherwin-Williams, I felt like I was in this box where I couldn't really roll up my sleeves and get my hands really dirty—I started to feel constrained by it, and I started to think, You know what, I'm ready to take this leap. My schooling did a great job of showing me the business side of things as well as the beautiful aesthetics and design, so I felt [ready for it].
You might be the first person I've ever heard say that design school prepared you for running a business, too! What did that business education piece look like when you were in school?
I minored in entrepreneurship—it wasn't intentional, but it just so happened that by the time I got to my junior year, I had taken [enough] business classes that I was only two or three more classes away from earning an entrepreneurship minor. That gave me the basic principles. As far as boots on the ground experience, I don't know that there's any university that's going to give you those tools, honestly. I'm still learning. But the biggest thing they did teach me is that those principles that are going to be fleshed out 10 times over in the experience—it's not that I'm so confident in the business side of things because of the university, it's that they were very realistic about what I was running into, almost to the point that it scared me [and kept my from launching my own firm] for the first few years.
What were the things you were afraid of when you graduated?
Keeping track of the numbers and staying on top of the accounting piece, and then having the conversations about those things to your clients—all the things that the typical free-spirited creative mindset clashes with. I was down for the risk-taking and throwing yourself out there, but I was very honest with myself about what my weaknesses were. I love all of this left-side stuff, but that right-side stuff was like, "Ugh, I'm good at this, but I really don't enjoy it."
Are you still doing all of that for your business, or have you outsourced some of that?
I'm still doing it all. One thing that I have just come to grips with is being very honest with myself about the things that don't necessarily come naturally to me or that I don't enjoy, and I try and tackle those first—or at least put systems and processes around them to ensure that they're easier than what I may assume they are. I'm a list person. The minute I move away from those systems, that's where I get myself in trouble. I think it's important to be honest with yourself about what works for you and embrace that.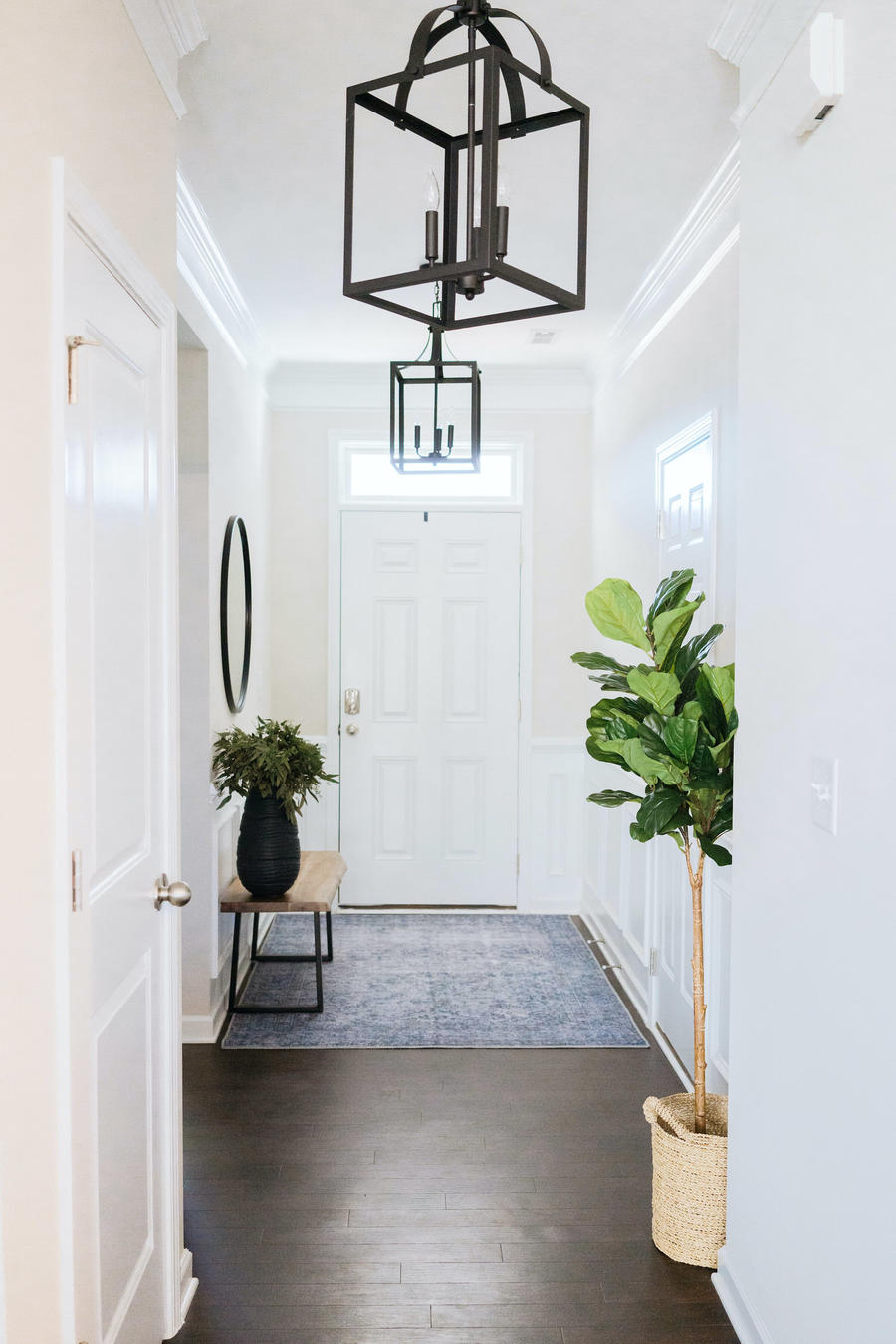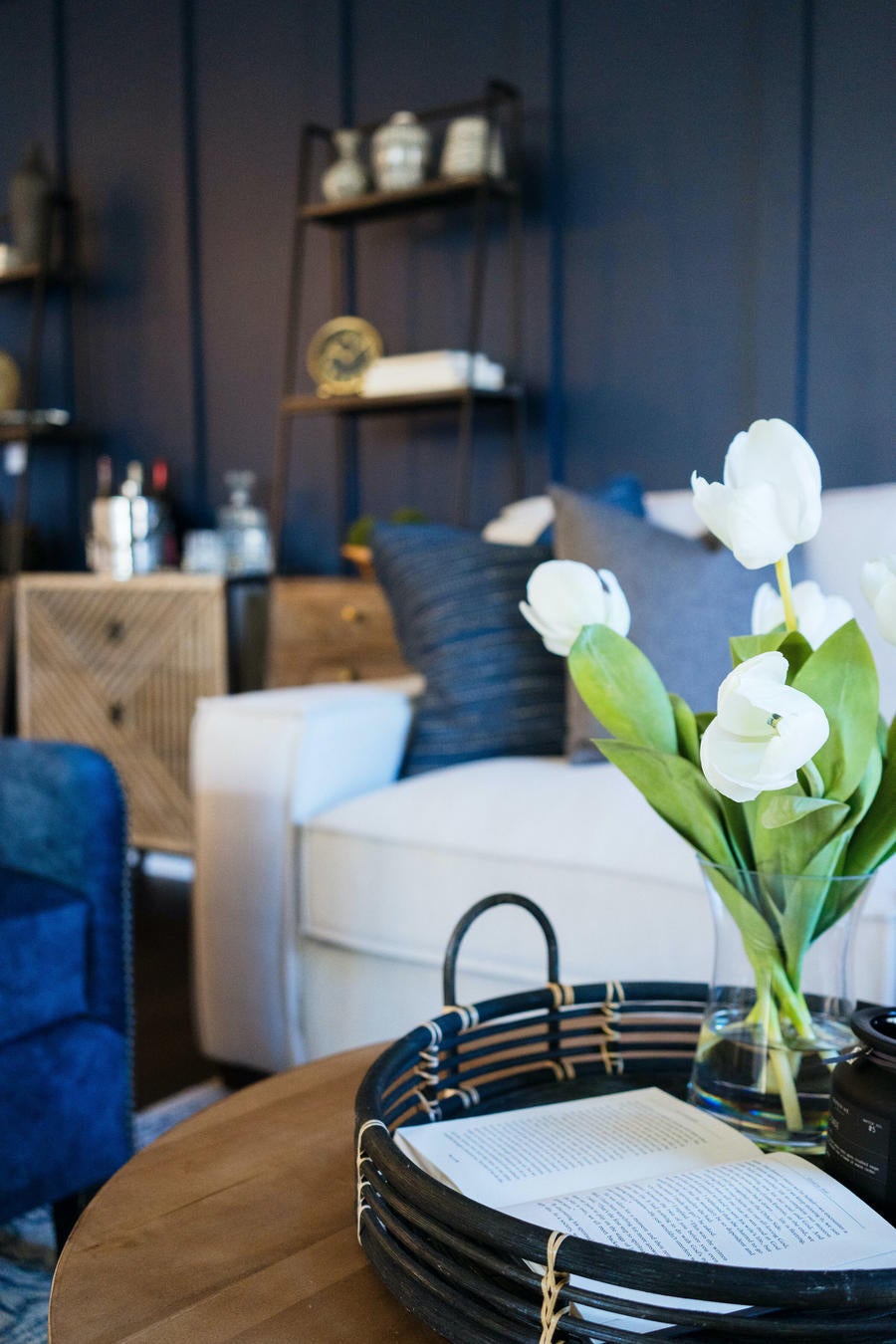 What do you wish you knew when you were starting out?
Knowing the importance of educating your client early and often. [You can't] have the expectation that they know anything about what you're doing, even from a budget perspective. When they [tell you what they want to spend], they're not trying to hide their money from you, they just have no clue what good design costs. You have to spend time having good, honest conversations about the budget. The best advice that anyone has ever given me, and that I will give anyone, is be honest and have that conversation early.
Have you changed the way that you bill over the course of having your firm?
Initially I was giving random numbers based on square feet: "I think this room will cost this." But I had to check myself on my time—I think that's a little bit harder to charge for, just because, how do you put a number to that? My rates have increased as I grow confidence in my worth. And the more experience you have, the more appreciation a client is going to have for you. It also goes back to educating them on what you're doing—even if it's killing gas driving 30 minutes to their house, or driving two hours to High Point to visit a showroom for their project. Little things like that have to be part of the educational conversation.
What kind of systems have you put in place?
Early on, one of the challenges that I had to check myself on was not allowing the client to run my business model—not allowing them to speed up a process when I know how long it's going to take. If they're saying, "Hey, I need this in two months," but you know the design process going to take three to six months, communicating that up front is a way that you can honor your systems, your processes, and it's a way that you can honor your client to get a better end result. That's the main thing that I've stayed true to. When I started, I offered five different packages; since then, I've tailored it down to three through trial and error and figuring out what works for me.
How has your client management style evolved?
I'm big on relationships. I'm going to spend a lot of time with you early on, we're going to get to know each other a little bit better. Right now, that's been tough, so I've had to get creative with Zoom, which has pulled me away from feeling as though I need to spend so much time with the client upfront. If anything, it has opened up my eyes to new ways of communicating and new ways of doing things. How can we still make things happen virtually and not feel as though everything needs to be tangible? That's been the biggest change for me—but also, I'm eight months pregnant.
Congratulations!
Thank you! Amid this COVID season and all the disastrous things on the news, I'm also preparing to bring life into the world. Although this time has been challenging, it's also been a time where I've been diving into my business and asking myself, How am I doing this? Why am I doing it this way? I needed [to make] that commitment to my business, so I took the time away from projects to work on it and prepare for what's to come.
How did you carve out the time to do that?
I've been very intentional about the clientele and the workload that I took on. I've had conversations with potential clients that we were planning for prior to that baby, talking about what that's going to look like in the next year. This year is going to be pretty family-focused, and I'm OK with that. If COVID and this time has taught me anything, it has been to embrace and be OK with keeping my family and my health first and foremost. I'll finish up a few virtual designs, but I won't take on any more full-service design clients for the rest of this year.
I share with my clients early on that my business is not my No. 1 priority in life—my family is first and foremost, and I'm very intentional about sharing my family on my social media as well as in my bios. My clients know that if anything comes up, I'm big on communication—they won't ever have to worry about that—but that my family's always going to take precedence over their project and everything else.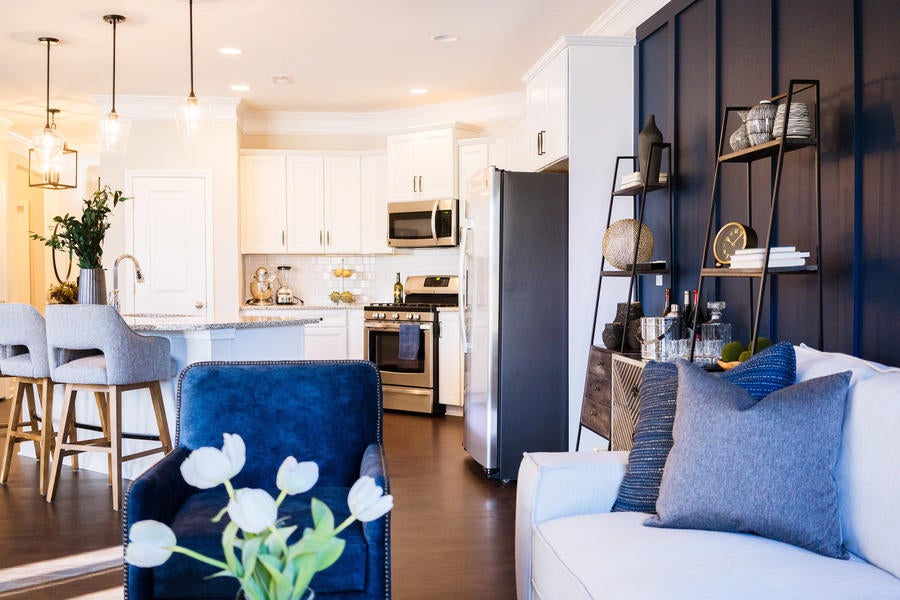 Courtesy of Indigo Pruitt Design Studio
Has that focus on family changed the way you approach that in your work?
Tightening up my hours and my availability. My evenings are my family time—or, you know, I can't be on a call with you if I'm at my son's football game. So I do allow my clients to text me. Not work items—don't send me any inspiration pictures through text, right?—but casual check-ins. "Hey, do you have a second, can I call you?" Things like that. For one, I think it's just good relationship-building. It also allows me to be able to tell them what's going on in my world instantly.
How does that family-first mindset show up in the projects you do for other families?
That's the fun part. I love those projects where you get to sit down and say, "What does your day-to-day look like? How do you manage your household? Where do you drop your keys off?" Having those types of conversations, and then pushing the creative envelope to allow this space to work for a family of six and still be absolutely drop-dead gorgeous. I think it helps when I share how I feel about family early on so they can connect with that. My hope is that they have a great appreciation for it.

Were you always offering virtual design services, or how has that become a bigger part of your business?
It was something that I was offering in a very casual way. Early on, I had to be very intentional about charging for my time if a potential client approached me wanting to "talk through a few things." I [learned to] charge for that consultation because those services could stop right then and there—whether they decide not to move forward or their budget is not ready for a full-service design, I needed to make sure I was compensated for that two- or three-hour session I was spending with them. Navigating that is what led me to thinking about virtual design: offering a smaller package just for that initial consultation and some insight. COVID has only reinforced that, OK, this really needs to be an actual offering and you need to put some structure behind it.
Are you still shopping trade resources and doing the procurement piece for those virtual clients?
I've been debating that with myself. Giving the clients the space and freedom to retail items on their own always makes me nervous, but if [our] relationship is already established, then I don't mind leaning toward that. For instance, if one of my past clients right now calls me up and says, "I really need to do a refresh in our guest room," then I can source out a list for them to go grab these items from my favorite retail shops. That type of project—I've been calling them "popcorn projects"—have been coming up all over the place lately. Folks just want to get out of their house and they don't know what to do—and then I don't have to worry about the ordering, receiving, delivering, and all that jazz.
Is that a viable business model? Is there good, sustainable revenue in that process?
No, it's not. That's why I say it's something that I have to pick and choose when to use it. It's nothing we actually offer, and it probably would never be a consultation I post online for the public, but for an existing client, I don't mind offering them suggestions because of the relationship we have.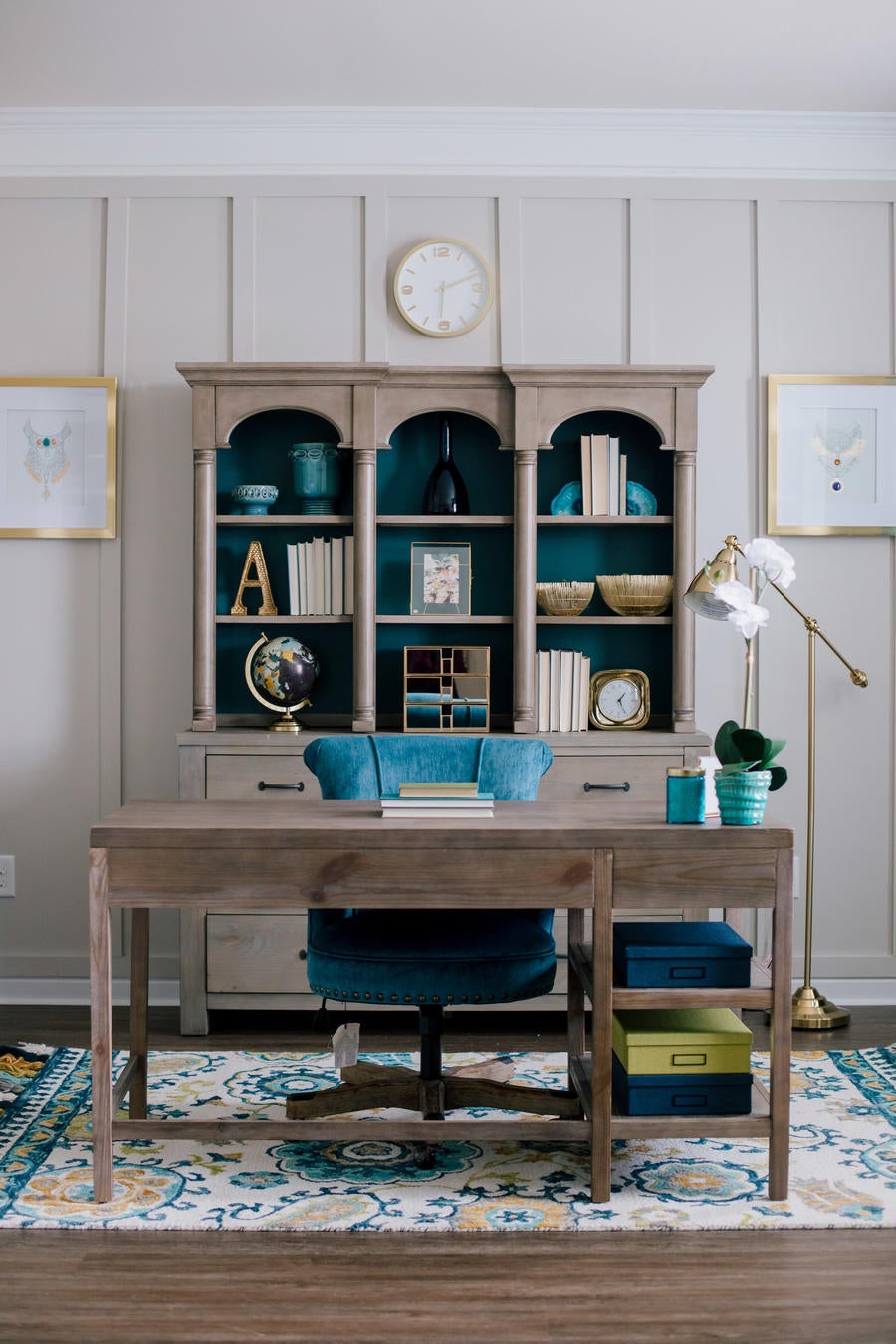 Courtesy of Indigo Pruitt Design Studio
How do clients find you these days?
Relationships and recommendations from past clients are the biggest drivers. You know, Sally tells Jan about working with me, Jan goes home and talks to her husband, her husband's like, "I don't know," and then Jan calls me and we team up and convince her husband.
There have also been times where I'm grabbing a few things for my own home—decorative pieces from HomeGoods or World Market—and a lady will walk past me with my full cart and be like, "Oh, my gosh, you have some amazing stuff." And I'm like, "This is my card, call me anytime." That's happened several times.
And those leads in HomeGoods have turned into clients?
Oh, yes, they have.
That's incredible. How different is where you are now compared to what you dreamed for yourself when you launched your firm in 2017?
I probably would not have imagined that this is where I would be. Honestly, when I kicked it off then, it was more so I had to convince myself that I should do it. I don't even know if I would have told you that I had a business in the first six months because I was so scared—I wasn't going to say it out loud, because then you're going to have an expectation of me and I need to meet that expectation!
Now, I think my focus is different. I don't feel so tied down to going down a certain type of path—not just from a business perspective, but even from an aesthetics and design perspective. I remember being super nervous about designing things that did not have that Eurocentric look early in my career—anything that wasn't the bright, airy walls and eucalyptus and a fig tree. Not to knock that aesthetic at all, but I was genuinely terrified to put something out that did not look like that. I didn't think I would be able to move forward without downplaying the boldness and color [I gravitated toward].
That [change] has come from building up my confidence—from taking the time to get to know myself and my worth, from building relationships with other designers and listening to stories. I can't say enough what the recent events have done for my perspective on the design community. The allyship, and having conversations that don't end in how many likes you have on social media, or how many clients are you currently working with, or even, "Can you mentor me?" Before, everyone wanted to be mentored and get advice, but right now, I just see this community banding together to figure out how we can move forward as a community that supports one another.
Has that changed your relationship to social media?
I think the racial tension in the air and my advocacy have definitely changed social media for me over the last month or so. My conversations look different. My DMs are no longer about color theory, or making recommendations and pointing people to my website—I mean, they are, but we're also having the hard conversations that we've been avoiding for years. There are certain designers that I have absolutely adored that have reached out to say, "Can you come over [to my feed] to talk about this issue?" And here I am in front of all of these followers who are used to seeing this individual on this pedestal, and it's me talking to them about what it's like to be a Black woman in the home industry. That is the type of reconciliation that I have grown to have a greater appreciation for, and then all of the conversations that leads to afterwards.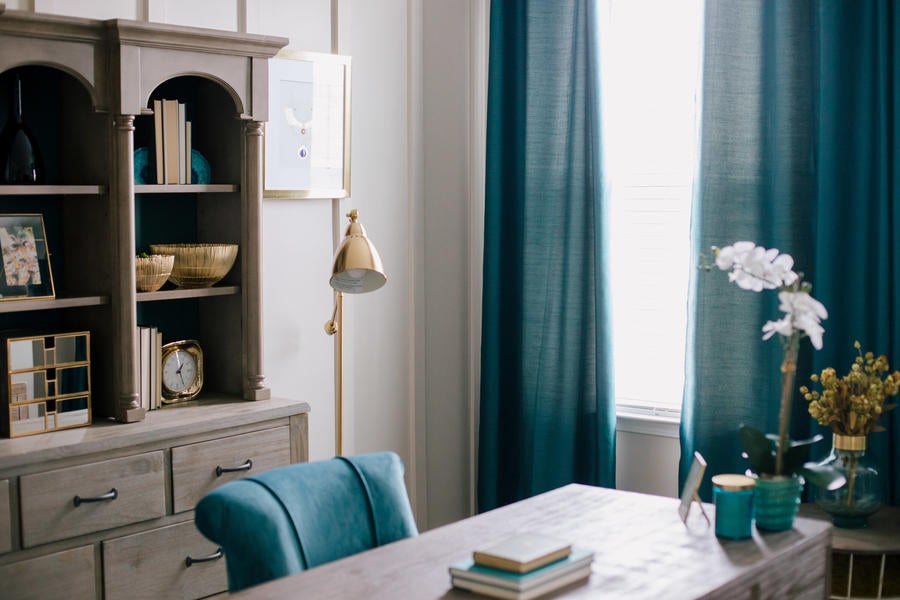 Courtesy of Indigo Pruitt Design Studio
When you look ahead, where do you want to be, and how do you want to get there?
I want to branch off with my business so that my hands and my talents are actually contributing to the community in a way that is tangible. Because of my upbringing, but also because of the current state of things in the Black community, it has really challenged my heart over the last few months: How can I take this thing that God has gifted me with and put that back into a space that the community needs? During COVID, I've been dreaming and journaling about what that looks like—and how I can turn that into actually bringing awareness of these issues in the Black community, not just through talking about it on social media, although I've been very active in that regard, but also: What do we do with these hands of ours? Honestly, that is where my heart is and where I want to take this design thing. Anything else is a byproduct of that—it'll be just icing on the cake, you know?
How does design fit into the conversation, and into this moment in time?
I think to begin with, it's just having that conversation. For example, we know that there aren't as many Black designers—that there isn't enough Black and Brown representation in the home industry across the board. That is an issue. So how can we be intentional about [changing] that? We can't just assume that's just going to happen, so what are some things we can put into place so that this industry represents unity, diversity and inclusion? One thing that's come to light for me in the midst of all this on social media is there is so much talent out there, and it is insane that the exposure and the amplifying of these Black and Brown faces is not there. So that's one realm, is bringing the conversations and the issues to surface.
There's another piece, too—there's a housing crisis, there's homelessness, and these are social issues that can use the talents and gifts of designers to come in and say, "Let me show you the essence of what I feel like home is." The beauty of the design world is that we're able to not only see beautiful things, we're able to understand what it does to a person—we're able to understand the environmental effects of design on the individual. To be able to bring those ideas to an impoverished area, or to a family that just got blessed with a home and they have no idea what to do with it—what is the expense that the design community can take on to go in there and say, "Let me make this house a home for you, because you deserve to feel the essence of what home feels like."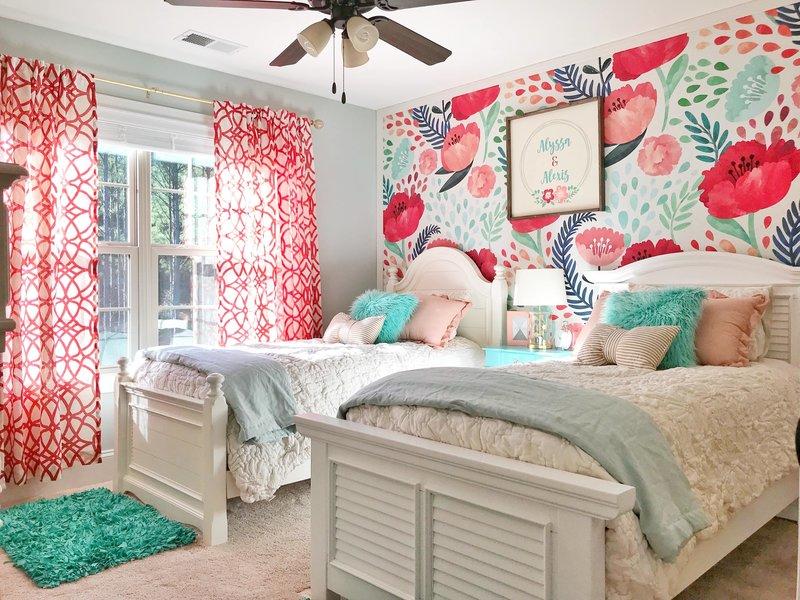 Courtesy of Indigo Pruitt Design Studio
That's such an important, beautiful mission.
I don't think that we all have all this talent just to make money off of it. We're literally supposed to give it away, and that's what I hope that we can move toward, especially amid the conversations we're having right now. We have all this racial tension—but also Black designers and white allies teaming up to have these conversations [through initiatives like the #SharetheMicNow campaign]. How cool would it be if I teamed up with a white designer and we went out to West Charlotte to design homes for the homeless community, or something like that? Do you know what types of conversations would come up between the two of us? And then we're not just contributing our gifts to the community, we're also having good, rich conversations on how we can lock arms and figure this thing out together.
I love that notion of taking those talents and gifts and giving them away. As you chart your path forward, how does that figure into what you want to achieve with your firm?
I don't ever want my business to be something that I have to do. It's something that I get to do. It is a privilege that I actually get to do the things that I'm passionate about—not everyone has that—so I'm very intentional about not allowing the business itself to keep me boxed in. If I ever get to a place where I feel as though I'm trapped in it, and I'm not getting the fulfillment out of it, then it's time for me to tap out on it.
How did you cultivate that? I think it takes real strength and vision to say, 'I see all these other people in my space doing X, Y and Z, but I do not want to give in to the pressure to chase those things, too.'
I don't want to get caught up in the rat race or competing. I've been in that, and the way that it wired my brain—the way that it took me away from the essence of what I'm really about—was exhausting. Deep down, I have to be honest with myself about what's really fulfilling for me. That's what allows me to keep from looking left and right, you know? It allows me to commend you—"You're doing amazing, that's great!"—but know that's not what's carved out for me. The fact that I can actually take this thing that's been profitable, and that has been such a blessing to me, and allow it to be a blessing for me and others—that has my heart going pitter-patter. I'm literally getting chills thinking about.
To learn more about Marie Cloud, visit her website or find her on Instagram.