It's Tuesday, the best day of the week—at least, for the BOH news desk. In our weekly digest, find a roundup of need-to-know (and nice-to-know) news.
BUSINESS NEWS
The Container Store has been increasing its use of Dolly, a last-mile delivery service—think Uber for furniture delivery—for the shipping and delivery of its larger products. Furniture Today reports that the company plans to integrate Dolly's services into 50 percent of its stores by the end of the year.
Cyber Monday 2019 set a record for most U.S. sales, with a total purchase tally measuring upwards of $8 billion. Amazon—a major driver of those sales—also experienced its single biggest day in the company's history. In response, Business Insider takes a look at yesterday's top-selling products on the retail giant's site—including a range of smart home devices like the Echo Dot, the Amazon Smart Plug and a wireless smart home camera.
OPENINGS, AUCTIONS AND EVENTS
The 15th edition of Design Miami kicks off today. Featuring Philadelphia-based Moderne Gallery, Paris-based Carpenters Workshop Gallery, New York's Friedman Benda, and others, the trade show runs until December 8 at a venue near Art Basel and the Miami Beach Convention Center. Tickets are available here.
Richie Downs/Asico Photo, courtesy of Light Up The Season
The third-annual Light Up the Season, a holiday-themed charity event for Children's National Hospital, will take place in Washington, D.C., on December 15. The event will feature holiday decor by Millersville, Maryland–based lighting brand Niermann Weeks, Alexandria, Virginia–based Studio Q Designs, Herndon, Virginia–based Pamela Harvey Interiors and D.C.-based Christopher Boutlier. Tickets are available here.
The Kips Bay Decorator Show House Palm Beach will be held February 1 to March 1, in a plantation-style house owned by interior designer Lars Bolander. Participating designers and architects include ​Alessandra Branca​ of Branca Inc.; ​Alexandra Brady and Brian Brady​ of Brady Design; ​Alizee Brion​ of Light on White Design Studio; ​Colette van den Thillart; ​Jobe Lopez​ of Lopez Group; ​Javier Fernandez​ of Transitional Designs; ​Joe ​​Lucas​ of Lucas Studio; ​Jonathan Savage​ of Savage Interior Design;​ Keith Baltimore of Baltimore Design Group; ​Kevin Isbell​; ​Leta Austin Foster; ​Mario Nievera and Keith Williams​ of Nievera Williams Landscaper Architecture; ​Robin Gannon;​ Sarah Blank; ​Sarah Magness; ​Sherrill Canet​; Suzanne Kasler​; and ​Tom Kirchhoff​ in collaboration with​ Betsy Wentz​ of Studio B. "The location is unlike any other house we've showcased in previous years, offering a unique platform for the design firms to channel their talent and creativity," said Bunny Williams, this year's honorary show house chair, in a statement announcing the roster of designers. Tickets are available here.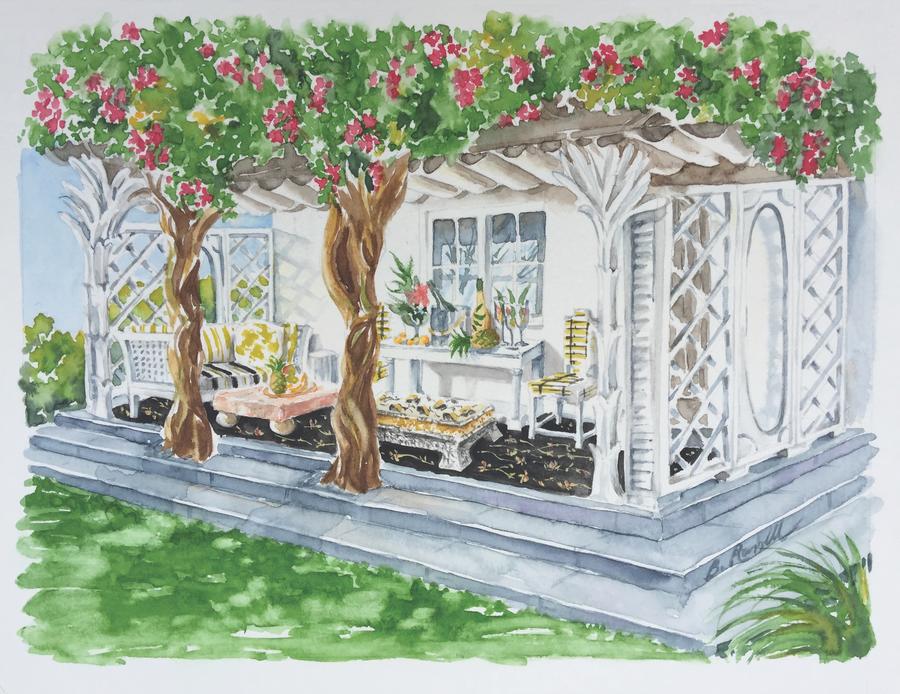 Courtesy of Kips Bay Decorator Show House Palm Beach
RECOMMENDED READING
As 2019 winds down, Fast Company explains why end-of-year reviews are valuable exercises, whether it's for your business or yourself. "This is the time of year when people look forward and decide what their resolutions are going to be," impact coach Katie Sandler tells writer Stephanie Vozza. "Whether they realize it or not, creating those resolutions comes from taking inventory of what they have been doing. As you move into 2020, it's important to first look back."
An article by The New York Times steps into the realm of modern origami, telling the story of the design-minded hands behind this ethereal tradition. Whether it's NASA's foldable telescopes or a simple crane, it ultimately comes down to paper and technique: "I feel my works are collaborations between paper and me," writes Koshiro Hatori, a master folder in Japan.
CUE THE APPLAUSE
Maison&Objet has named London-based lighting designer Michael Anastassiades as its designer of the year. For the first time, all 16 of his mobile chandeliers, propelled by motors, will be on display at the fair in January. Maison&Objet will celebrate its 25th birthday—but has no intention of resting on its laurels. The show's theme for the January and September editions is "(Re)Generation," focusing on the behaviors of the digital natives of Generations Y and Z.
Applications are open for the third-annual Ike Kligerman Barkley Traveling Fellowship. This year, the program has expanded to 22 schools; $12,000 will fund travel and research for two graduate students next summer. This year's fellows, Jamie Lipson and Julian Murphy, have spent the last year researching Connemara marble and the form and content of World War I memorials, respectively.
Richard Ouellette and Maxime Vandal of the renowned design firm Les Ensembliers were awarded the 2019 Designers of the Year Award by Canadian House & Home Magazine.
Alex O'Dell, co-founder of the built-to-last furniture company Floyd, has been added to Forbes's annual "30 Under 30" list.
'tiS the season
Per White House tradition, first lady Melania Trump decorated 1600 Pennsylvania Avenue for Christmas. This year's theme is "The Spirit of America"—the East Wing opens with a Gold Star Family Tree adorned in ribbons honoring lives lost in the U.S. armed forces; the official White House Christmas tree is strung with handmade paper flowers representing the floral emblems of each state. In past years, White House holiday decor has become the stuff of memes. This year, the reviews seem to be mostly positive—The Washington Post reserved its hot take for the first lady's coat.
NY Now Cares is partnering with Gift for Life in support of its mission to raise awareness and funds for HIV/AIDS organizations nationwide. In observance of the 31st anniversary of World AIDS Day, NY Now will donate $1 to DIFFA for each qualified buyer registration for the Winter 2020 edition of the market during the month of December.
Homepage image: A watercolor rendering by Kevin Isbell, courtesy of Kips Bay Decorator Show House Palm Beach