As the industry takes steps into this new year, consumers continue to acclimate to what The Wall Street Journal is calling a new "phygital reality" model (a hybrid where people seamlessly live, work, shop and play both in person and online). No matter what the future holds, stay in the know with our weekly roundup of headlines, launches and events, recommended reading, and more.
BUSINESS NEWS
The Consumer Electronics Show concluded on January 14, and while the influential tech event was entirely virtual this year, it still featured several exciting product debuts. The growing interest in lidar technology, a remote sensing method that uses light to measure ranges, led to the unveiling of a fleet of home devices from Samsung that use the tech, including the JetBot 90 AI+ vacuum cleaner that can move around and clean the house with high precision using the lidar sensors and an AI-enhanced object recognition. Also debuting in home gadgets was a pod-based ice cream machine that can make soft-serve in under 90 seconds, a movie projector from ASUS that's the size of a coffee cup and touch-free video doorbells from several brands that chime as a visitor approaches.
According to Furniture Today, furniture sales for December maintained a steady increase, capping off 2020 with a fifth consecutive month of growth. Despite an overall drop in annual sales, the furniture industry brought in more than $10 million in sales over the course of the month, with year-over-year growth owed to ongoing consumer demand for the comforts of home, writes FT.
Sheboygan Falls, Wisconsin–based Bemis Manufacturing Company, the world's largest toilet manufacturer, has acquired Bio Bidet, a Crystal Lake, Illinois–based company that has spent more than a decade bringing the environmental, hygienic and practical benefits of bidets to the U.S. market. The acquisition will expand upon the Bemis offerings, as the company diversifies to adapt to a quickly growing bidet market.
Leading sleep technology platform Bryte, known for its AI-powered Restorative Bed, has just announced $24 million in Series A funding led by ARCHina Capital. The company recently launched a platform to license and deliver its patented sleep technology to global mattress manufacturers. The funding will power ongoing research, development and expansion across markets and price points.
Brooklyn-based furniture designer and manufacturer Uhuru Design announced today that it has acquired the assets of Renegade Customs, a Grand Rapids, Michigan–based custom furniture design firm serving retail, hospitality and high-end residential customers.
LAUNCHES, COLLABORATIONS & PARTNERSHIPS
Ikea has opened a new, small-format store in Queens, New York, the first of its kind in the United States. Unlike the Ikea Planning Studio which opened in Manhattan last year, the new store is more like a mini version of the traditional outposts and will allow customers to buy small accessories and set up home delivery for a flat-rate fee of $49 for anywhere in New York City.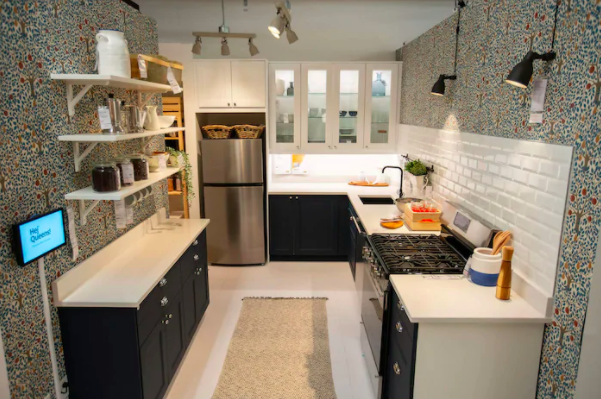 Hearst Magazines has launched a new direct-to-consumer mattress line, The Country Living Welcome Home Collection. The collection is the first mattress range stemming from Hearst's multibrand licensing partnership with D2C mattress and furniture holdings company Idle Group.
Canadian firm Black Sheep Interior Design and South African stone fabricator Cannata have come together to release Fiamma Nera, a new line of terrazzo fireplace mantles. The resin-free, heat-resistant terrazzo comes in four designs and two finishes.
Kravet has announced Canvas To Cloth, its first collection with Carmel, Indiana–based artist and interior designer Barry Lantz of Lantz Collective. The fabric line was inspired by the expressive strokes of an artist's brush and ink blotting, with each print named after an important woman in Lantz's life, from his grandmother to his daughter and design partner.
Pottery Barn Teen has released a new collection in partnership with denim company Wrangler. Western-inspired pieces meet contemporary design in this sustainable line that features recycled denim storage bins, a chaise lounge sectional, bedding and more.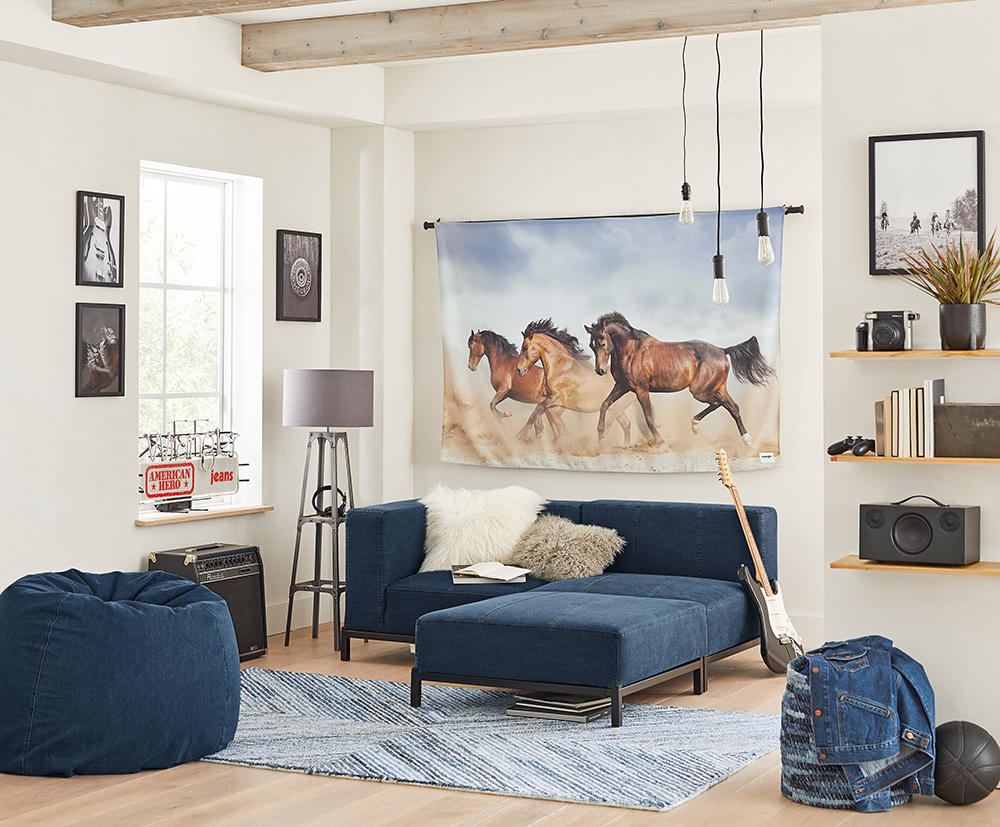 Muscatine, Iowa–based workplace furnishings company Allsteel has partnered with Swedish brand Zilenzio, designer of sound absorption solutions, to introduce aesthetically oriented acoustic dampening to the modern workplace.
CALENDAR UPDATES
Registration is now open for NYCxDesign's 2021 Design Days. The organization invites all members of the New York creative community to join the festivities between May 13 and 18.
The American Home Furnishings Hall of Fame Induction Ceremony has been pushed from April 17 to June 6 in order to align with the new dates for High Point Market.
Messe Frankfurt, the organization that hosts textile fair Heimtextil, has announced that the 2021 edition of the fair has been canceled, as have its other textile shows, Techtextil and Texprocess. "The coronavirus pandemic has taken center stage, and our plans have not escaped its impact. In light of the current situation, it would not be possible for us to satisfy our customers' requirements for international trade fairs in April or May," said Messe Frankfurt executive board member Detlef Braun.
SHOWROOM REPRESENTATION
Naples, Florida–based artisan and wellness design wholesaler Anaya Home is now represented by Ivystone Group in the U.S. The partnership kicks off with a permanent Anaya Home showroom at Ivystone's AmericasMart Atlanta location, which debuted last week at Atlanta Market.
Interior designer Scot Meacham Wood's eponymous line of textiles and home accessories will kick off the new year with additional showroom representation. It will now be featured at New York–based Somerselle, Dallas-based Allan Knight showroom, and San Francisco firm Jennifer-Jean. "I'm excited to be working with partners that not only stand out in their respective markets but have a really distinct approach to the needs of their customers, along with a deep commitment to our industry as a whole," says Wood.
RECOMMENDED READING
The front porch may seem like a figment of a time gone by, but a decade ago, photographer, architect and writer Steve Mouzon dubbed the space a "social interaction device." And while front porches may conjure memories of innocence and leisure, writer Lloyd Alter sees them as a powerful tool for socially distanced socializing, while The Wall Street Journal's Sebastian Salvadó sees "super porches" as an essential component that will transform sidewalks into vital social scenes.
Vancouver-based interior designer Ian Lee has taken a minimalist approach to a series of micro-apartments in South Korea—Dezeen writer Lizzie Crook takes a closer look at these cozy dwellings that combine sleek birch panels, private kitchens and built-in seating nooks.
Corrugated metal hardly evokes luxury—more often, it conjures thoughts of junkyards and garbage heaps. But this week, the Financial Times explores the renaissance of the material in residential design, beginning with a chronicle of its history: from 1820s England to imperial settlements in Capetown and Mumbai, on to its contemporary expression in the homes of Boston, Tokyo and the Isle of Skye.
The New York School of Interior Design published a discussion with three of its alumni—Elsie St. Léger, Peter Agnew, and Pál András Rutkai—who specialize in health care design, to chat about the rapidly evolving sector amid the COVID crisis.
With inauguration day tomorrow, The New York Times breaks down how a staff of 90 people will transition the White House residence from the home of the outgoing President Donald Trump to that of the newly inaugurated President Joe Biden in just five hours. The Biden moving vans aren't allowed to begin unloading until the president-elect is officially sworn in and then the staff can start moving the new first family into the 16 rooms and six bathrooms that will now be their home. (The report also claims that there are no plans to immediately bring in an interior decorator to personalize the residence.)
Homepage photo: Pottery Barn's new collection with Wrangler | Courtesy of Pottery Barn