In a virtual conference presented from Frankfurt, Germany, the trend council of Heimtextil, the international mega trade fair for home and contract textiles, unveiled its theme for the January exhibition: "Nothing New, Everything New." Led by trend council member Anja Bisgaard Gaede from the Danish trend forecasting firm SPOTT Trends & Business, the presentation argued that it's time to rethink the industry's concept of newness and that, post-COVID, there will be an even stronger focus on sustainable and recycled textiles.
"We're seeing that it's a rewritten path for the world due to the pandemic," said Bisgaard Gaede. "Things are changing globally, and that includes the textile industry. With the trends of Heimtextil 2021, we're addressing this change and capturing the spirit of the future, but also making way for viable businesses that we still believe in, though, again, the path has changed."
With that in mind, Bisgaard Gaede emphasized that part of looking forward will require changing the narrative of what is considered new. Under the overarching theme, the fair's Trend Space will explore four areas: repurpose, rewild, reinforce and revive.
Perhaps self-explanatory, the repurpose theme proposes looking at existing textiles as raw materials and giving them a new life. "Repurpose is very much inspired by the fashion industry, which has already been moving on this path to sustainability," she said. "When we take that into the textile universe, we're going to see that we can create new things out of what we already have. Whether that's through bleaching or printing on existing textiles, or using samples to create new expressions, we can curate through reappropriating existing items."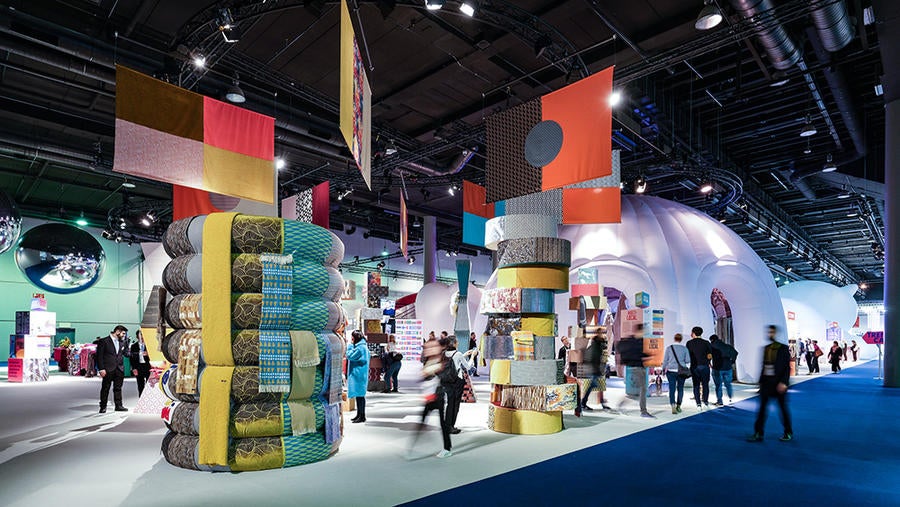 The second trend, rewild, involves the rediscovery and reinterpretation of natural resources. Bisgaard Gaede offered examples of an innovative insulation that's produced from discarded chicken feathers at poultry plants, and a textile woven out of eelgrass from the Scandinavian coast. "It's about looking at the materials that nature is giving us and using [them] in a contemporary way," she said.
The reinforce area aims to strengthen the Scandinavian aesthetic that has been increasingly popular in recent years, featuring simple, tonal color palettes used in bold ways. The enduring nature of this minimalist design speaks to longevity, which in itself breeds sustainability.
Lastly, the revive section will examine the idea of repairing worn materials instead of replacing them, and treating mending fabrics as an art of its own. "We're seeing repair as a creative method, and that there's a reeducation of the youth to look at these [sewing] skills that were once a household chore as a creative means of expression," said Bisgaard Gaede.
Another sustainable initiative, the Future Materials Library, will return to Heimtextil in 2021, after debuting at the 2020 fair. Curated by London design studio FranklinTill, the library will present a new collection of material innovations from around the world. The four themes and the library will come together in the fair's Trend Space, from January 12 to 15, 2021.
Homepage photo: The Heimtextil Trend Space at the 2020 fair| Courtesy of Heimtextil