The 50 States Project is a yearlong series of candid conversations with interior designers across the country about how they've built their businesses. This week, designer and Detroit native Tiffany Cobb of Tiffany René Interior Design (who splits her time between her hometown and Atlanta) tells us how her first showhouse paid off, why she cultivates lifelong clients and how a stint at a logistics company shaped her firm.
What are your earliest memories of being drawn to design?
I grew up in a historic neighborhood of Detroit that is full of homes built for General Motors executives. I never grew up in one of those homes, but occasionally there would be open houses, and so I was going in—not even being intentional, like, "Oh, I want to be a designer one day," but just admiring all of the details. My neighborhood had a huge impact on me pursuing this profession.
When did you start to think of design as something that could be a career?
I left Detroit and attended Morris Brown College in Atlanta. When I met with an adviser there, he was like, "Well, what do you want to do?" And I said, "Interior design?" with a question mark. And it's weird because the high school program that I was in was an accelerated program for math, science and applied technology, and my high school job was working for attorneys—there was never any exposure to interior design as a profession, but somehow when I arrived on that campus and that adviser asked me, that's what I said.
It just came out.
Morris Brown had an architecture program that offered a dual degree with Georgia Tech, and so naturally, the adviser was like, "Hey, I think this would be a good path for you and this will give you a foundation that you need." So I started to pursue architecture, but it was very intense. My first year, I had a heavier load than most other freshmen did, and it seemed like it was taking me in a different direction than what I believed I wanted to pursue. And at the time, I was a first-generation college student and was like, "I can't waste money. I don't know if this is fulfilling in the way that I anticipated." So I silenced it. I was like, "Maybe this is not the path." I went back to my comfort zone and switched my major to speech communication because I thought it would lead into a profession in entertainment law. I just was like, "Let me just stick with what I know."
It was switching to something you had seen as a viable career?
That was what I thought. It's what I was exposed to throughout high school. I just thought that maybe that would be the better path, so I silenced any inclination of interior design at that time. But then, after pursuing that first degree, I was in a space where I really wanted to impact the world and give back, and I landed on an opportunity with Teach for America, where I committed to teach in an underserved community for two years. And it was during that time that I became reacquainted with interior design, because it was such a challenging process for me. Just being a leader and wanting to impact kids in a dynamic way was a lot more pressure than I even knew it could be, and I relied heavily on design to inspire me to push through.
In your own home? Or in the classroom?
Both. The classroom wasn't very inspiring. And so I would try to devote time to reimagining that space. But also, when I reimagined my space at home, it gave me a new lease on life. I went from threatening to quit, literally, to sticking with it. I was in Houston, Texas. I had a boyfriend in Detroit. My family was in Detroit. I'd never lived in Houston. It was hot. All of my students spoke Spanish. I was struggling with my Spanish. It just was like, "OK, this is not it. I am quitting. I can't do this."
But then, one day, instead of working on my lesson plans, I was working on designing my space, and it had an immediate impact. I went into the classroom each day feeling more revitalized, more renewed, and it had a significant impact on my students' success, because I went from threatening to quit to becoming rookie teacher of the year. I always tell people that design saved me, which ultimately saved my students. At that point, it was a no-brainer. During my second year of teaching, I enrolled at The Art Institute online; at the end of my teaching commitment, I relocated back to Atlanta, and I ended up going to campus at The Art Institute of Atlanta.
That's such an interesting way to find your way back to design.
It's an unorthodox path, but I always tell people to trust the process. Even after my two-year commitment with Teach for America, they would reach out to alumni and ask, "Hey, what are you doing?" And every year, I would be like, "Well, I'm not in the industry anymore, but I'm willing to do recruitment efforts for you guys." But then I had a light-bulb moment and it hit me: Interior design saved me and saved my students. It kept my head in the game. How can I make that same impact for other teachers? And so I developed this initiative called Love Thy Teacher, where I commit to designing lounge spaces for educators under the premise that happy and productive teachers equal successful students.
What does that look like?
I had the opportunity to work on a few schools, and then I got bombarded with a bunch of residential projects, so I had to table it. But ironically, we started to ramp it back up because now more than ever, this pandemic, I believe, has showed people in real time that teaching is not an easy feat, and they appreciate teachers a lot more. So I've partnered with Teach for America, they nominated me for a Social Innovation Award to further the initiative. Basically, the way it would work is that if there are corporations that want to invest in educational causes, this is a more innovative way to impact students. Oftentimes people focus on things like, "Oh, students need technology. Students need books." Students need all of these things, but students also need effective teachers!
I want to shift the priorities to thinking about what the teachers need and how they could benefit from an aesthetically pleasing environment, so they're not like I was, going back to my classroom and throwing my head on my desk, crying. You actually have a dedicated space where you can zen out for a second. That is what I am most passionate about. I mean, I'm grateful for my residential projects. I enjoy my clients. But if someone were to say, "What is your end game or your ultimate goal in this industry?" that is where I see myself spending most of my time.
Oh, that gives me chills. Getting back to your career, what was the next step for you after getting your design degree?
I had moved back to Atlanta and was attending The Art Institute. ... At the same time, I was working at a logistics company, doing all of the receiving, storage, and installation for a lot of top designers, like Suzanne Kasler and Susan Ferrier. Prior to that experience, I didn't have access to even know what the industry looked like or how it was supposed to be run.
I feel like everyone should have that job before they become a designer.
Oh, my gosh, listen—I tell people that all of the time. I had a bit of school, I had a bit of architecture, I had a bit of the logistics.
You're the whole package! How did you get your own business set up?
I set up my business while I was in design school. I went and said, "OK, I'm in business." I didn't know what I was doing—I just knew that I had the confidence to take on projects. And I knew that I had a natural talent. And so I made a lot of mistakes. Now, when I look back, I'm like, "Wow, I didn't know how to run a business." Nowhere in my journey did I ever have aspirations to be an entrepreneur, but I just wasn't willing to wait for someone to give me an opportunity.
While I was working at the logistics company, I met a designer just as I had taken on this recording studio project—it was a commercial job, and I was like, "Hey, I need some help." She actually is a designer of color, and I had never really seen that. And so I opened up to her and I shared that I was trying to get started in design, that I was in design school, and asked if she could help me or answer any questions. And she was very welcoming to me. I learned a lot from her, because I would then start to help her on her design projects.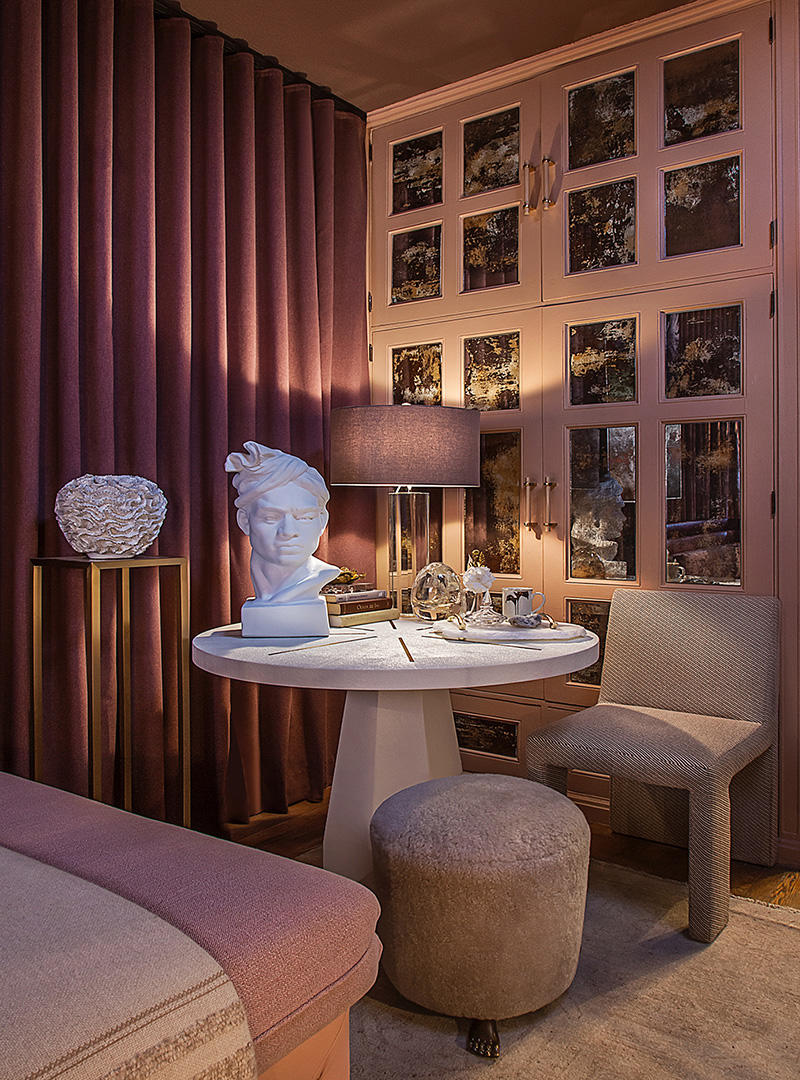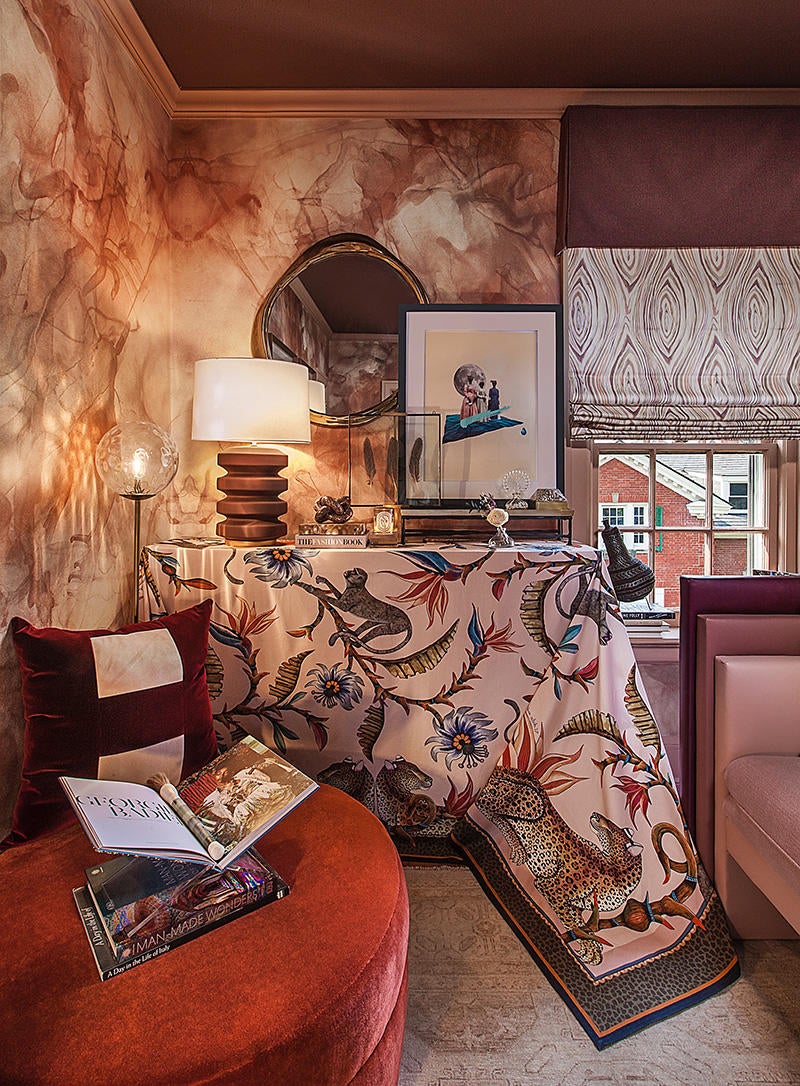 How did you make it back to Michigan?
I started really shifting to focus on Detroit projects back in 2018 when I saw an opportunity for a designer showhouse. It was the actor Hill Harper's house, and I saw that they were trying to gather up designers to participate in that. I was so humbled, so eager, and ironically, it was in the neighborhood that I grew up in. I was like, "Hey, I don't even care what size room it is. It could be a closet. I just want to be involved." I ended up getting selected to participate in that showhouse, and I took this very awkward, strange hallway. They honestly didn't even intend on using it as a space, but I saw a possibility there and transformed it, and that's what really launched my presence in Michigan. From there, I just started establishing myself more.
Did you get work from the showhouse?
I did. From encounters with those designers who I would service at the logistics company, they always would say, "If you're going to participate in a showhouse, don't expect to get … " So I didn't even go in with that mindset. I just thought this would be a great experience. But it delivered. All of the clients that I started to get in Detroit, they referenced that showhouse.
I feel like there are two rules for showhouses. One: It's expensive. And two: Don't count on getting work out of it.
Exactly. That's why I was like, "Give me the smallest space." I didn't want to be in over my head. But man, it just was working out in my favor. There were instances—these random acts of kindness, where I would have someone to donate wallpaper and then the installers just said, "Oh, don't worry. You don't have to pay me." I am really grateful for that experience. And aside from having to create a freedom that showhouses often provide, it allowed me to flex my chops and show people what I could do with a small space.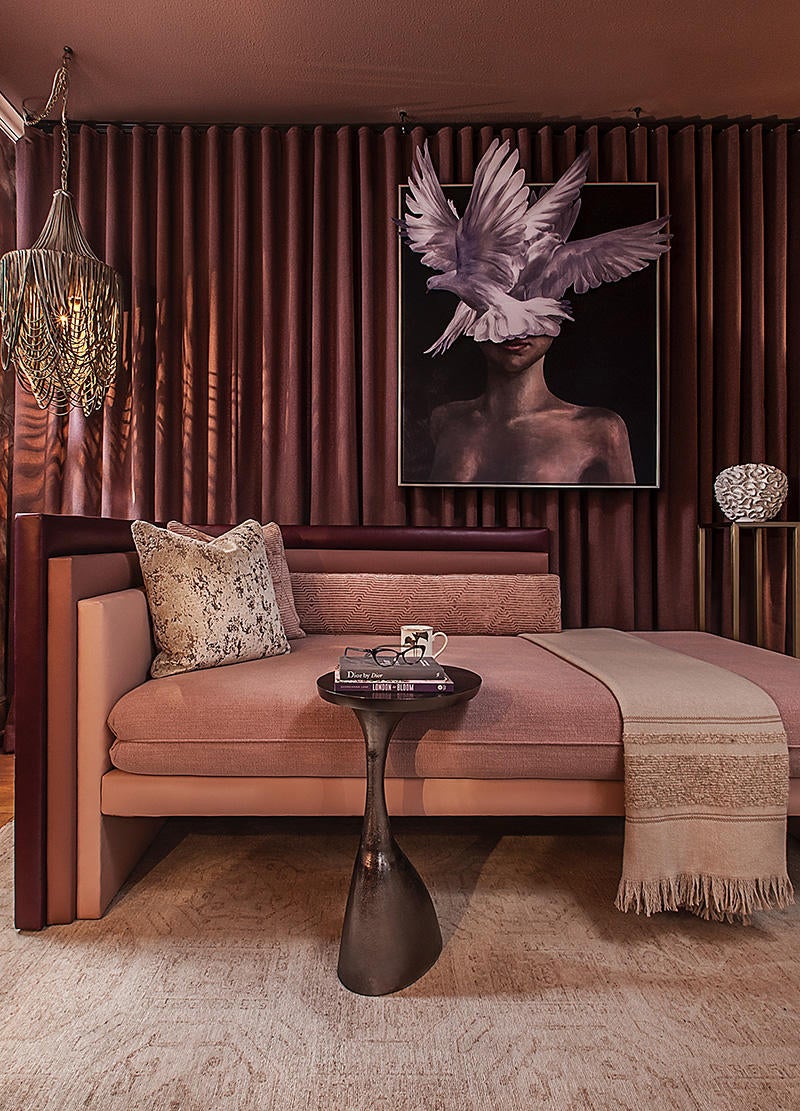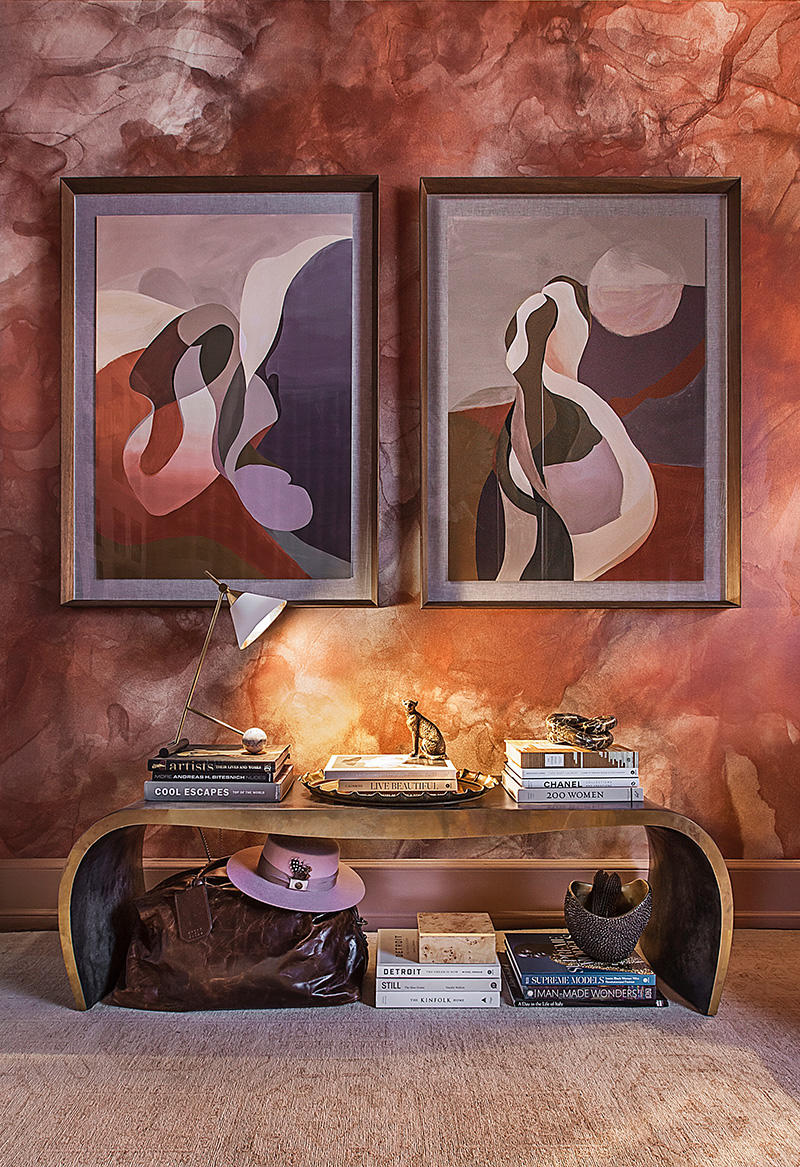 What does your business look like today? How many projects are you working on? How is it split between Detroit and Atlanta?
So there are two things, because aside from my interior design business, we also have Rivet Design Collective. Especially in Michigan, because so much has been shut down by the pandemic for so long, it's impacted our ability to physically connect to our members. So we're excited now that things are starting to gradually open back up and we'll be able to really connect again and really be intentional about our presence as a collective in the creative space for Detroit, because me taking on more projects in Detroit also inspired our development of that collective. So we still have that.
Then in terms of clients, I have about four projects in Detroit, and I think two and a half in Atlanta. I say two and a half, because there are clients that have just been floating along, casually adding new things to their homes. There are some designers who want to get in the client's house, get in, get out. I noticed that what has worked for us is pacing the project out. They just become lifelong clients in a way, because there's always something new that we could add. They don't feel the pressure to make this huge investment upfront—we can phase it out. And it also takes the pressure off of the current status of things not being available right now.
You've gone in with the expectation that it's going to take a long time anyway?
Yeah. So that's what has been working for us when it comes to some of those projects that have been on the board for a while. But I am also trying to adjust to the number of calls that we've been getting lately. It's a combination of things. It's like, OK, people are at home more. Even though we're opening up, people are still at home. Also, I did the Architectural Digest Iconic Home [a virtual showhouse in partnership with the Black Interior Designers Network], and that brought a lot of exposure. And then I also did [the Junior League of Detroit Designers' Show House] during the pandemic. That one was featured in the Detroit news as one of the top must-see spaces in the house. So, it's been good. Things are growing, and it's challenged me to really step it up. I just recently hired a design assistant and I have an intern. So I'm trying to scale up.
Was your design assistant your first hire?
Yes. That has been a huge step for me. I can't speak for other entrepreneurs, but knowing when you need to start hiring people is a huge feat. I actually hired her last May, and we've started on a part-time basis because I was nervous and it was the middle of a pandemic. But I know that it's necessary.
It's also great because she grew up being exposed to different furniture styles from her mother's shopping experiences. She didn't go to design school—she used to be a jewelry maker—but she has an appreciation for design and she's super organized. When I started looking, I wasn't quite sure what I should be looking for in a design assistant. Should they bring skills that I don't have? Should they be my project manager, or should they have more hands-on little projects in terms of designing? She's encompassed a number of those things. It has been good so far. I also recently brought on an intern who was really excited about design and has a fashion background. It's funny, it just seems like I'm attracting people who have a background similar to mine—a little unorthodox.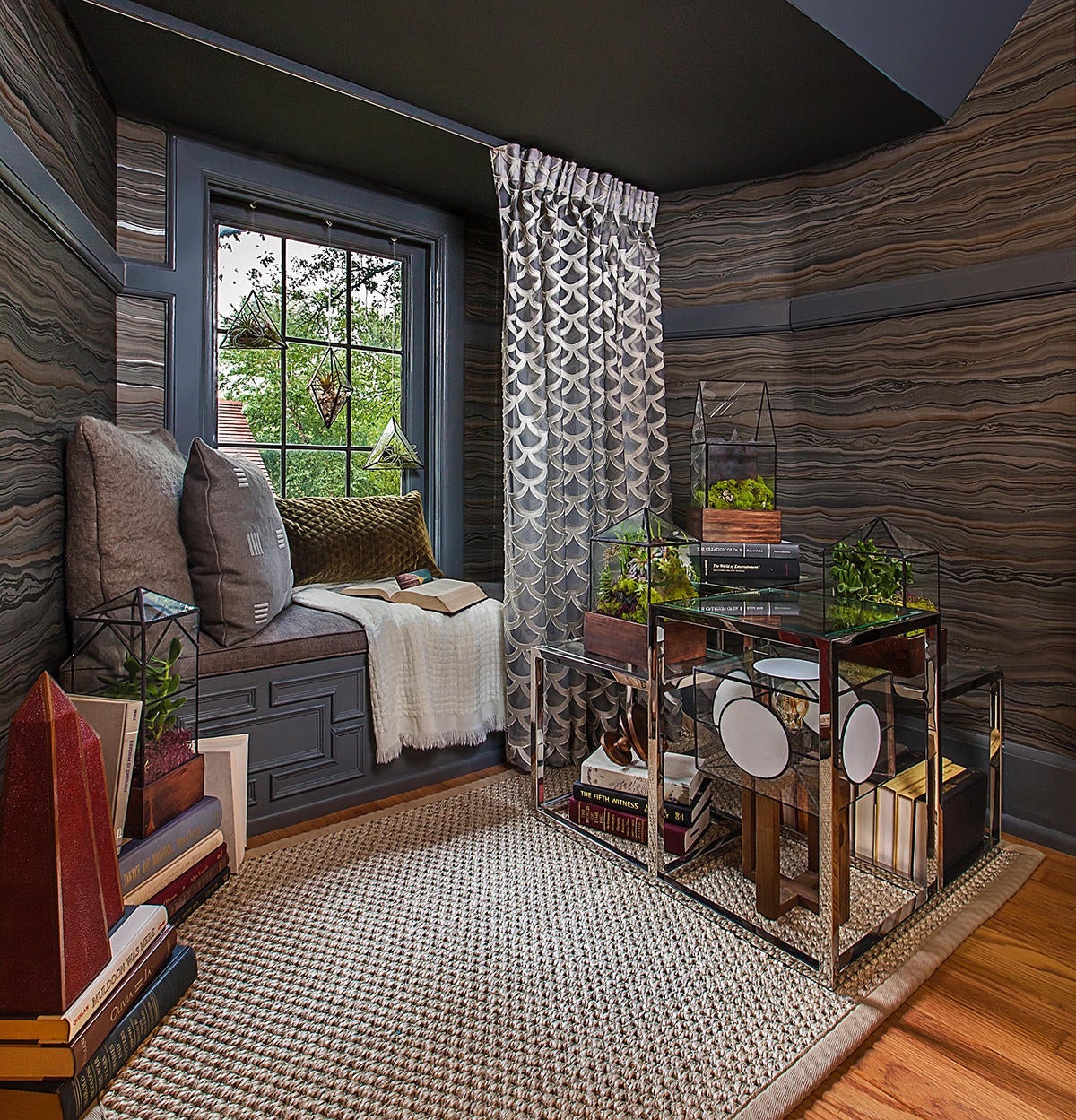 You talked about cultivating lifelong clients and not putting pressure on making all the decisions at once. How do you bill for that?
You do need phases, but I think that there is some consistency between the first and second phases. And so then when we get to phase three, which is procurement project management, that's ordering, and that's where markup kicks in. And so as things are being ordered, you're making the markup off of it. And then, of course, my final phase, phase four, is installation, where the time is still hourly.
So I mean, I still have other clients like in a rotation, and there may be a few of those who are kind of lingering about as we phase out, going room by room to say about how they want to design their home. So I mean, yeah, I bill a flat rate of estimated hours for the first phase, which is where I do the schematic design, and then in the second phase is design development. It's another estimated flat rate for the amount of hours, but then if there are other hours that come into play, even throughout that time in between and after up into installation, we still just bill hourly.
When you talk to your clients about money, what is their comfort level with paying for design?
I'm still trying to discover that. I feel like I have a sweet spot of Henry [high earners not rich yet] clients that have access to money, but they've never worked with a designer before. They've never really invested in their spaces in this way. I'm an educator by nature, and I use that to my advantage to talk my clients through why this selection is valuable, and I try to instill a sense of trust.
But then I also—I do make highs and lows, so I try to make them aware of that as well, so that they don't feel like it's a heavy lift. But even with that, sometimes it's still very hard. They still make comments. I had one client who I know values what I do, loves what I do, and is always singing my praises, but he may mention to a potential client, "Oh, she's so expensive." And he thinks he's being funny, but I had to have a conversation and say, "Hey, you know … "
Can you not?
Yeah, like, please ease up on that. Because you're saying it as a status [symbol], they may actually believe you and think, "Oh, I was thinking about doing that, but I don't know, maybe it's out of my league." I'm hopeful that we'll arrive at a place where we can uplift each other when it comes to the best way to deal with these scenarios, because it's still not comfortable for me to talk about money.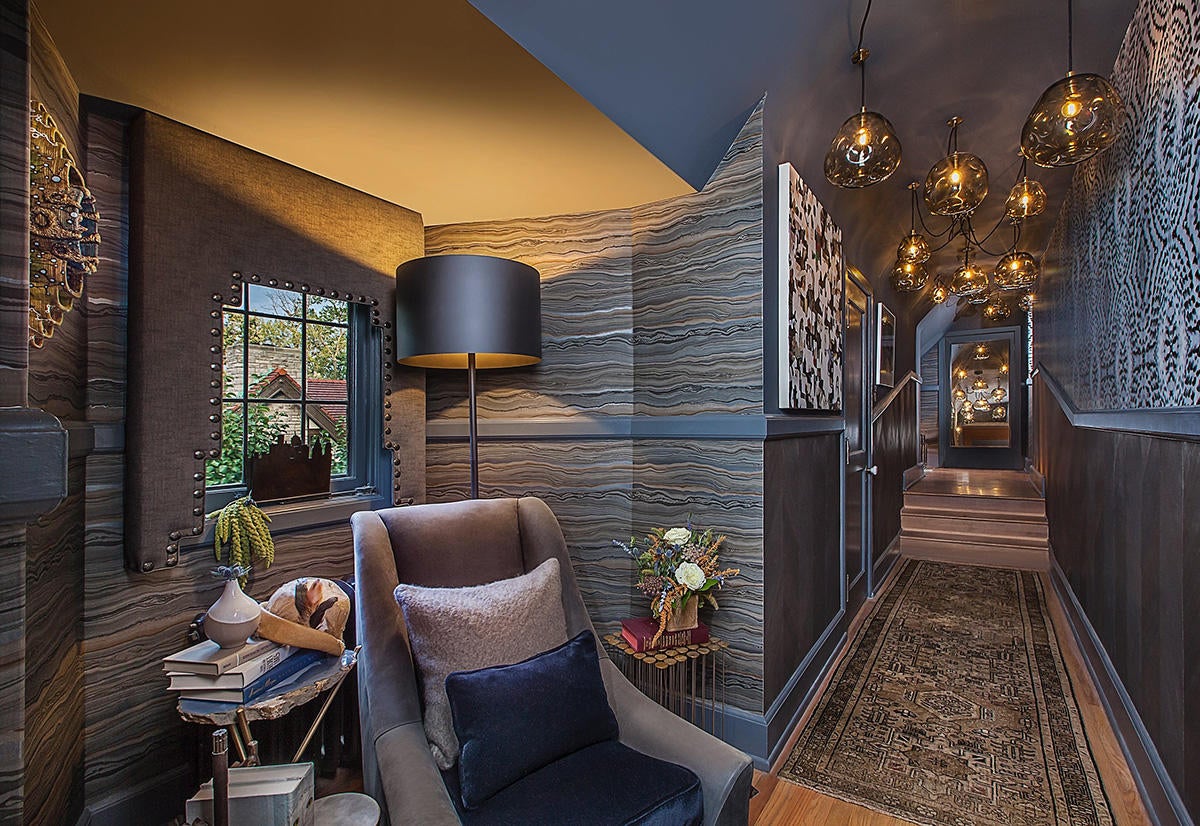 I'd love to talk about the Detroit design scene. As you got more involved in it, you created an initiative to help uplift the design community. Can you tell me about the creative community there?
It's thriving. There are so many significant architectural buildings here by Eames and Mies van der Rohe that continuously inspire up-and-coming designers in the city. There's so much innovation going on in the city, and it's starting to feel a lot more lively than it had been in recent years. I think people counted the city of Detroit out [for a while], but it's nice that people are starting to give the city the respect that it truly deserves. And our goal with Rivet is just to ensure that we don't overlook the designers of color who are advancing Detroit's creative community as this revitalization is taking place.
Where did that idea for the collective come from and sort of how it came to be?
Clarinda Harrison, my business partner, is an urban planner. We graduated from high school together, and we seemed to be like-minded in caring about the narrative about urban development that was being presented in the city. We were noticing that Detroit was evolving and that people were buying to invest in the city and in the creative space, but that there seemed to be a void when it came to bringing a group of creatives together. We named it Rivet because we thought of a rivet as a connector—a piece that joined parts together. And with the industrial nature of the city, a rivet is also a metal piece that is used in cars and it's used to join. And then also, the people are riveting.
When you look back, what's the one thing you wish you would've known from the beginning?
That's difficult for me to answer because even [with] the downfalls, I always think, "That had to happen like that." I encountered a lawsuit situation, and even then, I was like, "That had to happen," because even though I won, it was still an opportunity to say, "OK, what could I have done better?" I feel like it was necessary. I had the confidence to set up a business, but I never had business acumen. I didn't come from a family of entrepreneurs and I never really had an interest in pursuing entrepreneurship, but I just wasn't willing to wait for someone to hand me an opportunity when I knew I had the talent. But if I knew the business processes that I know now, I would probably be further along in business.
What business systems have you put in place that maybe would've been helpful sooner?
I now have a clear understanding of what I say I'm going to do in each phase of a project—what I say I'm going to deliver, what you should expect to receive and what I want from you. I went to design schools, but professors always veered away from the conversation about the business of design—we didn't get that from them. So you hope that you encounter people who will be transparent with you. A design mentor of mine would share [documents] with me—like, "This is what I sent to clients." Over time, you encounter a number of documents that have been passed around throughout the industry, and I got accustomed to using those. But then when I slowed down, it was like, Wait, do I believe this? Is this how I do this? I'm saying, "Step one is this, step two is this" in my contract, but I'm not even doing that, so what's holding me accountable? It's been a huge step for me to recognize my system [so that] what I'm saying and what I'm doing are the same thing.
What does success look like for you?
I desire to have multiple brick-and-mortar office spaces, both in Atlanta and in Michigan, and filled with people who share similar stories as I do—people who may not have had a traditional path to pursuing their passion, but for whatever reason have connected with my business and are committed to helping it grow.
I also recognize that aside from making spaces beautiful for my clients, I am also like a vehicle for other connections to happen. Most of my clients love what I've done design-wise, but they also value the relationship that has been established outside of that [work]—like, somehow I've come into their life at a time when they needed it most. And I feel honored that it's not just that they needed somebody to reimagine their living rooms. I'm doing that, but somehow [our work together] is another blessing. I don't know how to describe it—I just feel like I'm being used that way, and it feels a lot bigger than design. When that happens, and when I am opening myself up for those moments to happen, that feels like success to me. It's like design is a vehicle, but there's something bigger that comes out of those connections between me and my clients. It's not even like, "Oh, man, I made so much money off this project." It's always something else.
I feel like in so much of what you do, you've turned design into something that heals people.
That's how I feel.
Did you set out to do that?
I'm a free spirit, you know? I do things that feel good. I used to joke that I could tell my family that I had joined the circus and they would just be like, "OK, that must be cool if Tiffany's doing it." So there's a certain comfort in knowing that the choices that I make are legit, and that they are rooted in something that maybe other people don't even understand. Someone could say, "Oh, you passed up a multimillion-dollar project." I've never done that, but just say I did—[it'd be because] I decided to take on a project from a couple with an interesting story that pulls me in instead. I'm guided like that. I like to do projects that I feel good about. Some people just like to do the project that's going to make a lot of money. I want to make money, but I believe God will provide. I just go with the flow here. I'm grateful to be doing what I do. I'm grateful to have people who trust me.
To learn more about Tiffany Cobb, visit her website or find her on Instagram.
Homepage image: Tiffany Cobb | Courtesy of the designer